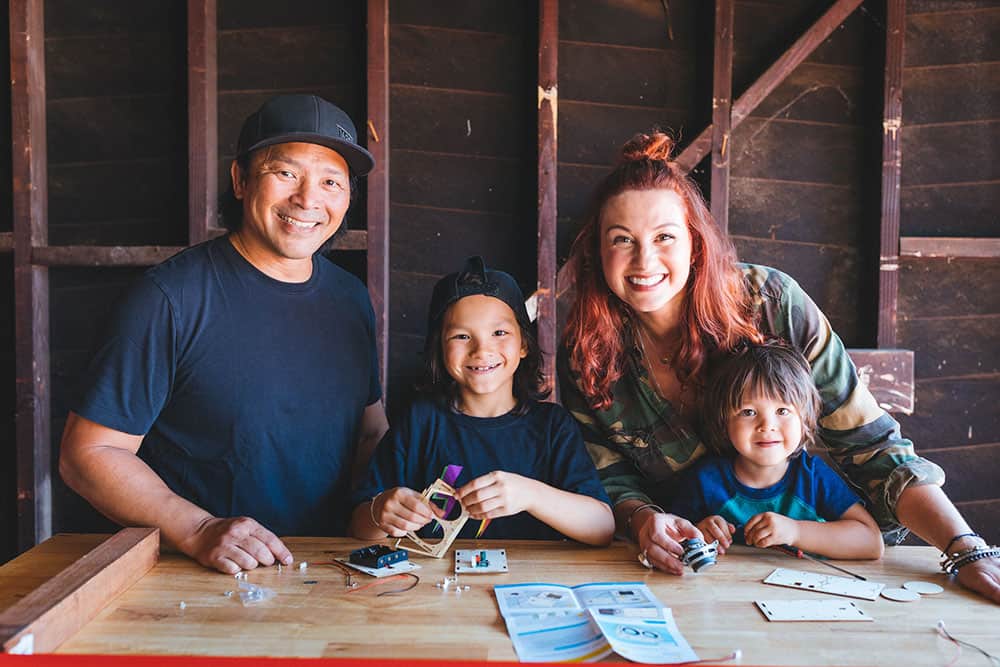 Parents to a precocious eight-year-old, a rambunctious two-year-old, and a feisty dog named Oscar, Timothy and Laura founded Built by Kids as an extension of their adventures in raising capable, confident, resilient young men.
A true labor of love, the Dahls are inspired by the Designers and Makers of the past and are passionate about introducing the next generation to the skills and creative thinking that will help empower their future.
The Dahls live in Los Angeles but have called New York, Las Vegas, and London home.
Timothy Dahl is a former boy scout who, by age thirteen, was an expert in building desert forts and was crazy accurate with his slingshot. His favorite toy was his Erector set and he soon graduated to building and racing RC Cars with his dad. As the father of two boys, Timothy hopes to create the same world of wonder and open play that his parents shared with him.
Timothy is the founder of the home improvement site Charles & Hudson, host of the Tool Crave podcast, and former editor at Popular Mechanics, Lifehacker, ELLE DECOR, and This Old House.
Laura Dahl is a fashion designer who grew up in the ballet studio but was never afraid to hop on a backhoe or pick up a power tool. She has fond memories creating anything from cars to mini shanties out of the fallen branches at her family's cabin in Utah, and considered herself an honorary member of her brother's Boy Scout troop.
Raised with an entrepreneurial spirit, she started her first business at twelve years old and is keen to pass on to her sons, the value of independence, imagination, and innovation. A wellness buff at heart, Laura believes balance in mind and body is foundational to self-actualization, and that a parent's most important pursuit is to raise children who know that to be true.