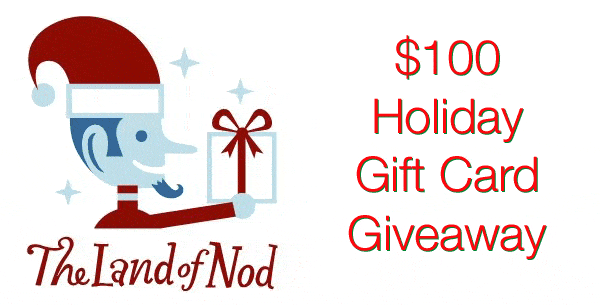 We're excited about our latest Giveaway from The Land of Nod. Years before we were parents and back when we lived in Seattle we came across the Land of Nod store in the U-Village. The quality and selection of toys and products was top notch and I don't think we've ever seen so many fun wooden toys which we are so partial too.
If you are lucky enough to live in Seattle or Chicago you can visit The Land of Nod in person, otherwise you can shop their online store and many of their products are available with free shipping including all holiday decor.
We'd like to help you decorate for the holidays or find that perfect gift for your little one by offering a $100 Gift Card to The Land of Nod.
How to Enter
Simply join us on Facebook! If you are already our friend then you are automatically entered but you can increase your odds by also leaving a comment on this post.
On November 30th we will choose one random winner among our Facebook friends and also add the names of those who commented into the mix. So forward this to your friends and family and make them promise to share the gift card if they win.
Visit The Land of Nod and start picking out what you'll buy if you win!
And keep up to date with all of our Giveaways, Contests and more join the Built by Kids Club.