With the desert as our playground, our family enjoys off-roading as much as we can. Playing in the dirt is second nature for us, but we know it can be an intimidating prospect for newcomers.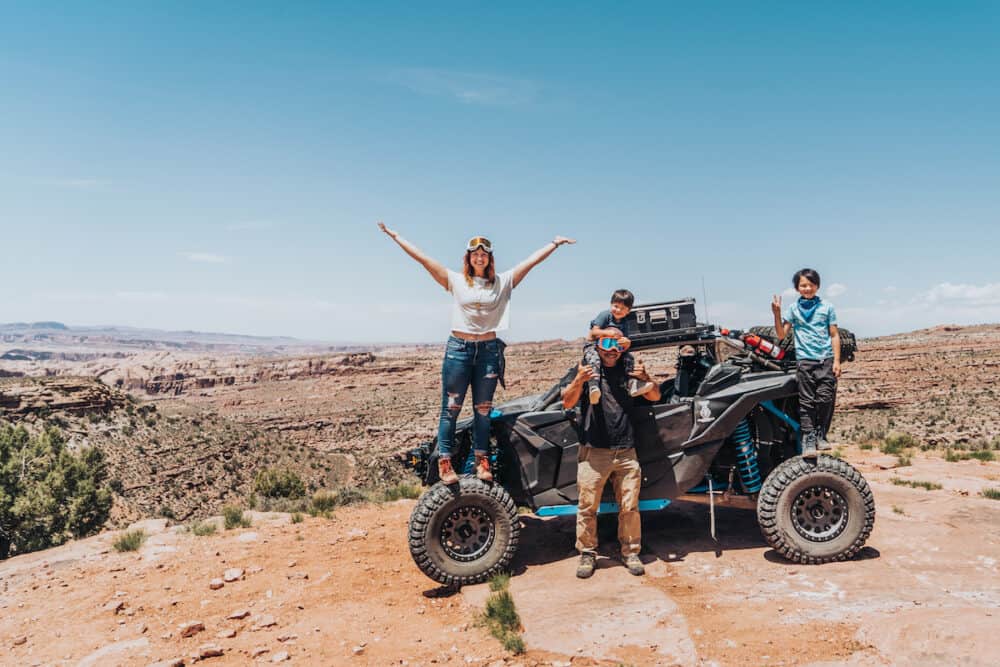 So, I've put together this simple guide to help introduce you to the joys of off-roading with the hopes that you might consider this family-friendly activity that everyone can participate in.
Dirt Everyday
I've enjoyed the outdoors my entire life, but it wasn't until I met Timothy that I got a taste for off-roading. He grew up in Tucson and spent weekends "wheeling" whenever he could. I've heard the stories about his mini-bike and Honda 110 ATC, and when we first started dating he took me off-roading in his 90's Mitsubishi Montero, which wasn't my ideal date but ended up being very memorable.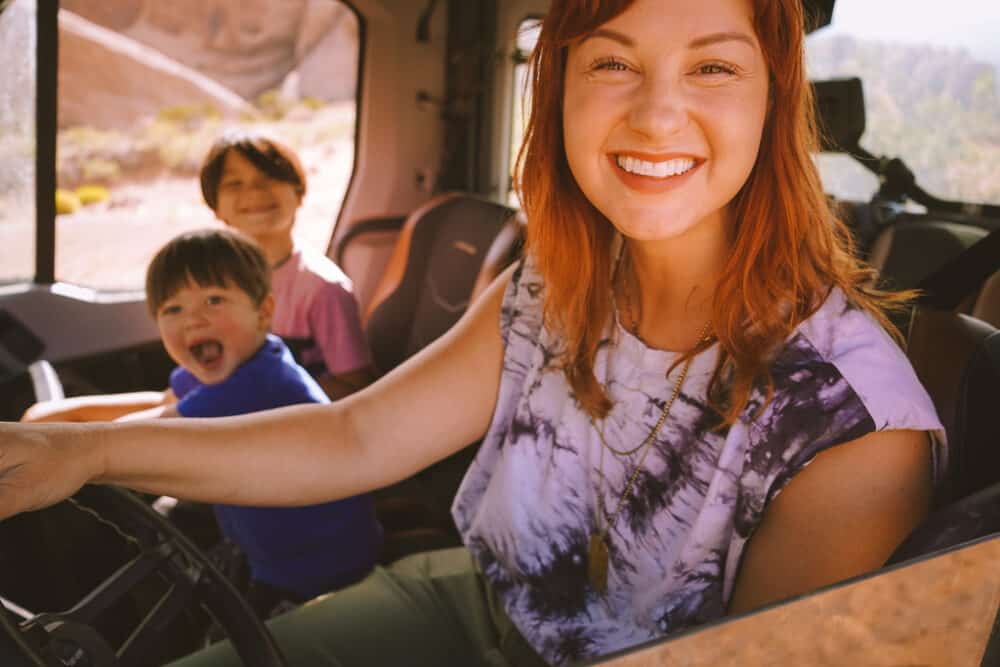 It's natural that our boys became indocrinated in Timothy's dirt driving obsession, and since our family has a ranch in the Mojave desert, we have all had plenty of opportunities to get dirty.
I grew up riding horses, so in a sense I was "off-roading" as well. I learned to drive a tractor at an early age and my mom always had Gators and jacked up golf carts for zipping around our ranch.
I've passed along this obsession to my boys, who have grown up riding and driving ATVs and side by sides at our ranch in Nevada. So, when we received an invite to join Can-Am at Rally on the Rocks in Moab, we jumped at the opportunity.
Moab Adventure
Moab, Utah is a outdoor wonderland. I can't wait to share details from our trip, but we in three days we packed in two National Parks, a UTV adventure, hike to see dinosaur tracks and some petroglyphs for good measure.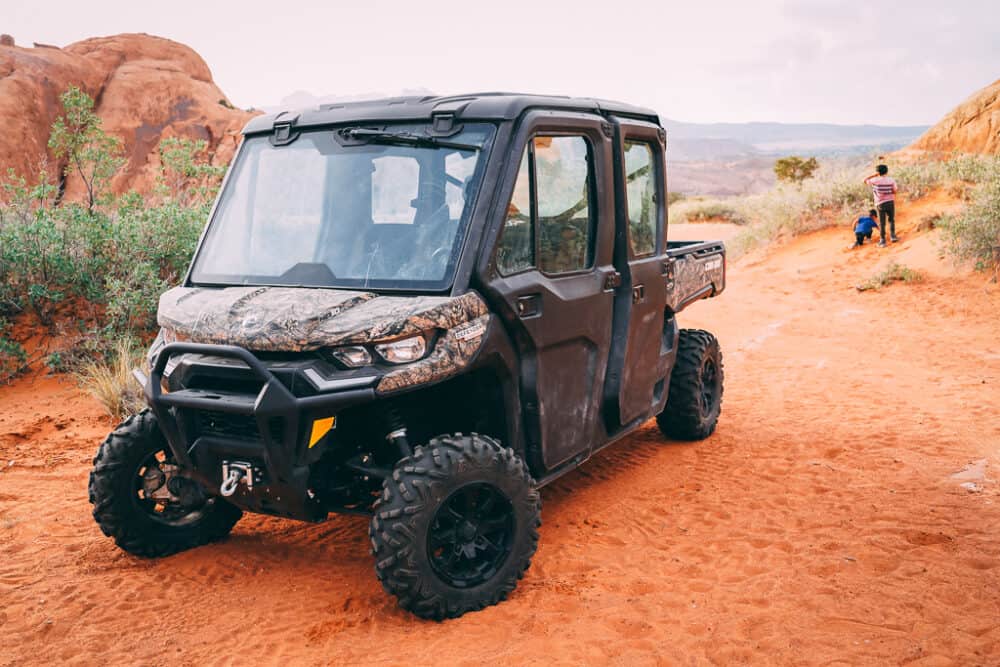 The focus of our trip was to visit with the folks from Can-Am and take their 2021 Mavericks out for a spin on the slick rocks of Moab. The area is a mecca for off-road enthusiasts and Rally on the Rocks is the second largest gathering in the area, just behind the Easter Jeep Safari.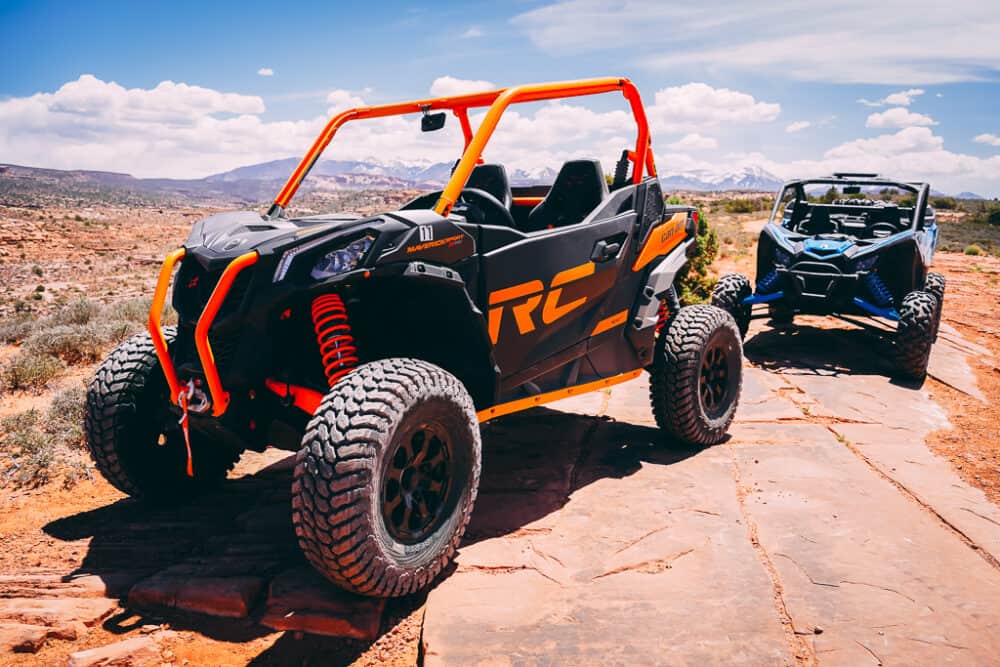 Drivers can put their skills and vehicles to the test on a variety of terrain that the area has to offer. We tackled the popular, Fins & Things trail and finished with an epic drive along Porcupine Rim trail.
Can-Am Maverick X3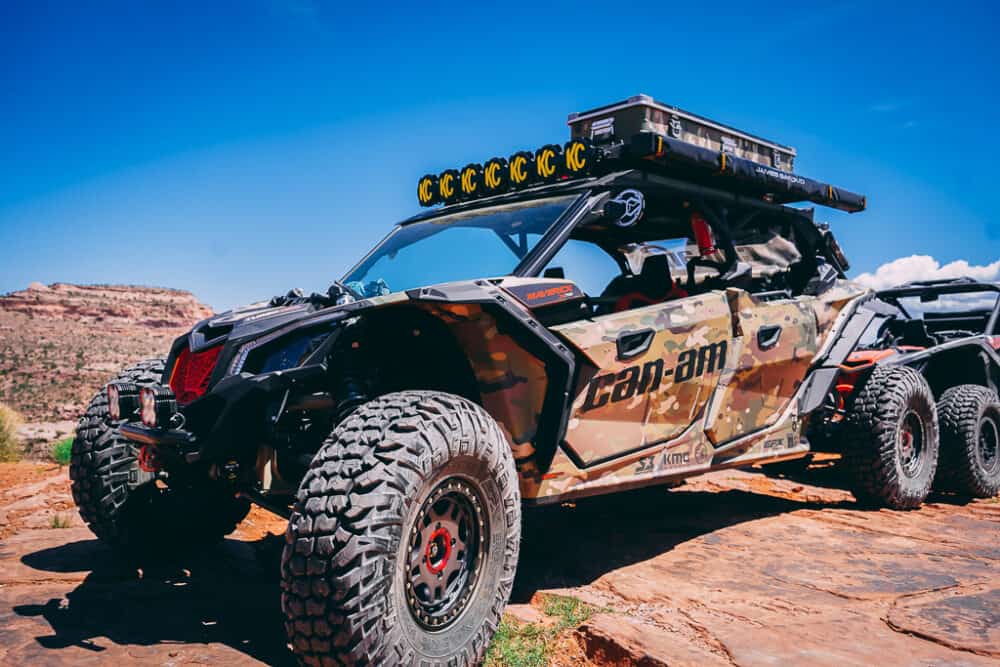 On this trip we took out the 2021 Can-Am Maverick X3 which is their high-performance side-by-side. There are quite a few models to choose from, but Timothy and Hunter drove the Maverick X3 RS Turbo R, and Fremont and I joined Josh Wagner in his TAV built Maverick X3 Max X RS Turbo RR.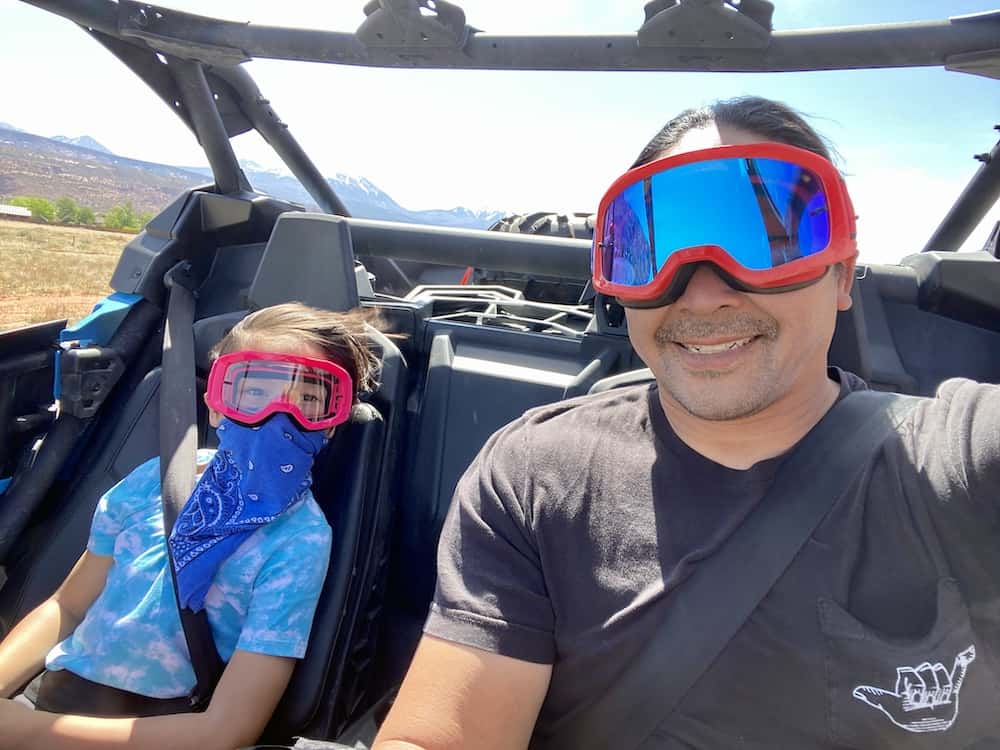 I think we had the best ride of the group as our four-seater was super comfortable and Josh was an amazing driver. The suspension was so dialed that Fremont even took a nap during our hill climb.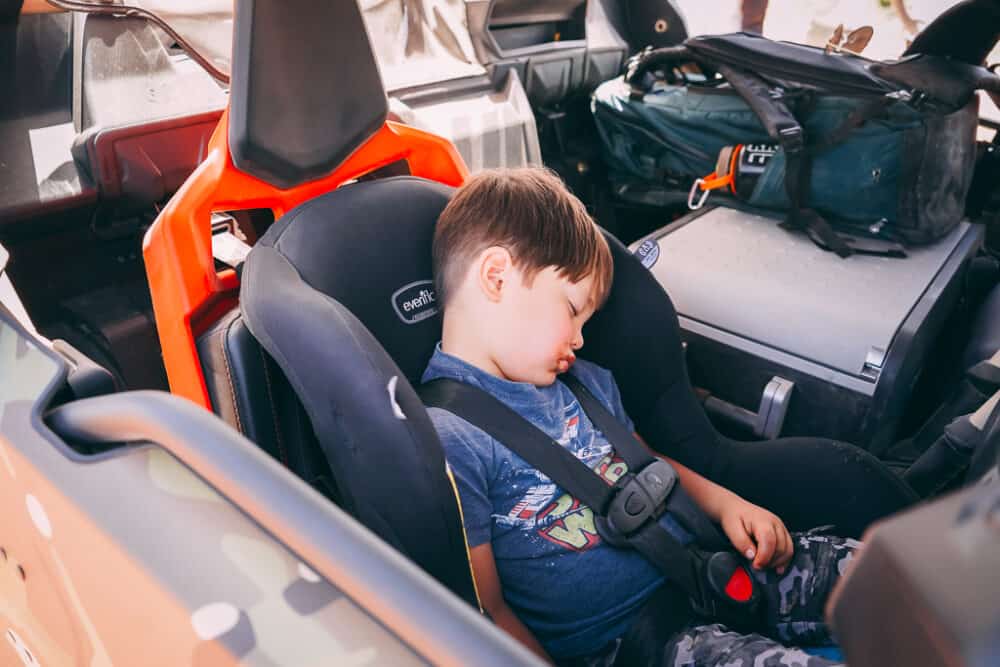 I'd definitely recommend a four-seater for a family of 3 or 4. The longer wheelbase makes for a more comfortable ride and the full-size rear seats are extremely comfortable for children and adults. We installed our son's car seat which fit perfectly and allowed him to safely ride in the Can-Am and sit higher so he could see everything.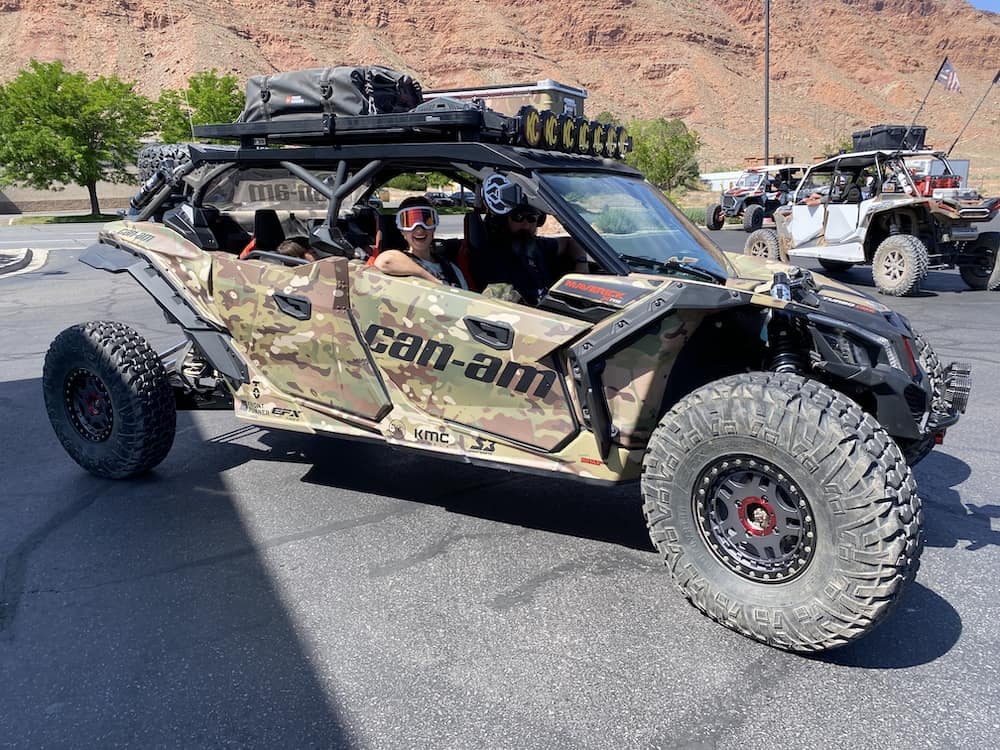 There is plenty of foot room and enough cargo space in the back for a cooler and other gear. Our unit was equipped with a Dometic fridge and a ton of overlanding goodies from Front Runner.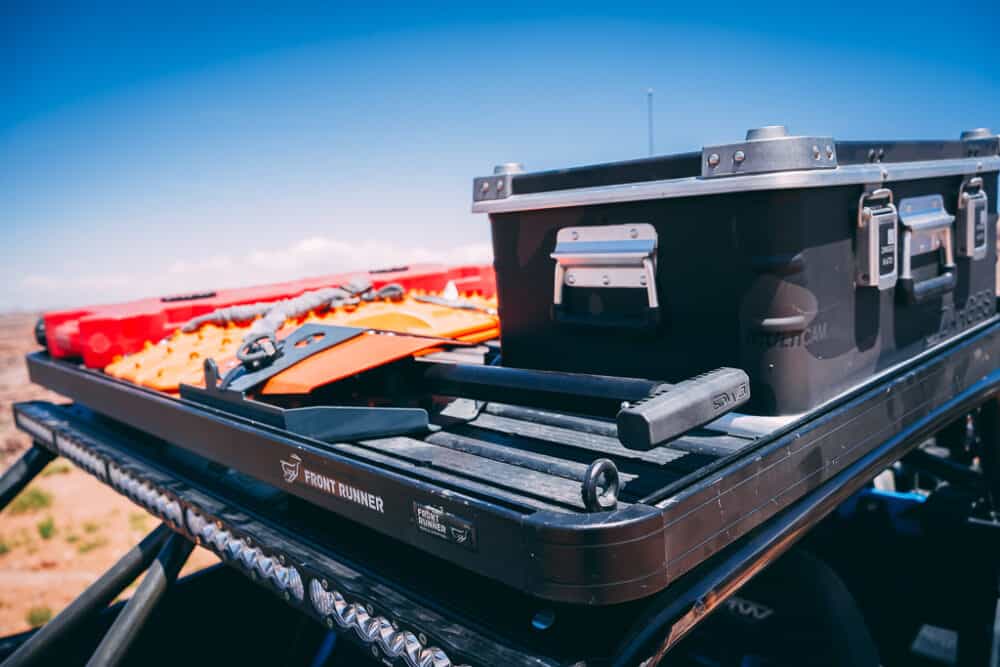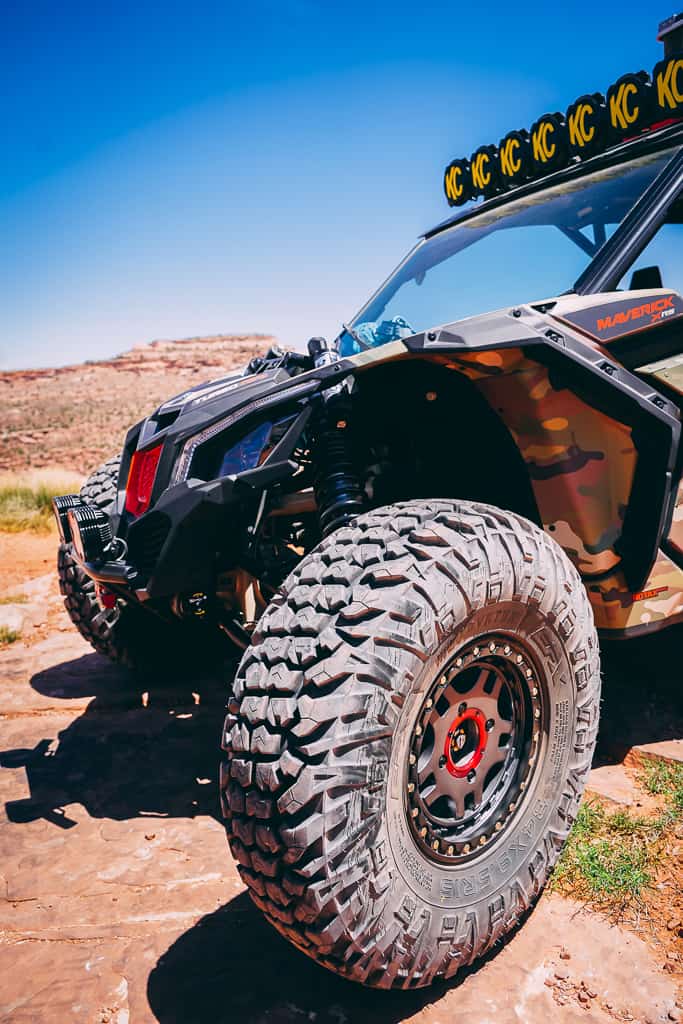 We spent a half a day exploring Moab and when I wasn't marveling at how these vehicles could climb the steepest and slickest obstacles, I was staring at the amazing views that were only accessible by off-road vehicles like these.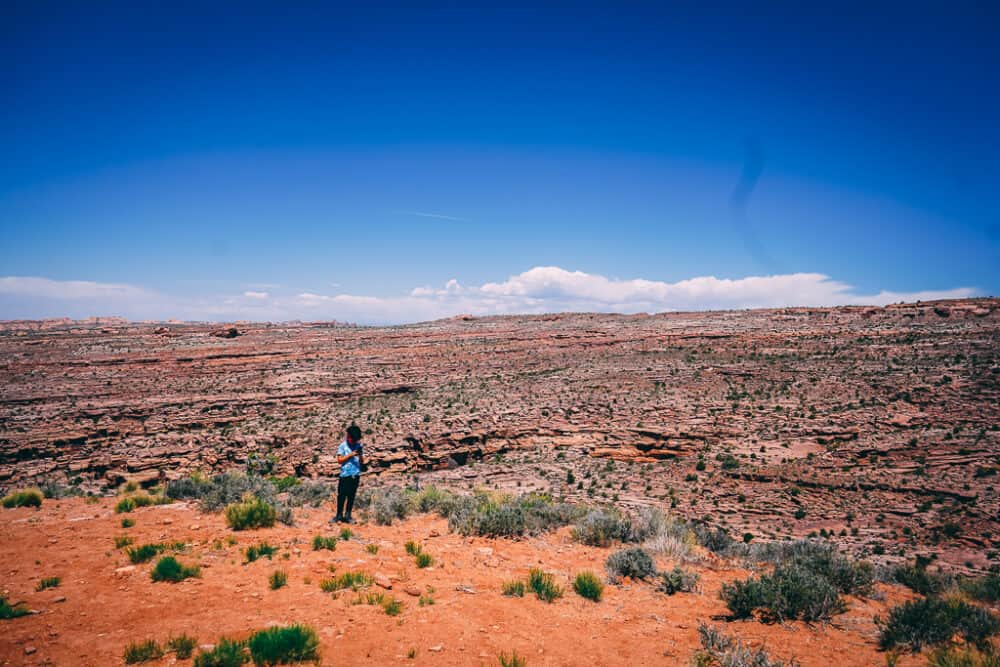 Off-Road Essentials
Once you sort out your vehicle, you'll need some basic equipment.
Goggles
I'd say goggles are mandatory as they will protect our eyes from dust and debris as well as the glare from the sun. If you don't have a windshield, you'll definitely need goggles. Sunglasses can work in a pinch but don't offer nearly the same protection. We scored some Fox goggles for ourselves and the kids.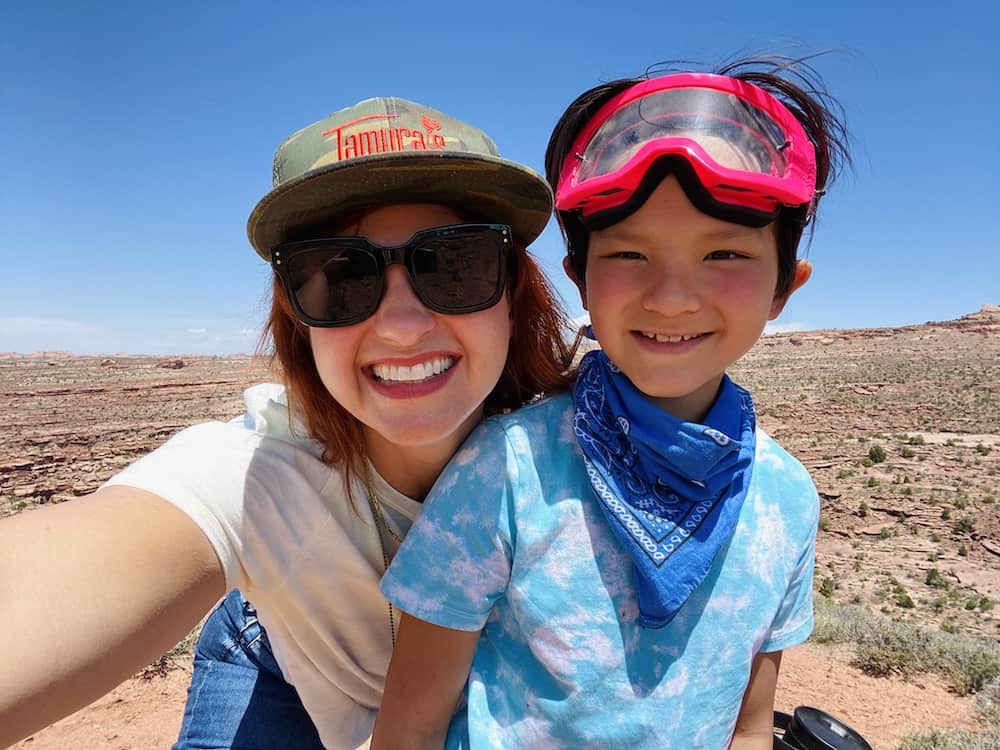 Helmet
Helmets are required when driving an ATV, but can be optional when driving or riding in a UTV or side by side. We'd recommend wearing one as it will protect you during a rollover and if you happen to get to close to a tree, but for mild off-roading a helmet isn't totally necessary.
Gloves
Gloves can help provide better grip on your steering wheel and also protect your hands from branches when driving and sun damage. Gloves also keep your skin from drying out and protect your nails. 🙂
Sunscreen
Protect your skin with sunscreen and long sleeves. You don't realize how much time you are spending in the sun.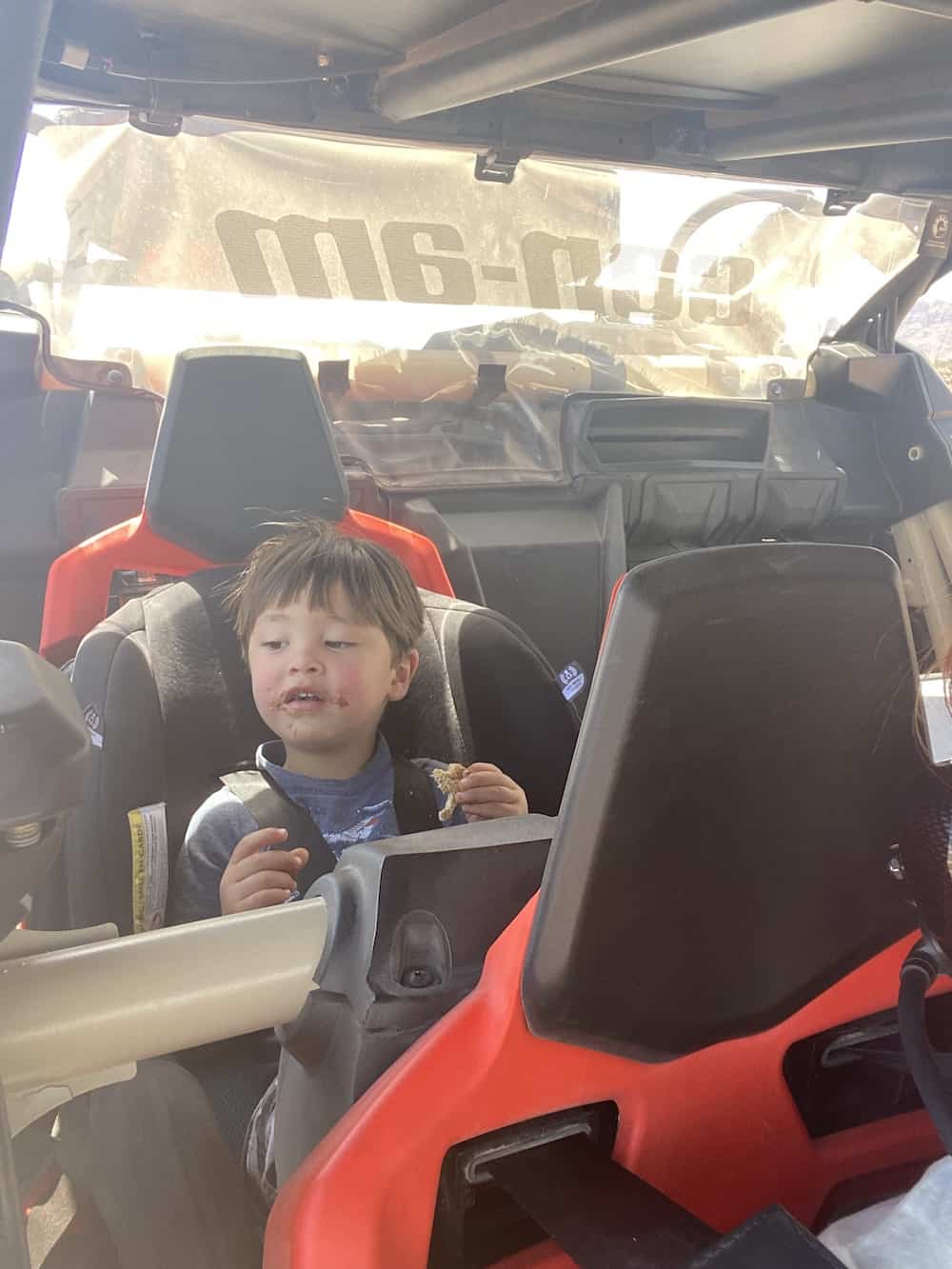 Appropriate Clothing
Long sleeves, long pants, and closed toe shoes are recommended for adults and children. This will protect you from the sun, debris, and branches you might encounter on the trail.
Water
Bring plenty of water. More than you think you might need. Driving and riding in a side by side through the desert can be exhausting, and if for some reason you get stuck or have to walk, you'll want plenty of water.
Food and Snacks
Depending on the length of your ride, a meal isn't always necessary, but remember to bring plenty of snacks and energy bars. You'll take more breaks with the kids and as you know they are always hungry!
First Aid
It never hurts to have a first aid kit handy. Make sure it is well stocked and keep it in a safe place so it doesn't bounce out.
Summary
Side by sides are an excellent way to explore the outdoors as a family. You can get extremely adventurous and take a side by side on a camping, hunting, or fishing trip, or simply go out for a day like we did and have fun in the dirt.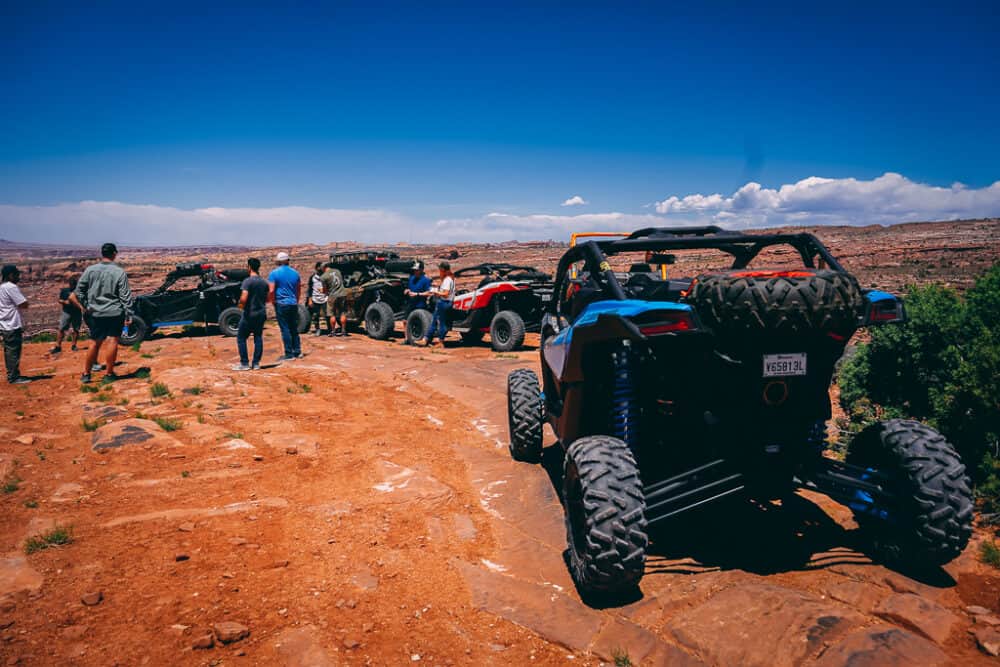 The one drawback to side by sides is that you'll need a trailer to transport them. With most ATVs you can drive them up into the back of your pickup truck, but side by sides are a bit larger and require a flatbed trailer to transport.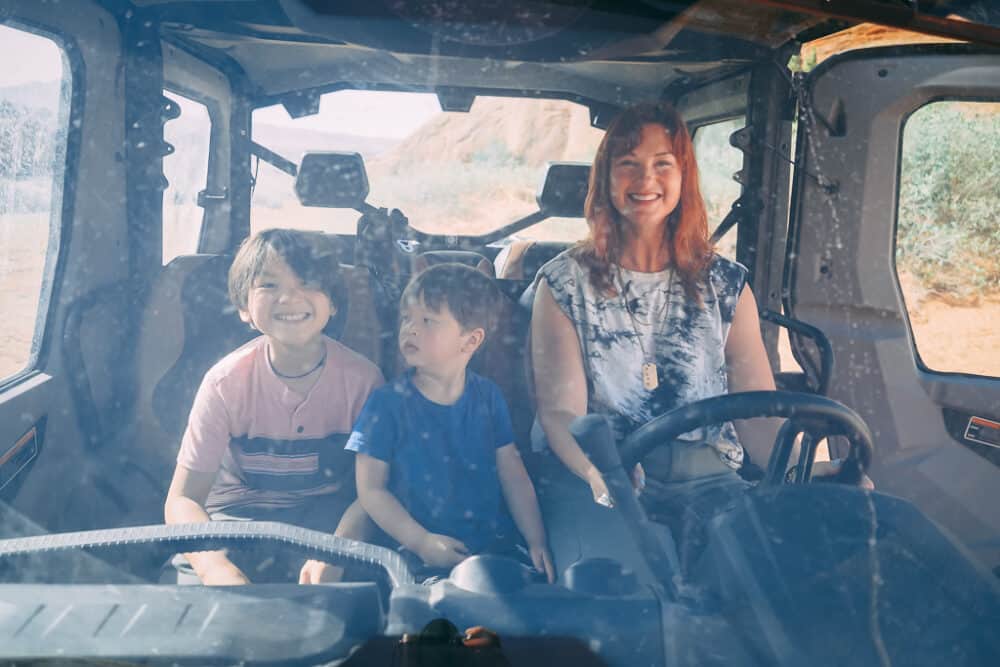 Fortunately, we keep our side by side garaged at our ranch, so it's always ready to go.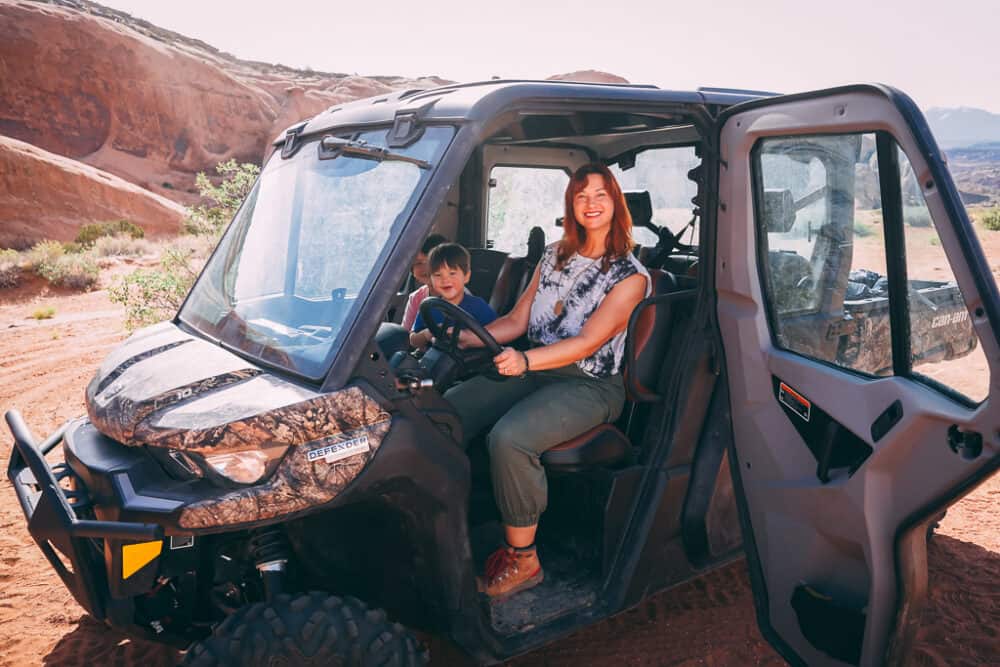 Our boys had a ton of fun and they can't wait for the next adventure together. Our oldest is too young to reach the pedals on a side by side, but he's really itching to get his own ATV. He's grown up riding and driving our old Polaris Sportsman, but we think he's finally ready for his own ATV. Can-Am has a 250 that might make the perfect birthday gift!