Skateboarding is truly a do-it-yourself sport. Even if someone gives you a board you eventually learn how to change the wheels, adjust the trucks and possibly build obstacles to skate on. Cory Keen has taken his passion for skating to the next level and now builds skate ramps for a living at Keen Ramps here in Southern California.
Cory has been busy shooting a skate video series called, Rig a Spot, that is available on SME but he took time to answer some questions about how he got started, who he loves to watch skate, plus he shares some ramp building tips.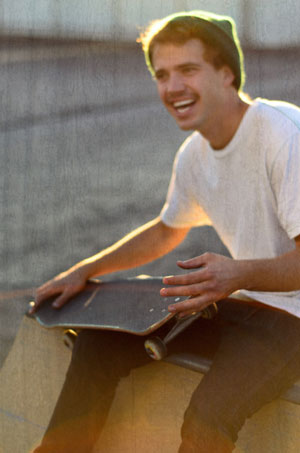 Built by Kids: Hi Cory! Where were you when I was 13?! I desperately wanted to build a half-pipe in my backyard and even presented plans to my parents. We settled on a trip to the hardware store and I built a quarter-pipe with my dad, but I still covet having a half-pipe. You've obviously been building ramps for awhile and probably skating even longer, how did you turn your passions into a business?
Cory: Hi Timothy haha I have that thought often lately… like why didn't I start this when I was in high school or at least while I was in college?! So many friends, including yourself apparently wanted a half pipe or ramp of some sort. I built several ramps/ obstacles as a kid (grind box out of the old cabinets when my parents remodeled the kitchen, benches, weldless rails, a launch ramp, and a handful of quarter pipes) as well as a mini ramp for my garage while I was in college.
My dad is a super handy dude and even rebuilt our cabin in Big Bear when a tree fell on it like 20 years ago so I learned a lot from him and always had access to just about any tool you can imagine. I've been skating now for nearly 15 years and never really thought much of the occasional ramp building I would do. A few years back I decided to build a quarter pipe for my nephew's birthday… everyone was thrilled about it and kept asking where I bought it. From here I figured people like my work, it's fun, and is a great way to pass on my passion of skateboarding so why not start a little business. It was all pretty organic… I couldn't be more grateful for the way it all happened.
Built by Kids: Can you give us some insight into how you approach building ramps. I know skaters can order ramps, rails and boxes but what goes into a Keen Ramp that makes it special?
Cory: Basically I made a list of things I've noticed from ramps I've skated over the years that frequently get messed up/ have some sort of design flaw. These generally being: finding ideal transition, coping getting loose, holes getting punched through, hardware and coping rusting, and the surfacing weathering quickly. I came up with solutions and tested a variety of them (i.e. 5/16″ bolt mountings on the underside of the coping instead of screws going all the way through on top of the coping as well as using all galvanized/ weatherproofed hardware and state of the art surfacing to avoid rust and damage).
Another aspect that makes Keen Ramps special is that myself, all of the build crew, our friends, industry insiders, ams and pros regularly ride and test the products at the creative skate spot video series "Rig A Spot." At these events the ramps get skated harder than they likely ever will. It's always a top priority to make sure we can offer an affordable product that will last.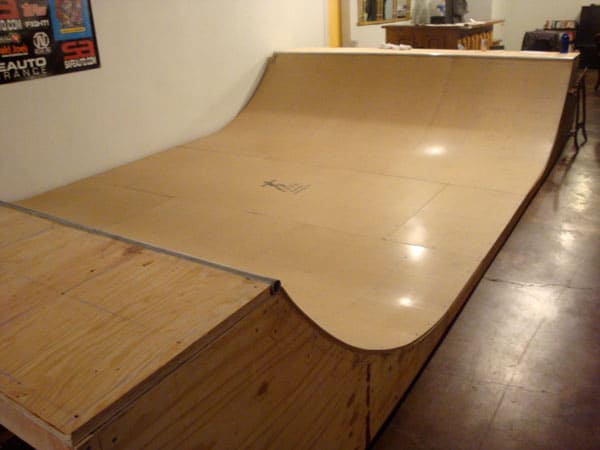 Built by Kids: I've been following you on Facebook and it's great to see how you have built custom ramps that mimic famous skate spots. Do you receive a lot of these requests?
Cory: The one you're referring to was Sadlands… which is the only "famous" spot I've replicated. However a lot of customers frequently ask that I make the transition of their ramp mimic that of an obstacle at their favorite skatepark. I've been to the strong majority of skateparks in the area so I generally know what they're talking about. For example a guy last week said he really likes to specs of the mini half bowl at the El Dorado skatepark in Long Beach, so I went and had a session there and then took some measurements… worked out great. I'd love to get more requests to replicate famous spots though and it has actually crossed my mind to come up with a series of spots to make and sell.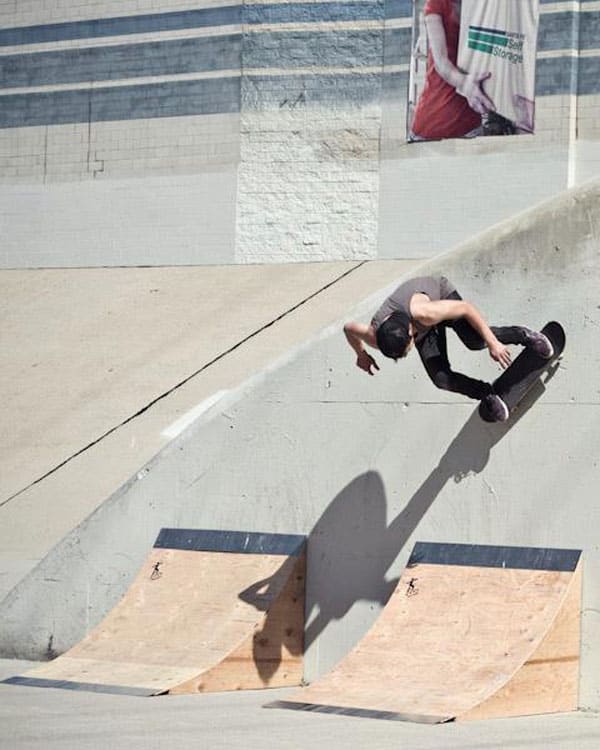 Built by Kids: How do you balance building a ramp that can push a skater just beyond his/her abilities but not be too easy or impossible?
Cory: Basically just get a solid assessment of their skills and what they enjoy riding… Like how I mentioned earlier, get a comparison to their favorite ramp at a local skatepark. If the customer explains they'd like to push themselves then I'll make a recommendation to slightly higher or potentially encourage a tighter radius. It's generally a good thing when the rider is challenged for the first couple of weeks/ about a month of owning a ramp… their level of progression will be that much greater and satisfying once they really get it down.
Built by Kids: What tools do you never leave home without when building a ramp?
Cory: I believe Jeff King said it too, hands down the most important two tools to have are a drill and a circular saw. Aside from that… a tape measure, construction pencil, square, a cooler full of water, and a source of music. I just got one of those industrial boom boxes, so stoked!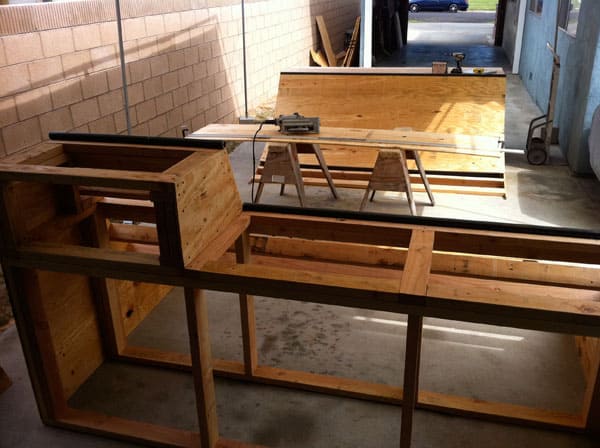 Built by Kids: Do you have any safety tips you can share that you always check a ramp or obstacle for once you've completed building it?
Cory: First measure of "quality control" so to say is to make sure everything is square and all right angles are correct. After that you'll want to make sure all screw heads and ends are concealed and/or countersunk. Lastly check for any sharp edges on the ends of the coping and transition plate at the bottom. If there are sharp edges, a file is generally your best bet at removing them.
Built by Kids: If money and time were no object what would you build and which skater would want to see take the first run at it?
Cory: Rad question… oh man that's tough, my mind is all over. Ummm I'd want to make a park/ plaza type place similar to the Nike/LA84 Foundation Skate Plaza in Pocoima but mine would be indoors similar to the Berrics and have recreated spots that are no longer skateable such as the Wilshire 10 stair/rail, Hubba Hideout in SF, Pier 7 manual pads, DWP marble benches in LA, SF China banks, and a variety of tranny interconnecting the obstacles. Skater for the first run? I'd have to say Sean Malto, that dudes killing it right now and I think would be a great fit for the spots I mentioned.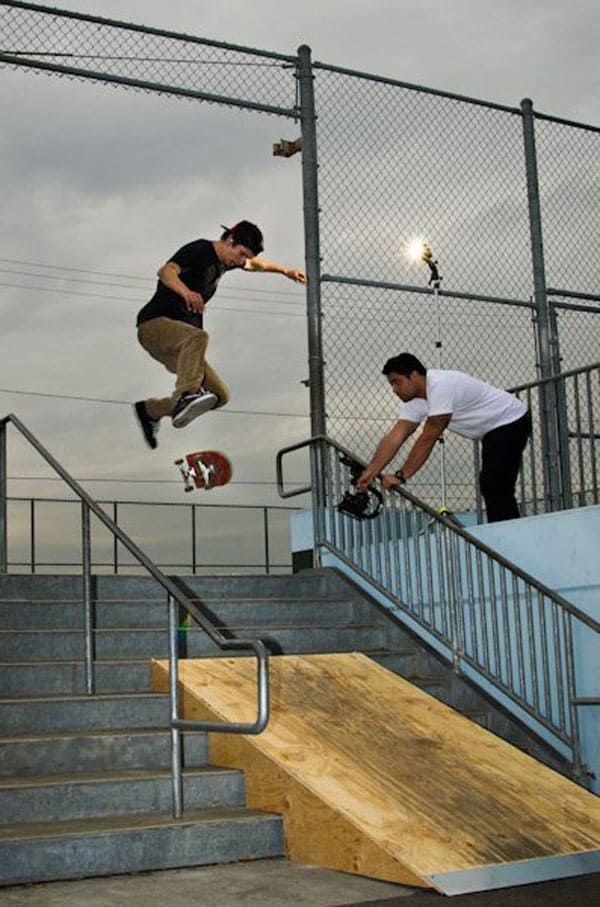 Built by Kids: Any other advice for the groms reading this who can't order from Keen Ramps and don't have access to decent skate parks but aspire to build their own ramps?
Cory: Safety first, I know it doesn't feel all that cool sometimes but always wear goggles and masks. If you don't feel comfortable making a certain cut by yourself, don't do it and wait for help. Gather up all your friends to chip in as much as possible (even if it's only a couple bucks), decide on a ramp, be resourceful: ask local cabinet makers for scrap wood, use pallets if you can, and always plan out your ramp first (type, size, cuts, number of pieces, etc.)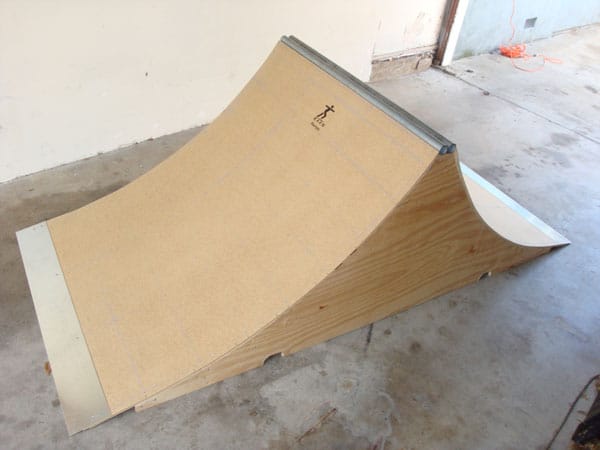 Cory Keen mini-profile
I'm 25 years old and have been skating for about 15 of them. Grew up in Bellflower, CA and mostly skated the Long Beach area as a teenager. Lived in San Diego for college for nearly 7 years, in that time I obtained a BA in Urban Studies and Planning and Environmental Studies from UCSD and a Masters in City and Regional Planning from SDSU. While I am choosing to follow my heart and passion rather than what I dedicated my education to, I still hold education to a high degree and encourage everyone to seek as much knowledge in anything at all you find interesting. Aside from that; I've got a really cool dog I found in Mexico on a surf trip, a 15 year old sister whose soccer team I coach, I play indoor soccer recreationally, a great network of like-minded/ creative friends, incredibly supportive family and girlfriend, and I pretty much have never found anything in life as exciting as skateboarding… thus why I do what I do.
I started Keen Ramps in 2009, its been gaining a lot of momentum in the last six months. Especially with the launch (January 2012) of our creative skate spot series "Rig A Spot." I could not be more grateful to get to turn my passion into business. I encourage anyone who feels they have the drive and dedication to do so, to go for it. Keen Ramps is a skateboarder owned business that puts the concern of fellow riders first. We now have the capabilities to offer a variety of extreme sports obstacles and even custom designed street courses and private skateparks. My ultimate goal/vision for Keen Ramps is to open a private indoor skate facility which would also feature a workshop space for creative projects/ skate art, ramp design classes, birthday parties, skate lessons, and just be a communal space for skaters of all ages to share ideas and their love for the sport.
Favorite Skater?
All time favorite: Arto Saari, Skills and style wise/ current fav: Leo Romero
Favorite Deck/Trucks/Wheels?
8.0 United Boardshop shop decks/ Independent 139s (silver)/ Bones OG 100S 53mm
Coveted tool?
Drill (impact driver)
Best meal?
Can't ever go wrong with a #1 from In N Out
Dream car?
1969 Corvette (Maroon)
Who is on your current iPod playlist?
Alexander Ebert (Edward Sharpe solo album), Kid Cudi, La Roux, Metronomy, Miike Snow, Yeasayer
Favorite film?
Skate: Fully Flared / Regular movie: Fast Times at Ridgemont High
Ultimate travel destination?
I've always had this idea to get together a few really close friends, buy an old van or small rv, make tons of stops along the way, drive down to the tip of South America, and then just sell or give the van to someone down there and fly back home. So I guess that would make the "destination" somewhere around Patagonia.
First thing you ever built?
By myself… a bench to skate when I was like 10 or 11 years old. It was just a thick plank which I added 45 degree angle supports made out of 2x4s. I didn't put coping on it either, just a bunch of candles to the point it would kind of grind haha
As seen in