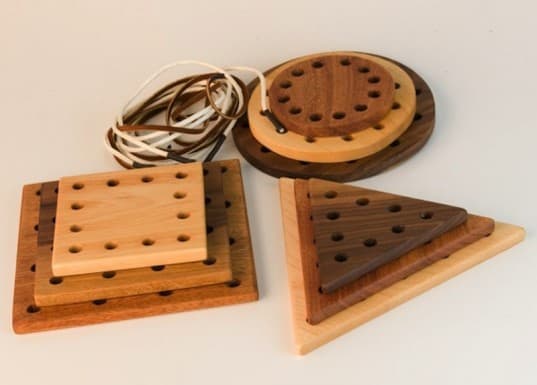 Lacing toys are centuries old and have been used as a fun teaching tool for children as they develop their fine motor skills and dexterity. Our friends at Inhabitots have gathered six of their favorite eco-friendly lacing toys that are made of wood and leather or string with natural fibers.
These three are our favorites but visit Inhabitots for the full list.
1. MrWhale's 9 piece heirloom-quality lacing set (seen above) includes circles, squares, and triangles. Each shape comes in three different sizes so kids can learn about comparing "bigger" and "smaller" while mastering their lacing handiwork. The beautiful maple, mahogany, and walnut woods (recycled from extra cabinet scraps) are finished with a food-grade beeswax and mineral oil combo.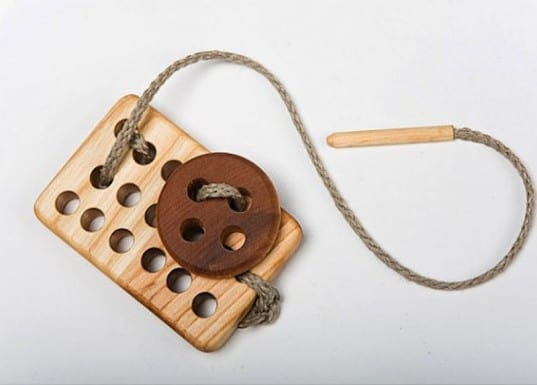 2. The wooden button of this childrens wooden toy is "sewn" to the hole-riddled board with a stick bound with a 100% natural linen string. The play imitates sewing the button as with a real needle to a cloth – thus stimulating the child's imagination and fantasy.
All elements of this childrens educational toy are self-coloured, oiled with an environmentally-friendly compound of beeswax and linseed.
Sewing not only provides a creative outlet; it develops motor skills and manual dexterity and gives children a valuable skill that will stay with them for the rest of their lives. But most importantly, it's fun and it's relaxing!
Lacing Toys are great for road trips and plane journeys. It's quiet so won't disturb other passengers and is educational too. This is one that keeps children occupied while engaging them completely.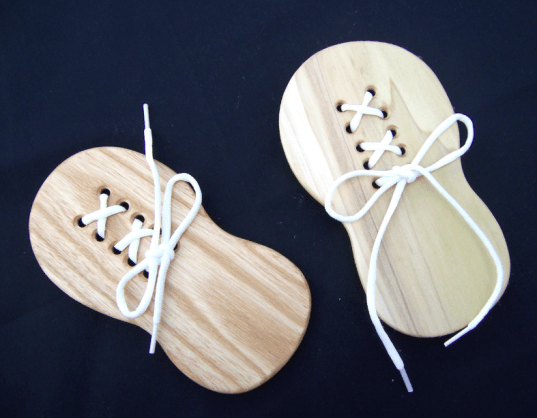 3. Shaped like a child's shoe, this handmade hardwood educational toy, will help teach your child to lace and tie their shoe. Pack this shoe up and take it everywhere you go. Finished with organic coconut oil. Shoelace included. Ages 3+ Measures: 8″x4 1/2″x 1/2″