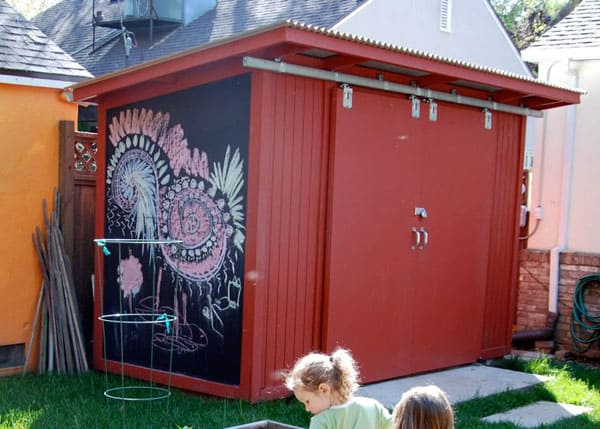 Chalkboard paint has been around for awhile and we've seen many great examples of it being used in chic kitchens as a backsplash or on a cabinet door, but our friend Jesse used chalkboard paint to build a creative outdoor space for his niece.
He repainted their backyard shed in a rust color and used chalkboard paint to turn one side into a creative area that the kids could use to draw to their hearts content.
Materials:
Rust-Oleum Chalkboard paint
Kilz Primer
Smooth piece of plywood
Quality brush
He used Rust-Oleum chalkboard paint from Home Depot and picked out the smoothest piece of plywood he could find. He then sanded the plywood to make it even smoother and painted a smooth white primer coat.
After the primer completely dried he applied three coats of chalkboard paint.
After the chalkboard paint dried he nailed the plywood which was now a chalkboard to the side of the shed and added trim around the edges to cover the nails for a sharper look.
We love it! What do you think?
If you've got a project to share to share on Built by You, please send it over!