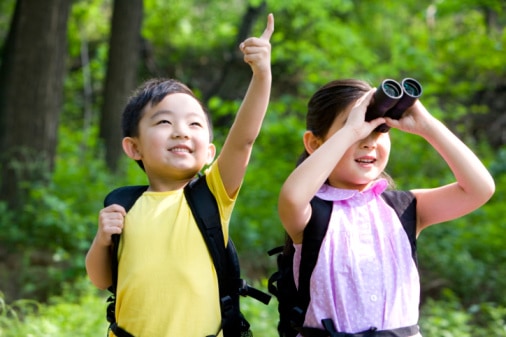 Summer is officially here and we're all seeking ways to entertain our children (and ourselves) without costing an arm and a leg. We've rounded up ten of our favorite activities that can offer hours of entertainment as well as an opportunity to spend quality time with your kids and learn something about each other.
1. Hit the Beach

Going to the beach is not available to everyone but if you live near the ocean (or a lake), the beach offers one of natures greatest playgrounds. Every kid knows what to do with sand and water but make sure you protect your little one's skin from the sun. We recommend full coverage including hats, long sleeves and breathable pants over slathering on the sunblock. If you must use sunblock then consider zinc based coverage as it's the most effective and least dangerous.
2. Build a birdhouse
Birds are fascinating for children of all ages. The experience of building your own birdhouse and watching a bird move-in and build a nest is amazing!
3. Birdwatching
You can birdwatch from anywhere. Simply find a book that will help you identify local birds and enjoy the game of figuring out which one just landed on your fence outside or take a trip to a nearby park or lake and look out for new breeds that you've never seen.
4. Daydreaming
Daydreaming sometimes comes with negative connotations but we believe it's all positive. It's important that a child can take the time to let their mind wander and use their imagination. Do a joint daydreaming session by grabbing a blanket and heading to a park and just stare up at the clouds while lying in the shade of a tree. Let the shape of the clouds guide your conversation and remember there are no boundaries.
5. Stargazing
I was fortunate enough to grow up near an amazing planetarium and there are many across the country. This helped pique my interest in stargazing but all you need is a clear night and star guide to get started. We've been using the SkyView app on our iPad which is amazing and gives us updates on visibility and what to look out for. No telescope is required but it would definitely add to the fun.
6. Go Fishing
I have amazing memories of going fishing with my dad. We never caught much but the drives out to the lakes followed by time spent in paddling a boat and simply sitting and chatting are priceless. I look forward to spending this time with my son and passing along the techniques and patience that my dad taught me. If you've never been fishing before it could be a great opportunity to learn together.
7. Visit a Museum
Every city and town has a museum. It may be something very obscure and at first glance not interesting but take a chance and check it out. Children enjoy learning and museums are all about education.
8. Bouldering/Climbing
Bouldering is a great sport as it requires no gear and comes naturally. Stick to low-lying boulders and obstacles and even though it might only be a few feet off the ground the challenge is still immense. Central Park in New York has some amazing natural boulders and like the beach this is another activity that comes natural for kids.
9. Batting Cages/Go Karts/Mini Golf
I grew up spending hours at Golf and Stuff near my house and the activities were always a way to be social. It was typically with my friends but I also spent a good amount of time hitting balls and driving golf carts with my family.
10. Making a Movie
We recently found a creative story telling book that we bought for a friend. He likes making movies and this helped decide a plot, character and action. You can apply this same storytelling but then transfer it into making a movie which is always fun to watch.