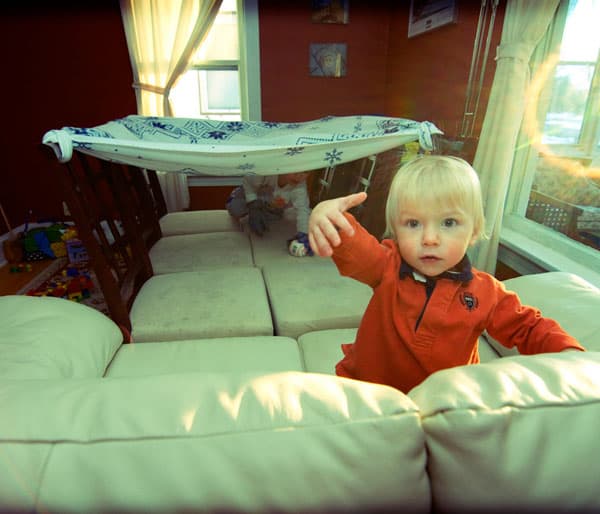 If there is one that almost every kid loves it's building a fort. Forts can come in any shape and size and work both indoors and out.
My favorite forts were of the army variety and I built them in the desert near our house in Arizona. I simply dug a ditch and threw a piece of plywood over it and had a little crawlspace to enjoy. In hindsight that sounds like one of the all-time worst forts being that it was hot and dirty and small but I enjoyed it.
Laura took a different approach and her memories of fort building were at her families cabin and she and her friends would pile long sticks over a lean-to and enjoy lunch and music while decorating their fort.
The point is, the only common denominator among forts is that they be fun. Here are five ways to build the perfect kids fort.
1. Keep it Cozy
Forts should remain intimate spaces that only allow for 1-3 occupants. Nobody wants to hideout in a fort as big as a room but they do want enough space for their buddies to join.
2. Decorate Your Fort
Once your walls and roof are up you still need to make your fort your own. Add your favorite night light, chair and blanket. Don't forget items such as binoculars, music players and your favorite snacks.
3. Secret Opening
Having a fort that requires finding a secret opening can be really fun. Maybe you need to crawl under a chair or around a bush to get into it. If the space is small enough, it will keep the adults out!
4. Low Light
Nothing brighter than a flashlight should illuminate your fort. You don't want it too bright as that would attract attention. Add some glow sticks for the perfect glow.
5. Build More than One
Maybe you've built a fort out of couch cushions but it has to go away each night. Why not build a permanent fort in your room so you can always have a secret place to call your own without being disturbed.
photo: Micah Taylor
What are your fort building tips?