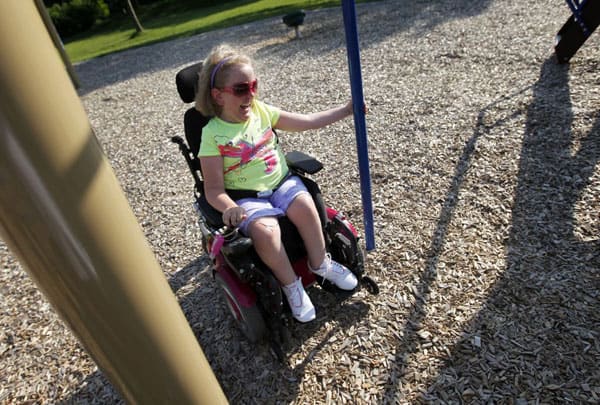 We just came across this story from Woodbury, MN about a playground that has been designed for children in wheelchairs in memory of Madison Claire.
via StarTribune
The 15,000-square-foot playground, designed with help from the Rehabilitation Services team of the University of Minnesota Amplatz Children's Hospital, will have stainless steel slides to prevent interference with hearing aids from static caused by friction on plastic slides. It will have platforms for kids to develop balance, basketball hoops at a lower height and a large wheelchair-accessible structure that resembles a swing.
With city approval, the playground will be lime green, purple and orange, colors chosen by kids at the children's hospital, and be built at a city-donated site near Bielenberg Sports Center in Woodbury. It will be near Miracle Field, a baseball diamond also made for children with disabilities that opened with a celebration on June 7.
Madison was born on May 16, 2002, with Type 1 spinal muscular atrophy and was expected to live less than a year. The genetic disease made her muscles weak and her respiratory system sometimes go into arrest. She was wheelchair-bound and often stayed in the hospital for weeks — sometimes a month — at a time.
Madison died Aug. 17, 2004. About that time, Millington said her husband Dave's friends pooled money and told him to do whatever he wanted with it. The Millingtons decided to start the foundation in Madison's memory.
The playground was envisioned and will be funded by the Madison Claire Foundation, which is named after the daughter of its founder, Dana Millington of Woodbury. She also is a friend of the Gustafson's.
It will be amazing to see the faces of children who have never had an opportunity to play on a playground be able to for the first time interact with swings and jungle gyms.