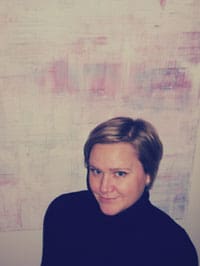 We are all artists. At some point in our lives most of us were given a set of crayons or markers and asked to draw. To a child it's second nature to express ourselves and our feelings through the act of making art. Pretty colors and interesting shapes come together to reveal a pure thought or brushstroke. To a child, history comes alive through colors and textures.
As an independent art historian, museum educator and former pre-school teacher, Brandy has spent her career introducing children to the beauty of art. As a lifelong friend I've had the pleasure of experiencing art with Brandy and I've learned so much from her.
Brandy took the time to answer a few questions we had about art and how we can get children involved in a way that will impact them for the rest of their lives.
What can a parent do to get their child excited about art?
Parents can encourage children's excitement about art through museum visits, picture books, and activities at home – from simple coloring to more complex projects – there are so many possibilities. (See specific recommendations below…)
Be a good role model by expressing your own enthusiasm and curiosity about art. And provide children with positive reinforcement of their natural aptitudes, interests, and wonder to further promote their love of art. Above all, have fun. They will, too!
What should parents and caregivers look for in children's programs at museums?
Let's start with the "why" of a museum visit. Research shows that exposure to arts education at a young age is the strongest predictor of a lifelong relationship with art. Parents and caregivers can facilitate this by visiting museums both for specific children's programs and on their own, as well as by volunteering to help with school trips to museums.
As far as types of museum programs, I suggest that parents and caregivers try out the many different options – from family activities to art camps – to find those that their children most enjoy. Museums have different instructional and educational philosophies. So, parents, caregivers, and children have the wonderful task of experimenting with what's offered to figure out personal preferences.
My own teaching practice revolves around careful looking/observation, discussion, and open-ended questioning. I believe that this approach provides children with techniques for exploring art that they can use throughout their lifetimes. What's special to me about the museum visit is the opportunity to interact with the art in person. So I spend time with visitors in front of works of art and I often incorporate hands-on art projects, which are a great way of reinforcing the concepts being learned (such as color, shape, texture, etc.).
I want to emphasize that while museums have very knowledgeable and talented professionals developing age-appropriate programs rooted in educational research, museum visitors also have many of the necessary skills to have a successful visit on their own.
Some simple, easy-to-use ideas are:
1. Walk through the museum and when a work of art grabs your attention, take a closer look.
2. Talk about what you see. Describe the work of art (size, color, shape, material, etc.). Does it tell a story? Use your imaginations to come up with your own ideas about the work. Discuss your opinions: Does your child like it? Why or why not?
3. Have questions? Find out more. Look at the wall labels to learn the artist, title, material, year it was made. Do an internet search at home to see what else you can discover about the work. In addition to museum websites, where you can usually search the museum's collection to learn more, PBS has a great series on artists in the 21st century and your local library is a wonderful resource. Ask a librarian where to investigate your specific art questions or for book recommendations. Leo Lionni, Eric Carle, and Lois Ehlert are some of my favorite authors of children's books about art.
Is there a "slam dunk" genre of art that most kids love? Or artist?
As any parent can attest, children have their own opinions, preferences, and natural inclinations. And so it goes with their attitudes about art – they are varied.
Generally though, children love art that deals with subjects they know, such as animals, people, children, real and imaginative stories, ships, musical instruments, gardens, colors, and shapes. Happily, this means that the entire history of art is open to them:
Mummies…ancient Egyptian cats…Mayan jewelry made from gold and jade…giant medieval tapestries…a 17th century Dutch still life with food, insects, and skulls…African masks…Edgar Degas' dancers and Claude Monet's landscapes…Ansel Adams' photographs of nature…costumes and clothing from around the world…Louise Bourgeois' spider sculptures…stained glass…Dan Flavin's works made out of colorful fluorescent lights.
I should point out that in my experience, children are very open-minded towards modern and contemporary art. For example, if I'm with a group of children in front of a white-paint-on-white-canvas painting, they don't question whether or not it is "art." They are ready to dive right in. In this case, I've had children comment that the work reminds them of a birthday cake or of feathers on a bird. Brilliant observations. Children often raise my awareness and help me see things in an entirely different light. It's quite fun and liberating as an art educator.
In sum, a whole world of art adventures awaits your family!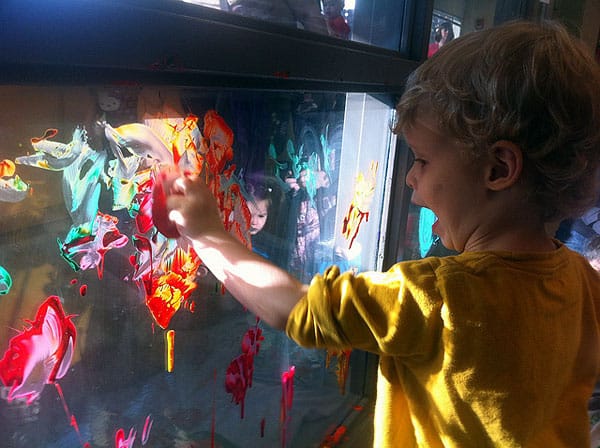 As someone who has worked in some of the most revered art institutions in the country, what are these museums and galleries doing to reach families? Are they being progressive enough and having enough "fun"?
Every day, I am impressed and inspired by the innovations in museum education and by what my colleagues all around the world are doing.
As you might expect, in addition to education fundamentals, a lot of attention is being paid to the teaching and learning opportunities presented by new media, from interactive, self-guided tours and podcasts to downloadable apps.
For example, the San Francisco Museum of Modern Art just released an SFMOMA Families app, which is an interactive game that can be played in any museum or gallery space.
Access also is an important value, so many museums offer free days for families and family memberships. For those who don't live close to a museum they would like to visit, often their treasures are just a click away online. The National Gallery of Art in Washington, DC has a permanent collection tour for families available as an audio guide when visiting the museum, or online.
With a little web surfing, families will find many online tours, interactive games, art projects, and other resources. Check out sections like "education," "families," "learn," or "explore," on museum websites.
What are some of your favorite art programs around the country?
That's like trying to name my favorite works of art…there are too many to count! Like me, families can create relationships with their favorite museums and programs, both locally and afar. Cost, accessibility, family-friendliness, availability of places to sit, rest, and eat are all important questions to consider. My suggestions? Visit often. Seek out your beloved objects each time you do. Explore new work and special exhibitions.
And always, have fun!
Bio: A former pre-school teacher and Director at Lit'l Scholar Academy, Brandy Vause is an independent art historian and museum educator who has worked for the National Gallery of Art, the Smithsonian Institution, the Los Angeles County Museum of Art (LACMA), and the San Francisco Museum of Modern Art (SFMOMA), among others. She holds graduate degrees in both Museum Studies and Art History. Ms. Vause is interested in using the visual arts to build community, as well as facilitating the cognitive, social, and creative development of children and adults. For projects related to teaching, research/writing, curriculum development, and training and professional development, she can be reached at brandyvause@gmail.com and you can follow her on Twitter @brandyvause.
Favorite color?
Depends on the context – are we talking about clothing? (Black) Interiors? (White) Flowers? (Also white) Skies? (The blue sky of the desert or the pinks/oranges/reds/yellows of Costa Rica sunsets) Art? (Each and every color, combination, or lack thereof) People? (Ditto)
Coveted tool?
A dishwasher. Those count, right?
Best meal?
For me, the best part of a meal is dessert (only because red wine doesn't count as a meal – or does it?). My grandmother Florence always ordered an appetizer and dessert, skipping the entrée so that she wouldn't be too full for the grand finale. I've frustrated a lot of waiters by embracing her legacy and asking to see the dessert list with a dinner menu. My apologies.
Dream car?
One in which someone else is driving…I only like to drive when I'm cruising through my native Mojave desert, windows rolled down, music on, alone with my thoughts.
Memorable book?
Too many to list. How about we limit it just to the past year? In 2011, I was struck by Blue Nights (Joan Didion is my favorite author), A Visit from the Goon Squad, Stacy Schiff's Cleopatra, The Paris Wife, and a book on the artist Vija Celmins published by Phaidon (I can't remember the author).
Favorite film?
Are you catching on by now that I have difficulty identifying a "favorite" of anything? While not my all-time favorite, the first movie I remember seeing is The Empire Strikes Back: "Do or do not… there is no try." That's an interesting lesson.

Ultimate travel destination?
Wherever adventure awaits, especially if that adventure includes learning and laughing with loved ones and friends. Last year it was Patagonia. Next up: Portugal, the Veneto region of Italy, and Alaska.
First thing you ever built?
I have no idea. I'm sure it was at Lit'l Scholar Academy, the pre-school my family founded, and involved legos or blocks. The last thing I built was a spreadsheet. I like the former better.
photo: NSM
photo: Librarianmer at Portland Children's Museum
As seen in