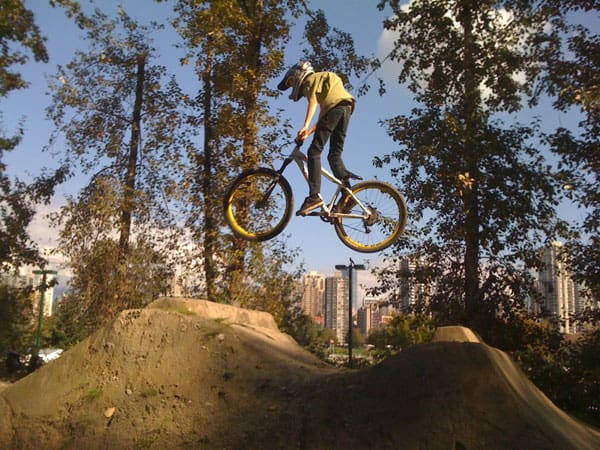 When I was 11 years old the county was doing some work on the street near our house and my dad somehow persuaded them to take a couple hours and use their backhoe to dig a racetrack in the desert along the side of our house. This was a multi-purpose track that I used to race my RC cars but was also great for riding my BMX dirt bike in. With banked turns and a long straight away I spent hours building ramps and imagining myself racing as I pedaled through turns.
It turns I'm not alone as many people have built homemade BMX bike tracks and there is even a book by Lee McCormack called Pump Track Nation where he shares the secrets to building a great track. Popular Mechanics asked Lee to share some backyard BMX bike track tips and here are his favorites.

The Track
DESIGN: Avoid flat spots. "Every square inch should tilt up, down, or sideways, to keep momentum going."
SITE: Build on a 3 percent slope to avoid flooding. Got a flat lot? Dig French drains at the berms.
CONSTRUCTION: Pile dirt 50 percent higher than the final dimension to account for compaction. Then carve out the contours."It's almost impossible to get a nice shape by adding dirt. It's easier to move it."
MAINTENANCE: Run a sprinkler to lightly soak the track before each ride. Let it nearly dry, and then pedal like crazy to "burn in" a line.
RIDING: Ratchet the pedals in short quarter-turns and push down with your arms off the backsides of rollers. Don't pedal continuously.
WORKOUT: The top priority is fun, but pump tracks also build MMA-worthy core strength and balance skills.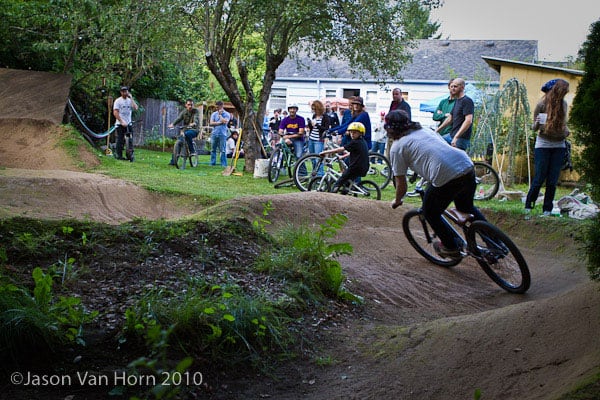 The Tools & Materials
THE DIRT: Clay loam or topsoil mixed with clay is best. A 40 x 30—foot area takes 27 cubic yards.
HAND TOOLS: Wheel-barrow, shovels, string and dowels for layout, a soil tamper.
THE MACHINE: Yes, this counts as an excuse to rent an earthmover.
Read more: How to Build Your Own Backyard Bike Track – Popular Mechanics
Photos: I Hate Bikes
As seen in