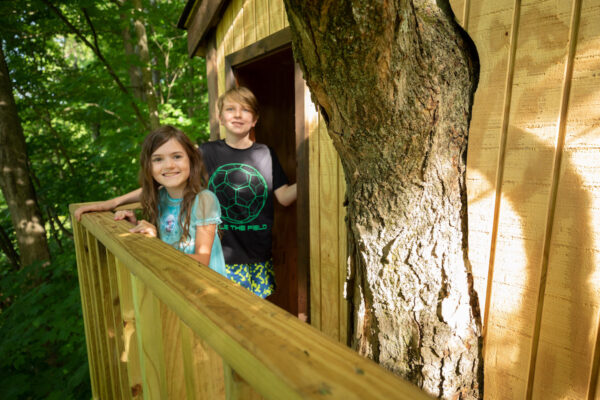 We've been dreaming of building a treehouse since moving into our home 2 years ago, and this epic cabin treehouse built by our friend Jason Schuler and his family just might be the motivation we need to get going!
The Schulers live in New Jersey and their property is blessed with beautiful trees and foliage. They've had their eye on one particular tree for this house, a sugar maple, that is strong and sturdy, as well as very secluded.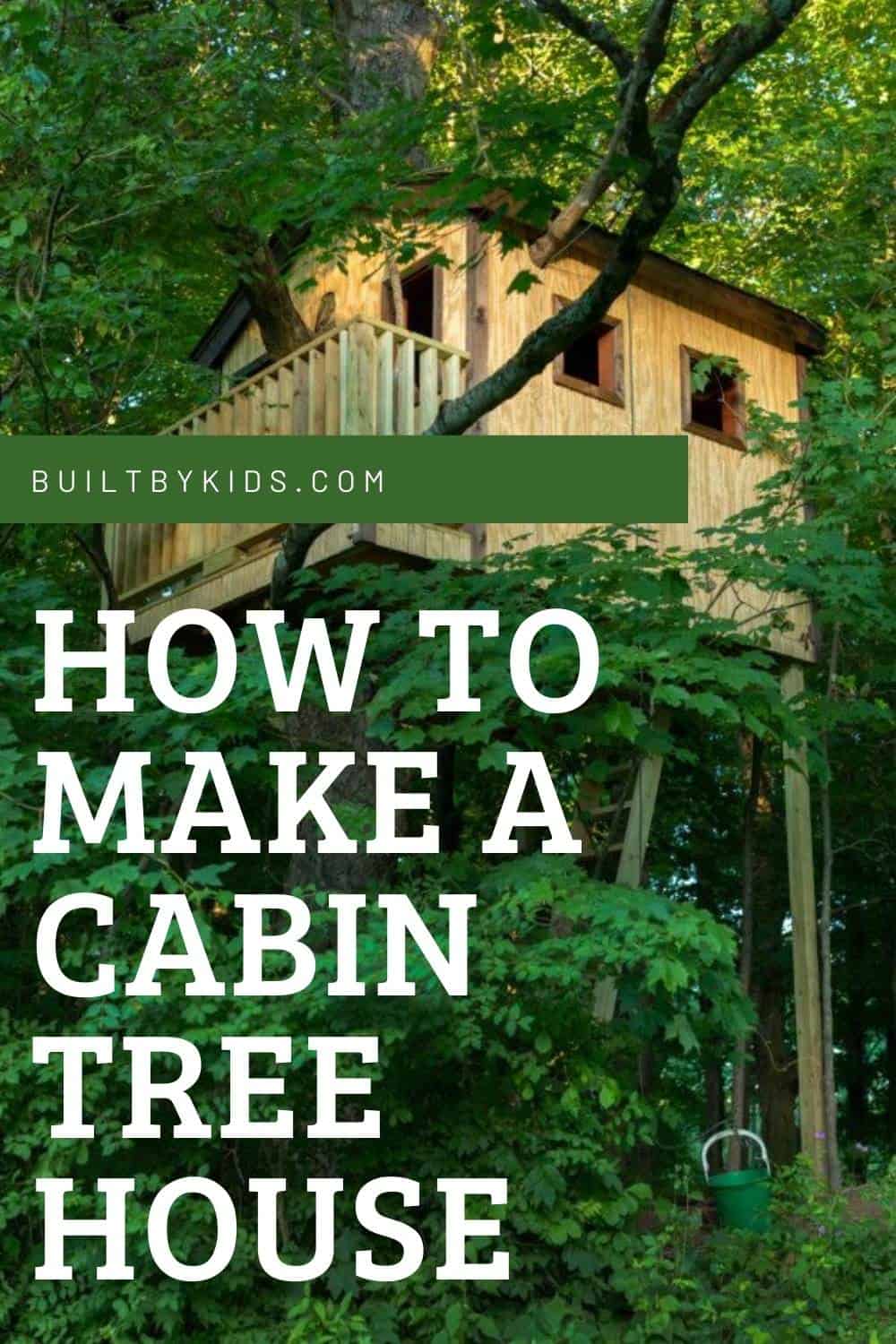 We love how they built the cabin treehouse to encompass the tree and even designed it to allow for a huge branch to pop out over the deck.
Jason enlisted the help of his wife Gillian and their two kids, to help him build the treehouse. They're all very handy and were involved in the entire process and as you'll see they also had a lot of fun.
By day, Jason is a visual storyteller at Awakened Films, but he's also an accomplished carpenter as he recently remodeled their kitchen, which is why this treehouse looks much nicer than a typical DIYer project.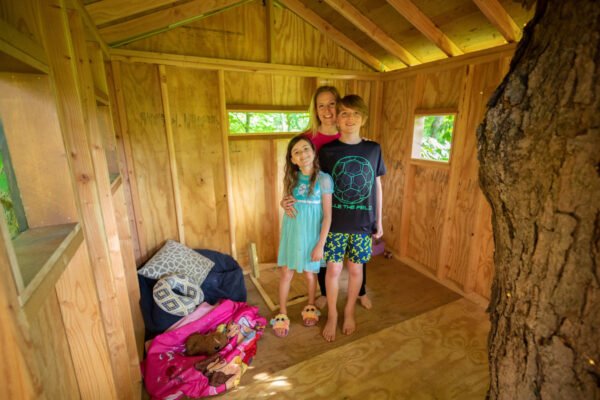 We asked Jason to share more details about how he and his family built this treehouse, and we're now even more inspired to build our own.
What inspired you to build a cabin treehouse?
As a family, we've wanted a treehouse for years. It was really a matter of finding the time! Coronavirus quarantine meant that I had a bit more time on my hands and looking at the various canceled activities over the summer, we decided now was the time to invest in both the memory of a building experience and a fun little space for the kids, right in our own backyard.
Did you follow any plans or design it yourself?
I grew up building tree forts most of my childhood and early teenage years. However, these things were terribly constructed with dodgy materials; mostly other fallen and rotting tree branches…super fun and likely a little dangerous.
In preparation for this build, the family got together at a computer and checked out Pinterest for inspiration.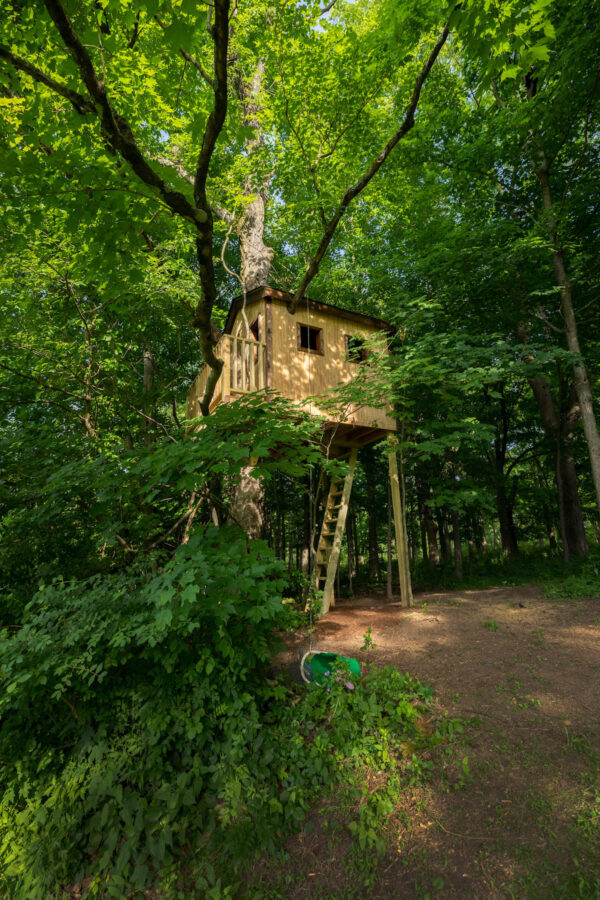 I was leaning towards a crooked house. Samuel was leaning towards a military-styled fort. But in the end, Sophia and Gillian won out with the cabin treehouse type design.
I have a background in carpentry and took on the planning of the actual structure. In terms of size, I was thinking smaller, but the wife & kiddos wanted something with a little space…we landed on an exterior dimension of 8-foot x 10-foot (including the deck) x 6-foot walls.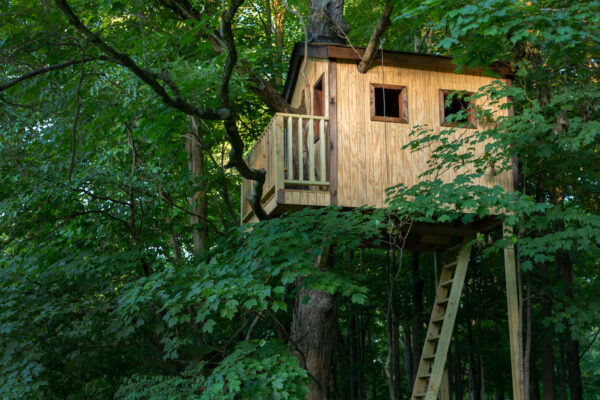 I started with a sketch on a cut-off piece of plywood, but after a nosey neighbor complained to the town, I created a scale drawing with rear and side elevations which gave us official approval. Honestly, other than generally following code (16" OC, hurricane ties, railing height/balusters), a treehouse is a super simple thing to design!
Click here to download the cabin treehouse elevation plans.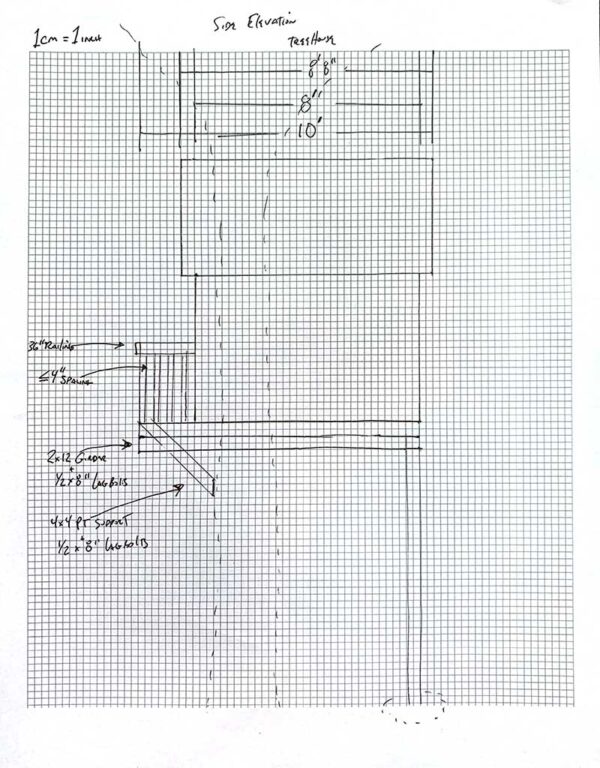 How much did the materials cost?
$500, plus $50 for the permit. However, this number may be a little unfair. I had been storing up extra lumber from various house projects over the years, so there were a bunch of freebies (2x4s, 2x12s, 1x4s, some plywood and even a roof shingles). The biggest single cost was T1-11 siding.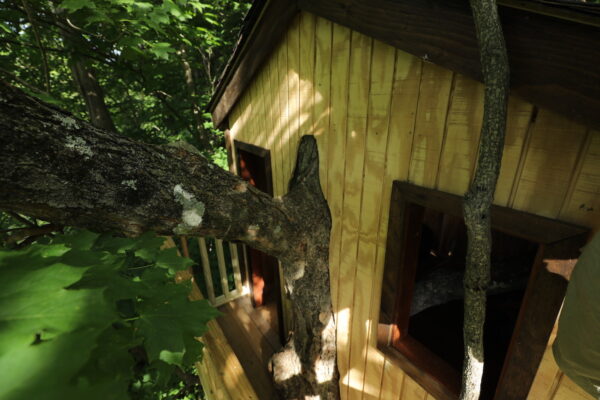 How long did it take you to build it?
Total time start to finish was a little over 5 weeks. But the kids were doing 'online school' and I had a small business to run. This meant we probably averaged two days per week…for a total of 8-10 days. And most of those days were 4-6 hours with a few long ones.
My guess is that a non-handy person would take three weeks of solid work, and a pro could do it in less than one week.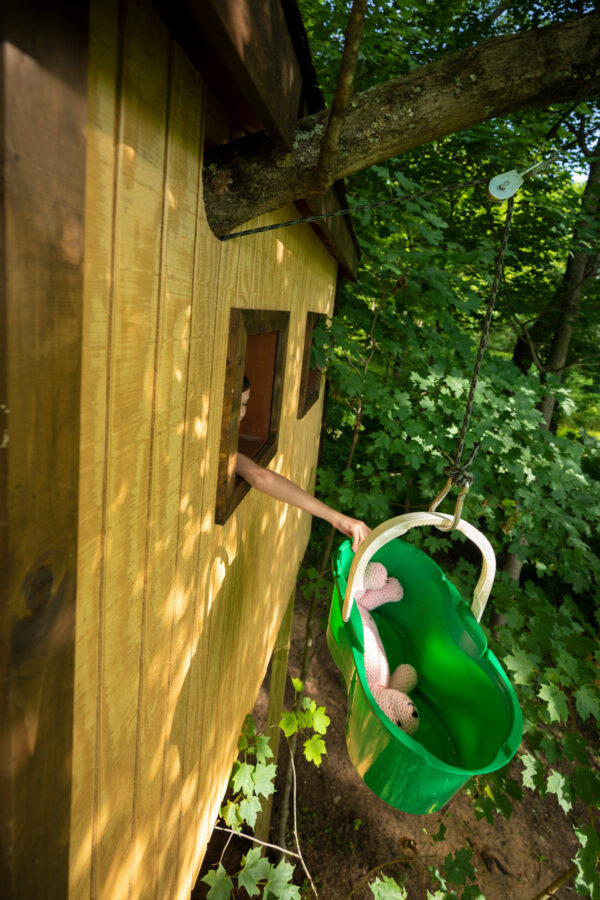 What type of tree is it and what age is it?
We are fortunate to live in an area of the country where there is a bit of land. In our back yard, we have a large flat grass area and we have a hilly area that is wooded. We looked at a number of different options for placement and landed on a large old maple tree at the top of the hill, on the edge of the woods.
My guess is that its at least 50 years old. Probably not the best tree, but we are so happy with both the view from the treehouse and the fact that it is hidden away in the woods!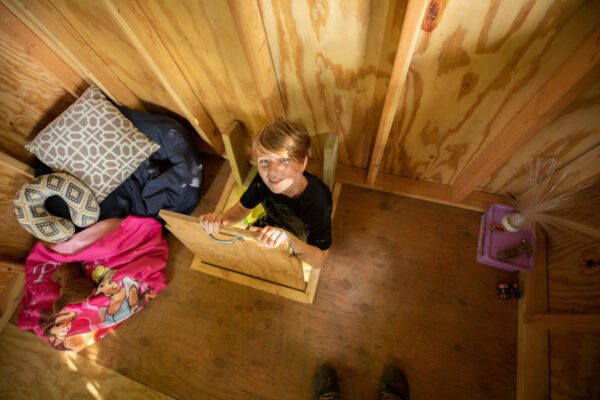 How did you connect the cabin treehouse to the tree?
I did a bit of research on anchor systems for treehouses and liked the floating systems, but they were cost prohibitive. I landed on a series of 8" lag bolts connecting PT 2x12s to the trunk.
Our design also utilized a large branch as a 'backup' for bearing the weight on the girders. And because it is a cantilevered style design, we used PT 4x4s with a concrete footing for the back half.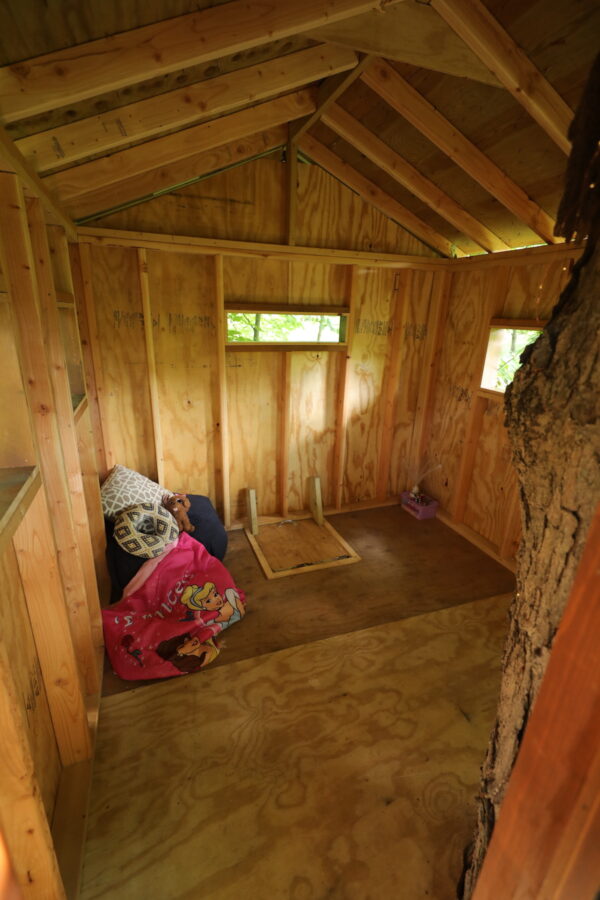 How old are your children and how did they help?
Samuel is 11 and Sophia is 9. Both helped in the building of this family creation, but my son is now old enough that it was a tremendous learning experience for him.
He and I had such an amazing bonding experience doing this together! He was right there with me, virtually every step of the way…from the initial design phase to digging the foundation and setting the main girders, to building the platform and walls…even roofing together!!
I don't know that all of the how-to knowledge will stick, but the memories we made together were priceless.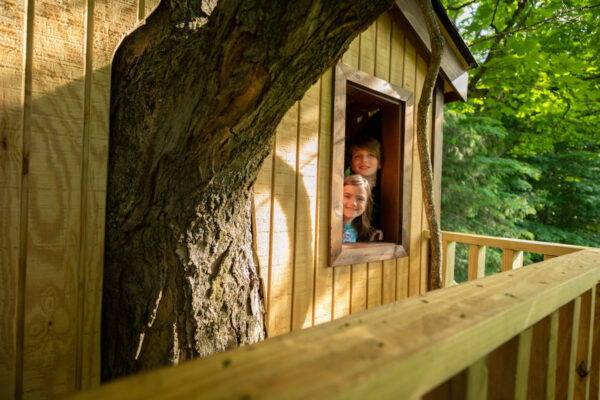 Any specific tools you needed to build the treehouse?
I suppose one could build this with only a few hand tools, but it would be a long and difficult process!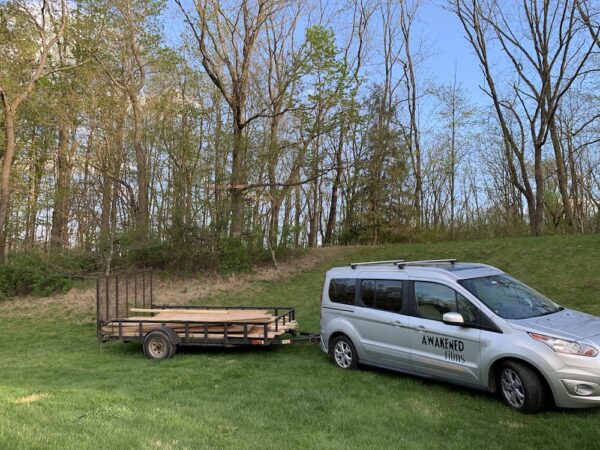 We used our Awakened Films Ford work van and a trailer for carting materials from the store. Also our Toro zero turn and a small craftsman trailer for getting things up and down the hill.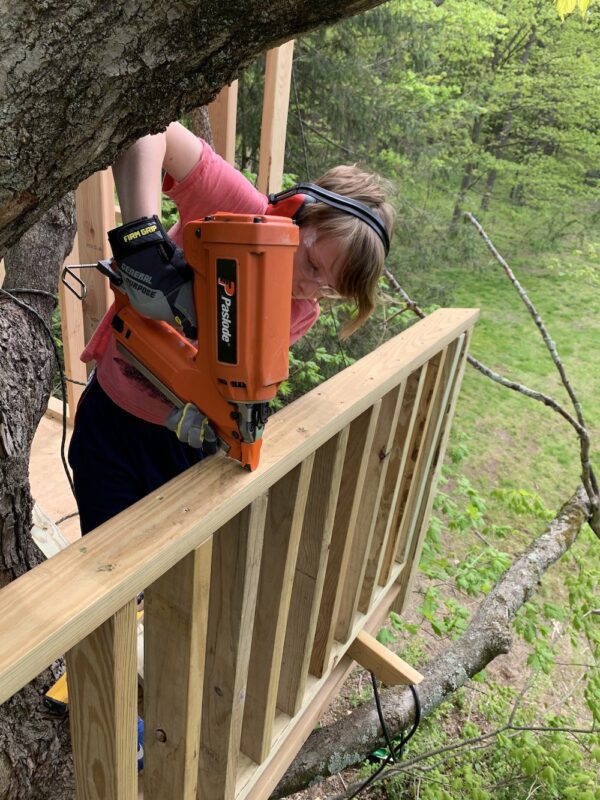 I bought a new Skilsaw worm drive for this project and it was a beast with those 4x4s. Paslode cordless framing/finishing nailers were a lifesaver for securing those big reach connections.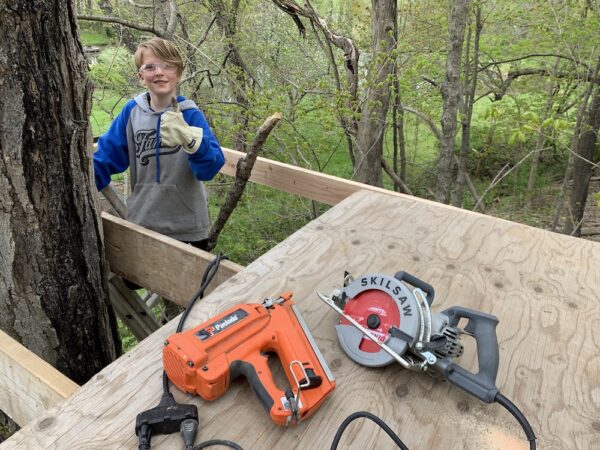 Milwaukee Fuel drivers held there own with a large number of framing screws. Craftsman 1/2" drive and socket set made quick work of the lag bolts.
The 8' Empire level was our best friend when trying to get things relatively level and square (when 10 feet up in a tree). Of course, I couldn't have lived without the Fatmax tape measures.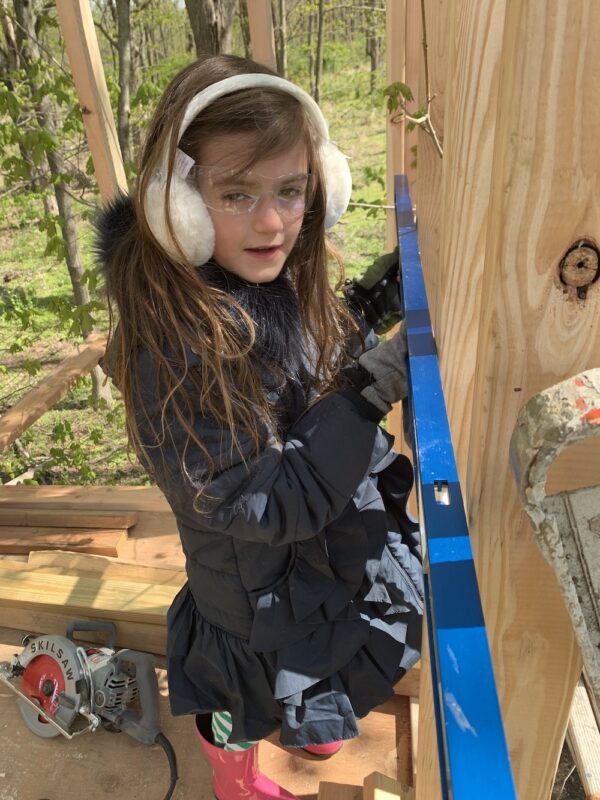 And lastly, our Dewalt reciprocating saw fought gallantly, before giving up the ghost…need to replace him soon.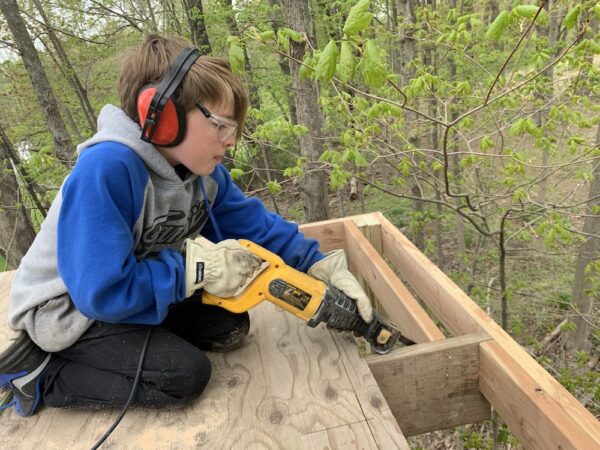 Any treehouse building tips?
Yes! Biggest tip: everything is MUCH slower when building above the ground.
We chose 10 feet as our floor height because of two factors: 1) Our town limits total accessory structure height to 20 feet, and, 2) the best limbs of the tree started at that height.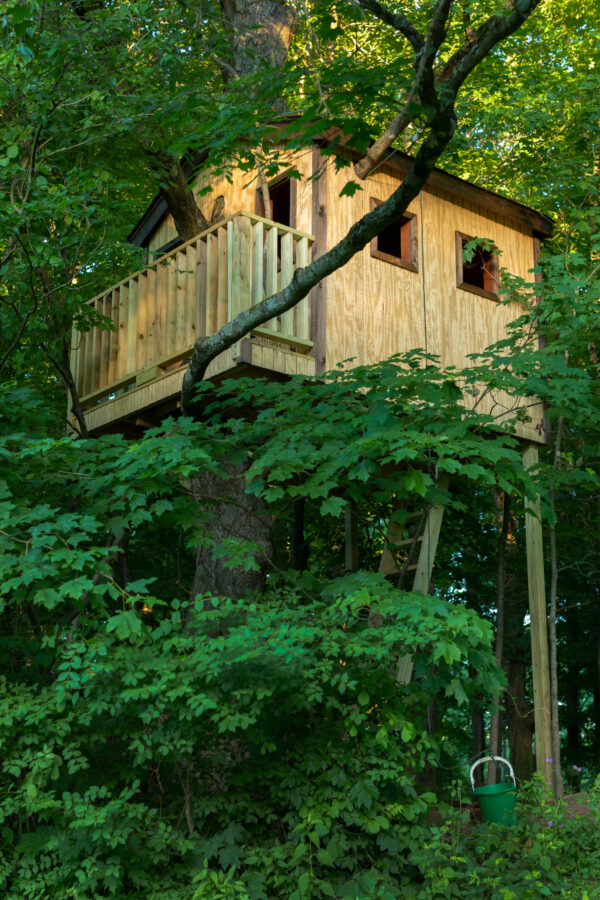 However, its really, really hard to lift 4×8 sheets of plywood and secure them ten feet in the air!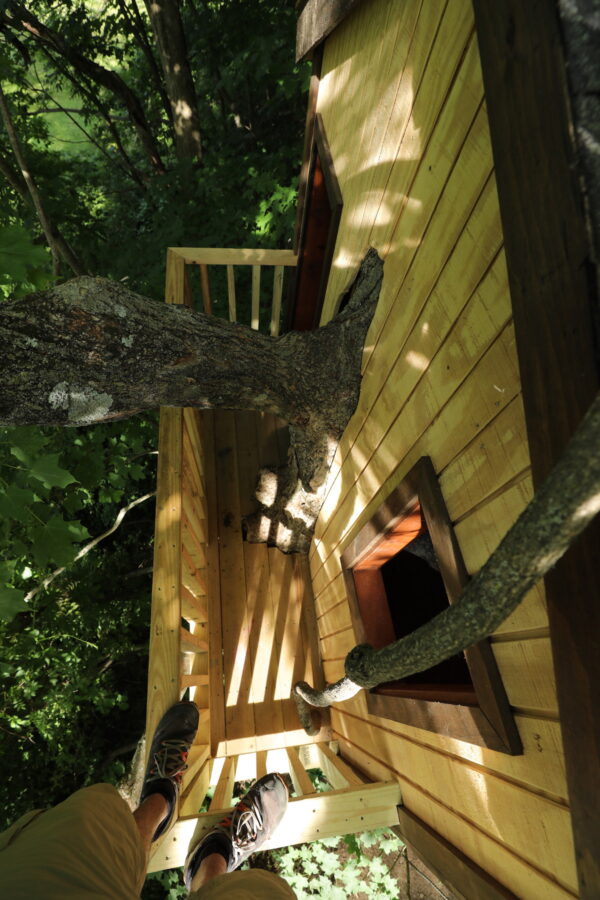 Second tip: check your local city ordinances before moving ahead. We knew that there weren't any specific ordinances governing treehouses, but a neighbor's complaint forced us to apply for an 'accessory structure' permit.
In the end, it worked out just fine, but it would be sad for one of your readers to have an issue requiring a teardown.
Last tip: build the biggest treehouse you can. I had visions of a 4x4x4 little house in a tree, and it wasn't until my wife suggested we think longer-term and make it big enough to enjoy well into the teenage years. Hoping they don't get into too much trouble up there!
Anything you'd do differently if you built another one?
I'd like to do a crooked house kind of thing at some point. I'd also have built it lower to the ground had I known how hard it would be for one person to lift and secure plywood at that height.
We've also talked about adding a low-voltage solar panel + battery type of lighting kit, to extend the use in winter.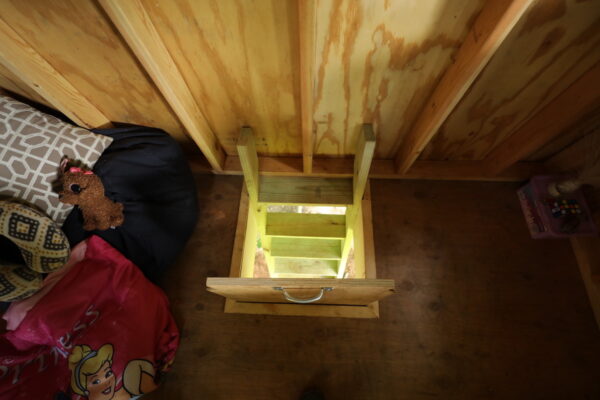 We love the trap door, but adding the stairs to the outside of the structure (perhaps near the deck) would have been easier and cheaper.

It was an amazing project that created incredible moments of relationship (and learning)…Building a treehouse is highly recommend!!!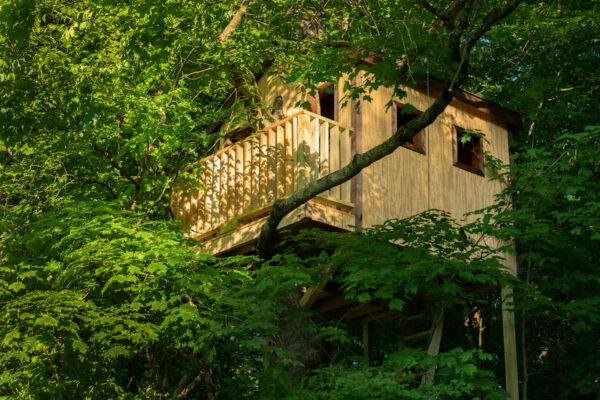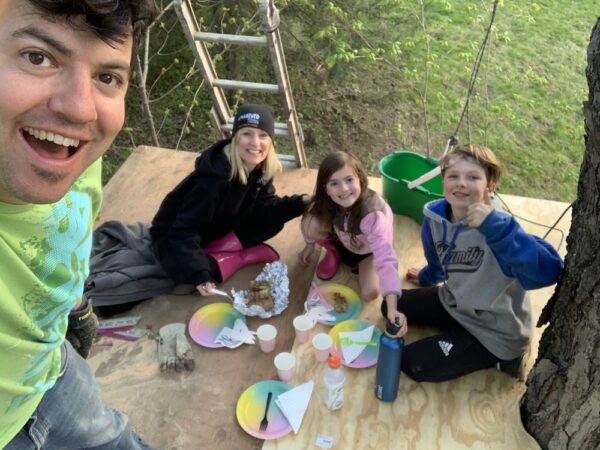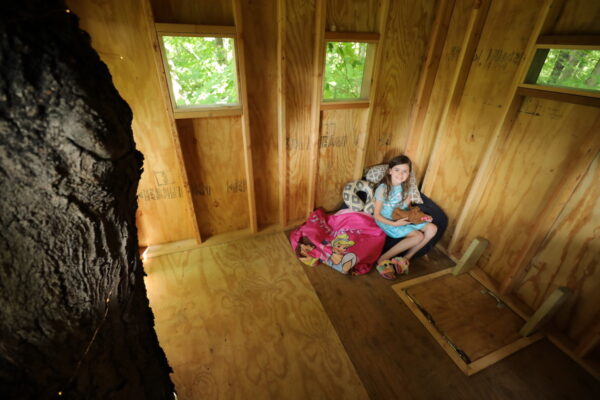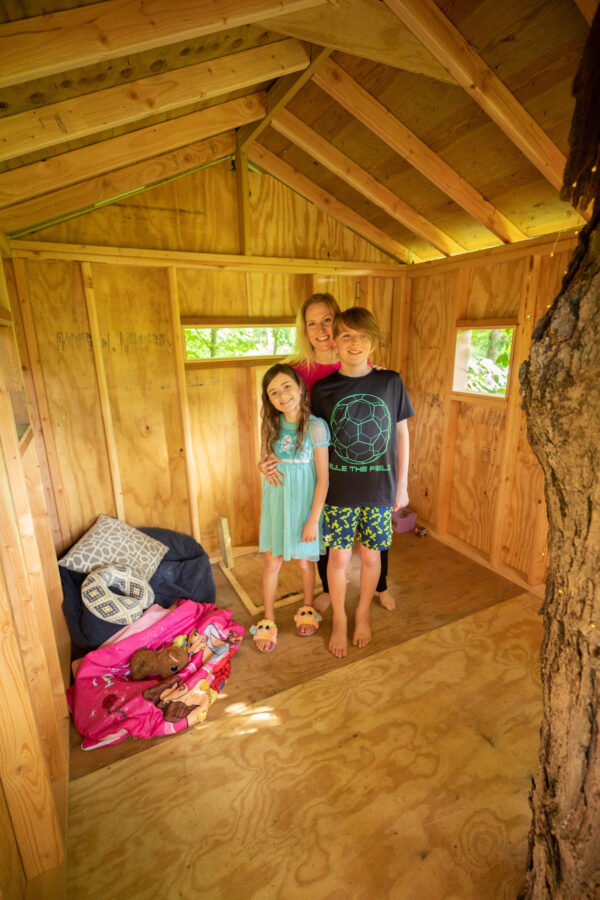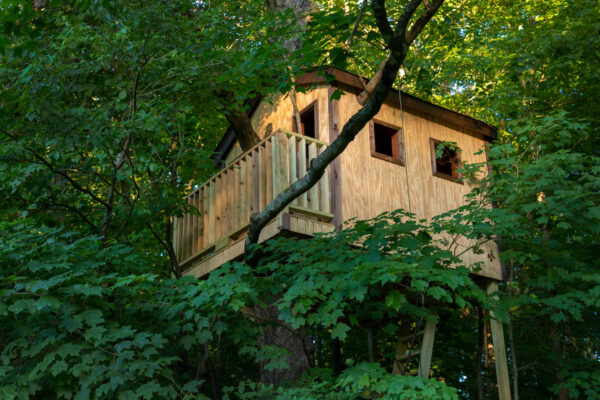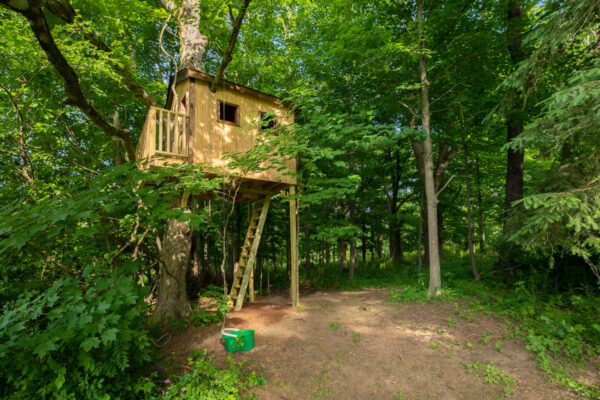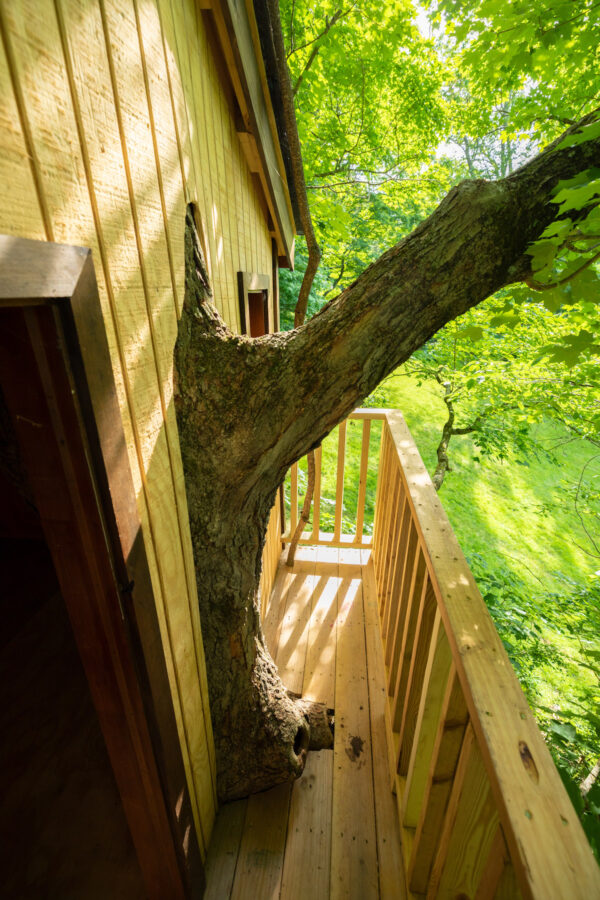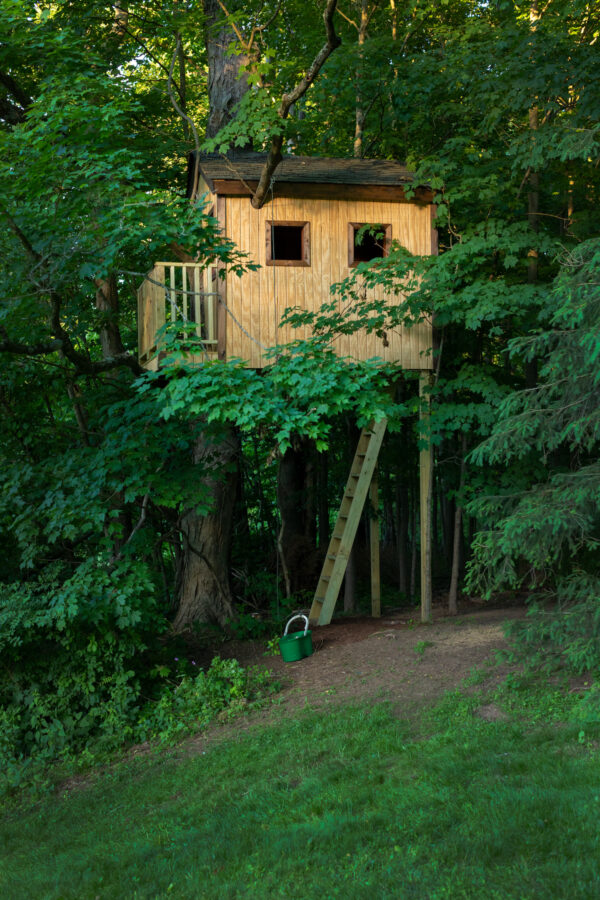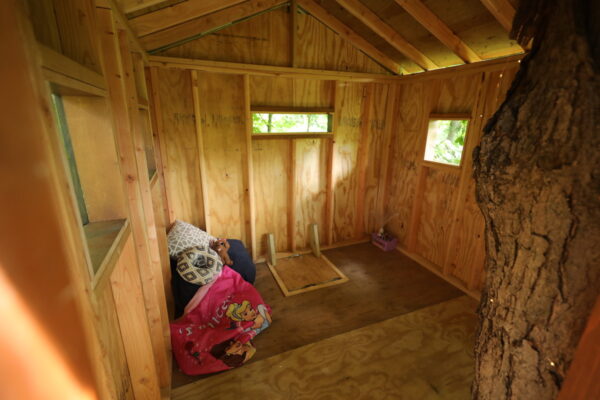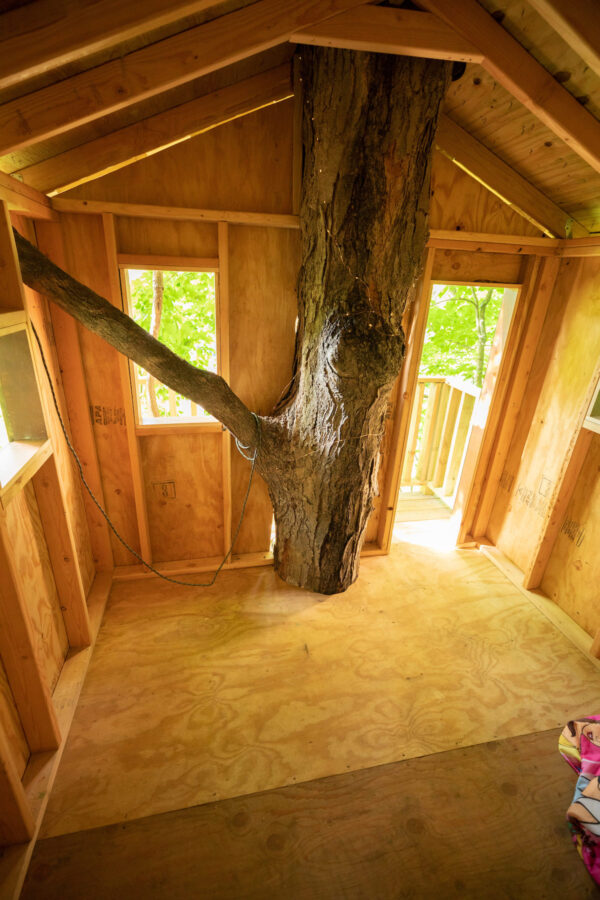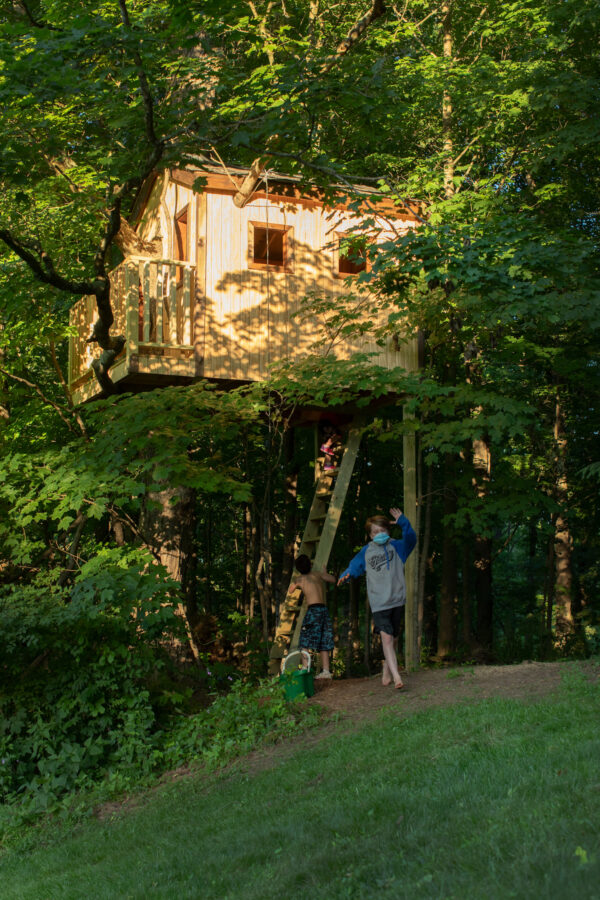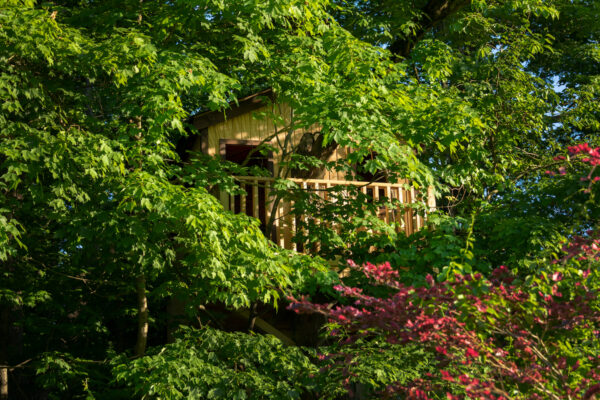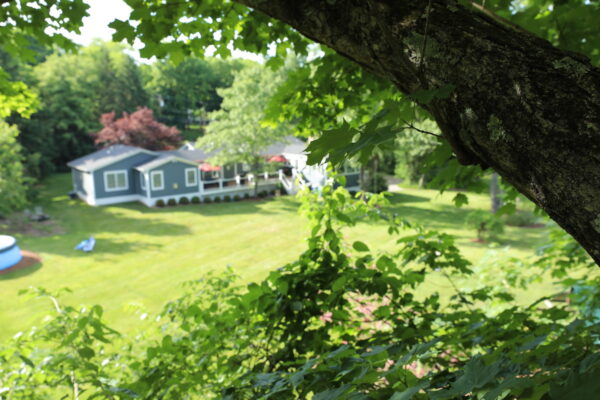 Here are some more candid photos of the entire construction process. As you can see the Schulers had some fun and the entire family participated in the build.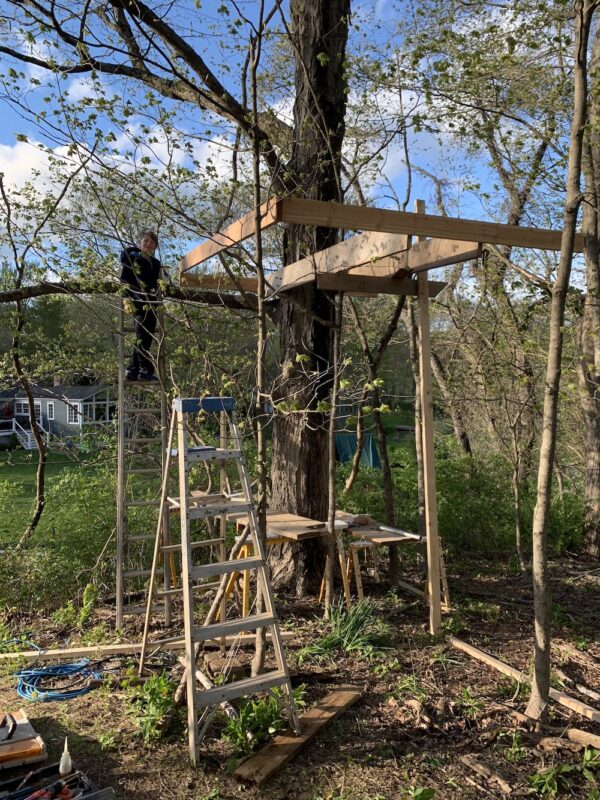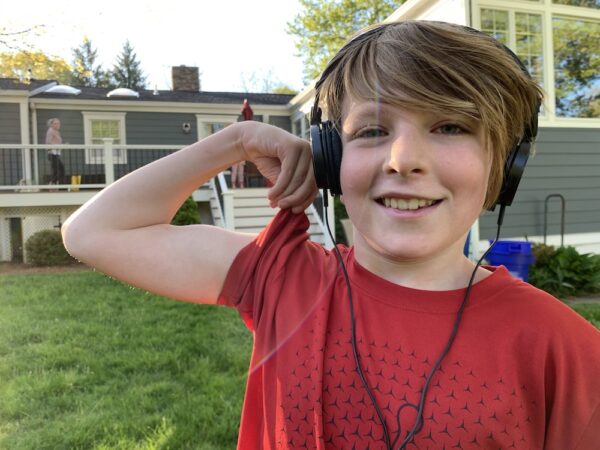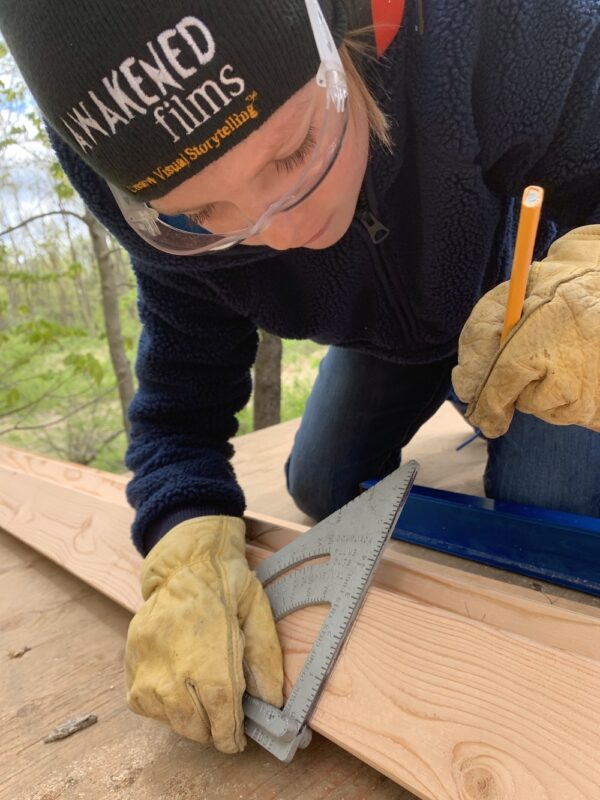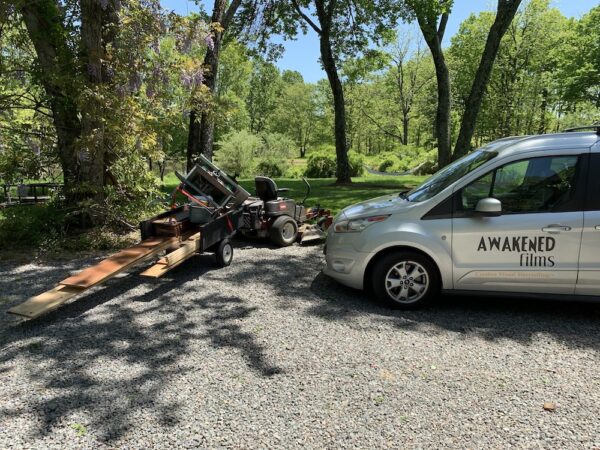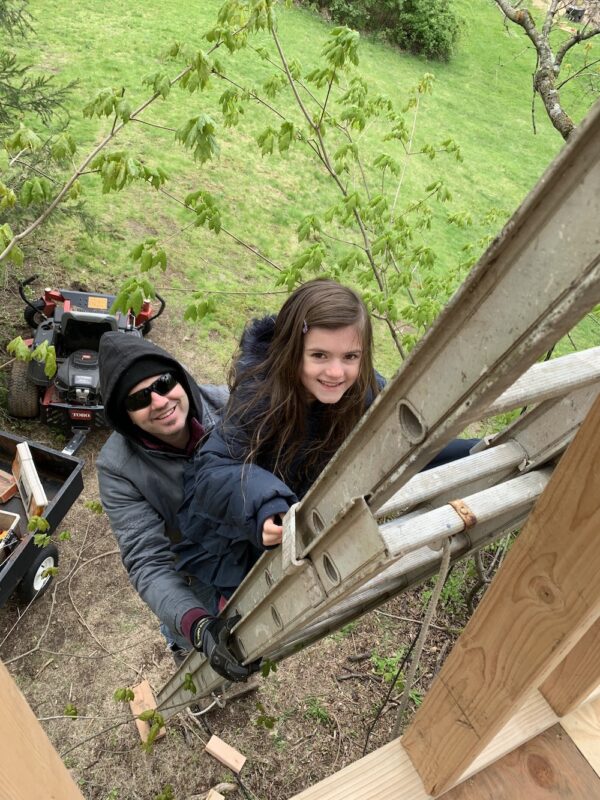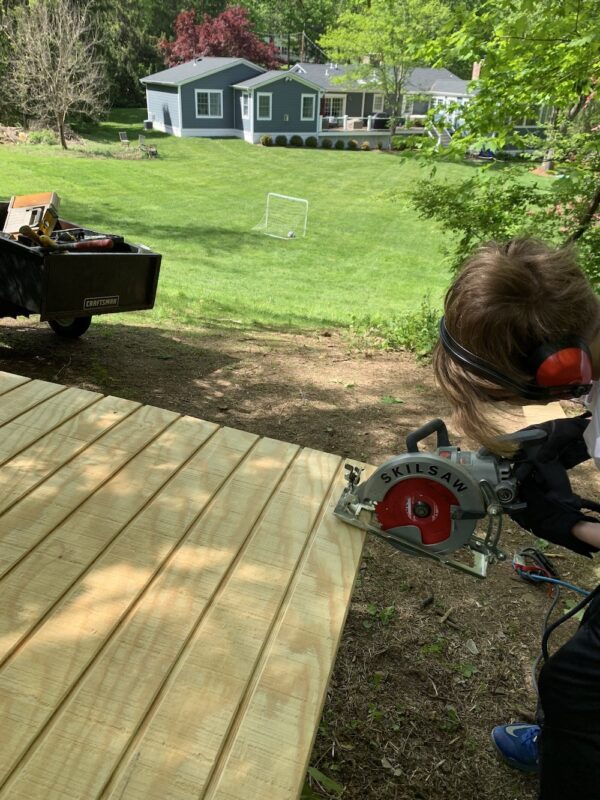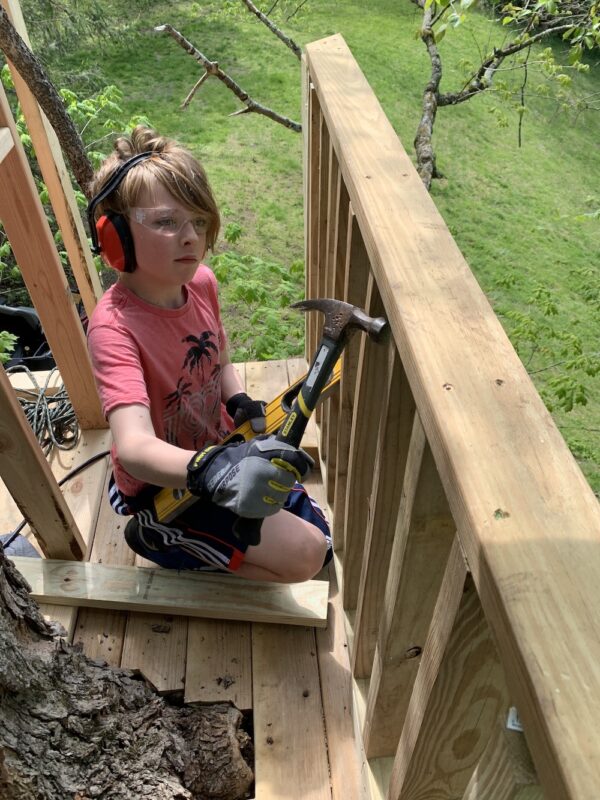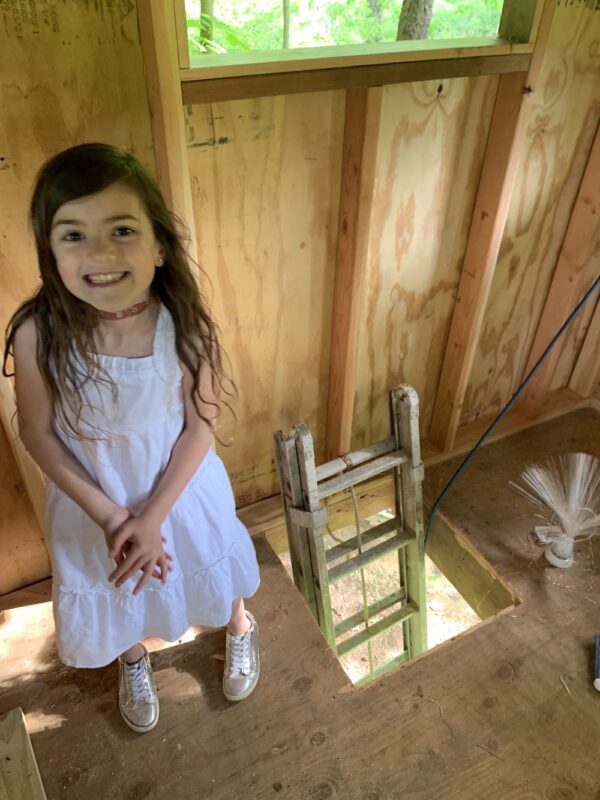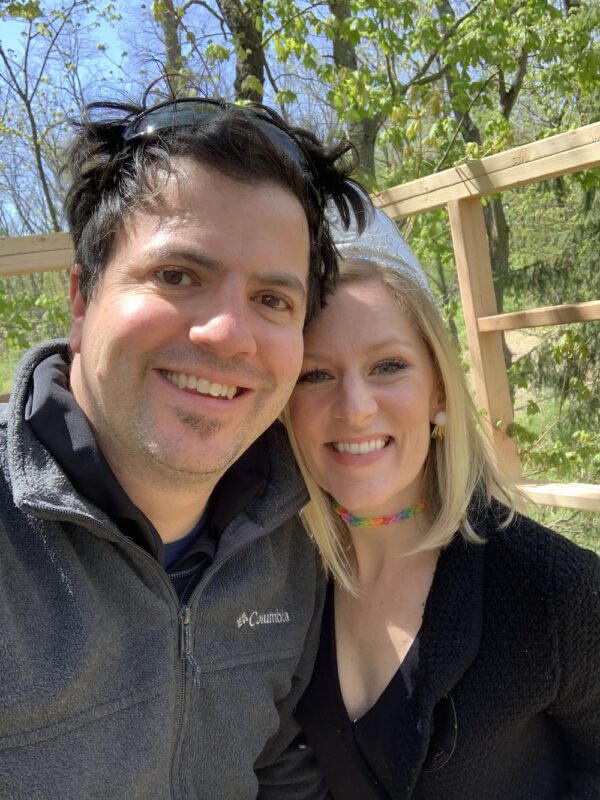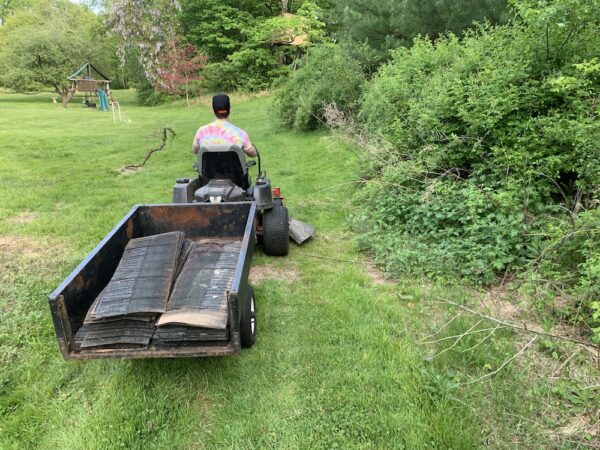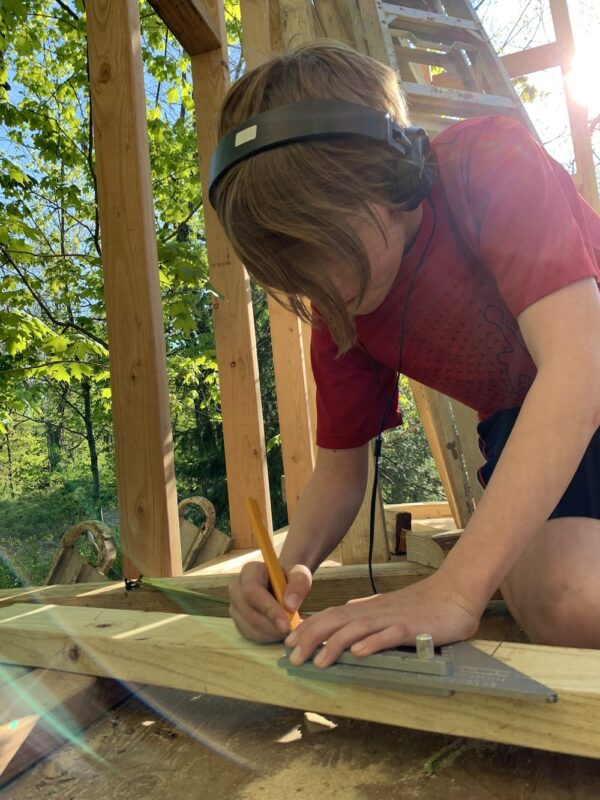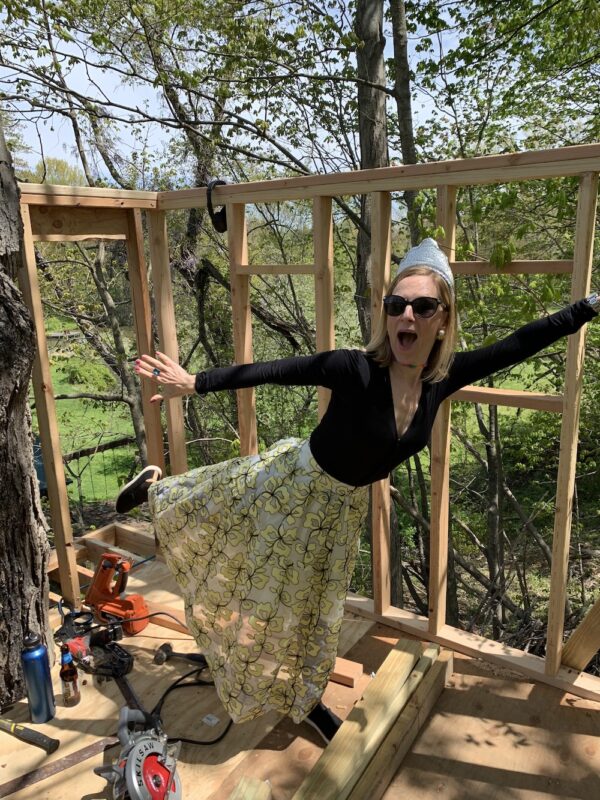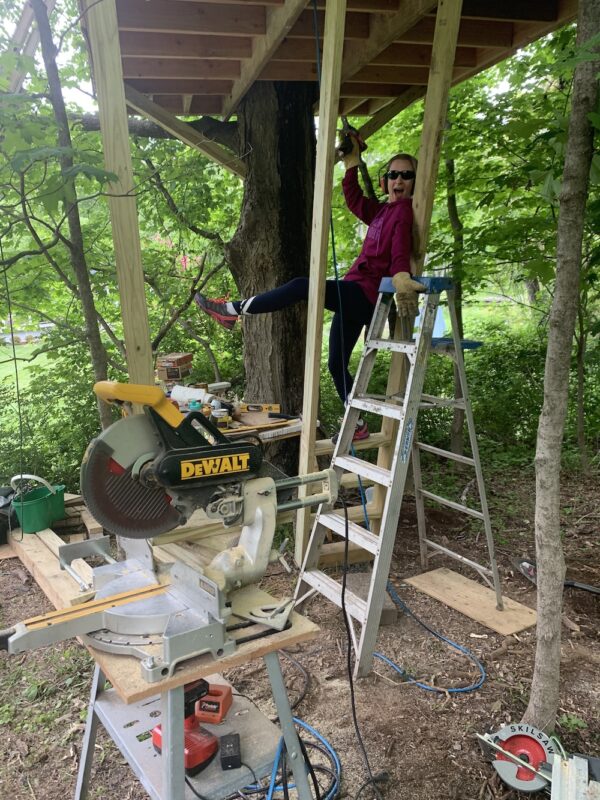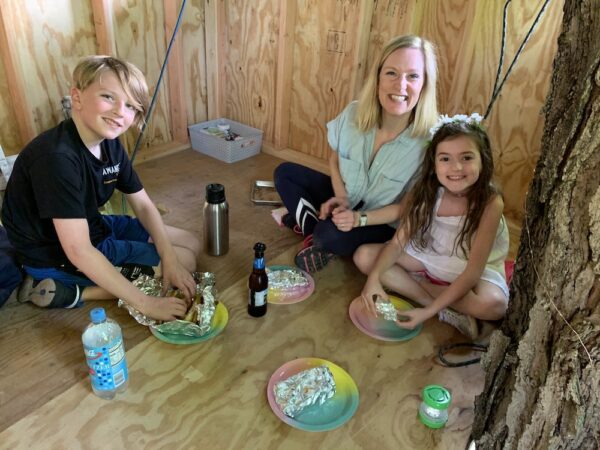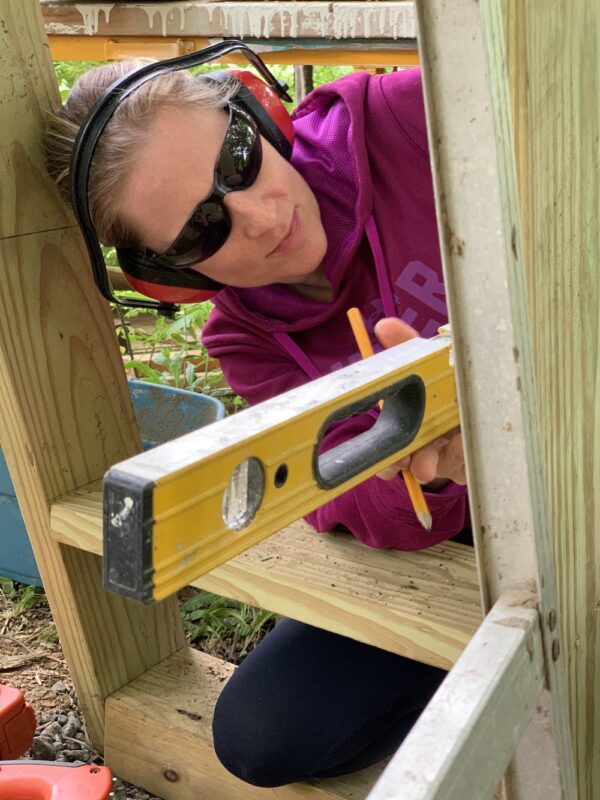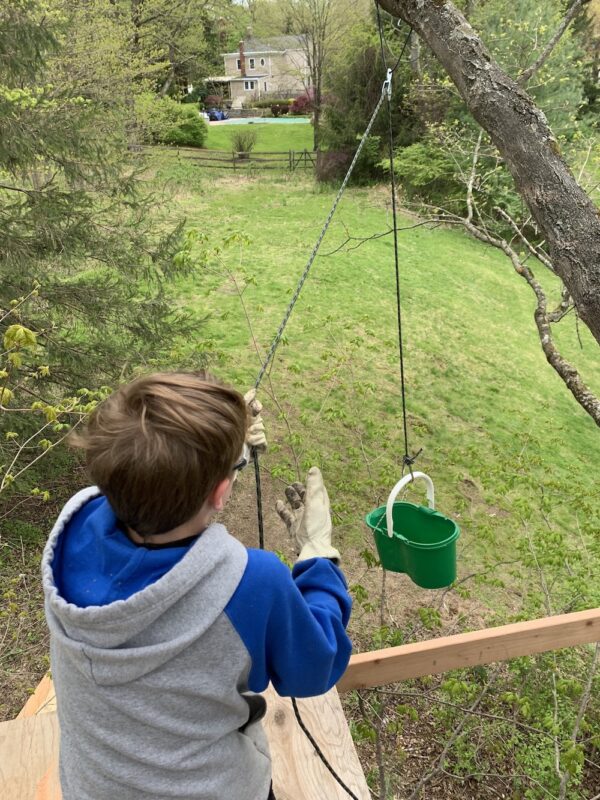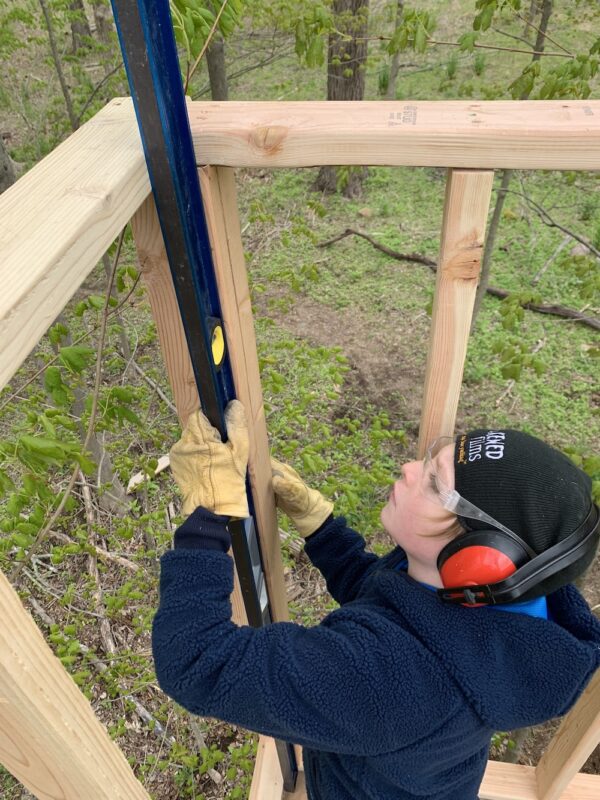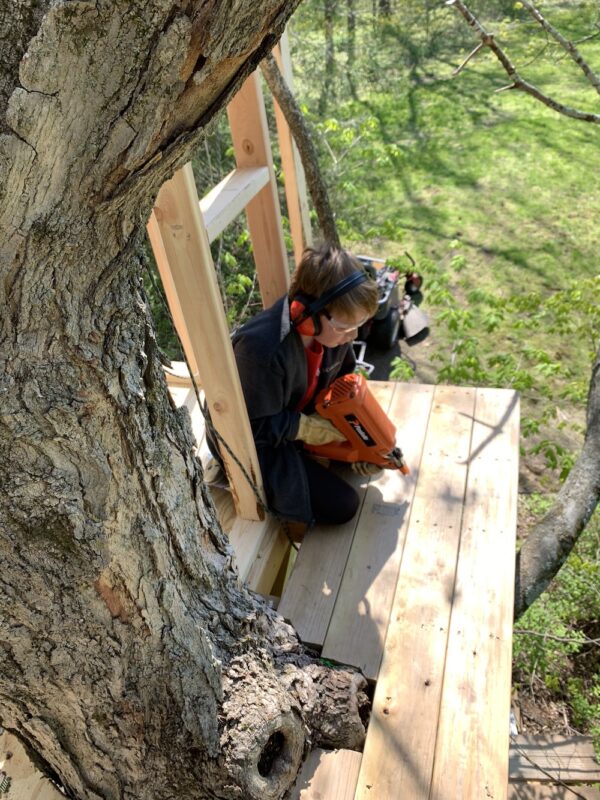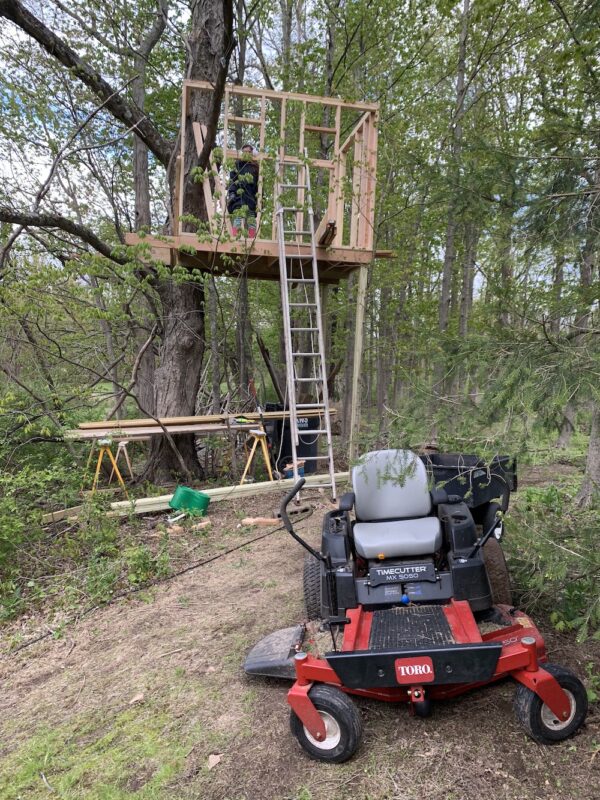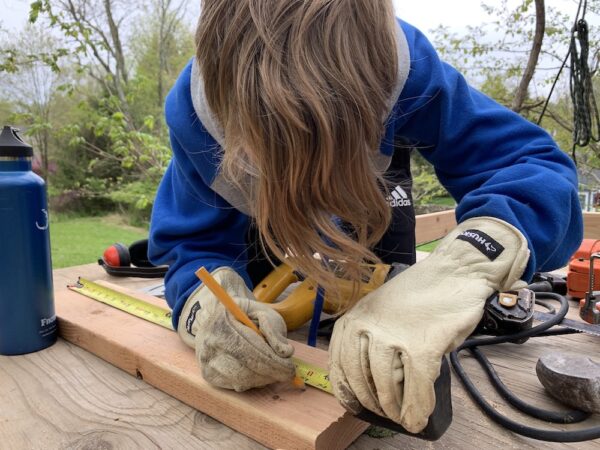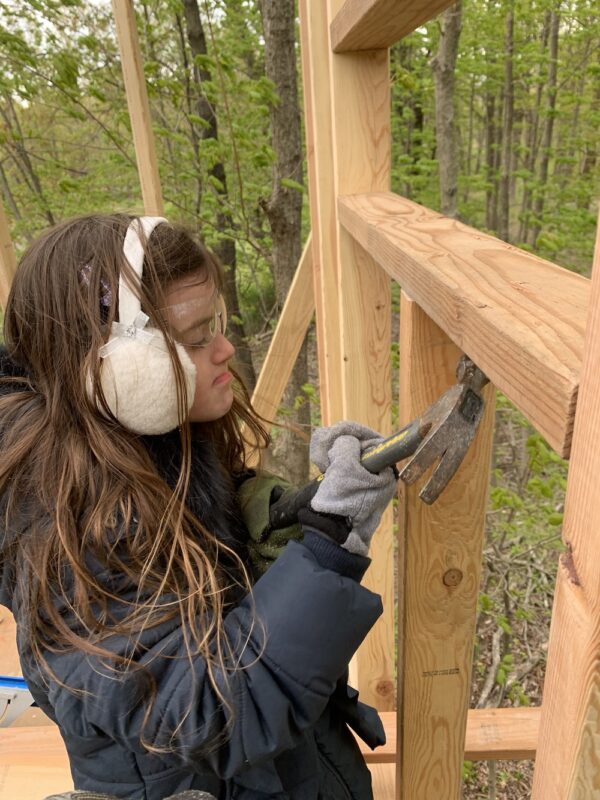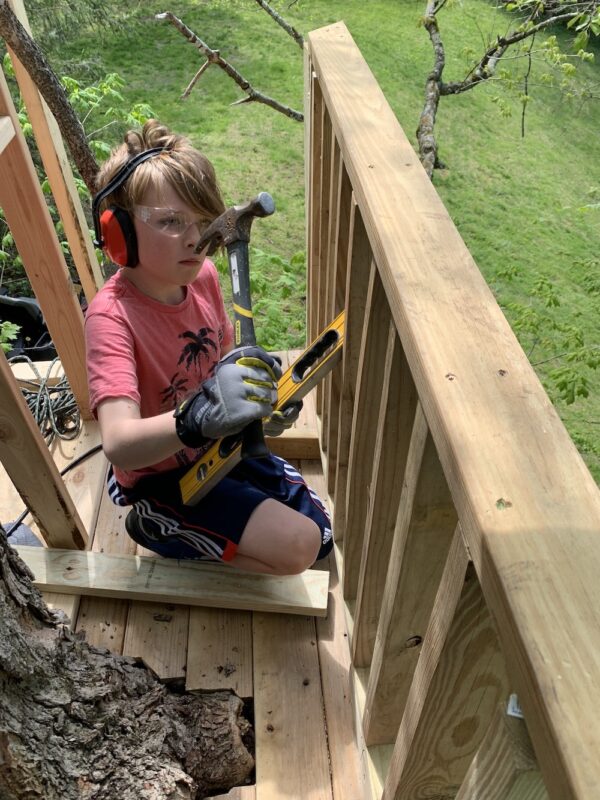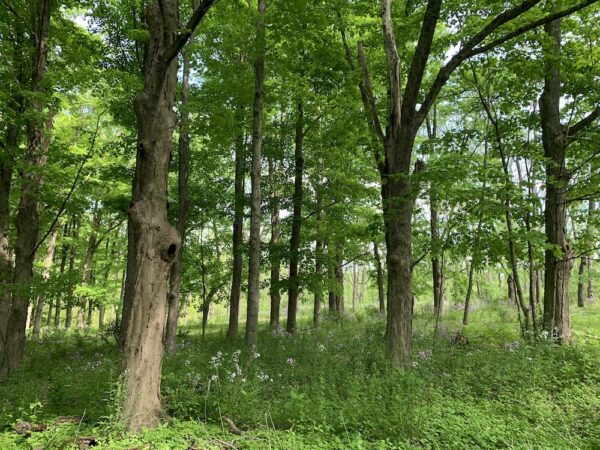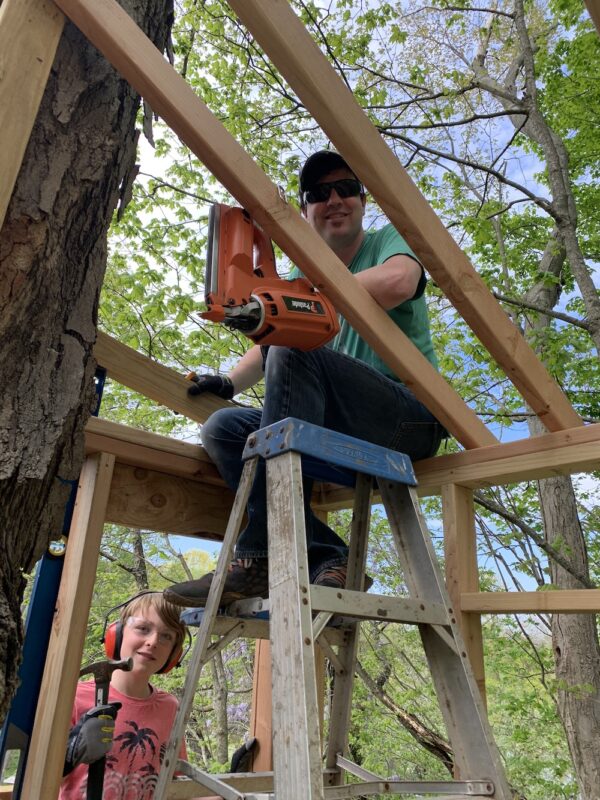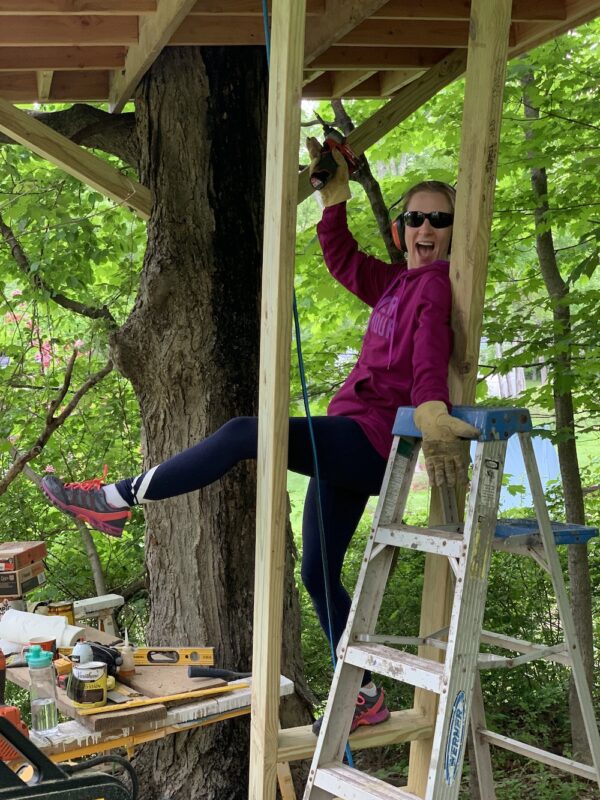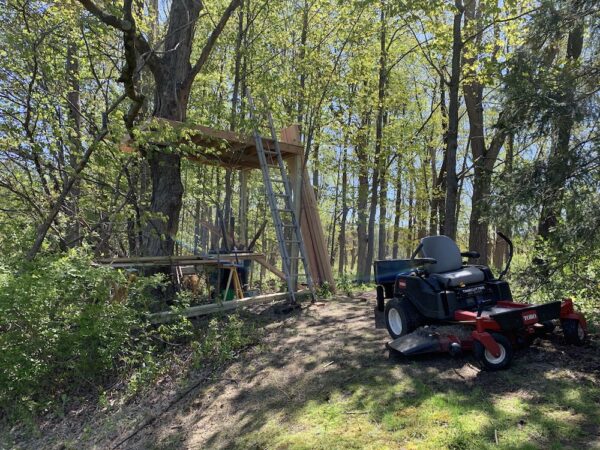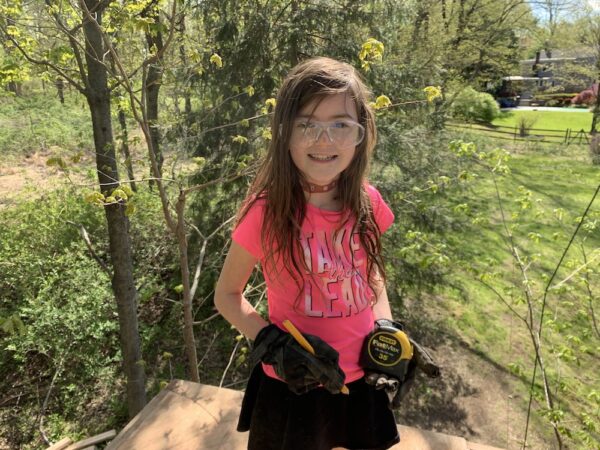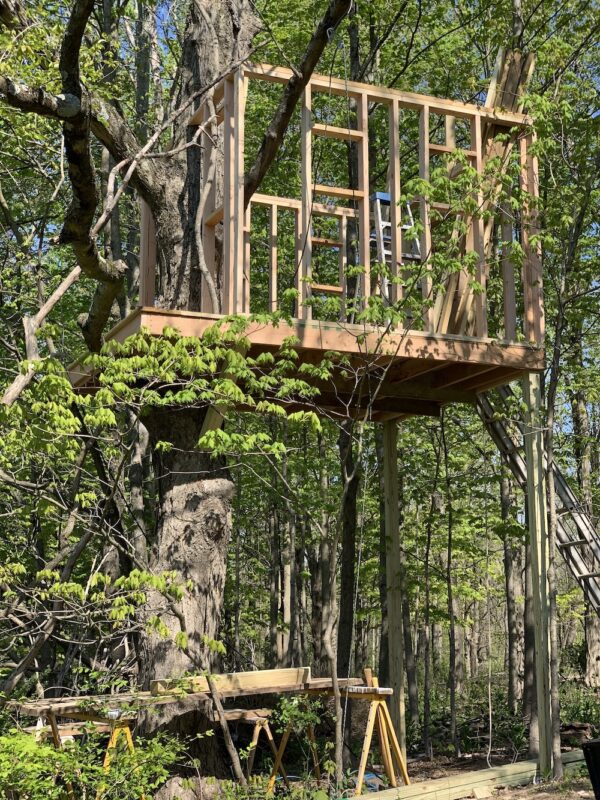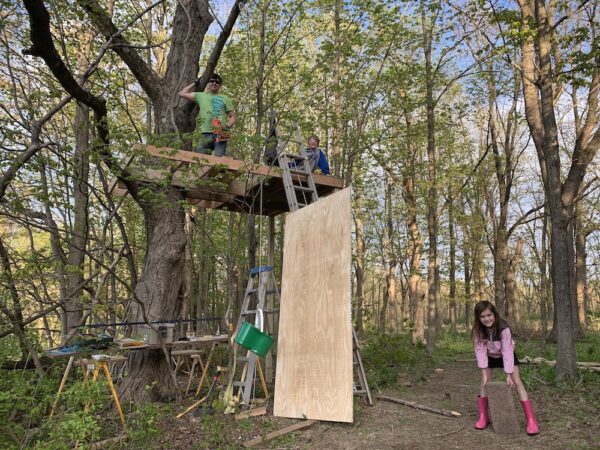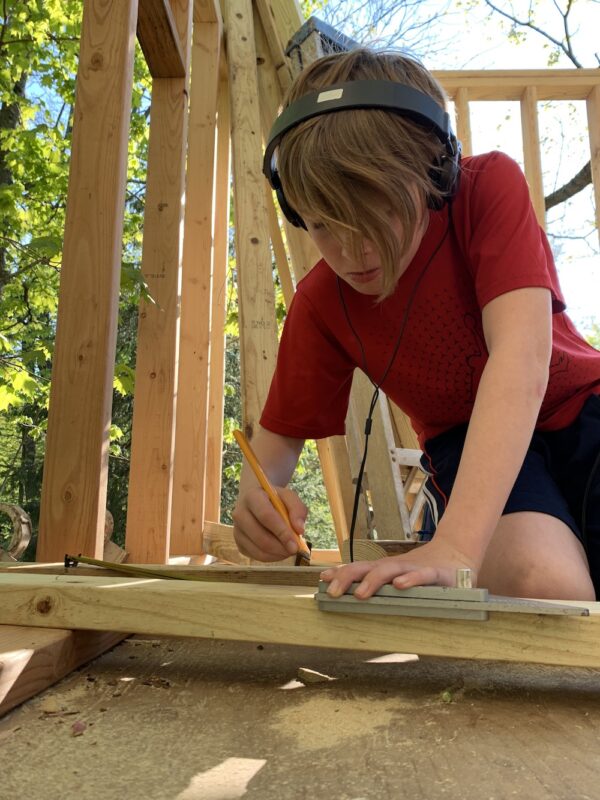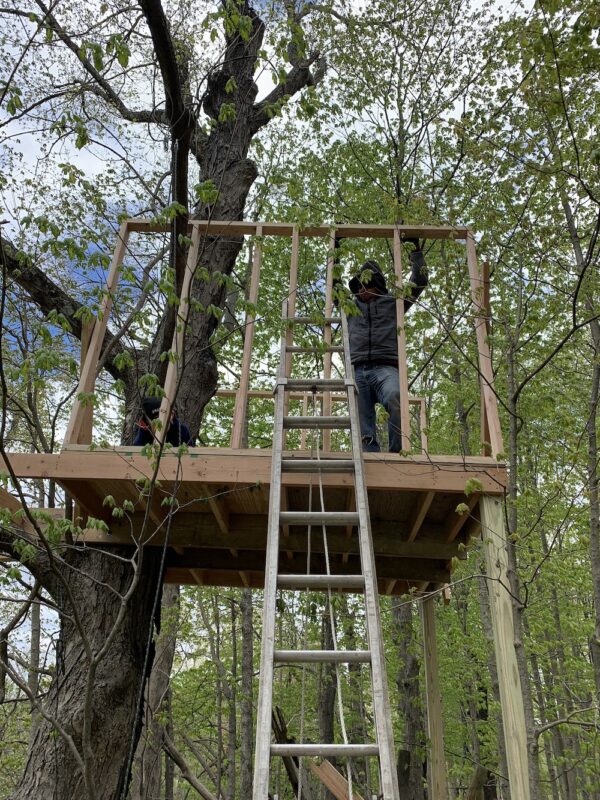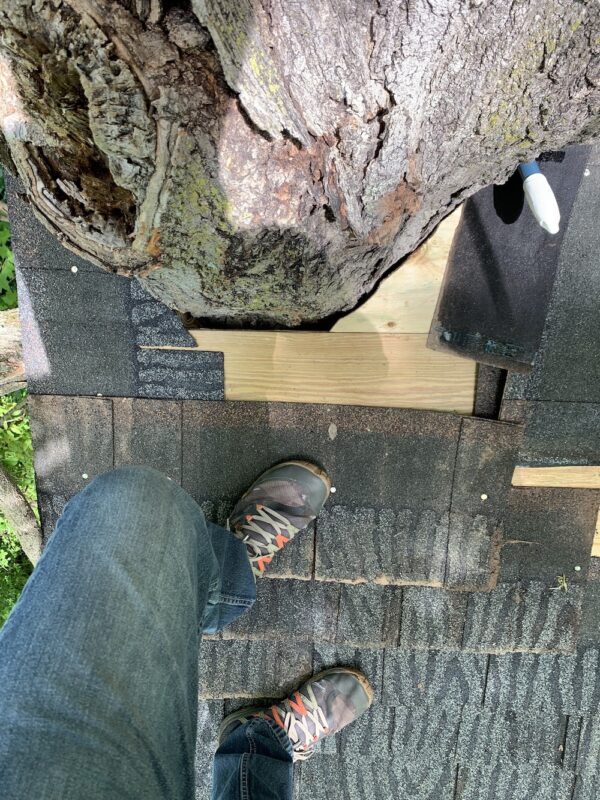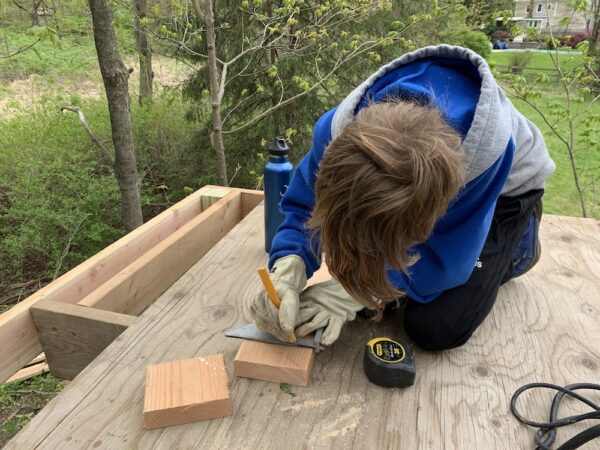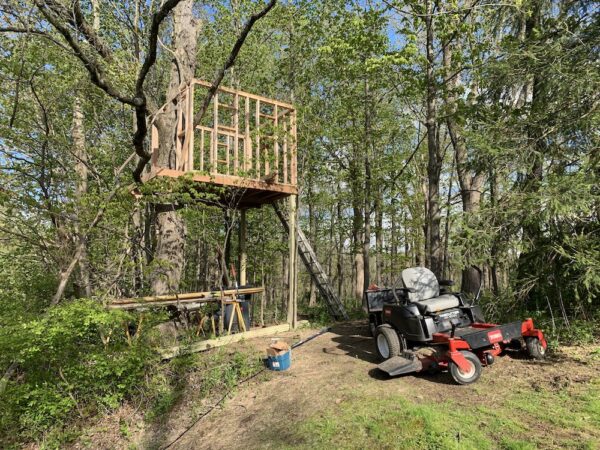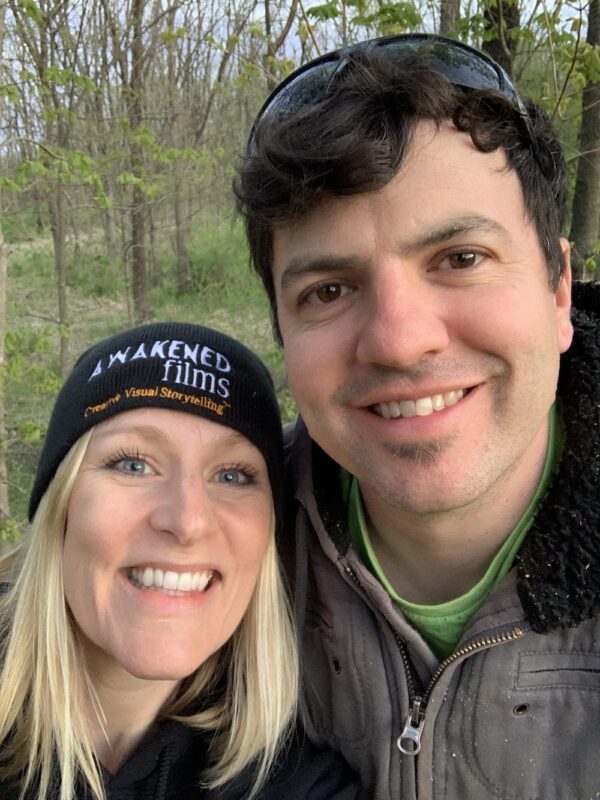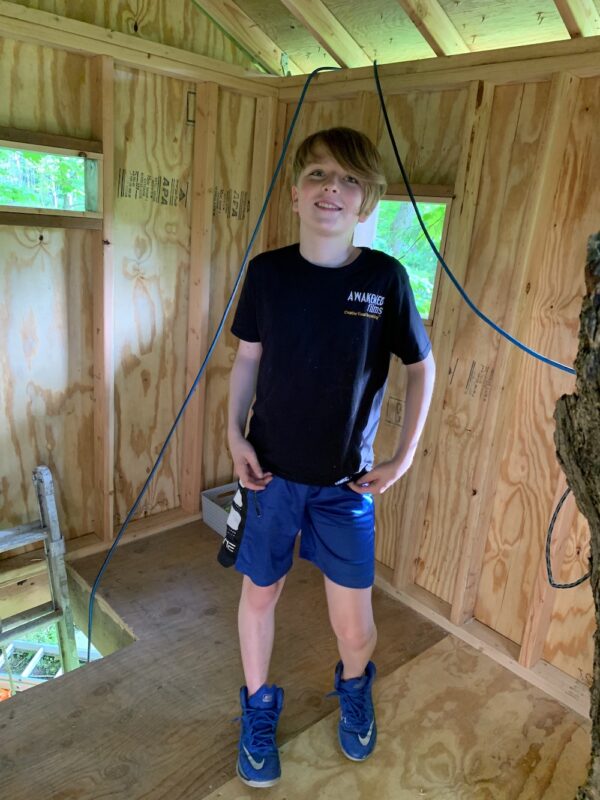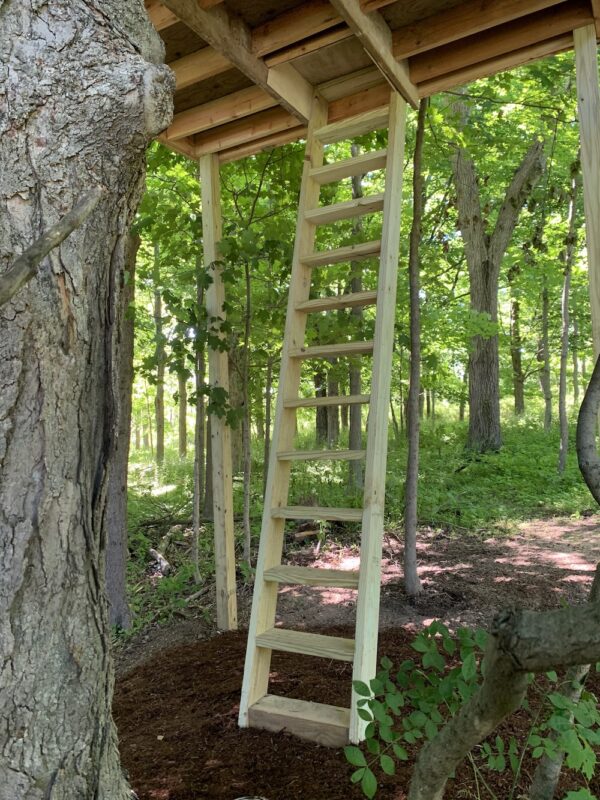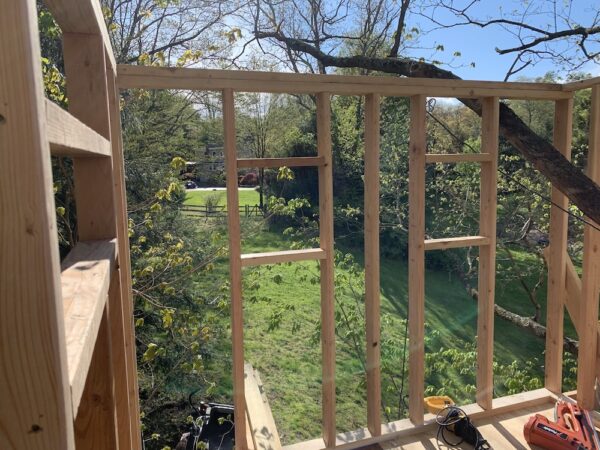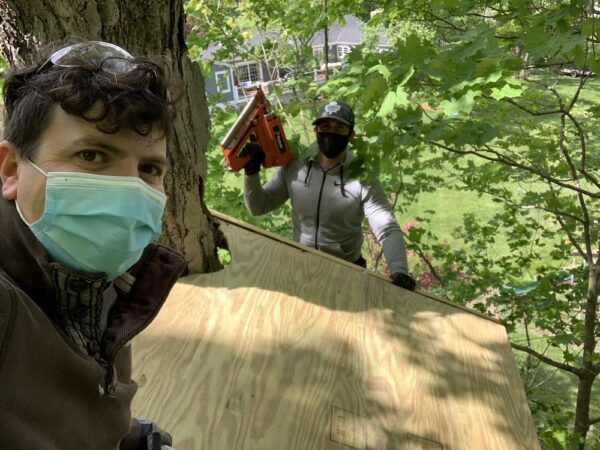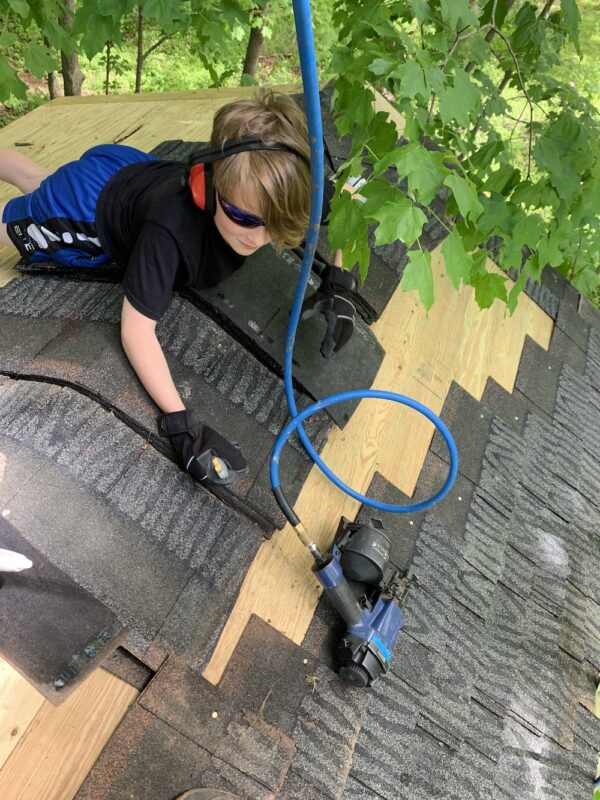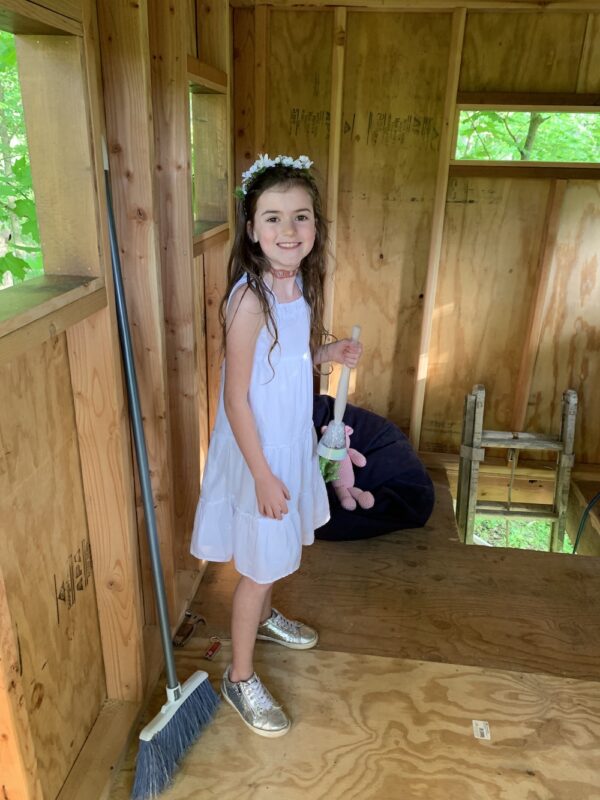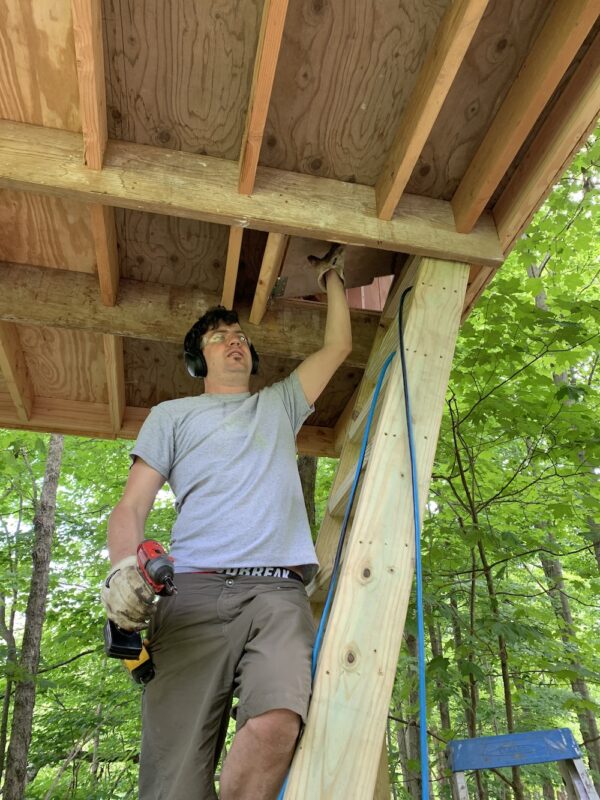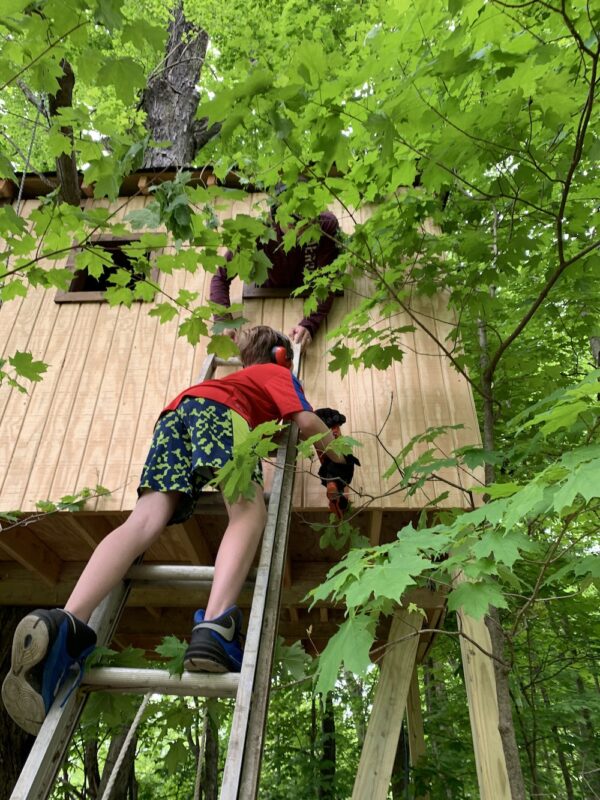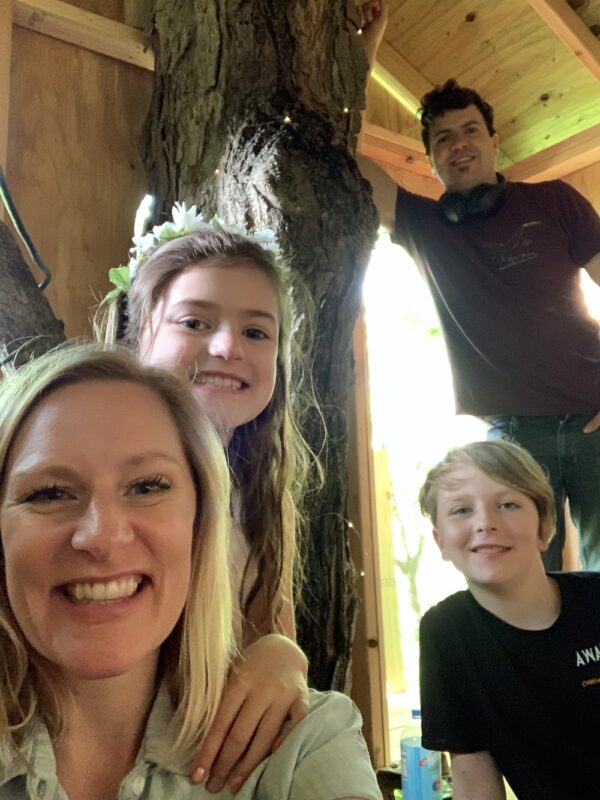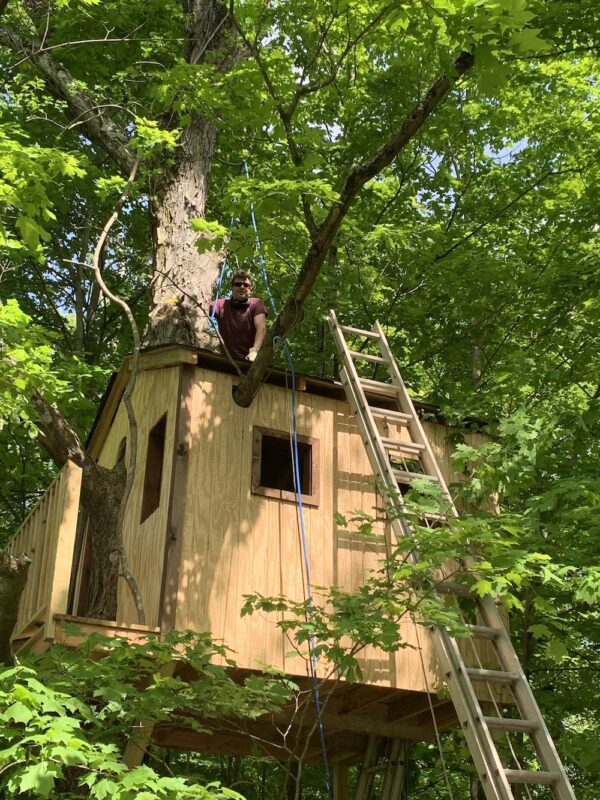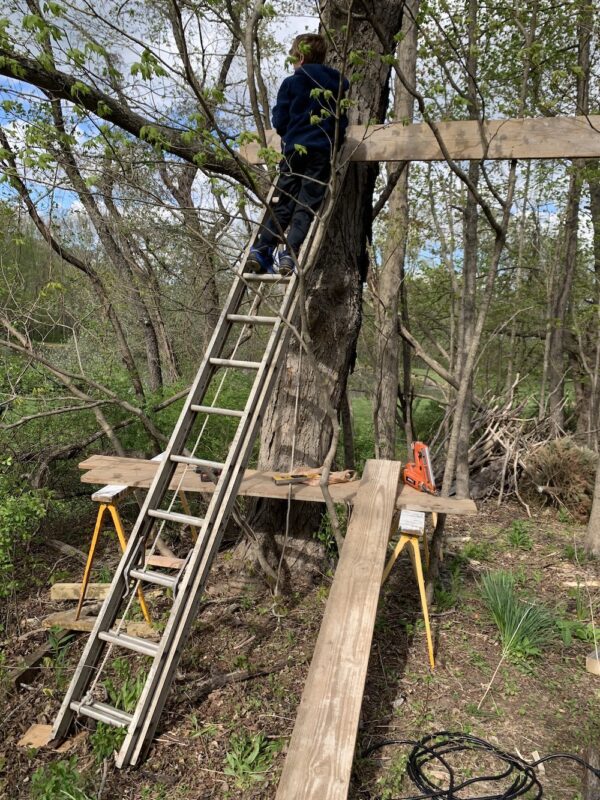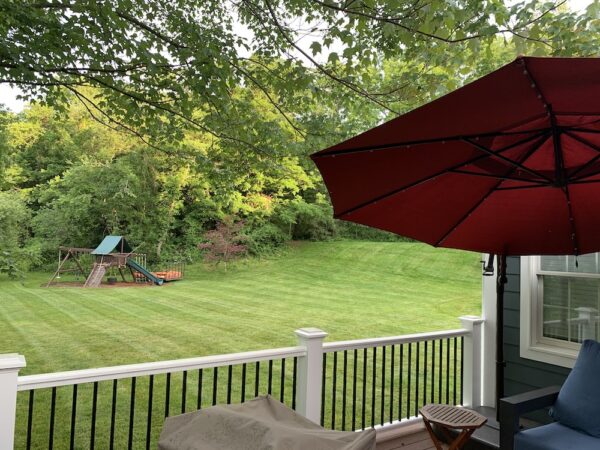 As seen in