Every laundry room has a collection of mismatched socks, and every child goes through an obsessive dinosaur stage.  Why not let their little imaginations go wild (pun intended) and have them invent their own dinosaur breed.  Or, as Cameron, a self proclaimed dinosaur expert did, reproduce one that the paleontologists would be proud of.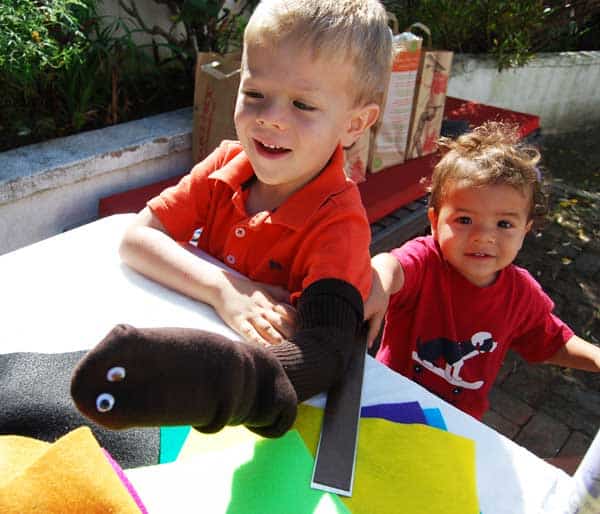 Time
1/2 hour
Skill
All levels, with adult supervision
Age
Toddler to School age
Materials
1. Sock
2. Felt in various colors – we used red, black, gold, lime, green
3. Googly eyes
4. Glue
5. Scissors
6. A bottle or tall glass
7. Dinosaur book for inspiration
Cost
$1.25
Directions
1. Have your child put the sock on his or her hand and work their thumb into place to make a mouth.
2. Cut out a red triangle that will serve as the mouth and glue it onto the bottom (thumb) side of the mouth opening.
3. Glue googly eyes in place.
4. Cut small triangles out that will serve as teeth and glue them on to the top side of the mouth opening.
5. Cut various sized triangles out of monochromatic colors.  These will be the scales, horns or wings.  Glue them on where appropriate.
6.  For the arms, cut a small amount off of the sock's end and shape into ovals or arm-like shapes.  Glue them on.
7.  Place your inventive dinosaur on a bottle or tall glass and allow it to dry thoroughly.
8. Your dinosaur is ready to hunt, forage and roar.  But may we suggest keeping the migration and fighting to a minimum.