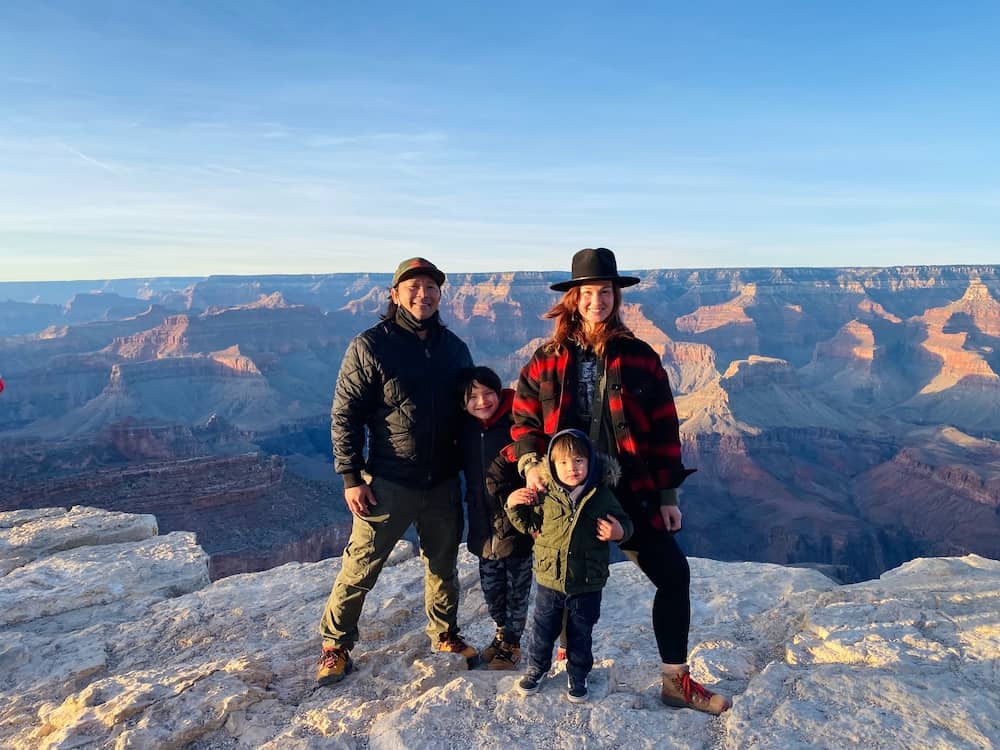 The Grand Canyon is one of the 7 natural wonders of the world and it's only a days drive from Los Angeles, which makes it the perfect family road trip adventure that we can do in a long weekend. But, there are plenty of other places to visit in northern Arizona that families will enjoy.
We planned a 3-day adventure over President's Day Weekend, with the primary goal of visiting and hiking the Grand Canyon. Here is our itinerary as well as some other fun spots we found along the way.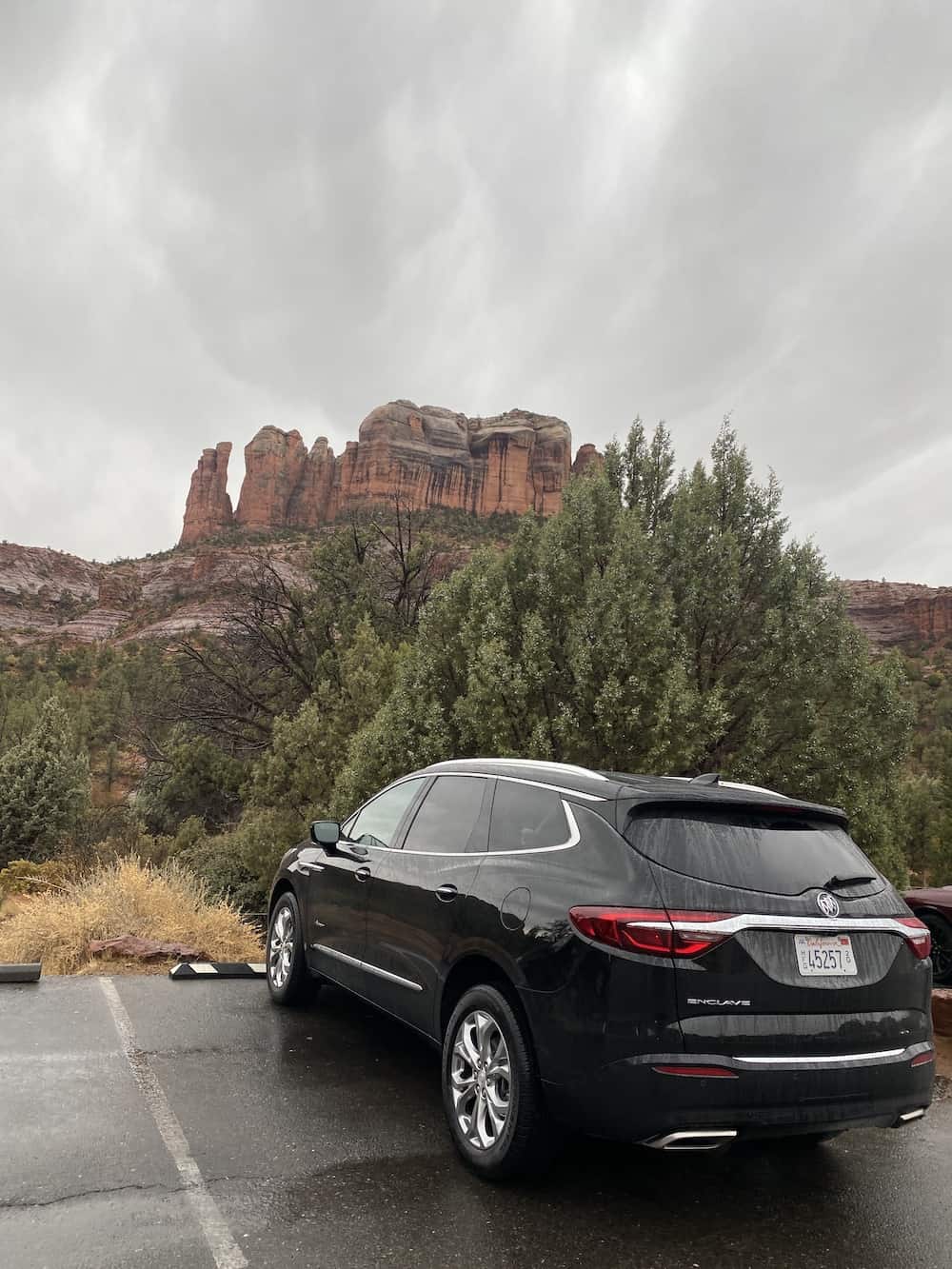 Day One: Drive to Flagstaff
Day Two: Hike the Grand Canyon
Day Three: Snowboard at Snowbowl
Day Four: Explore Sedona
Day One: Drive to Flagstaff
It's a long drive to Flagstaff, but we we were fortunate enough to partner with Buick on this trip and take a 2021 Buick Enclave Avenir for the drive.
We rented an Enclave a few years back in Tucson and really enjoyed it, but the 2021 Enclave has been refreshed and we were excited to see how it performed after a few days on the road. Spoiler alert: The Enclave came through for us during a freak snowstorm in the mountains above Jerome, AZ.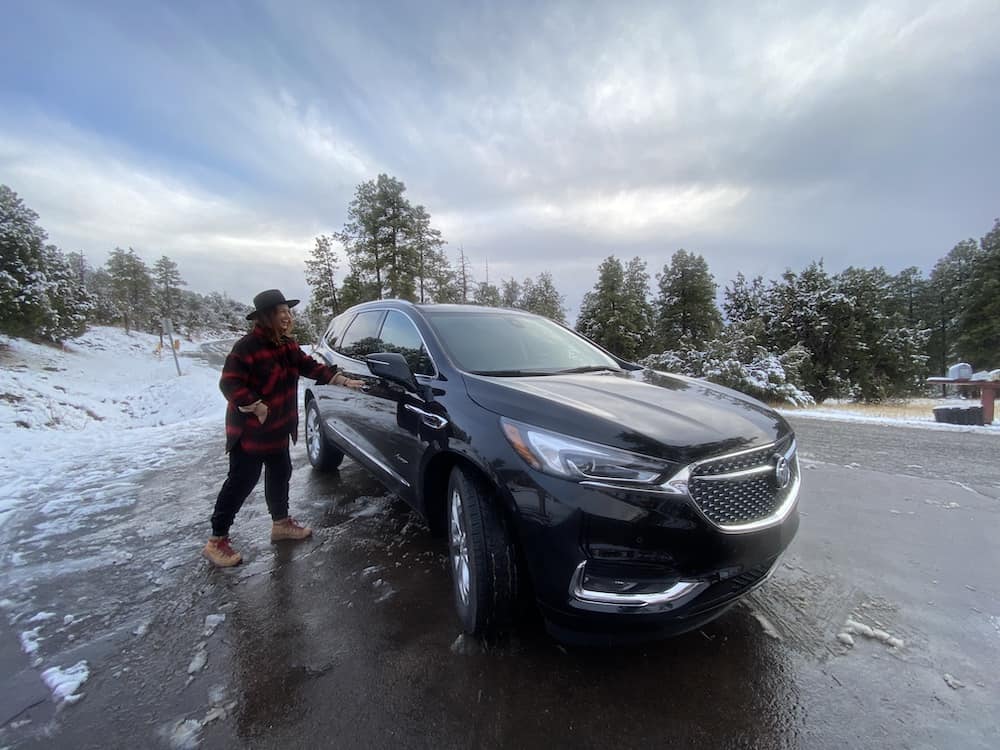 Our first stop on the trip was a detour through Oatman, Arizona to see the wild burros.
Oatman is along Route 66 and a must-stop. The town is typical of small mining towns in Arizona that are now only in existence to support tourists like us. They've kept the old wood sidewalks, dusty streets, and turn-of-the-century storefronts.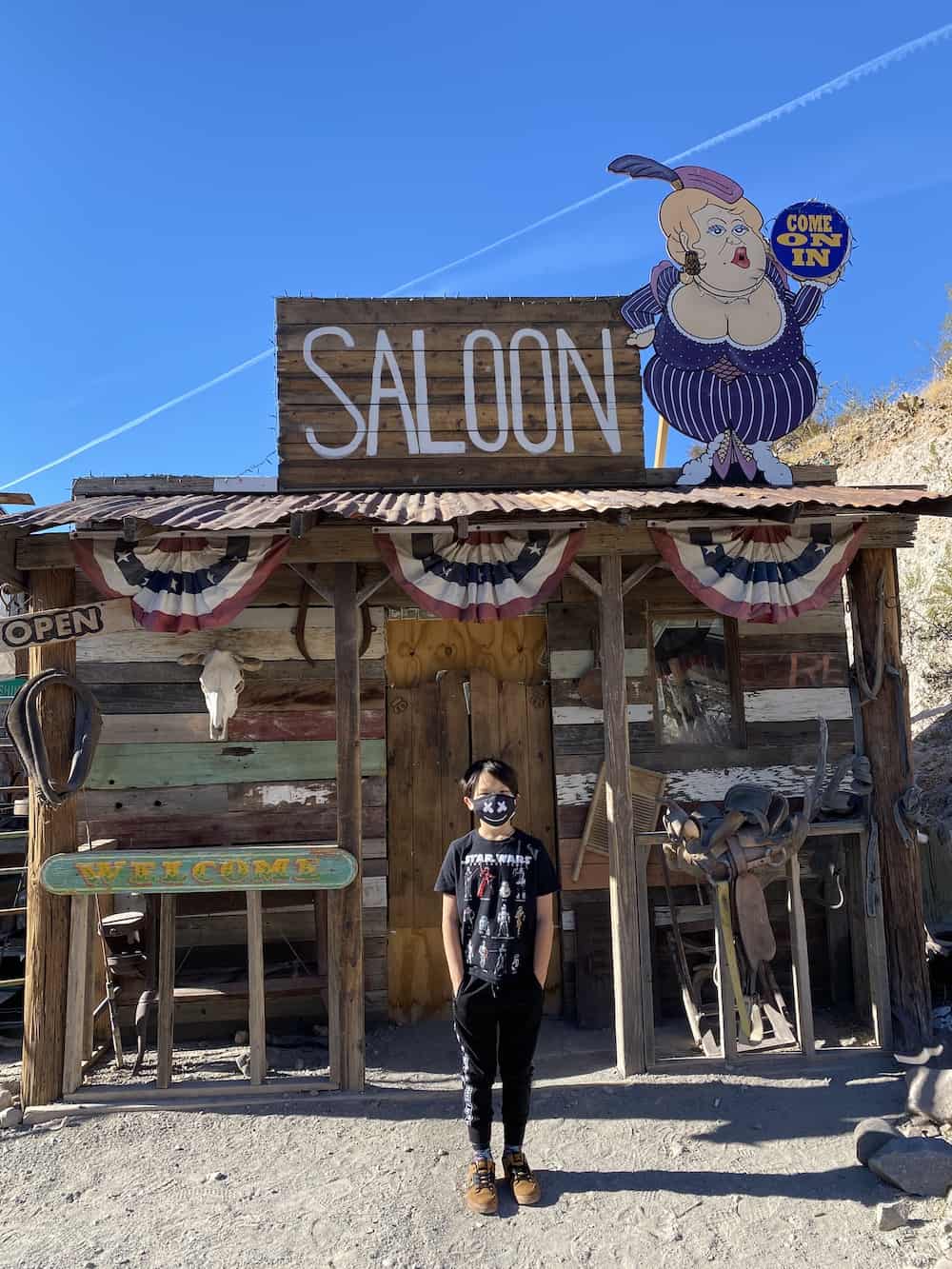 Beyond the mining and the burros, Oatman is famously known as the place where Clark Gable and Carole Lombard spent their honeymoon after getting married in nearby Kingman, AZ.
But what makes Oatman so charming are the wild burros.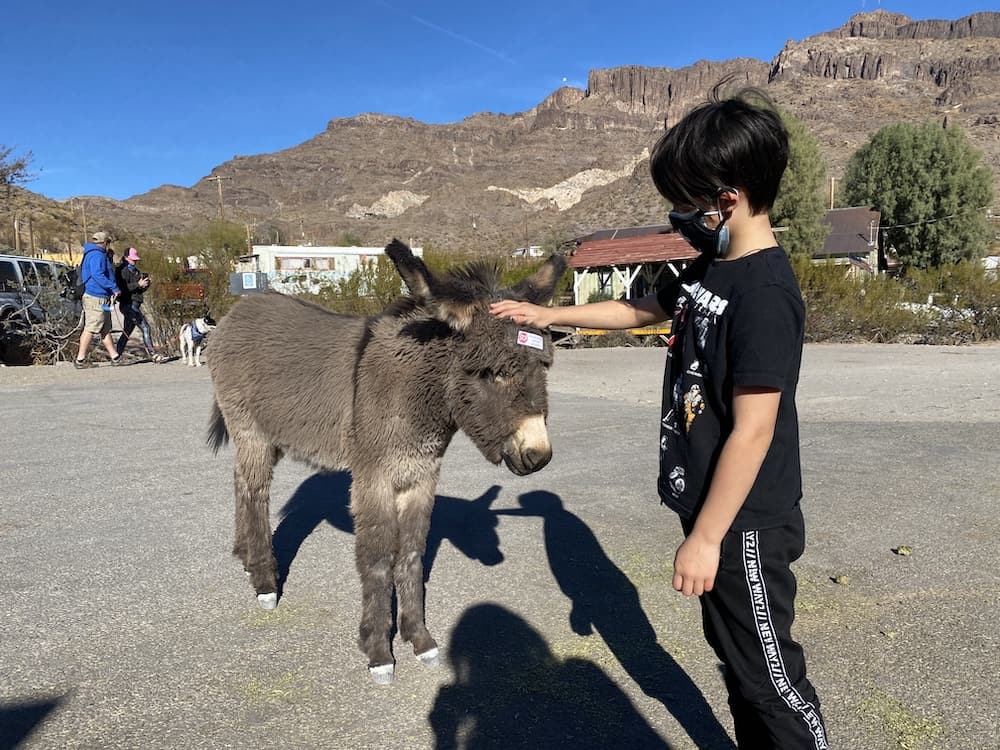 Yes, there are 20 or so burros that roam the streets and sidewalks of Oatman. They basically roam free and stores sell burro food, so they know to stick around. They are tame and move slow which makes them easy to pet and observe. It's a two-lane road through Oatman and a burro in the middle of the road can lead to mid-day traffic jams.
The burros are descendants of the burros used to haul mining cars, but the only work these burros are doing is hustling for treats.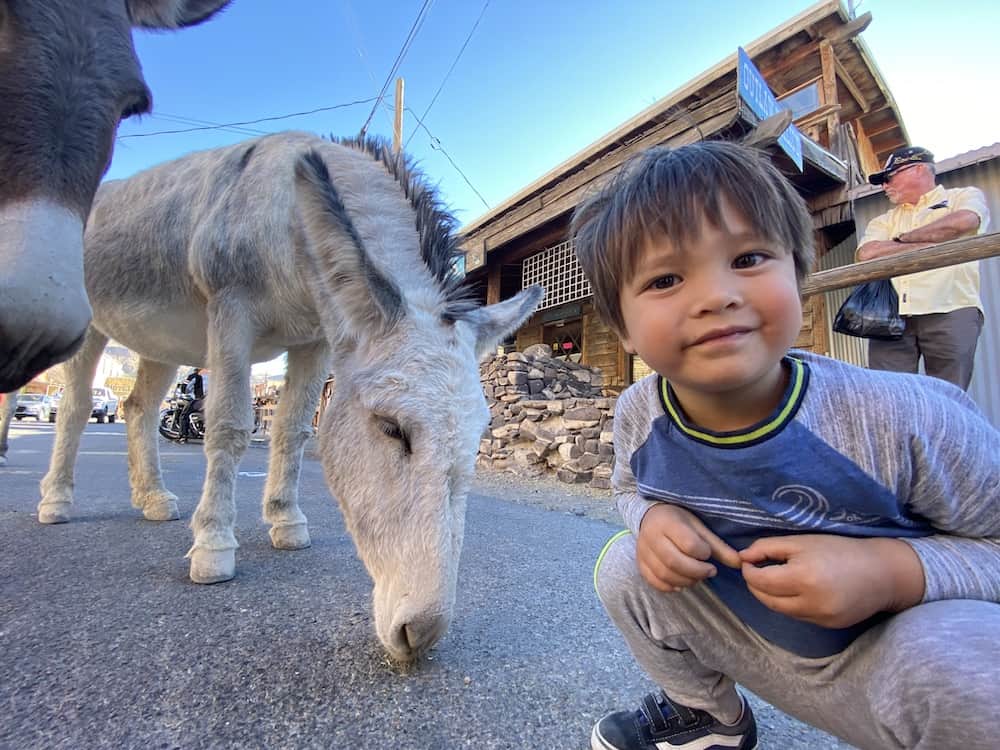 After Oatman you continue on Route 66 and there are a few other tourist spots to stop in for trinkets, but we didn't want to arrive in Flagstaff so we powered through.
Day Two: Hike the Grand Canyon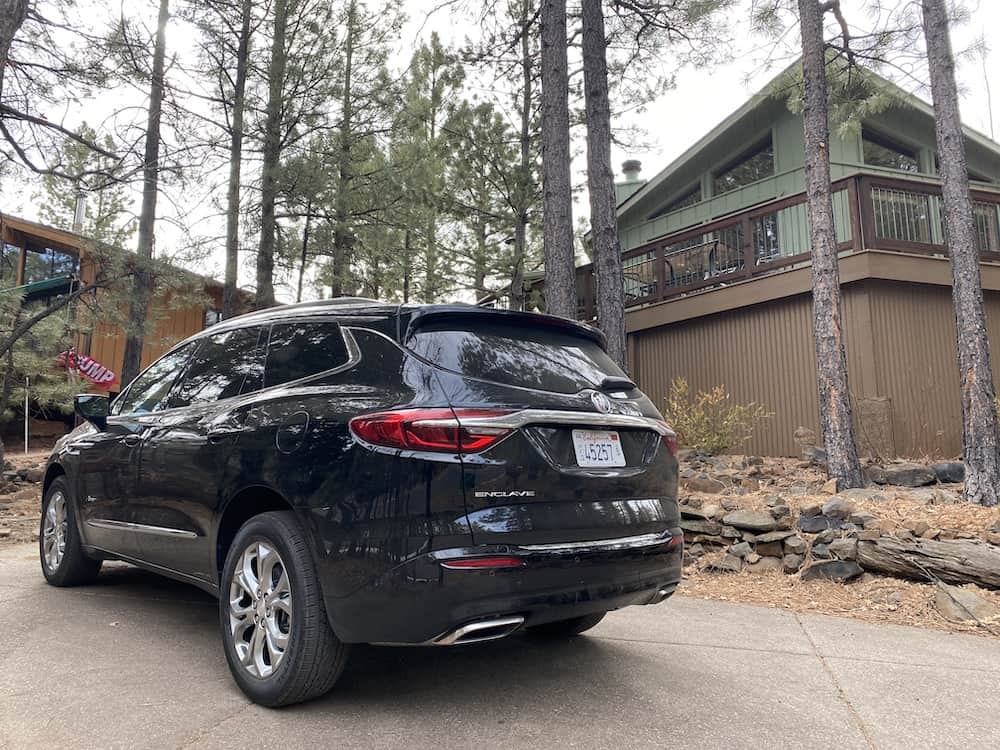 We stayed in a community called, Munds Park which is about 15 minutes south of Flagstaff. We found this lovely cabin on Airbnb that had great ratings and a responsive host. We would have preferred to stay in Flagstaff, but the amenities and remoteness of the cabin checked all the boxes for the type of vacation we were looking for.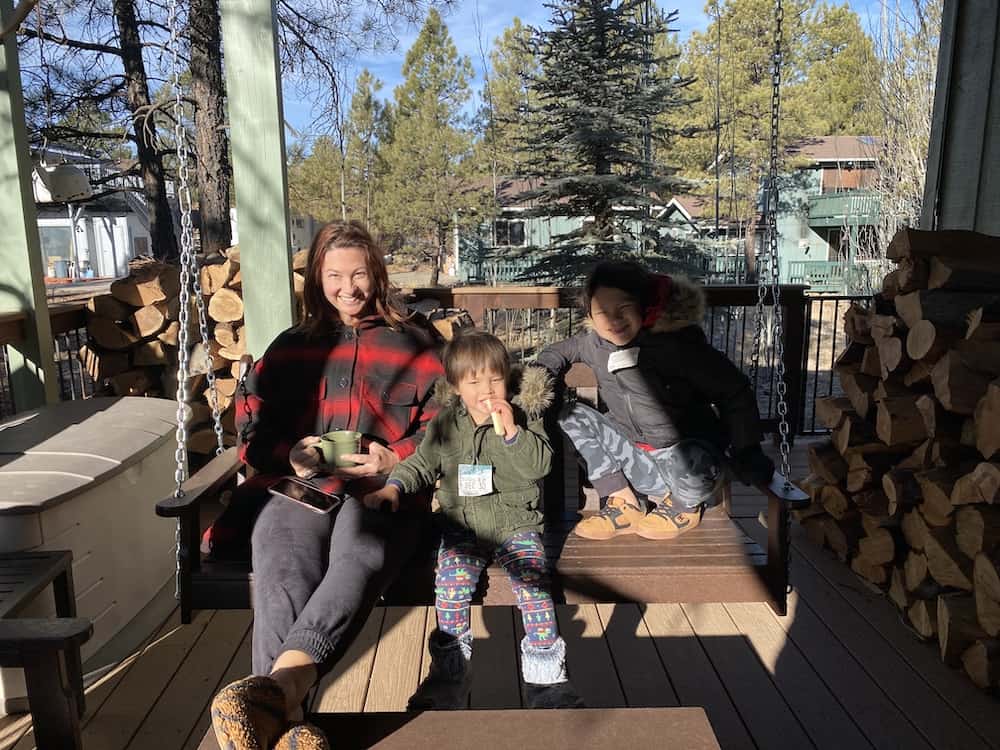 Being further south on I-17 meant that our drive to the Grand Canyon was a bit longer. We slept in and got a late start, but fortunately the Grand Canyon is not busy this time of year so we only waited in line at the entrance of the park for a few minutes before driving in.
We found a parking spot at the South Rim, right near the trailhead to the Bright Angel Trail. There are a ton of trails in this year, but none get you right down into the canyon so quickly than Bright Angel Trail. It's also a very easy trail for families and children to walk on. Beyond a few small ruts and rocks, the rest of the trail is smooth gravel.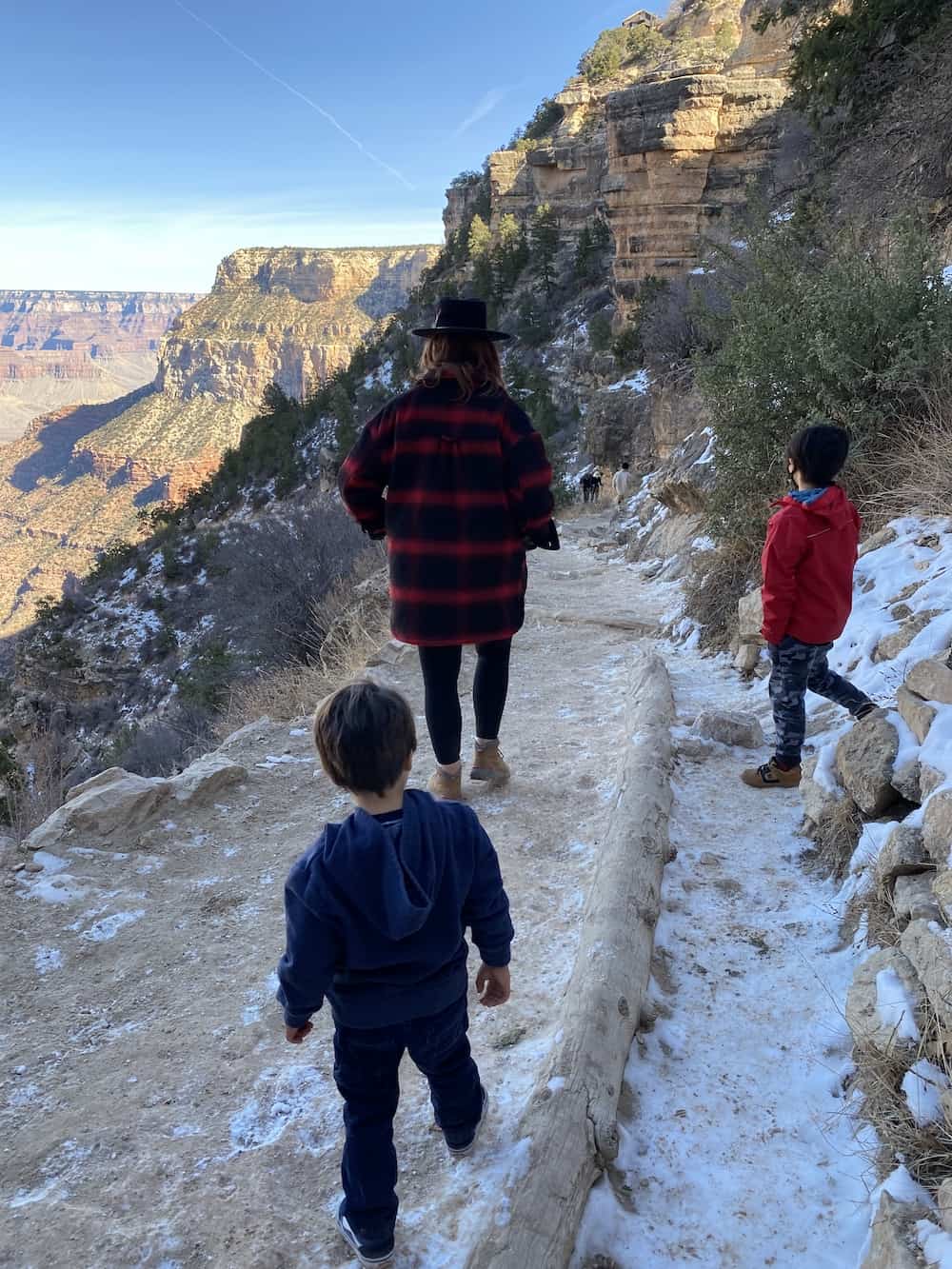 The only treacherous part of the trail are the sides, which in some areas drop straight down. When it gets crowded it would be best to walk on the inside or avoid this trail altogether. We were a bit concerned with our two-year old who loved it and hiked a 1/4 mile down and back up without asking to be carried. He got too close to the edge a few times for our comfort, but otherwise we all had a great time.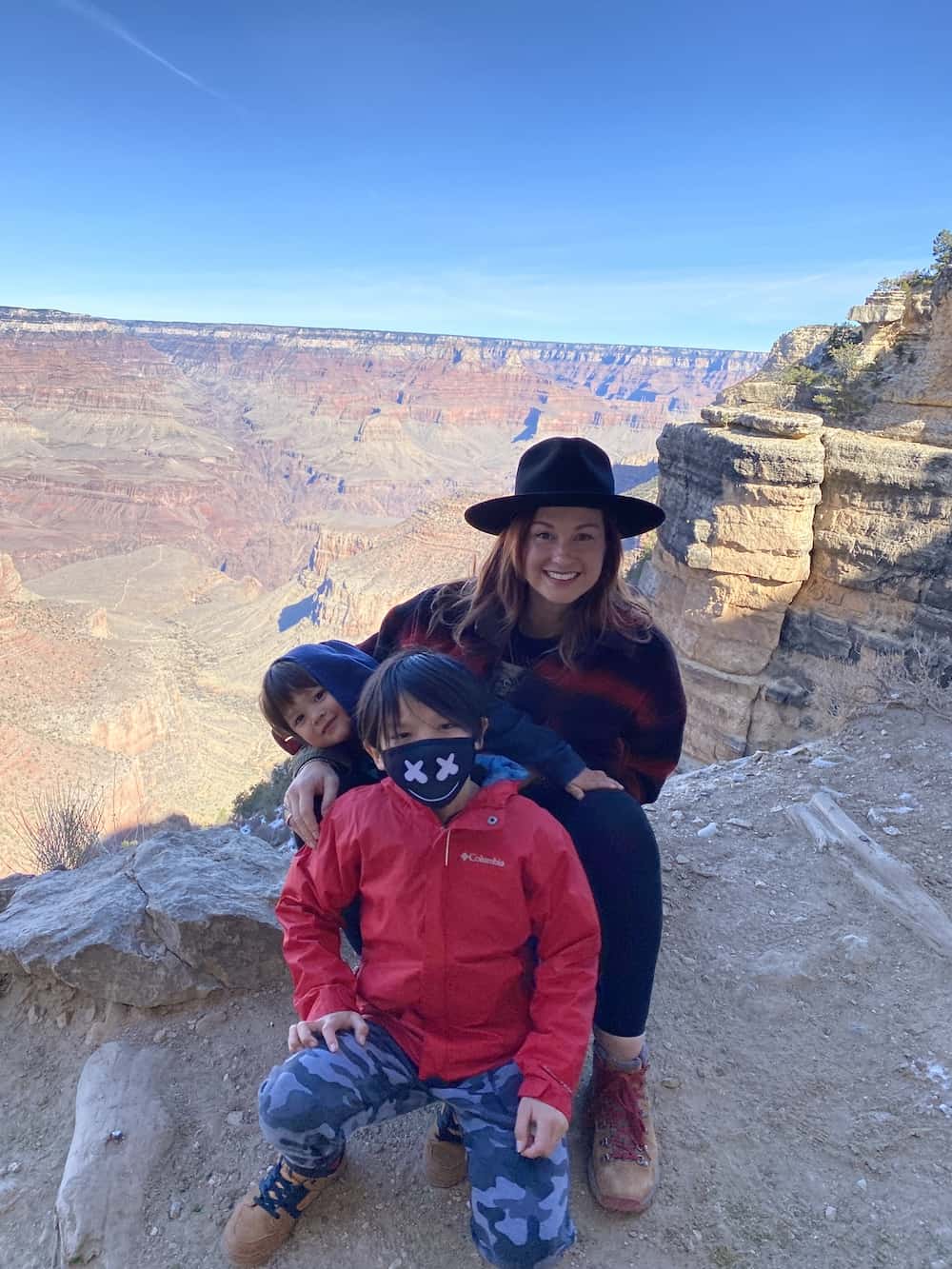 If we were just with our older boy and had started earlier, we may have hiked at least to the bottom Ranger station.
One of the highlights was having a group of mule riders pass us by on the way back up. These sure-footed animals have been carrying people and gear down into the canyon for centuries.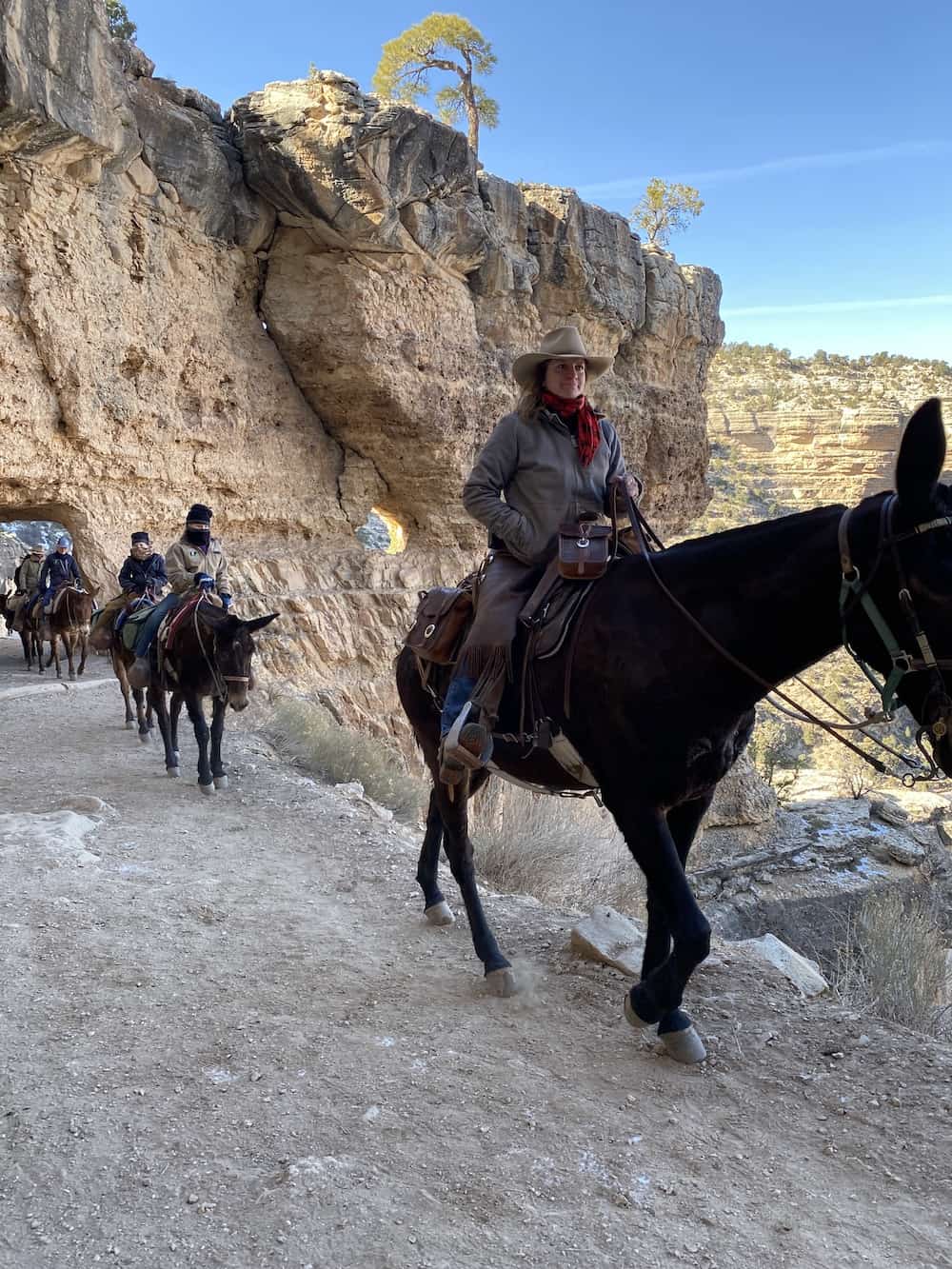 After our hike we walked the South Rim trail that is a paved path along the top of the canyon. It also has railings or walls and provides amazing views of the Grand Canyon from almost anywhere.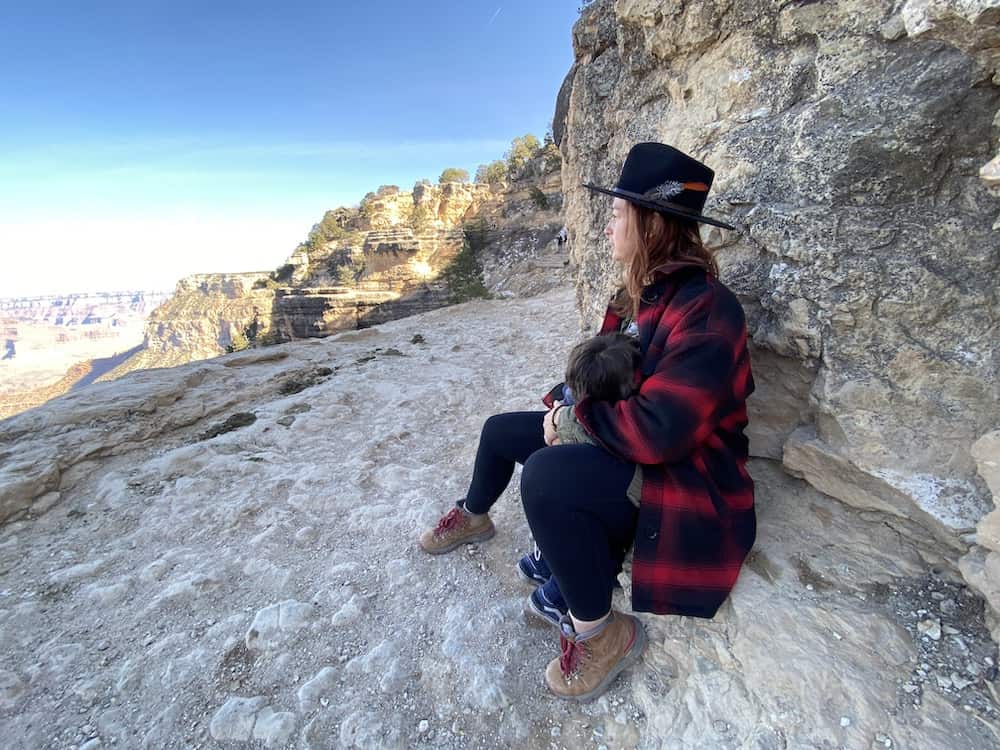 We peeked inside the historic El Tovar Hotel and Hopi House and ended up enjoying a sandwich dinner at Yavapai Point.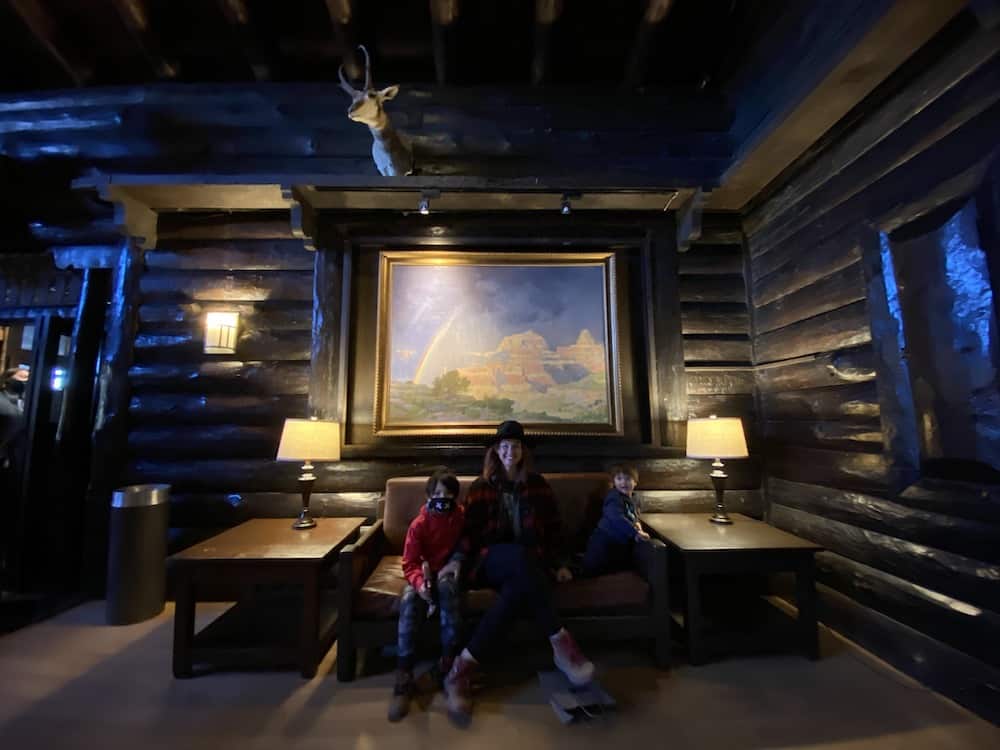 The Grand Canyon is truly breathtaking and we highly recommend you visit it at least once in your life.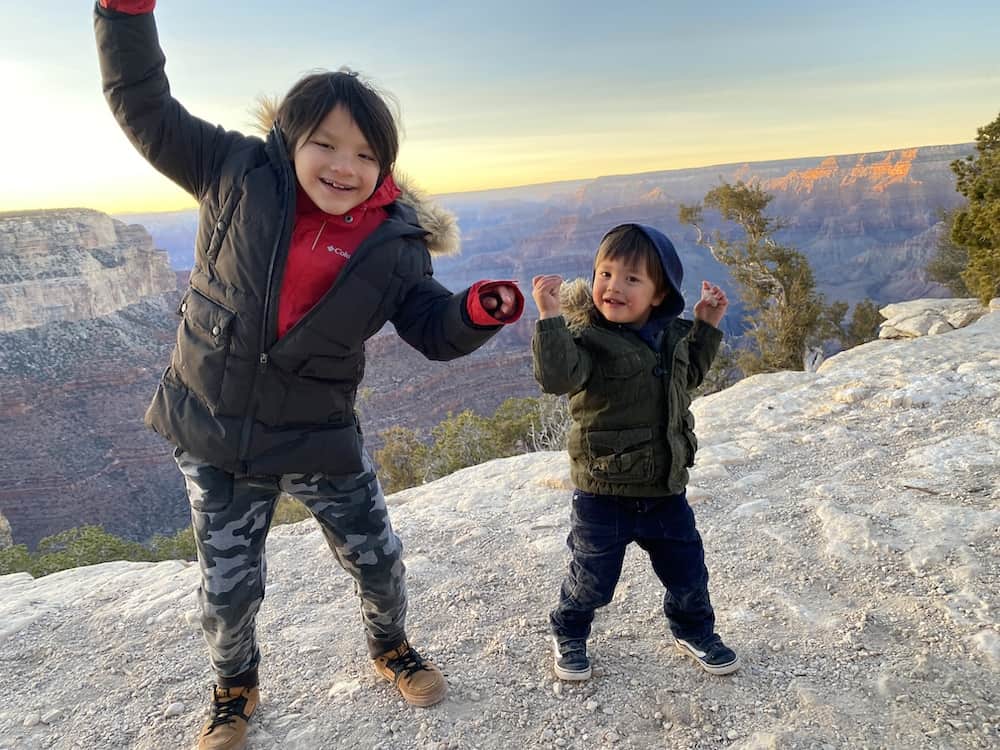 The kids slept on the way back to the cabin, which was great as the next day we were getting up early to go snowboarding.
Day Three: Snowboarding at Snowbowl
I love snowboarding, and I've been looking forward to sharing this passion with my kids. I've taken our oldest son Hunter a couple times when he was 6 and 7, but now that he's 9, he can really grasp it.
We signed him up for a half-day lesson at Snowbowl, which is just north of Flagstaff. Arizona Snowbowl has been around for years and I recall skiing here while visiting friends in college. It's been modernized since I was last here with faster lifts and more terrain.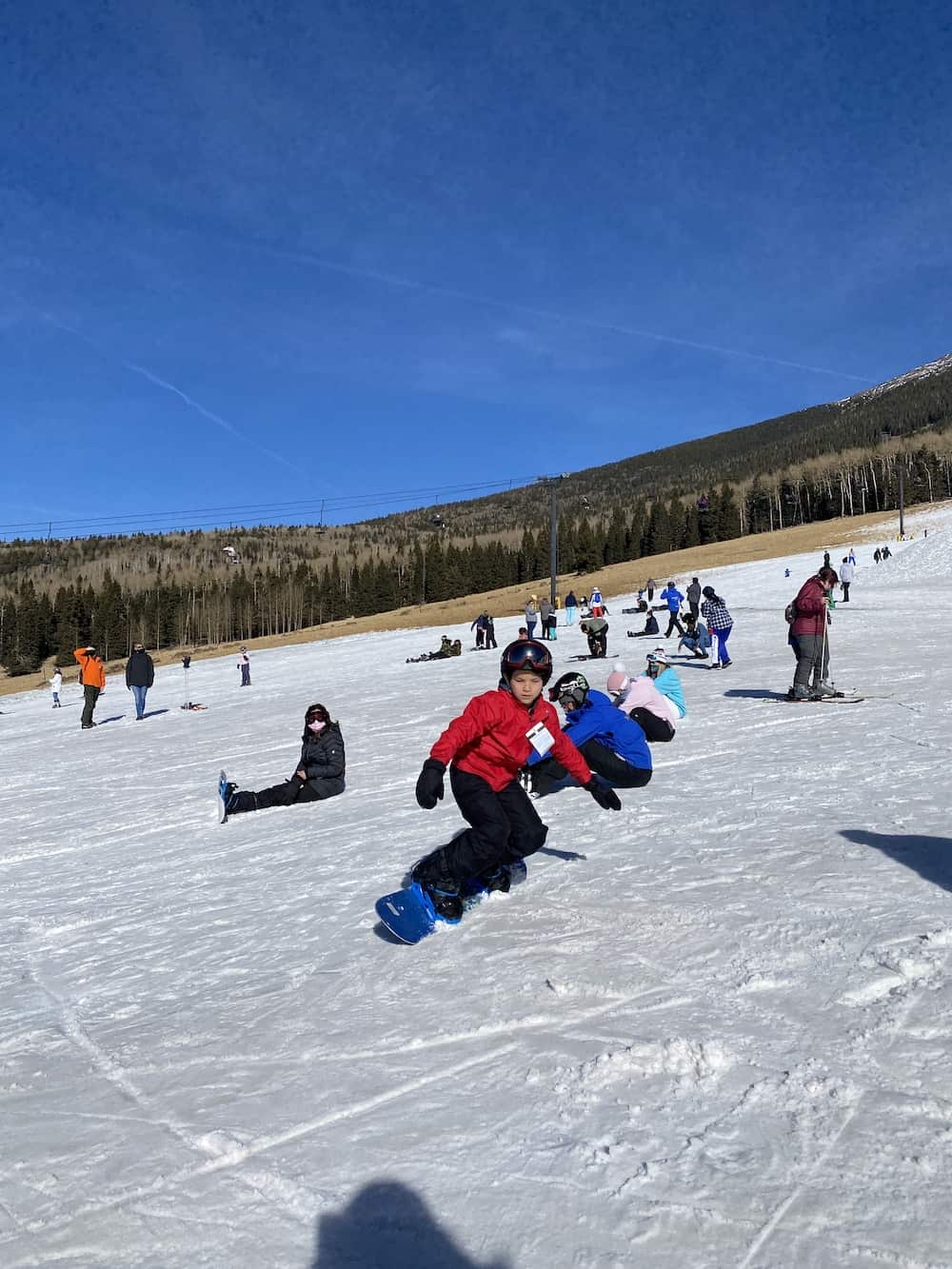 On this day we stuck to the bunny hill and our youngest slid down an embankment while we watched Hunter do his lesson.
He really seemed to enjoy it, but when he was done the first thing he wanted to do was get some hot chocolate instead of hitting the slopes. So, we headed into town to explore downtown Flagstaff.
Downtown Flagstaff has some fun and quirky stores to check out as well as a lot of bars and restaurants.
Day Four: Explore Sedona
The city of Sedona was almost as high on our list as the Grand Canyon. We've been there a few times as a couple, but never with kids.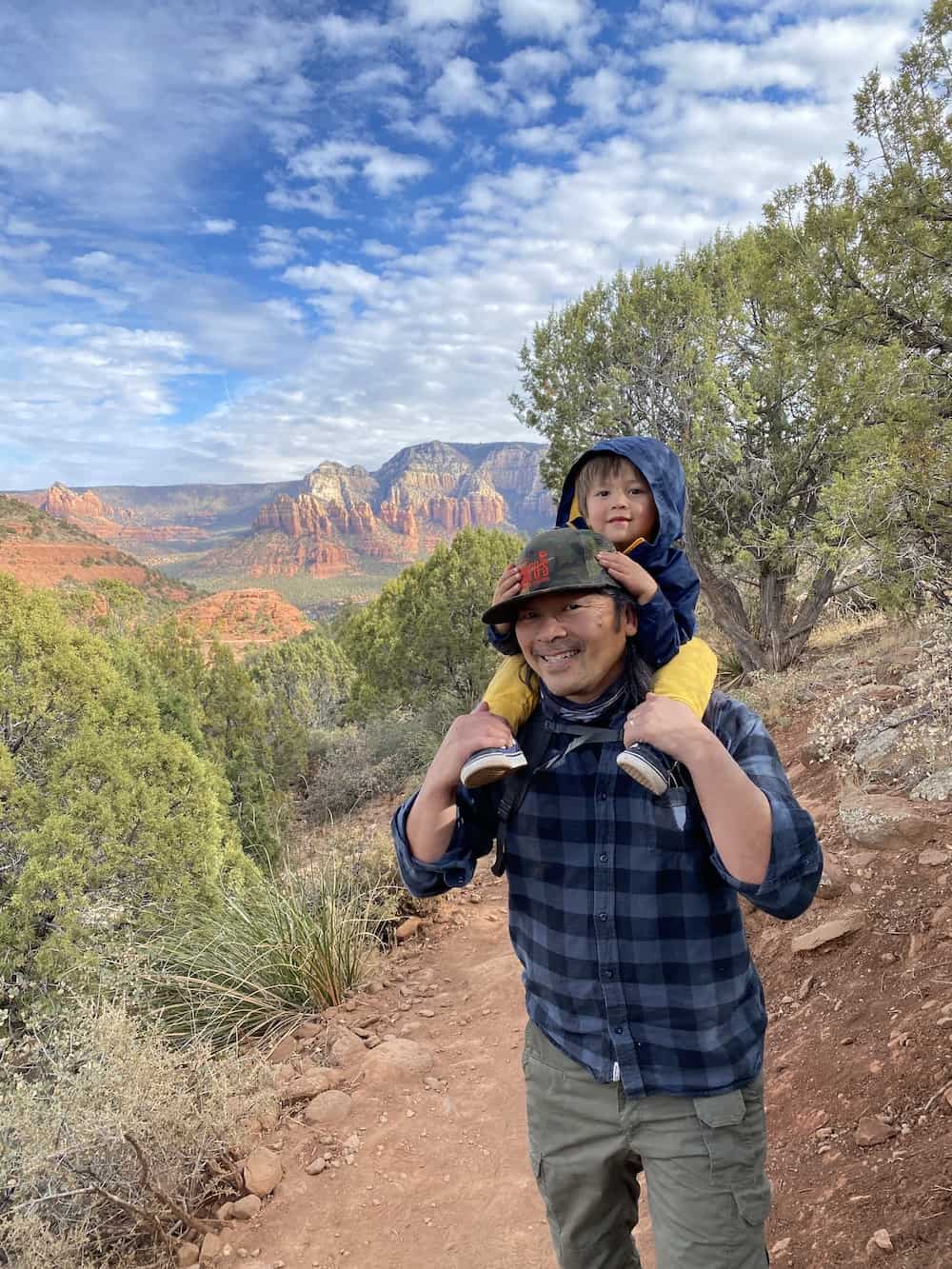 As soon as we rounded the bend we could feel the energy. We honestly both looked at each other and explained how we felt our fingers tingling. It's hard to explain, but the energy created by these earth vortexes flowed through us. Our son Hunter also expressed feeling these same sensations. It's kinda freaky but fun.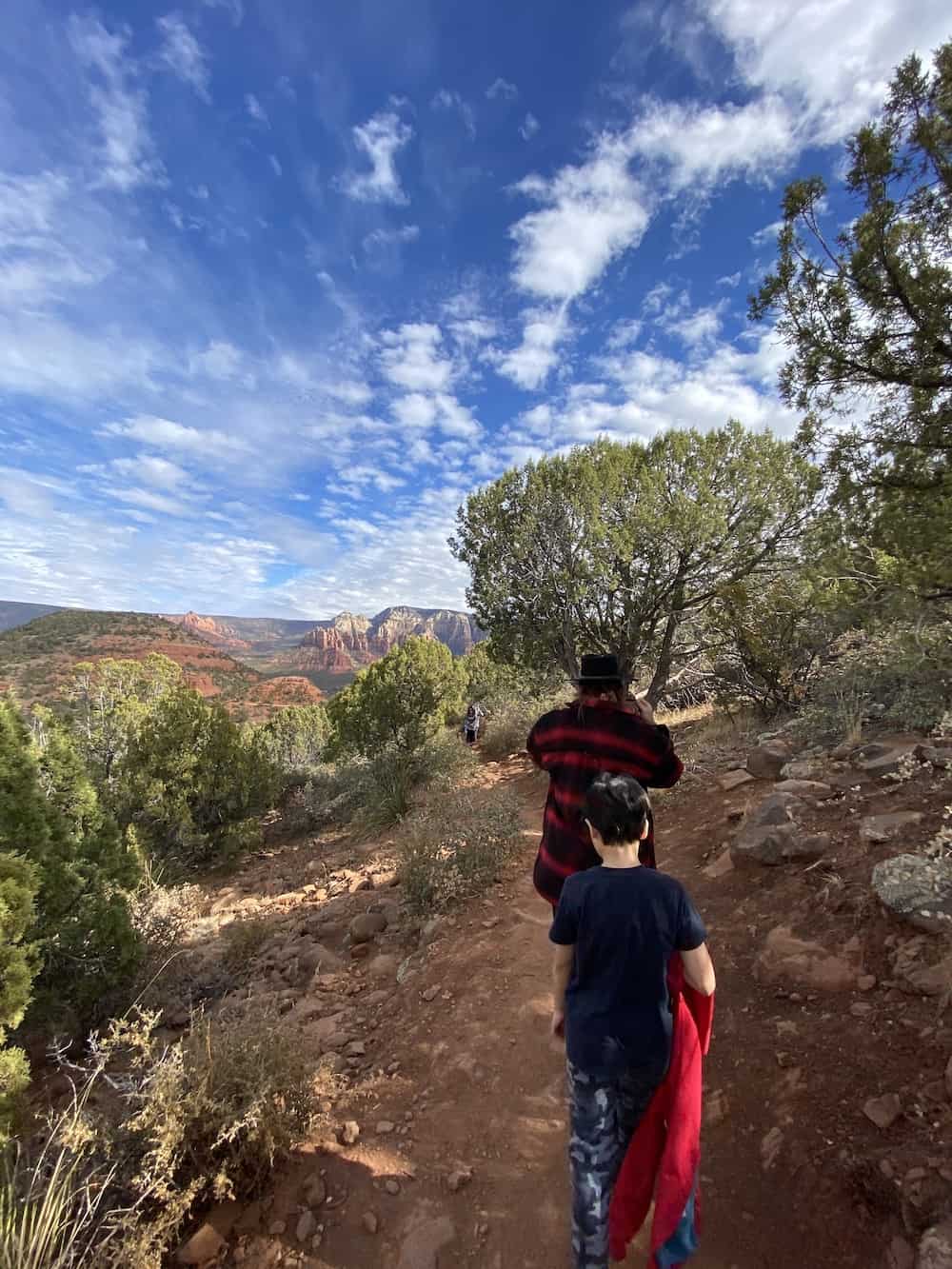 Our first stop in Sedona was to visit the Airport Vortex. We made the short hike from the Airport parking lot to the Vortex located on top of a gorgeous red stone lookout. We spent almost three hours in this area and decided we would rather stay an extra night in Sedona than drive home that evening.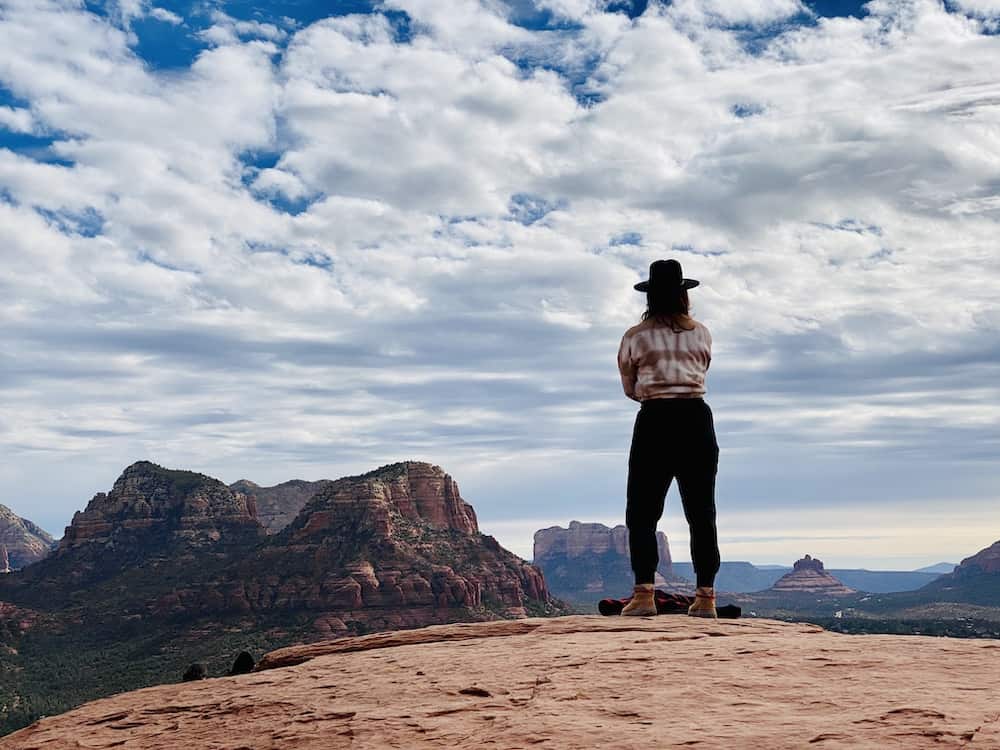 We were able to book a room at the Sunset Chateau, and enjoyed the next morning hiking Cathedral Rock which was even more spectacular than the Airport Mesa. We even joined a dance circle near the top! Only in Sedona!!!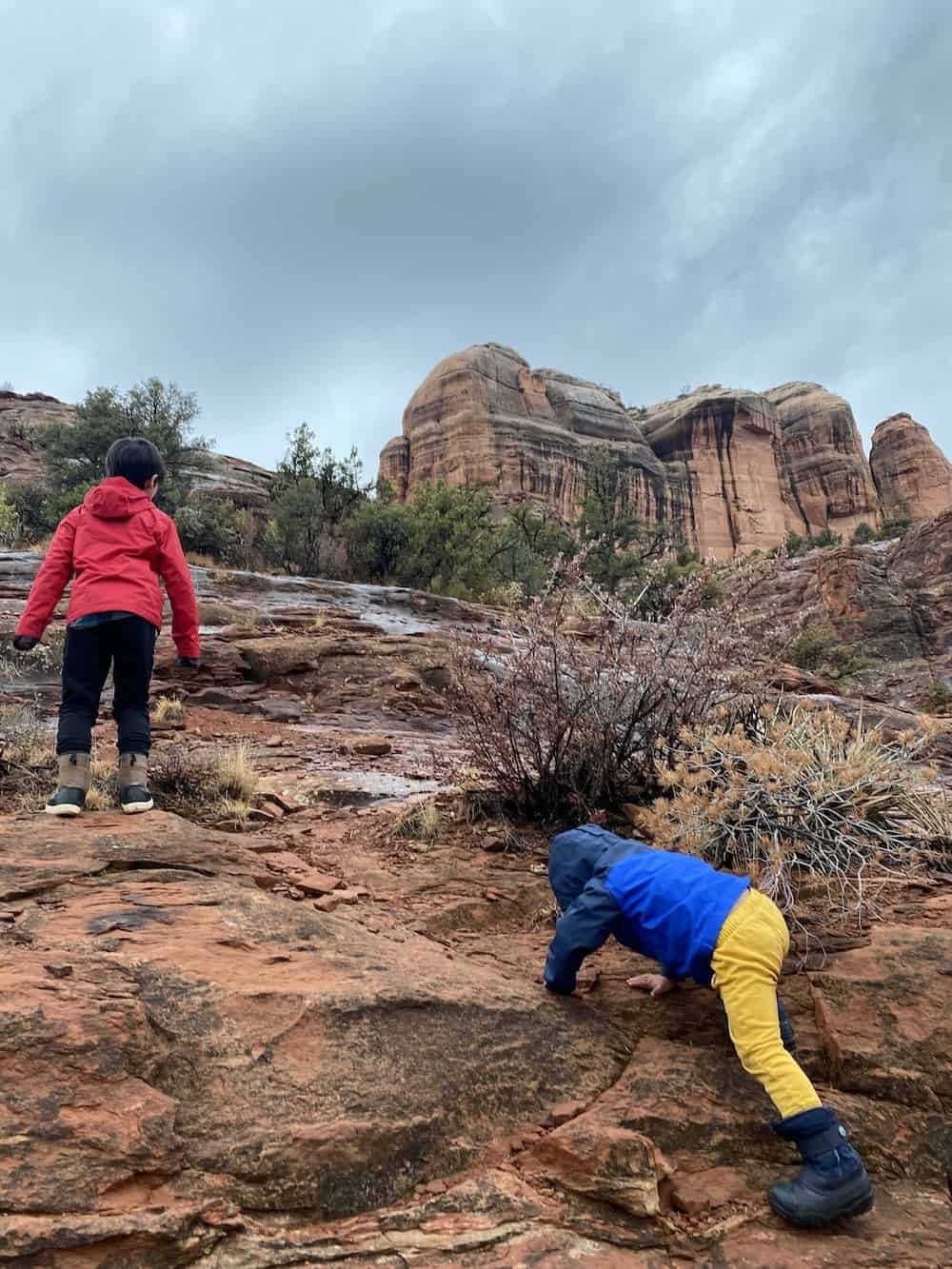 We finally said goodbye to the red rocks of Sedona and headed west towards Jerome and Prescott. It was late in the day so most places in each town were already closed, but we can't wait to spend some time wandering the streets of both historic Arizona landmarks.
Is the Buick Enclave Avenir good for roadtrips?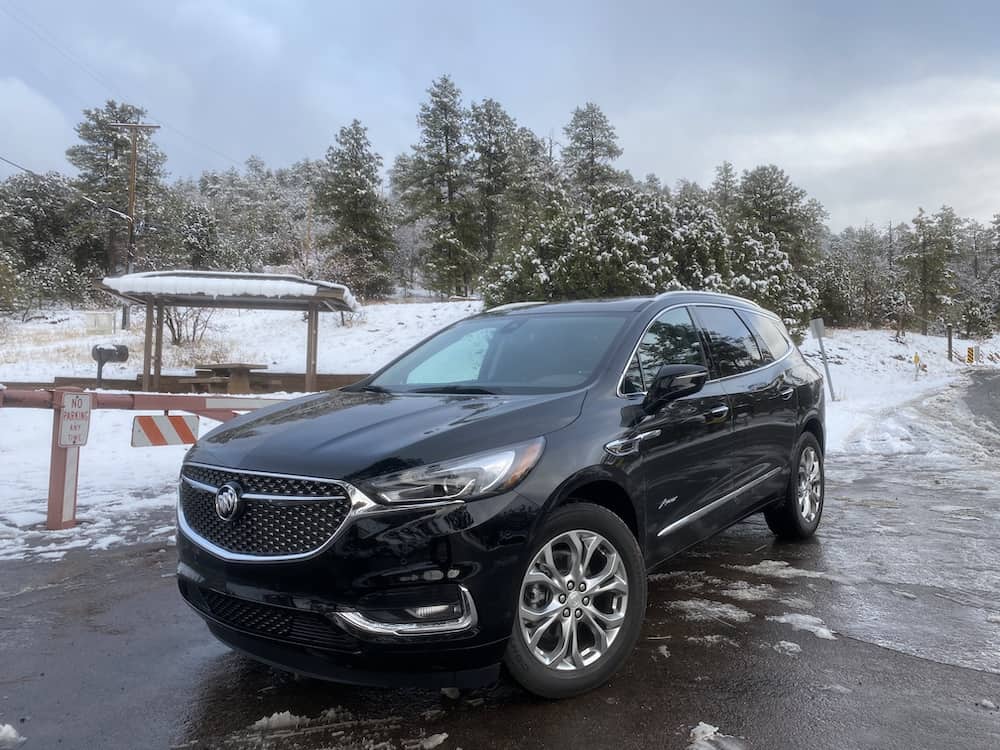 We got caught in some snow flurries in the mountains just outside of Jerome, but the front-wheel-drive Enclave handled the slick roads with ease, just as it had handled the entire trip.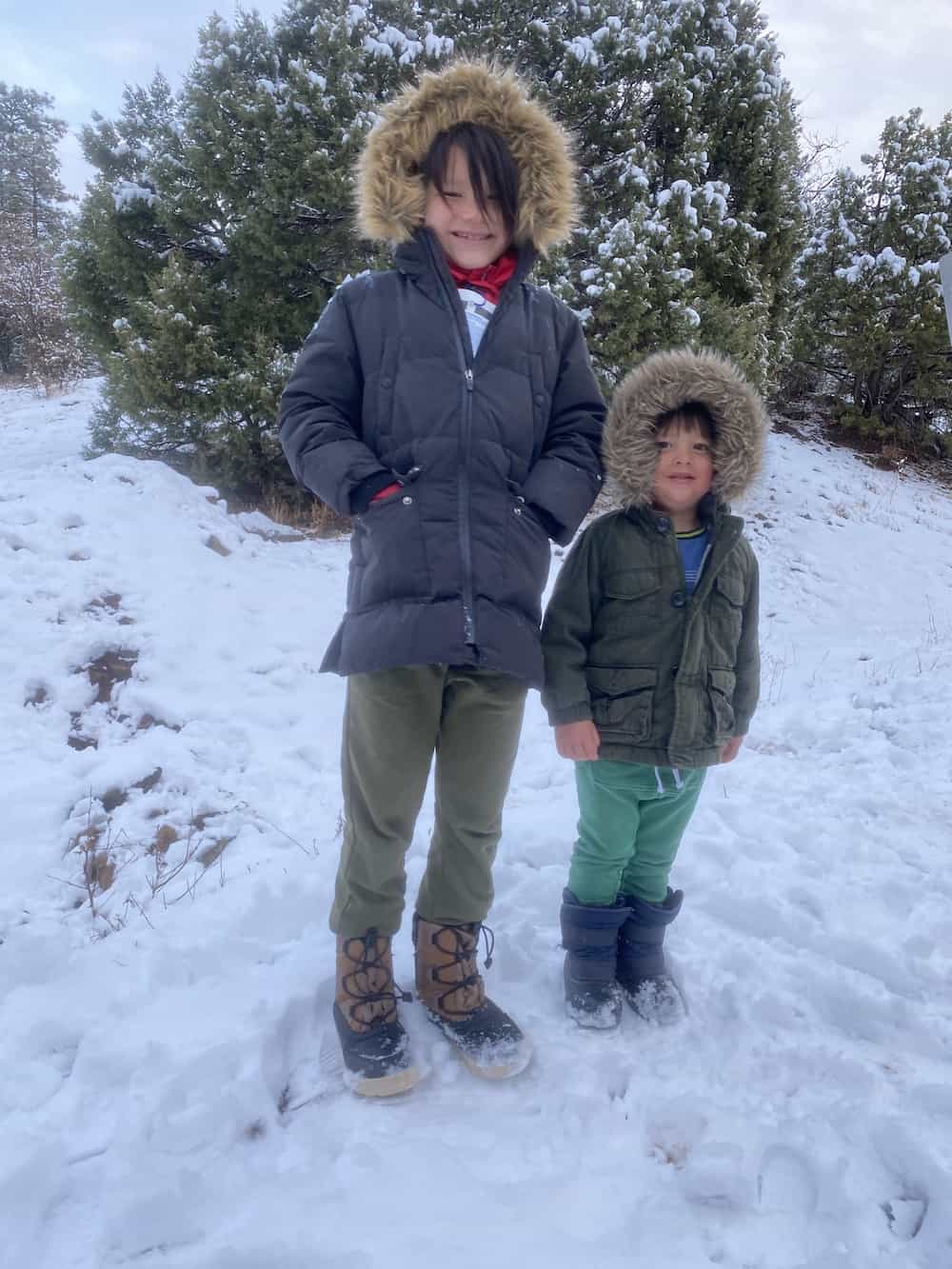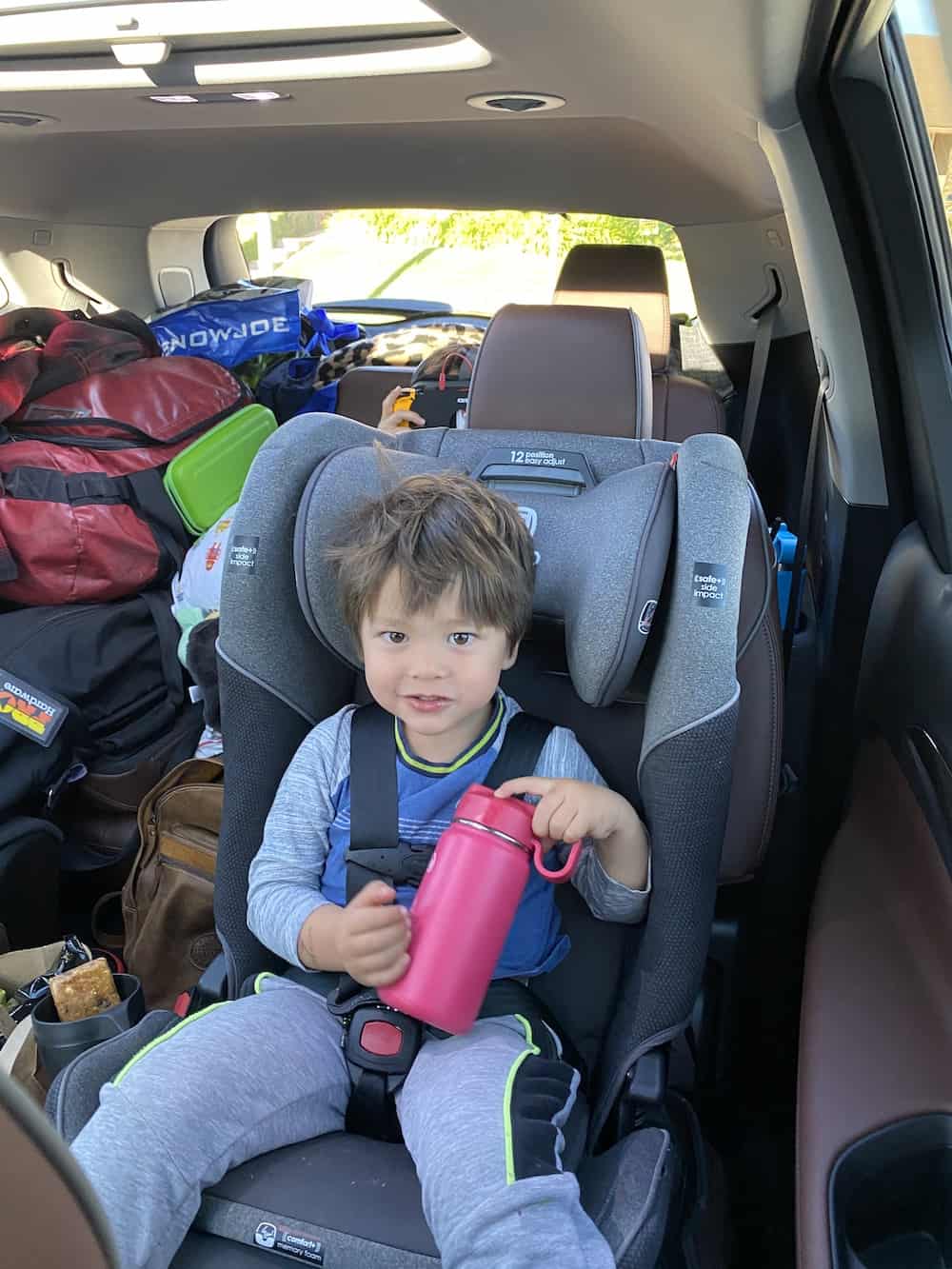 The Buick Enclave Avenir had been pitched to us as the ultimate family SUV and it certainly didn't disappoint. The Kia Telluride we checked out last year had the Enclave slightly beat on style, but otherwise, the Enclave Avenir was neck and neck with the award-winning Kia.
From the upgraded interior and full-featured infotainment system, to the sublime handling, power, and adaptive cruise control, the Enclave scored points with all of us. Traveling with a family is difficult, but the Enclave made it easier, which is no simple feat.
We packed the Enclave with everything we needed for a four-day trip including our snowboards, and there was room to spare. If you added a rooftop cargo box, you'd have everything you need for a family of 6 or 7.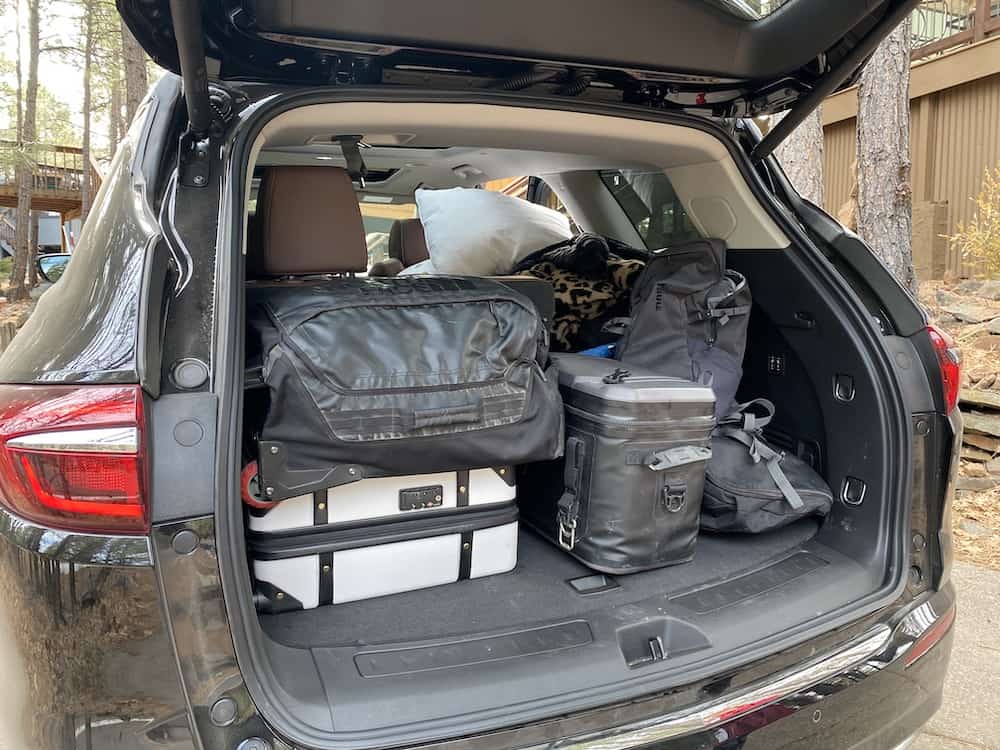 Every family in the southwest (and beyond), should consider a roadtrip to northern Arizona. The Grand Canyon is just one of a hundred different destinations you can visit, and we can't wait to return.