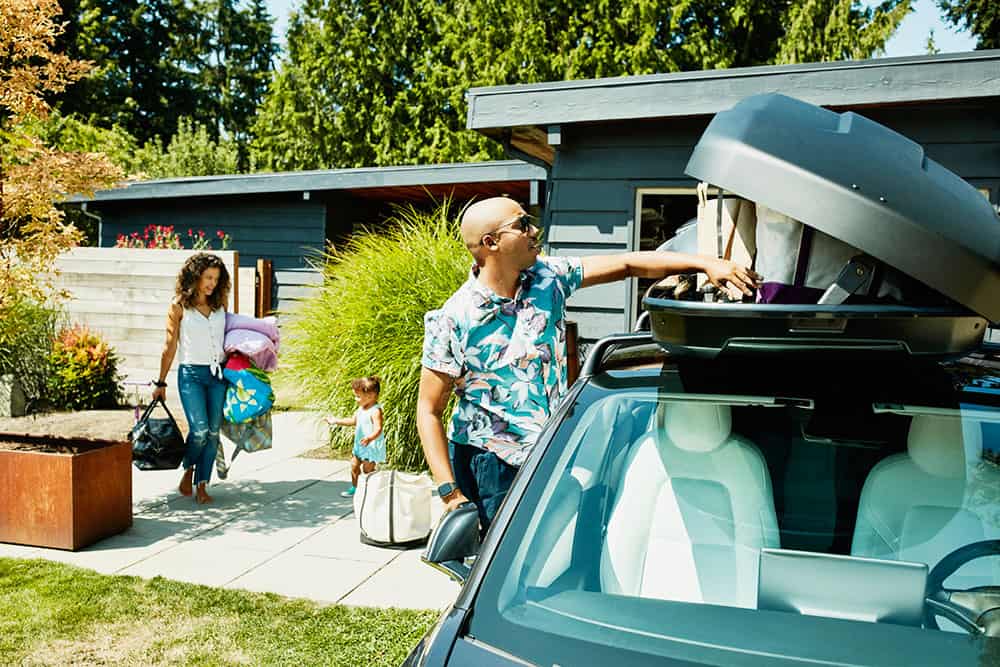 Travel is at the core of what we do as a family. We enjoy planning trips almost as much as the vacations themselves (not really). From day trips and weekend jaunts to overseas vacations, we like it all!
Which is why we jumped at the opportunity to chat with travel writer Sara Clemence about how to travel with kids and family. She has two kids of her own, which gives her a first-hand perspective on what works and what doesn't.
She's currently the founder of the family travel community, The Expedition, and also works as a freelance travel writer for outlets including the Wall Street Journal, Travel + Leisure, Bloomberg, and the New York Times.
In this podcast Sara shares tips for flying, driving, and planning trips with children. We really align with all of what she was saying and we took furious notes as she offers plenty of great takeaways.
One of our favorites was to be more spontaneous when traveling. She and her family often buy one-way tickets and don't have any reservations booked. That has always seemed too risky for me, but there is a certain thrill when it comes to traveling like this. It definitely adds a sense of adventure to an otherwise mundane trip.
Follow Sara and her adventures on Instagram and Twitter.
Check out the full transcript of the podcast below.
Laura
Welcome to the built by kids podcast. Today it's a special treat for us because we get to talk about one of our most favorite things in the world travel, and more specifically, traveling with children. exploring the world is always been a top priority in our family's budget of time and money, and the experiences we've gained the compassion we've grown, and the awareness of how truly interconnected all of our diverse and ritually colorful cultures are, are just a few of the gifts travel has brought to our family. That said, traveling with children can bring some unique challenges. And that's where today's guest, Sara Clemence steps in to make sure nothing gets in the way of getting away. Sarah is co founder of the expedition, a community for families who are just as passionate about travel as we are. She's a freelance journalist whose work has appeared in The Wall Street Journal, The New York Times Business Week, Vogue, Esquire, and many other publications. She's also the author of a way and aware a field guide to mindful travel. As we chat and August 2020 Coronavirus, has layered on some additional challenges to travel. But as you'll hear, it doesn't mean you have to cancel all your plans. You just need to change your plans. And we hope our conversation will reignite your urge to explore the unknown and empower you to pack your bags. So off we go.
Timothy
Hi, Sara, thanks so much for joining us. We're excited to hear more about everything that you're doing with the expedition. And we feel like it fits really well into everything that that we do as a family and with built by kids.
Laura
Yeah, we're just so excited as our, you know, our own personal family and as a tribe of all of the built by kids, families who value travel is probably the most important way to educate our children and foster curiosity and empathy and understanding of ourselves and others. And also for that matter, grit and resilience and all of those good things. We just can't wait to hear how you and the expedition can make that easier for us, especially in these strange times.
So yeah, so how did this all begin and give us a little background on where you came from?
Sara C.
Yeah, absolutely. So I always love to travel. I took my first trip out of the country, when I was 10 years old, my mom is Chinese. And my family took me to China for three months, they pulled me out of school. And at the time, it was like a very unusual weird thing to do. Um, and I kind of I fell in love with travel. And I should also say that as a kid, like, that was not the kind of trip we usually did. So it was especially odd that they they did that, like we would take road trips, we'd stay in motels, you know, we, we didn't have money to do a bunch of overseas travel. But I got increasingly adventurous as I got older. And then I had two kids, they are five and seven. And my husband and I traveled a lot before we had them. And we really wanted to be able to maintain that passion. After we had a family. And I think you're probably familiar with this. But when I was pregnant, we had friends who said like, whoo, you better travel now because you know, this is this is all gonna be over really
Laura
fast. That's all the time. Oh, well, you stop traveling because you have Yeah, how will you ever do this exact how how?
Sara C.
Exactly. And we had this inkling that, oh, we would just kind of figure out like, where we missing something. Right. Right. You know, if there was something like, really, truly devastating, we couldn't foresee. But there wasn't, it turns out I mean, it is our first futures we were apprehensive and they can be hard, but you can definitely make it work. And we found that the rewards were so worth it. So we flew with each of our kids, when they we started flying with our kids when they were six months old each and we tried to do to take advantage Have maternity leave and like took some intrepid intrepid trips, and we've continued to do so. So that's a very long way of saying the expedition is an extension of that passion. And one of the great things about today is there's so much information out there, no matter what you want to learn about, you're probably going to be able to find it on the internet. But the downside is, there's so much information. There's so much information out there, and it's in a million different places. And even if you look at, I've worked at newspapers and travel magazines, even if you look at the travel magazines, they do write about travel specifically for families, but it's sort of very piecemeal. So we wanted to create a place that provided that that became a hub for not just the information, but also a community where people could ask each other questions could bring their own experience and expertise and share it with others, build bonds, and also get some other benefits that we're able to that we're able to put together because we have this group. So that is where the expedition came from. And we we were planning to launch in March. What happened in March. And so we hit the pause button. And we didn't know how long we would be doing that. But my partner Ryan, who is not my marriage partner, he's just my business partner. We're both married to other people said, You know, I feel like people have a lot of questions and concerns. And if we, if we start this now, I think we can really help people a lot. And so we did we we launched a couple months ago, and it has been fantastic so far.
Laura
I love it. And so I need to take us through it. What does it feel like to become part of the expedition? And how are we communicating with people? And what are we talking about?
Sara C.
Absolutely. So the subjects that we're talking about are all over the map, so to speak. But needless to say a lot of it sort of revolves around or involves COVID. And what's it like we have a lot of, we have, we have parents from all over the world. They're mostly in the US, but we have them from in Europe, we have them in in, in Asia, we have them in Australia. And they are different kinds of travelers. So we have people who are real, like urban luxury travelers, we have people who have big families, we have people who have small families, we have people who are hardcore, outdoor camping adventure people, we have people who are nomadic, we really do food, and but one of the things that we're providing a lot of these days is sort of help figuring out how, if you want to travel now help figuring out how to do that. So maybe you don't have a lot of experience with camping. How do you get started? It can seem a little intimidating, especially with kids. How What do you need to know about our being? How do you have a safer road trip? How do you how do you travel with a big family? How do you travel? Like, you know, people are missing their parents or grandparents or grandchildren? How do you get all those people together and make it work? So it's really, really fun. And people are asking a lot of questions and asking for advice and their families who've never taken an extended road trip and they're going, what do I do with my kids? and other families are weighing in and saying hey, well, like we do this, or we listen to this podcast, or we play this game. And it's been really beautiful to see to see that support coming together.
Timothy
Yeah, that sounds amazing. I think that was one of our first our first thoughts about the expedition. And because people travel in so many different ways, and how that works out and what type of travel you cover and and is there a certain community that you cater to more than others, but it sounds like you You cover all of them?
Sara C.
Right? Yeah, right now we are covering all of them. One of the nice things about the platform that we have is that we can also sort of create interest groups. So let's say you really are totally not into camping and you just want to know about luxury travel, especially as we as we grow. There will be enough people in the community that you can just have that conversation and sort of filter out the rest and same in the other direction. Say you're just an outdoor outdoors person and you're like you know I'm not into big cities. I'm not into fancy hotels. That's also totally cool. You are very welcome. Whether you are a budget traveler, whether you're you spend a lot of money, however you want to do it is totally cool with us.
Laura
I love it. You know one of our big challenges I feel like every time we travel is trying to find care or babysitters, abroad or anywhere for that matter for a date night or if you're trying to go whitewater rafting and you're too year old can join. That would be one of my first questions. I'm curious if you've seen that yet.
Sara C.
That is such a great question. And it hasn't come up in the group. But it's something I'm now going to bring up. And it's something that I actually have experience with. Because two years ago, my husband and I, our family was living in New York. And we decided to just kind of shut down our life there and go on the road. And we traveled with our kids for nine months. And that the childcare was the biggest issue because we were both working not full time, but we were working both remotely, I was writing and my husband was a consultant. And that was like, our biggest friction point it was who got to work.
Laura
Right now in the pandemic?
Sara C.
Or how do you just get a break from your children that you're with 24 seven. So we figured out a couple of strategies. Number one, when we booked an Airbnb, we especially if we were booking with an individual and or a vacation rental, if we were booking with an individual and not sort of a you know, like a vacation rental company, we would ask them if they knew anybody who could help take care of the kids.
And then we also found that in a lot of cities around the world, you can find babysitting services, kind of on demand babysitting services. So we were in Edinburgh, and we were able to, to book somebody through a service. And she was just absolutely lovely. And here in San Diego, where we live right now, we use a service that often partners with hotels, because people come to town and they want a babysitter. But we use them personally too, because it just makes things really easy.
Laura
I love that if you I mean, we'll do our own research. But if you want to send us any of those references, we'll add them to the show notes. Because I would love to not have to spend a bunch of research on my vacation and just know the go to place to go.
Sara C.
Like, yeah, I know. I know, it's really and one of the nice things about the babysitting services is that a lot of them sort of screen the screen visitors. So you know, you're getting somebody trustworthy and reliable. Whereas you could kind of go off on your own and kind of go to care.com or something, but it's a lot more time consuming. And you kind of have to have a level just a level of sort of trust that whoever you're hiring is okay.
Timothy
Yeah, a few years ago, we went to a wedding in Santa Barbara, some good friends and
Yeah, we miss the person didn't show up. And it was a college student to where we were just we were all dressed ready to go. Our son was like, prepped, we're like, okay, someone's gonna come, we're gonna hang out, we're gonna have fun. And I couldn't get ahold of them. Finally, somebody answered the phone. It was this person's roommate. And she said, I don't know where she is. But I babysit, too. And so we said, well, can you can you just come and she's like, well, I need a ride, though. And so it was all of this. We got there. We missed the wedding reception. We were there for like an hour we float, right. Yeah, we didn't think anybody noticed. But of course, people are like, Oh, yeah. Anyway, yeah, that's so yeah, we need this. We can you know, we use this surface and be good.
Laura
I love it. But ya know, so Sarah. So what are some of the other tips? I mean, through your own personal experience, and all of these years of travel? I mean, how, how did it change? I guess, when you had your kids? And what are your biggest tips?
Sara C.
Um, well, gosh, some of my biggest tips are one, we always we bought two little travel backpacks for the kids. And we let them pack them there themselves. And tell we've told them they can bring anything they want, as long as it fits into that backpack?
Laura
And they can carry it or do they not have to carry it? They have to they have to carry it. Yes. The giant books are oftentimes found in these backpacks for us, these giant books. I mean, the issue with that is you have to kind of stick to it.
Sara C.
Yeah, because it does. It teaches them a gentle lesson for the next time. And we do sort of, you know, if they pack it full of giant books, we do kind of try to say, you know, remember that you have to carry that no matter what, and sometimes they listen and so but either way, it definitely becomes a little bit of a learning lesson. maps are something that not a lot of people use these days, but when We'd really like to either bring them along in the car and Atlas, or pick them up along the way, because they're really great for kids. You to sit down at lunch and sort of show them where you are, and what's in the vicinity and ask what looks interesting. And start also teaching them a little bit of how to navigate and how to figure out where they are, in a way that doesn't involve just opening an app and seeing where the.is
Timothy
that's a great idea. And you can also when they ask, Where are we now? Well, break open your mail us?
Sara C.
Yeah, you tell us. Where are we? Where do you think we are? How would you? How would you figure it out? Yeah. I love that. I mean, frankly, it's a skill that a lot of adults are
Laura
losing. No question about it. I can't even drive around Los Angeles without Google Maps. Yeah. And I certainly I mean, back in the day, Timothy, especially, we would frequent map stores all over the world. I remember one in London when we lived there. You were obsessed with love maps,
Timothy
right? And now, it's Yeah, we don't I kind of lose track of it. And so like you said, there's parts of the city that we otherwise would have known if we didn't, if we glanced at a map, and now we don't have the big picture anymore, right?
Sara C.
Yes, yes. Well, I mean, along with that, we tried, we teach them that it's okay to get a little lost or just to wander, you know, there, there are some of the some of the most interesting fun things you come upon just because you're wandering around, or you didn't mean to be in a place. And of course, we do this in you know, areas that are that are safe. And we're not doing it like at we're trying to do it at night, and everybody's hungry.
Laura
you know, you want to have organized, organized, wandering and losing yourself control. Yeah. That's great. Yeah, no, it reminds me of one of my favorite songs by jack Johnson. I hope this old train breaks down. And it's all about that. What will you discover if it does? What will you discover?
Sara C.
Yes. Whoo. And finally, another thing that I that we do, and this is not for everybody, I have to say, but we do a lot of like seat of the pants traveling. So when we left on our nine month trip, we had one way tickets to the Dominican Republic. And we had two nights of lodging booked. Wow. And we really didn't know what was gonna happen after that.
Laura
But that is adventure. And I commend you
Sara C.
with kids. So they're upset their upsides and downsides to this? And, you know, would that work in the current situation? Maybe not. I think, you know, you kind of want to wait until things normalize again. But it enabled us to do things it has enabled us to do things like traveling in Europe, wanting to go to Paris. But discovering there's a heatwave, and it's 100 degrees in Paris. And instead detouring and going to Sweden instead. And hanging out in Sweden, for a little while, until thunderstorms started coming across Scandinavia, and then heading back down to Paris. And if we had there, there are nice things about planning ahead. But if we had locked everything in, we would have been stuck in Paris, where it was 100 degrees, and then we would have been stuck in in Stockholm. In the pouring rain for five days. Oh, I love it. Just it's forcing you to take inventory of what's important at that moment for you. I mean, and you would be at you would, you're building the resilience and the grit, regardless if you stayed in Paris, or if you are flexible enough to pick up and go. And it's what matters to the family at that moment. That's beautiful. Yes. And we it also sort of models flexibility for the kids. I think we when we were traveling, people worried that, like they wouldn't would feel unsettled, they would feel like they didn't have a home. And one of the lessons that we tried to teach on that trip is that home is wherever our family is. So that could be in a hotel room. It could be in a playground, it could be it could be on an island, it could be a city, but it's where we're together.
Laura
absolutely lovely. Yes,
Timothy
Nick, that somewhat that flies kind of in the face of the tour based sort of travel where people want an agenda. You know, this day we do this this day, we do this and on this day, we're hitting x, y, z, and you know, that's comfortable, it's more comfortable for a lot of people. Is that something that you know, how to how does somebody who's maybe from that world, open themselves up or, you know, be I know, you mentioned a lot of great reasons why they should do the other, but if they're a little scared, like how could you introduce them to that?
Sara C.
Oh, you know, that's such a good question. And even though that's not the way we tend to travel, I think, however you travel, you know, as long as You're not sort of as long as you're doing it thoughtfully and conscientiously. I think whoever you travel that works for you is great. But one way I think, is to take baby steps, you know, you don't have to go on a nine month trip where, where you only know where you're staying for two nights. Yeah. But you could leave a day, make sure you have a date totally unplanned, or that you plan independently. And maybe you tack it on, you know, if you are taking a tour based trip, can you tack it on at the end? Or can you tack on two days, and see what that feels like? And then the next time, maybe try it a little longer? or do something local? That's not so structured, or organized, and and dip your toe in that way?
Laura
Oh, that's that's a real baby step. And that's great. I love that idea.
Timothy
And as part of the expedition, will you be Do you see yourself producing some sort of travel either more structured or loosely structured that people can kind of just drop into as members? Or where there's maybe discounts available, things like that,
Sara C.
I sure hope that we will be able to plan some trips eventually. But discounts Yes, definitely. Some of the discounts that are going to be available to members very, very shortly, our medical evacuation insurance, which is something I always get, especially when we're traveling internationally, I don't I we tend not to buy travel insurance, because there's a lot of issues with travel insurance, and it not really covering you in the ways that you would like or hope in an actual emergency.
But medical evacuation insurance
pays to get you either back to your home country if you're abroad or to a medical facility if God forbid, something serious happens. So I think that's a really, really important thing for families to have. And we will be offering a discount on that substantial discount on that. And also some other included travel medical stuff. Also, for people who do want help planning, discounts on family focused travel planning, discounts on subscription services, travel products, we are also looking at some partnerships with airlines, rental companies, and other travel companies like that. So you can save money on things that you are already paying for, which is fantastic. Or get some nice perks. You know, like, if you book in certain hotels, getting upgrades, getting freebies, all the kinds of things that smooth the family trip.
Timothy
Sounds great.
Sara C.
Yeah, yeah. And we hope that those are things that our members are really going to really going to enjoy and take advantage of.
Laura
I'm going to throw something else in there if you if you have any way to get us into an RV, because they're all booked right now because of COVID. And it has been our dream to just hit Yellowstone in an RV with the boys and not possible. So if you have any recommendations there, but I mean, that's a good kind of segue into COVID. And what are we seeing now? And how do you? How do you recommend people move forward and still get out there?
Sara C.
Oh, gosh, it's really it's really so hard.
It depends partly on where you are, you know.
In other countries, there's a lot more things things are a lot more settled than they are and a lot of parts of the US. But outdoor trips are a great way to are great way to satisfy your travel hunger without having to get on a plane. We have one member in the expedition, who is so cool. She lives in New Hampshire and her family does micro trips. And they will even drive three or four hours to take a day trip. And they'll leave early in the morning. And they'll be there by like 930 or 10. And they'll come back late at night and not have to worry about staying anywhere and they pack a lunch and maybe they get some carry out food somewhere and found find a lovely beach or a hiking trail. And they have been doing that every week this summer, which is so inspiring to me. I mean, one of the things I asked Jen was like do your kids come like when you tell your kids to get in the car, do they
Laura
complain, right?
Sara C.
And she said she said yes and Do it anyway.
Laura
reality.
Timothy
Yeah. Yeah, those are like little mini intense road trips that you just do you scratch that itch and and see something in sports something new and like, yeah, then you're back sleeping your own bed, which is always nice
Laura
and logistically not having to pack everything and think about diapers if you're in that stage and all of that. Yeah, genius. I love Gen for that.
Sara C.
Totally. I was really inspired to start doing that myself. And they don't do they don't do a lot of planning either. You know, sometimes they have a destination in mind. And an hour in everyone's sort of melting down or whatever. And they just say, Let's stop here and check out what what things are like around here. And they said they've had some of their best experiences. Just doing that just just like kind of wandering around. Yet again, flexibility and presence. And
Timothy
you call it over arching theme, and you call it micro travel. are you mentioning?
Sara C.
Yes, I call that micro travel. People call it other people. Maybe, maybe they're sort of adventurous day trips.
Timothy
Right? Right. No, I like that.
Sara C.
And another another great tip she had, which I'm also going to steal from Jen was, she and her partner have Archie and her wife have these sort of like tackle boxes, these plastic boxes with compartments like that you would use for crafts, or tackle or small parts, and each kid has one. And the night before trip, if they know they're taking a trip, they let the kids fill them with snacks. And the kids get so excited to put in goldfish or gummy bears or cashews. And then they each have a snack box that they can't complain about in the car because they've packed it. And they have a lot less to argue about as well.
Timothy
That makes a lot of sense too. And like you said when it's the things they have to look forward to like little treats, then. Yeah, no, they won't. They won't forget about that.
Sara C.
little treats. That's right. Totally little treats, putting in little little incentives of you know, ice cream goes a long way. Huh?
Laura
Wow. Well, it sounds like you already have an incredible I mean, this community, Jen herself as a leader here. I can't wait to meet some of these people. Do you? Do you ever put together meetups?
Sara C.
We will we hope to. We have not had any meetups yet. But yes, there's some really, some really fantastic people there are, we have one member who is an avid avid outdoors person. And he has a two year old and this two year old has done more adventure travel than I have done in my entire life. Amazing, has gone back country skiing, and been up and down mountains. done this really amazing stuff. They're such an intrepid cool family. But again, that was a passion before and they were determined not to not to let having kids change them in that way. At least. That makes
Timothy
a lot of sense. I one other thing I want to mention with travel is when we do art, a lot of times when we travel, there's a lot of research involved with reviews, and yes and things and is that you know, TripAdvisor, Yelp, wherever is that a will be a part of the expedition in any in any way.
Sara C.
Yes, we're hoping so. Not not specifically in the not in that sort of database way. But one of the nice things about having a community of people who are like minded is that their review, they you can trust their opinions a little more. And because you're in a community together, you know a little bit about these people. Whereas one of my issues with Yelp and TripAdvisor even the they're useful in some ways. Who is this person? This person who said this hotel was terrible or said that it was amazing, you know, I because I don't know who they are or even if they're a real person, it's everything has to be taken with a big dose of salt very much so right. That's why again, for me if it was coming from a like minded community, and I knew that, you know, this is a real
Timothy
person and they have similar you know, travel tastes and travel similar destinations in mind. That makes more sense than a random online person.
Sara C.
Exactly. And and knowing that people don't have an agenda, you know, they're not trying to sell you something in the community. They're not they're not a paid, you know, a paid reviewer or or somebody who's taking kickbacks. But just a family like you being honest and sharing their experience is really valuable.
Timothy
Right? Do you have any dream destinations any places where you've been already or where you where you really want to go that as a you know, as a professional that you would you could recommend or think of
Sara C.
there are So many places I want to go. And there's so many places I would like to go back to. But one of the places that our whole family fantasizes about having already been there is a little town called, it's barely even a town called over again. And it's in the the dolomite mountains of Italy, a couple of hours north of Venice. Most, they have almost no Americans, they're number one. In the winter, it's a ski resort. And in the summer, it is the loveliest hiking area. And they have refugios sort of restaurant slash ins that are dotted among the mountains that you can hike to. And in that area, each of the refugios has a different specialty desert. So you can spend days hiking from rifugio to rifugio incentivised
Laura
the treat at the end,
Sara C.
by the treat at the end. And there's a really cool art installations along the hiking trails. And we found the most wonderful hotel called hotel Maria, in this town. It's family run. It's pretty casual. It's not fancy, but it's just incredibly lovely. If you have younger kids, they have a kids club, where they do all kinds of fun things like face painting and crafts, but they'll also take them on little mini hikes in the area. They for older kids, they have a whole outdoors program where they can go mountain biking, or climbing or do really cool things like that. And in the evenings, there's a there's a restaurant at the hotel, and everyone, each family said that sits at the same table every night and has the same server. And you sort of get to know all the other families that are there and you develop this little relationship with your server and the food because you're in northern Italy is fantastic. And they even have a kid's table where your kid can eat in the same dining room as you but not at your table. Give you a little like semi date night, while your kid has a little counsellor and is like eating their own meal. It's we are crazy about this place. It is just such a relaxing, beautiful destination and we are dying to go back. Oh,
Laura
we please say the name of it again.
Sara C.
It's called hotel Maria. And you I will share the link with you because there are many hotel Maria's in northern Italy. And when this one we actually drove to the wrong one. And I walked into the lobby. I said,
Timothy
this really doesn't look like the fixtures. Right? And how did you just do this trip? We just kind of came across it. It seems so unlikely in this location to have all of that.
Sara C.
totally right. totally right. This was during our nine month trip and we wanted to check out the Dolomites. And I just came upon it completely by accident. And we once again we booked two nights there. And we ended up staying for two weeks and they eventually sort of had to throw us out on the hotel.
Timothy
moving in. Yeah.
Unknown Speaker
We don't have any room for you.
Timothy
It was just during the summer.
Sara C.
It was Yeah, it was during the summer. It was during the summer
Laura
and I'm sorry, the name of the town again.
Sara C.
Oh breggen ob er eg g n.
Laura
All right. That's making our list right now. We've been to cartina
Timothy
pre kids. Yes. And it was in a winter in the Dolomites are always just, it was gorgeous. I went skiing and I just it just I just I can picture it right now and go right back there and just seeing it in the summer with mulled
Sara C.
wine in that beautiful Catholic Church on Christmas Eve. All of the music incredible, adorable little towns and the food just kills me right that you'll go into this. You know, you'll you'll go skiing or hiking and then you go into this sort of little chalet and have boar Ragu on polenta and wine and homemade bread. It's so different from the way we do it.
Laura
Yes, yes. They've got that right. Yes. Totally.
Timothy
Well, thank you so much for taking the time here. We're excited about your new venture and, and how can Can you remind people how they can connect with with the exhibition?
Sara C.
Oh, yes. So you can find us at the expedition calm if you want to. We're also on Instagram. If you want to connect with me, you can also find me at Sarah Clemens calm but that's like totally independent. And you can also contact me through there. I have a a like a contact form if people want to reach out to us.
Laura
Well, Sara, thank you and knowing that you're so close to us, you're in San Diego. We're going to have to get these kids together and go on our own little mini adventure. If you'd be willing and
Sara C.
That would be fantastic. It was so great to chat with you too.
Laura
Sara, thank you so much for being here and for all the work you're doing to encourage and inspire people to get out there and see this beautiful world of ours.
Sara C.
Thank you so much for everything you do.