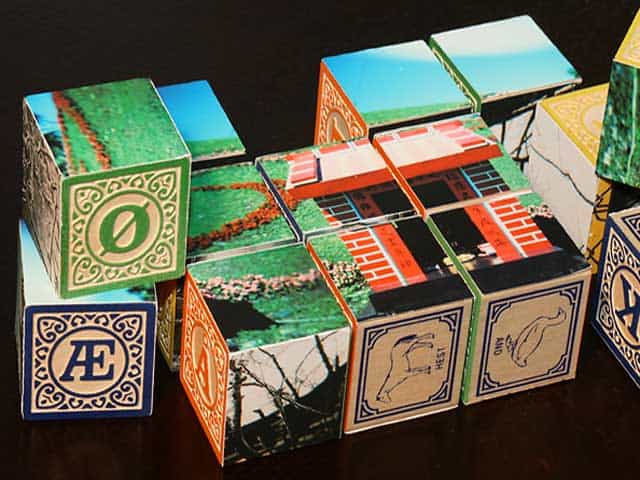 Building blocks are the best toys for modding and Photojojo shares this tutorial for turning your basic building blocks into a puzzle block using your own photo.
WHAT YOU'LL NEED
16 wooden blocks
Ruler
Square format image(s)
Matte photo paper
X-acto knife and cutting mat
Glue, rubber cement, or Mod Podge
Small paintbrush
STEP 1: MEASURE
Arrange 16 blocks in a square and measure the length and width of the square.
Choose a square format image and resize it to match the length and width of your blocks (ours was 7″ x 7″).
STEP 2: PRINT AND TRIM
Print the image on matte photo paper and let it dry.
When dry, use a ruler and x-acto knife to trim it to size.
STEP 3: APPLY GLUE
Use a small paintbrush to spread glue on the back of the image.
Arrange the blocks in a square on top of the print. Position them so they're lined up neatly as close together as possible.
Let the whole thing rest until the glue is completely dry.
STEP 4: CUT APART
Once the glue's dry, turn the square of blocks right side up.
Use a ruler as a guide to cut the blocks apart. Cut as neatly as you can along the line between the blocks.
There you go- you've got yerself some photo puzzle blocks!
STEP 5: REPEAT
Repeat steps 2-4 as many times as you like. You can cover all 6 sides of the blocks with different photos, or leave a couple of sides bare.
The more photos you have, the more time you can spend happily solving your photo puzzles.
STEP 6: SCRAMBLE AND SOLVE
Mix all your photo blocks together, and scatter them on your coffee table for friends to solve when they come over.
Make a couple of sets and have races to see who can solve their puzzle first!
Have you modified your kids building blocks? What have you made?