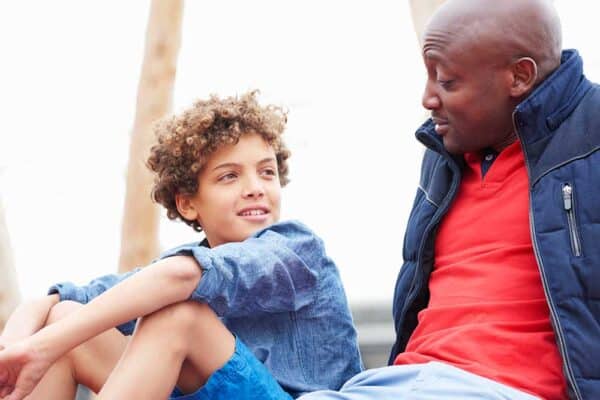 The life-altering events of 2020 will change the course of history, hopefully for the better. We look forward to emerging from the pandemic and anti-racism demonstrations, with more empathy and compassion for others.
We believe that Love Always Wins.
In our latest podcast we discuss how to speak with children about uncertain times. Our children may not watch the news or consume all of the videos and stories that we do online, but they are sensitive beings and are in tune with our energy.
Children may be feeling a sense of anxiety or fear that they've never felt before. Their normal life has been upended in so many ways, so it's our job to comfort them and allow them to grow through this process.
If you enjoy this episode, check out the rest and remember to subscribe and rate us.
Episode Transcript
Laura
Hi, we're Timothy and Laura doll here from built by kids. We're so happy you're joining us. Hello, hello. We are coming to you from beautiful Los Angeles during a time of uncertainty in our world. The Corona virus has hit and you can hear an airplane flying over us. Because we are outside our son is inside on his second day of remote learning. And as you said,
Timothy
he's very happy to have his privacy. We're not allowed in the room. Thus we're outside So you will hear clocks, you will hear birds. And I would say the birds are pretty happy these days, because finally they have fresh air. Los Angeles is having the best air we've ever had because people are staying home and their cars aren't polluting our air. So there's a blessing.
Timothy
I definitely have I thought it was maybe air air from a different era of Los Angeles 50 years ago, but the freeways are clear and everybody's sticking at home. So we're finding new ways to, to deal with that.
Laura
And that's why we're coming to you. We've had a lot of friends just kind of asking us, how are we talking to our children about everything that's going on? And how are we filling up this extra time we have. So yeah, I mean, I guess, easily said, sometimes not as easily done. As with every challenging conversation we have with our church children. Timothy and I are just making sure we're being honest, pragmatic, loving and supportive.
Timothy
Exactly. There's a lot of uncertainty for all of us. And the way that works out with our children, the things and the conversations they hear from us, the what they pick up from the TV, from their friends from, from those sorts of things can, again, these are all different terms that we didn't ever use before, like social distancing, like quarantine, those sorts of things. And so, we're all in this together and learning together and making the best of it, but, but having the discussions with them and letting them know that they have a safe place is so important.
Laura
And I think so key is listening to their concerns and validating their emotions. Not just shrugging that off and being the loud voice in the room, but allowing them to really express themselves and that's the only We can help them settle their own feelings and emotions, you know, reassurance. reassurance that this isn't gonna be the norm forever. This is just a moment in time and if we look at it positively, it's a great time of recalibration. Right. Yeah. I mean change is good. The good things come from change. Sometimes it just takes us shifting our perspective a bit to really see that change. Like we just talked about the birds with their fresh air loving it so much and singing beautifully above us. The lazy mornings we've been experiencing this last week and stained in our pajamas a bit longer, less rushing around and hectic chaos and the stress of traffic. I mean, what else we've we've a lot we have this extra time you know we built by kids are always talking about the beauty of boredom and We boredom is actually a bad word in our, in our house. But you know what I'm saying there, it's this, we're we've been given this opportunity and this time to let our minds relax and allow our imaginations to grow and to find space that we wouldn't otherwise have. And I would say Hunter, our eight year old would say that he loves that there are more Nerf gun battles in the morning and charades games at night.
Timothy
Right we've used this opportunity to with built by kids to dive into some projects that have been on the back burner for weeks, months, even years. Case in point we have a lave that a good friend Dan Cary at rockler sent over a couple of years ago at this point and it's been sitting in our in our backyard in our garage. And we finally said let's just get it out clear space and get to work with it. I believe Probably a couple years ago when I took my first kind of woodturning class. And so, you know, through that and some help on YouTube, we've just dived in, we went to a rockler store picked up supplies we needed. And we're still figuring out how it all works. But, but our sons jumped right into it and can't wait to, you know, start turning all sorts of things. Yesterday, he did his first project, where he made a ice cream scoop handle,
Laura
could not wait to scoop the ice cream.
Timothy
Yes, that was the end. So. So yeah, those are the sorts of things that I you know, if we weren't doing our thing at home, we might have put that off longer,
Laura
right. I mean, it's having this more more of a lazy schedule that allows for extra time to really dive into a skill and to try and try again, until we master it. It's been beautiful for us. And I mean to take that a bit further, right, just letting the kids help you with all that. projects that you've been putting off around the house, whether it be painting or installing new doorknobs. Simple cleaning, organizing all of that the kids love. Our kids at least love to be involved in all of that and love to feel like they're contributing to the family. So those are some great ideas. We've been even cooking a bit more hunters always love to be in the kitchen and he's learning more techniques and he's loving this opportunity to make his own lunch and his lunch for his baby brother who's two years old. Breakfast is served in the morning from Hunter and what a beautiful thing again without rushing around on a crazy schedule. So from a consumer perspective, with resources becoming scarce and people grabbing as much toilet paper and paper towels as they possibly can and beans and rice. This is that unique opportunity for us to learn and to eat. valuate our consumption habits. For instance, I in the past might use six squares of toilet paper when I go potty, and now I'm down to two. And guess what? That's okay. It actually works. So I realized I've been over consuming all of this time. And I'm grateful for that lesson now. I was able to learn and toilet, paper towels. I mean, does your spill really need three or four sheets of paper towels? Or will one work? What a wonderful time nutrition. Nutrition is something that is so core to everything in our home because our bodies are the beginning of everything great that we can accomplish on this earth in this vessel. So, you know, do we actually need that half in half? Do we actually need that wine you actually know That cookie or that cracker, I would say if we really look at what we're able to procure, it's a great way to really figure out what our bodies need. This virus is doing something else that is incredible, this incredible gift to us parents, I think. Because as parents, we're always looking for ways to instill independence, resilience, grit, self awareness, flexibility, mindfulness, add some hair, Timothy, all of these things critical thinking, creativity. And as it turns out, this virus is giving us all of the challenges we need, that help us exercise and strengthen all of those core character traits that we value so much.
Timothy
Our relationships can deepen, because of this with just the more time we're spending together, and the different situations that we're working through. with, you know, we are we're used to working from home, but now we're doing it, you know, even more so and the children are around even more so and how they're using what we're doing and seeing us, you know, on our computers on our phones in different ways. And I feel like that's one challenge that, that I know, I'm trying to balance here. And I think everybody's looking at that. I mean, you can have your home office, you can close your door, but there's still work that's around. And I think that the kids aren't so used to seeing that as much. But it's, you know, if we can keep that perspective and look at it as a way to frame it in a way that that works for all of us that everybody can kind of understand.
Laura
Right? I think positive to sum that up a little bit more is just to make this extra time, quality time. I mean, it's this amazing period in history when we are getting the chance to spend all of this time together. So By being present, we can learn and grow together in a way that we would never have otherwise been able to do, or would have taken us much longer to do. Right. So, I mean, I, in our family, we are just trying to make the choices today that will allow us to look back on this period is a time that we got to know ourselves and our children intimately. And we learned together, how truly strong and resilient we are,
Timothy
I say, keep that great attitude. This is kind of the first week of our self quarantine. And we know it's easy, easier said than done in a lot of ways. And this will kind of keep evolving with this and there'll be more questions and you know, it's tough to stay out of the news cycle, but we'll kind of continue to at least again, take the same mindset in move forward with that,
Laura
move forward with positivity with love, release the fear, embrace the love, and stay inspired. And on that note, keep checking back with us. We will be putting out many videos and we're starting a whole new series called today I made where we're doing everything from amazing spray paint murals to smoothies and scrambled eggs to turning a lathe, turning wood with a laser. So things that hopefully and resources will be coming to you that will help help us all get through this together and come out of it stronger and better. That's right.
Timothy
All right.
Laura
Stay tuned and stay inspired.