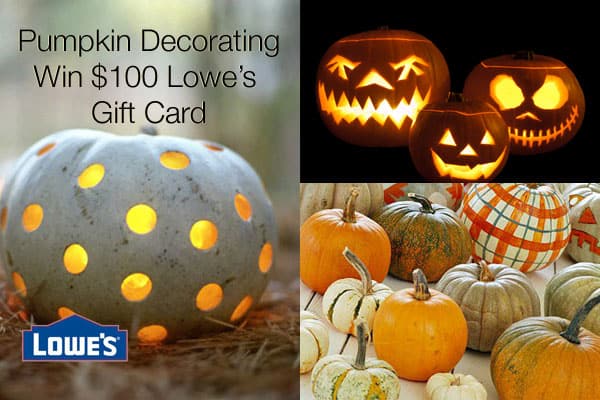 We know you'll be carving pumpkins this year. Why not send us photos of your masterpiece for a chance to win a $100 gift card from Lowe's.
We've partnered with Lowe's on this contest and to make it interesting we're asking you to decorate your pumpkin using tools and materials you've bought from Lowe's. You can use anything you find off their shelves and are only limited by your imagination!
Nail heads make great pumpkin smiles, screws for hair, duct tape for a pumpkin mummy head or simply paint your pumpkins!
If you used tools from Lowe's to carve your pumpkins let us know and here are our favorite tools for pumpkin carving.
Contest Details
1. Submit photos of your decorated pumpkins and tell us what tools or items you used from Lowe's. You can email us photos at hello@builtbykids.com or post them to our Facebook page.
2. On Saturday October 29th, we will select our favorites based on creativity, execution and Halloween spirit then have Facebook fans vote for their favorite. If you're a finalist make sure you get your friends and family to vote.
3. On Halloween October 31st – The top finalist with the most votes will win a $100 gift card from Lowe's and the runner-up will receive a $25 gift card.
Start decorating!!!
As seen in