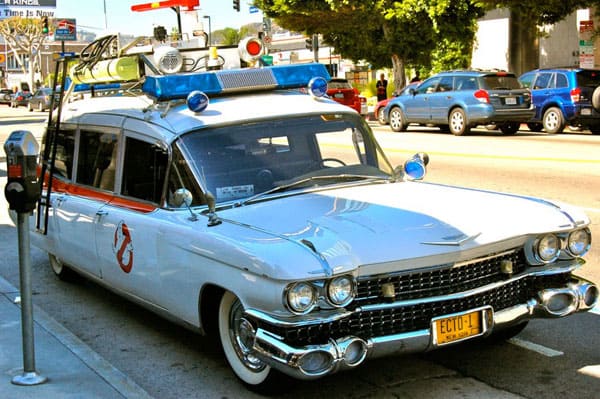 Our friend Andrew of Primer Magazine lives in Hollywood and got some great shots of the Ghostbusters car yesterday as it's been dusted off and rolled out for the premiere of the original Ghostbusters in 500 theaters around the country.
The Ectomobile, or Ecto–1 is a 1959 Cadillac Miller-Meteor limo-style endloader combination car (ambulance conversion) used in the 1984 film (according to Wikipedia).
Ghostbusters is a unique sci-fi/comedy/action-thriller that is one of our all-time favorite movies growing up in the 80s. We were fortunate to live in the West Village and often rode our bikes by the original firehouse/Ghostbusters headquarters so we love seeing memorabilia like this.
We just hope the rumors of Matthew Gray Gubler being cast in the next Ghostbusters film is true. Egon seems like a natural fit but in our opinion he would shine as Ray. What do you think?
[nggallery id=11]
Check out the rest of the photos on Primer Magazine.