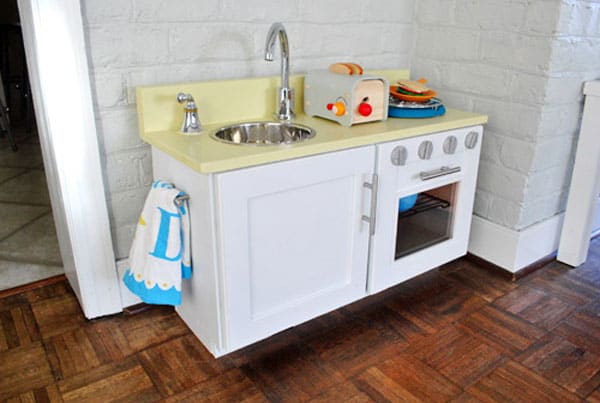 Play kitchens continue to be one of the most popular projects that anyone can build regardless of budget. Our friends John and Sherry of Young House Love recently shared the play kitchen they built for their daughter Clara. What strikes us most is that they did this within 72 hours of Christmas and for under $100 ($74 to be exact). It looks brilliant and you won't find a better example of a do-it-yourself play kitchen anywhere.
Visit Young House Love for the full tutorial.
Here's how they did it.
Just a few days before Christmas we started Clara's homemade play-kitchen (in secret of course, since she thinks Santa brought it)… and we actually finished it on Christmas Eve! Yes folks, it was a Christmas miracle. We went into it with a goal of spending under $99 since this basic play-kitchen from Ikea is that price – but we wanted to add a bit more detail like oven knobs that actually turn, an oven light that goes on and off, a wire baking rack inside the oven instead of a shelf, and a real faucet (not plumbed of course, but movable!).
The core of our homemade kitchen was initially going to be a real kitchen cabinet, so we had it around already (yessss!). It was actually the one we bought for $14 from the Habitat For Humanity ReStore when we intended to hang a big microwave next to our pantry. Heck, we even hung it temporarily when determining where we wanted the electrician to add our microwave plug a while back.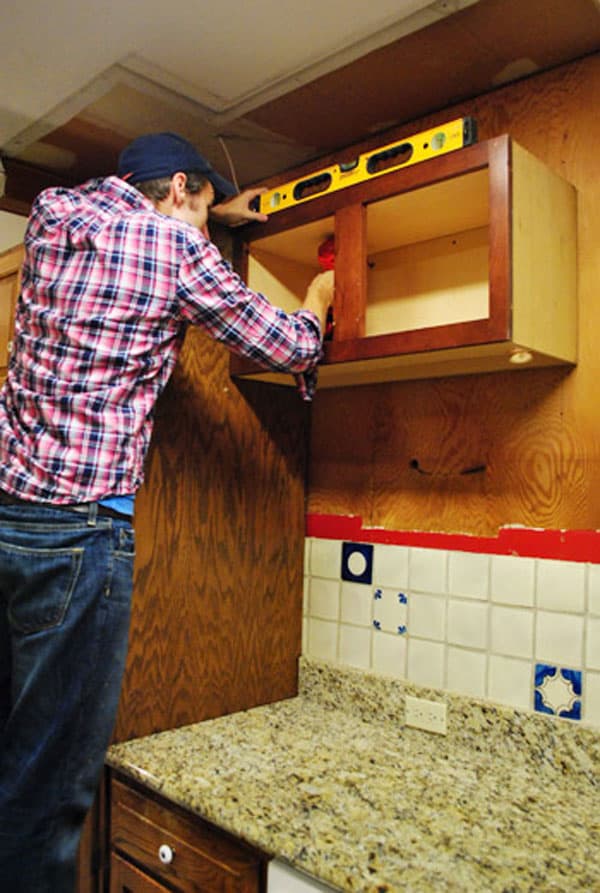 It was a little low (only 15″) so we began by building it up on the bottom with a quick box made out of a 1 x 4″ remnant that we had in the basement. We offset it from the front a bit so it would even look like a real base cabinet in a kitchen (toekick and all).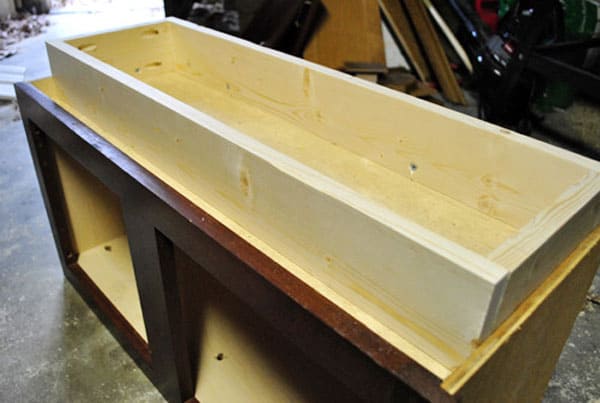 John also had a spare 1 x 12″ board in his scrap wood pile that, when paired with a leftover plank from our desk-building project, fit perfectly as a counter and low backsplash. Well, perfectly once they were cut down a bit.
But before attaching all that, we had to build our sink area. We hit up the ReStore again and snagged a real faucet and handle for $10 (and inadvertently crashed their company Christmas party in the process – sorry ReStorians, thanks for letting us quickly grab that faucet!). We thought those two real kitchen features paired with a metal bowl (found at Target for $7) would make for a purty chrome and stainless steel kitchen sink area. Only the best for our girl. Haha.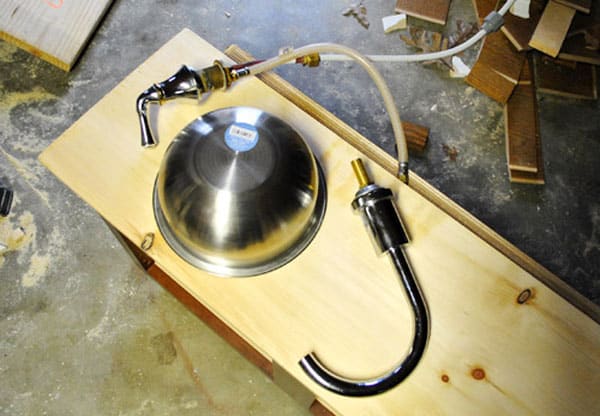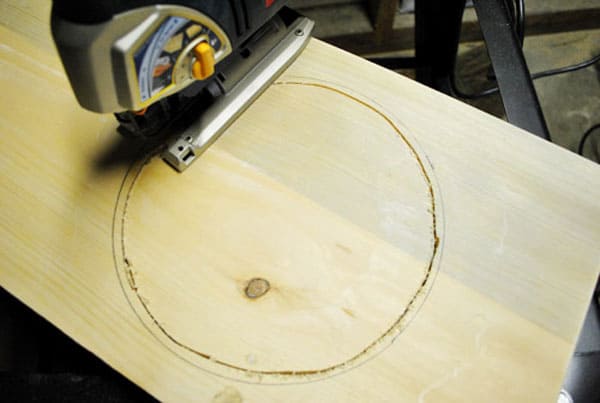 After tracing around the lip of the bowl, John jigsawed a hole just inside the line (so the edge of the bowl had something to rest on). It didn't have to be perfect since the bowl would be covering it.
After cutting matching holes in both the counter and the cabinet top (and sanding them both smooth), the bowl was officially transformed into a sink – just by dropping it in.
Adapting the sink hardware was also pretty straightforward. The faucet was pretty much ready to go, but the handle had lots of tubing that was just going to be in the way under the counter.
Luckily, with a wrench and a copper pipe cutter we removed the excess mumbo jumbo. Oh, and since the bottom of the fixture will be concealed between the top of the cabinet and the counter we don't have to worry about Clara messing with it.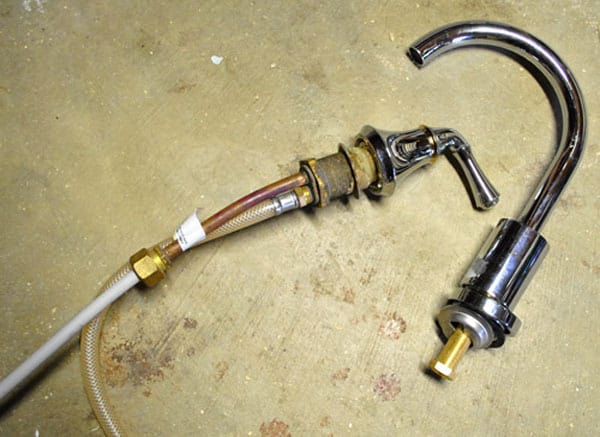 Every play kitchen needs an oven right? So we bought some $3 fence hinges to convert one door to open downwards.
And we also snagged a piece of pre-cut plexi from Home Depot (for just $3!) so that we could give Clara's oven a proper window (the girl's gotta check on her souffles). We completely lucked out that this pre-cut pane was the perfect size.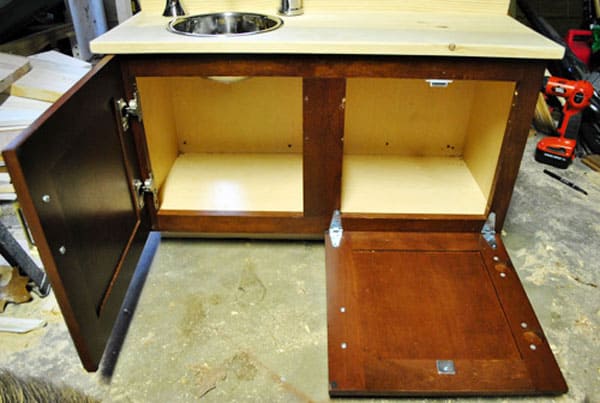 We weren't so lucky when cutting the hole for the plexi though. John can't figure out if it's him or his Dremel Trio, but he has trouble getting straight cuts sometimes (his words, not mine). It looked okay from a distance…
I guess knobs are usually for a stove, but we figured it wouldn't hurt to have something for Clara to spin and interact with. So we took some small wood discs from Ben Franklin (for $2) and drilled a hole in the center for a washer and bolt.
Luck was back in our favor when it came to drilling holes for the nut on the back of the oven door. The Kreg Jig drillbit (which has a small pilot drill on the tip before becoming larger) made the perfect sized holes for not only sinking the nut into the door (since our oven wouldn't close if they weren't flush) but also kept the nuts from spinning too, which made attaching everything really easy.
Now that everything was constructed, we snuck it upstairs to the sunroom after Clara was asleep and primed the whole darn thing (after patching some holes with wood putty). It was actually not that bad since we were in priming and painting mode for our real kitchen too. Then it was painting time, and we did all those finishing touches like gluing in the oven plexiglass and adding hardware over the next 48 hours.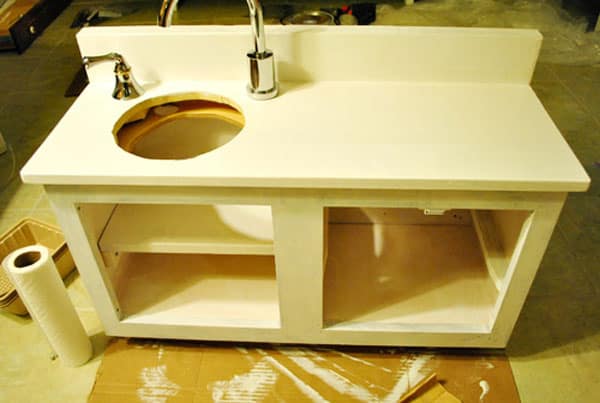 We primed and painted it using leftover paint that we already had. The top is our kitchen wall color (Sesame by Benjamin Moore) and the base is the same stuff we used for our office cabinets (Benjamin Moore's Advance paint in Decorator's White in a satin finish). We painted the inside of the pantry Sesame also, but did the oven in a medium grey thanks to a test pot of paint that we had leftover from grey-washing our living room beams (in Benjamin Moore's Shaker Gray). It's sort of hard to see in the pics, but in person the gray oven and the grellow cabinet are fun little details to help each side feel more defined.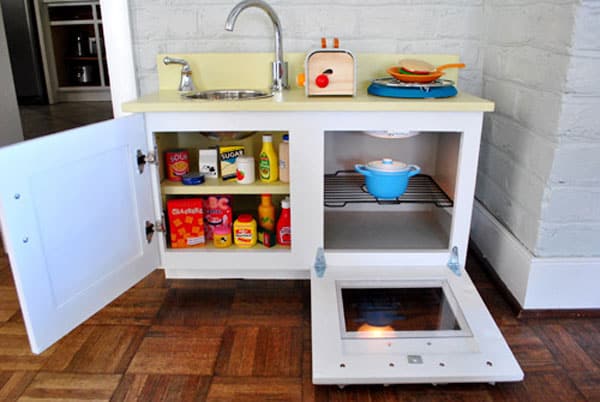 To dress up the inside of the oven we used heavy duty velcro to hold up a simple tap light, so Clara can actually "turn the oven on" just by pushing it. We also found this black wire shelf (it's actually one of those bottom-of-the-sink drying trays) at Target for $5. It definitely helps things feel more oven-ish in there.
We opted not to add a stovetop so that she'd have more flexible-to-use-for-other-stuff-too counter space (you know, for mixing and setting out dishes, etc). It has already been a handy choice because there's room to house the play toaster her Grammy and Tom-Tom bought her for Christmas (yes, it's kind of the cutest thing we've ever seen). But I did make her a makeshift hot plate of sorts, so she has one burner to play with (instead of four space-hogging circles). What does she use it for? To fry sandwiches, apparently.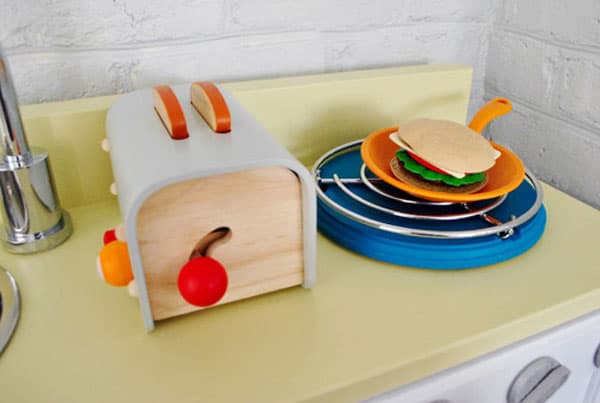 All that little DIY hot plate entailed was buying a $5 trivet from Bed Bath & Beyond and a $4 round of wood from Michael's (which I painted teal with leftover paint from this project) and then drilled into it in three spots (to allow the feet of the trivet to "sink" inside the wood round so it was nice and solid). Then I used a flat washer and a screw to hold the trivet into the round of wood from the center. Voila: instant burner.
We actually bought three of those Home Depot door handles so that one could act as a towel bar on the side of the sink. Little details like that were kind of my favorite part.
So how about a budget breakdown?
Secondhand cabinet (from the ReStore): $14
Secondhand faucet & handle (also from the ReStore): $10
Stainless sink bowl (from Target): $7
Oven knobs and frame (from Ben Franklin craft store): $5
Hinges for oven door (from Home Depot): $3
Pre-cut plexiglass and wood trim for oven window (from Home Depot): $4
Wire oven shelf (from Target): $5
Tap light for the oven (from Home Depot): $2
Wood counter, backsplash, and toe kick: $0 (already owned scrap lumber, but it might be $15 or so to buy it all)
Trivet (from Bed Bath & beyond) and wood round (from Michael's) for hot plate: $9
Three hardware handles for oven, cabinet, and towel bar (from Home Depot): $15
Primer and paint for counter, cabinets, and hot plate: $0 (already owned, but a few $4 paint testers would do the trick if you needed to buy it)
Miscellaneous wood pantry items (by Melissa & Doug): $0 (Christmas gift from Grammy and Tom Tom, but they might cost around $15 if you were to buy them)
Play toaster (also by Melissa & Doug): $0 (another super thoughtful gift from John's parents!)
Total project cost: $74