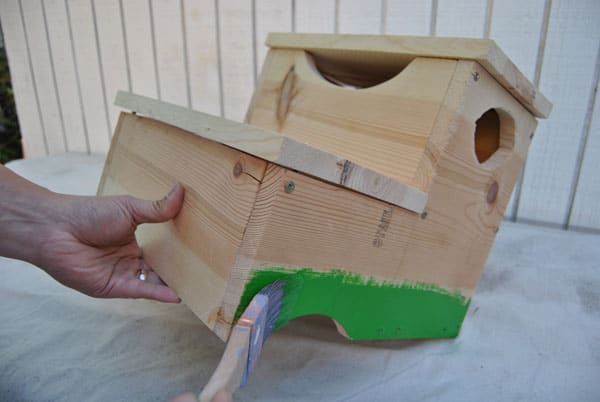 Painting is always a great way to add personality to any project as well as add a layer of protection from the elements and wear and tear.
It truly is as simple as putting brush to wood but we'd like to share some tips that will make your paint projects much easier.
1. Invest in Good Brushes
It's almost always about the painter not the brush but if you buy cheap brushes then even the most adept painter will have a tough time getting good results. We recommend Purdy brushes as they work great everytime and if you care for them they will last you a long time. After washing out your brush, store them back in the Purdy packaging and they will be good to go for your next project.
2. Invest in Good Paint
It's hard to go wrong with name brand paint from major retailers but it's better to shop on color than on price. If you aren't too picky you can often times find high quality discounted paint that wasn't picked up by customers. A good paint will go on smoother, dry faster and look better. We're partial to using zero-VOC paints as often as we can, especially for children's projects.
3. Prepare Your Workspace
Make sure you clear the area where you will be painting so you have plenty of space to maneuver and you won't have to worry about over spray/splash. You also want to have proper ventilation during and after painting.
4. Clean Your Surface
Make sure the surface you are painting is sanded and cleaned before applying paint. If not you'll have rough edges and the paint won't properly adhere to the surface.
5. Take Your Time
Painting shouldn't be rushed. Take your time and get full coverage and if needed make sure you do at least two coats while providing enough time for the paint to dry between coats. You'll be much happier with the results if you aren't rushed.
6. Get the Kids Involved
Kids can help with almost any paint project. From helping you choose the colors to preparing the workplace, painting and helping to clean. Most kids like to paint and would love an opportunity to do this outside of a classroom or "crafting" environment.
Do you have any painting tips to share?