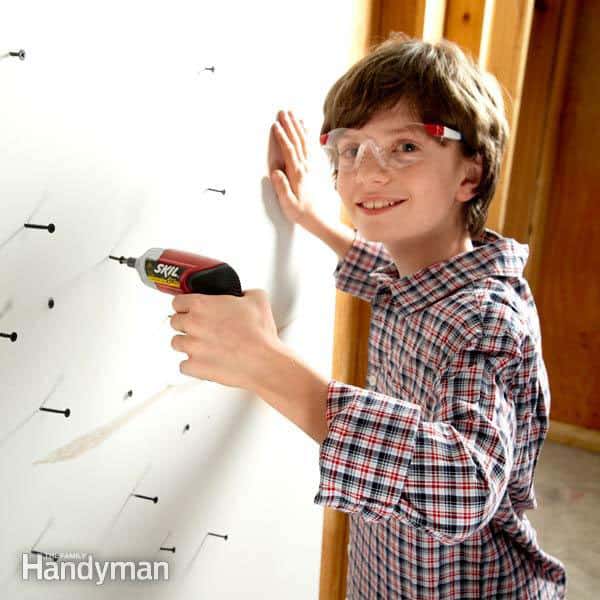 We were recently interviewed by an editor from one of our favorite magazines, Popular Mechanics. They are writing an article based on kid's do-it-yourself and one of his questions was, what should be a child's first power tool.
A great question but one that isn't easily answered. Like many life choices, a child using a power tool is up to their parents. We do recommend that any parent who teaches their child, make sure they know how to use the tool correctly themselves. There is nothing worse than teaching someone else your own bad habits and that is compounded for children.
Don't let your ego get in the way and take a course at your local home center or ask a friend or relative you trust who knows what they are talking about to teach you about power tools before introducing them to your child. You should also have plenty of real world and practical experience using the tool.
We'd like to introduce our son to the wonderful world of power tools but at this point we are unsure when that time will be. We won't force it and if he shows interest then we will share what we know.
We can recommend some tools for children 7 and up that don't quite have the brute strength of a chainsaw but they are still considered power tools and caution should be used when handling them including wearing safety goggles.
1. Dremel
A Dremel tool consists of a small rotating end whose speed can be adjusted with a variable speed controller. The beauty of a dremel is the power it provides in such a small tool (you literally hold it in one hand like a pencil), and the multitude of attachments that help it perform endless jobs.
2. Powered Screwdriver
These save my wrist and forearms from fatigue and also save time. A powered screwdriver should be the most accesible power tool in your drawer and always kept fully charged as you never know when you'll need it. It also makes the perfect tool to introduce to a child as the simple rotation is easy for them to understand and the action of pulling the trigger is natural.
3. Impact Driver
With no sharp edges to be concerned about, an impact driver is a great tool for children to handle and is also fairly loud which adds to the excitement. Experimenting with different sized bits and bolts is a fun process.
Are there any other power tools that you'd recommend teaching a child to use?