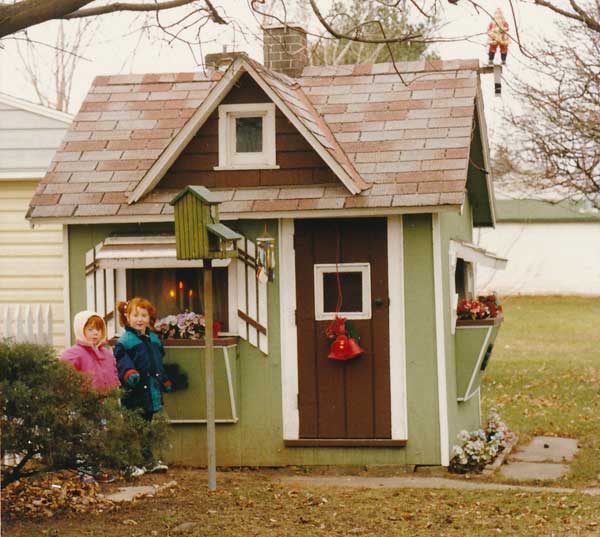 Our next major project will be building a playhouse for our son. I wish we had a large enough tree or we'd do a treehouse but fortunately we do have some empty space in our back yard that will be perfect to build his own little retreat.
We've never built a playhouse before and although we are enamored with many of the amazing playhouses you can buy, it is out of our budget and we also want to experience the satisfaction that comes with building our own.
After scouring the internet and looking at numerous books for free playhouse plans, we've selected these three as the easiest to understand and fastest to build.
Keep Out
This book was published this summer and is an amazing resource for building your own clubhouse/playhouse. It's written by a man who grew up building a playhouse with kids in his neighborhood and he offers all types of amazing tips for kids and adults to build their own playhouses. Using doors as walls and how to install windows of all sizes.
The author Lee Mothes asked us for a testimonial if we liked the book and we happily obliged with, "Delivers inspiration and instruction — plus playful anecdotes and nostalgic references — so every kid can build the clubhouse of his or her dreams."
The above photo is taken by Lee of his daughters discovering a playhouse in their neighborhood.
How to Build a Deluxe Playhouse
The DIY Network includes a video as well as step-by-step plans for building a playhouse that includes roofing details and even a little mailbox and shutters. View plans
Build an Outdoor Playhouse
Lowe's has really stepped up their game with their project plans and this playhouse is no exception. The cut list and detail is incredible and since it's coming from Lowe's you can safely assume that it's one-stop shopping. View plans
Build a Playhouse
Ana White is the Queen of DIY and her kids projects are truly amazing. Here are her plans for a playhouse which include a perfect cut-list as well as design elements for you to choose from. View plans
As seen in