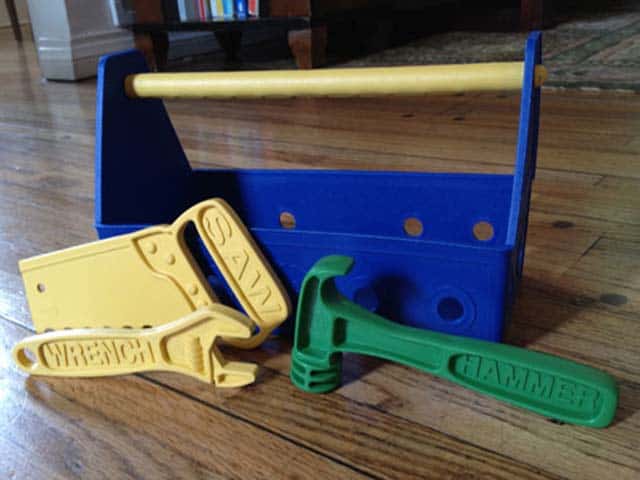 There are a lot of kids play tools available but the best we've seen come from Green Toys. The design, material and function are well thought out and make an excellent first tool set for even the very young.
Green Toys makes a classic line of children's toys that are constructed from recycled plastic and other environmentally friendly materials, even the box they are shipped in is made of recycled cardboard so no cutting through sharp plastic. Every toy is made in the USA (California to be exact) and you can be confident that the toys are BPA and chemical free.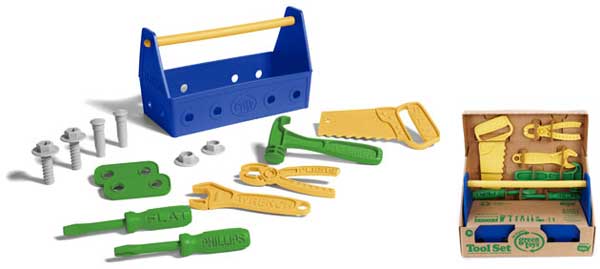 This 15 piece set includes a tool box, phillips screwdriver, flat screwdriver, hammer, saw, wrench, pliers, 2 two-hole connectors, 2 nails, 2 bolts, and 2 nuts. Each tool also has their name embossed on the handle and the tool box has strategically placed holes that children can use to work with the nuts and bolts.
This tool set is designed for children ages 2 and up but our 9 month old really loves it. We did modify it for him and removed all the small pieces but the tool box, hammer, saw and wrench are some of his favorite toys. He actually uses the hammer to bang away at blocks and whatever else he sees fit. I think we have a future demo guy on our hands.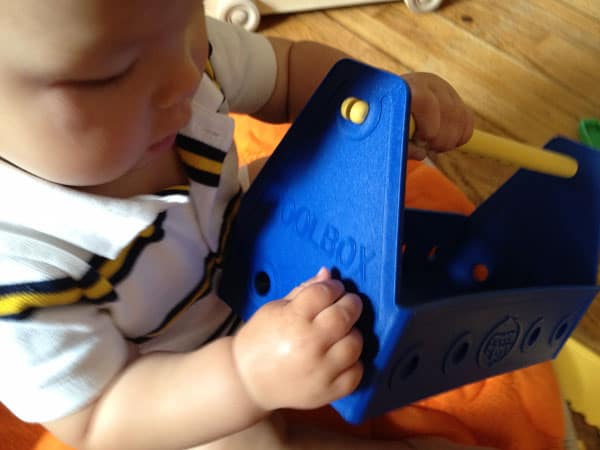 If you want to introduce your baby/child to a safe and fun first tool set then the Green Toys Tool Set is the perfect choice.