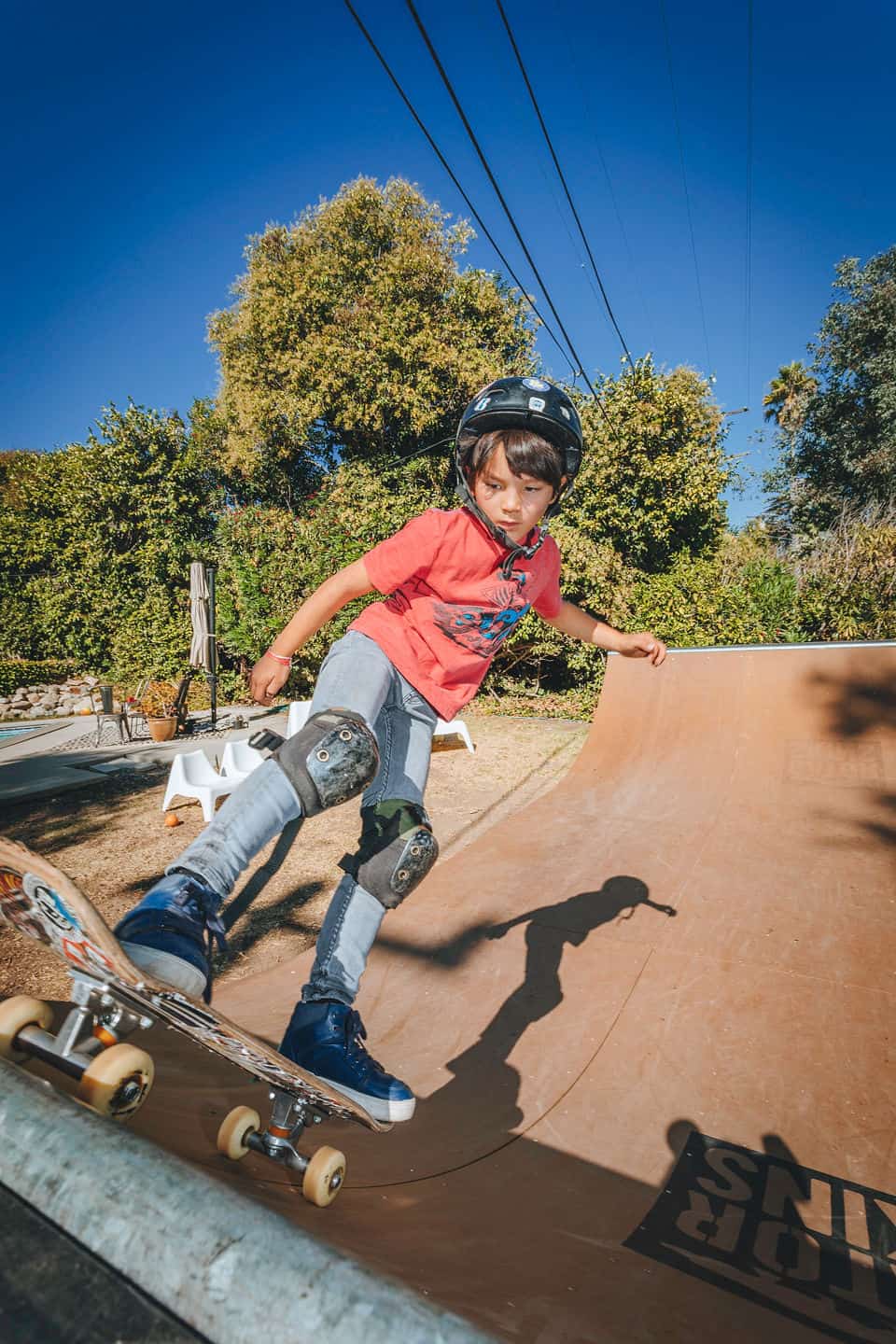 Last year we built a backyard mini ramp for our son's 8th birthday. He was stoked on it and we even played hooky from school for a day so he could help us build it. The process of building a mini ramp is really straightforward, but here are the steps you need to take to ensure you build a mini ramp that will last you for years to come.
Find a good set of mini ramp plans
Building a backyard mini ramp starts with a great set of plans. There are a few great resources out there, but best we've found is from DIY Skate Ramps. They have a bunch of great plans for ramps, rails, and how to set up almost everything. We referred to this site often when building our ramp.
You can use the plans from the site and build your mini ramp exactly to their specs or modify it to meet your needs.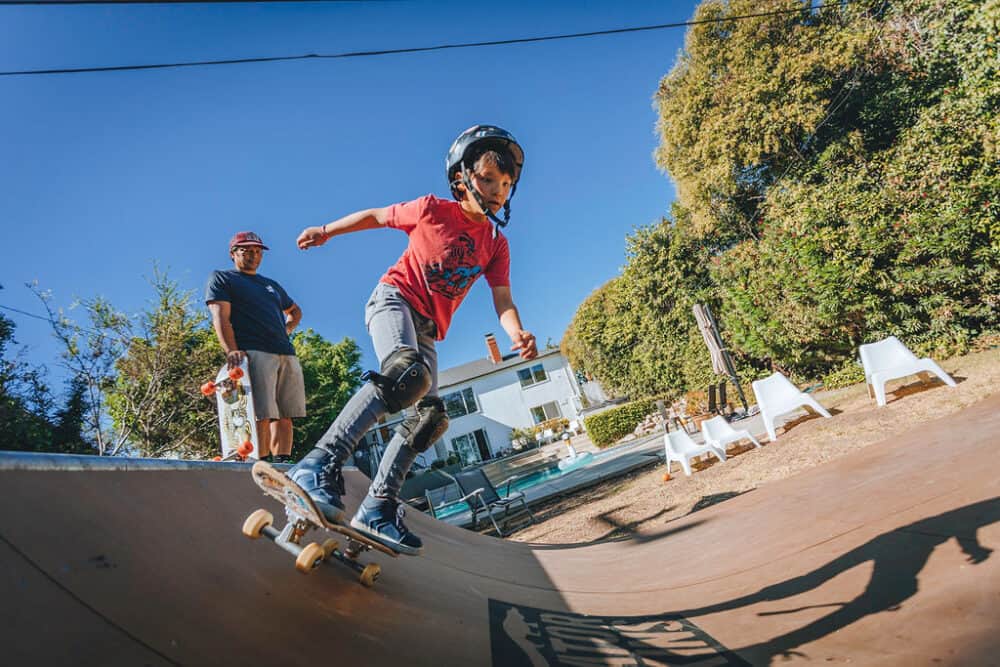 Buy a mini ramp kit
Buy or build a mini ramp is always a big question. If you want to skip the process of figuring out the plans and cutting the lumber yourself, you can order a mini ramp kit. These kits come pre-cut and include instructions for assembly. You'll need a few tools like a cordless drill to build the ramp yourself, but buying a kit saves a lot of time in designing plans and saves money in building it yourself.
Buying a mini ramp kit is a great middle ground for DIYers and families who want to lean on the experience of ramp builders, but also want the satisfaction of building the ramp themselves.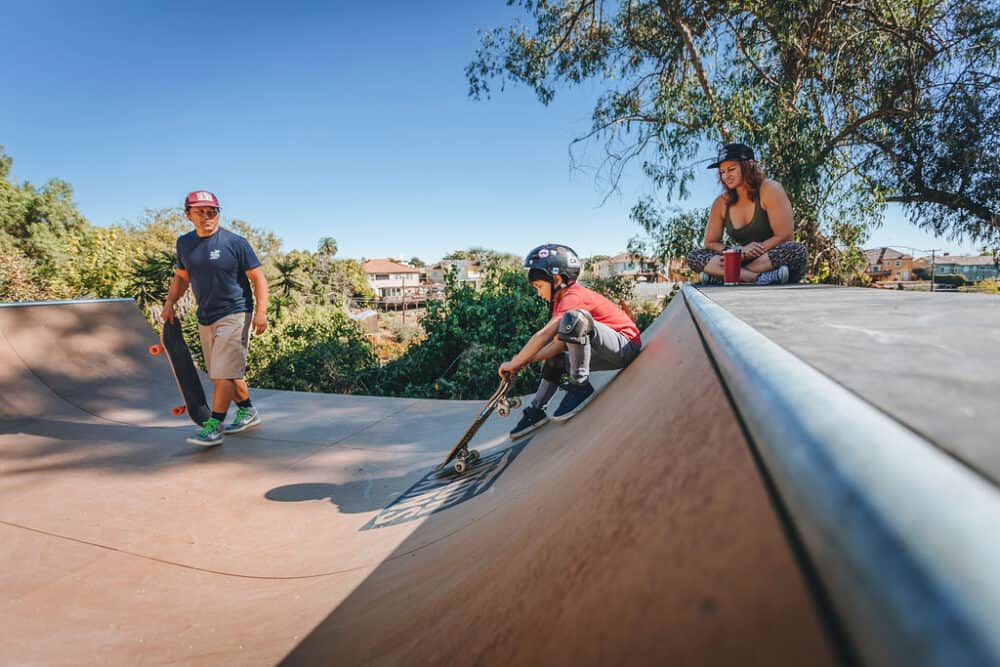 We ordered a 3.5 x 12 mini ramp from Keen Ramps which is based in Long Beach, CA, but they ship everywhere. The founder, Cory Keen, has been a fixture on the local skate scene for years and as a skater, he knows exactly how a ramp should be built and what features skaters value the most in a ramp.
It took us 2-days to build our ramp, and we took the time to paint the plywood layers for added moisture protection. We ordered our ramp with painted sides, back, and deck which adds to the longevity of the ramp.
Clear and level the ground below your mini ramp
It's important to start your mini ramp build right by making sure the ground you are building on is solid. Ideally you want to build your ramp on a level concrete slab, but many times that's not available in a backyard.
Our mini ramp is built on the back part of our yard which slopes down to assist with water runoff. The slope is ideal to prevent water from pooling but not great for building a skate ramp.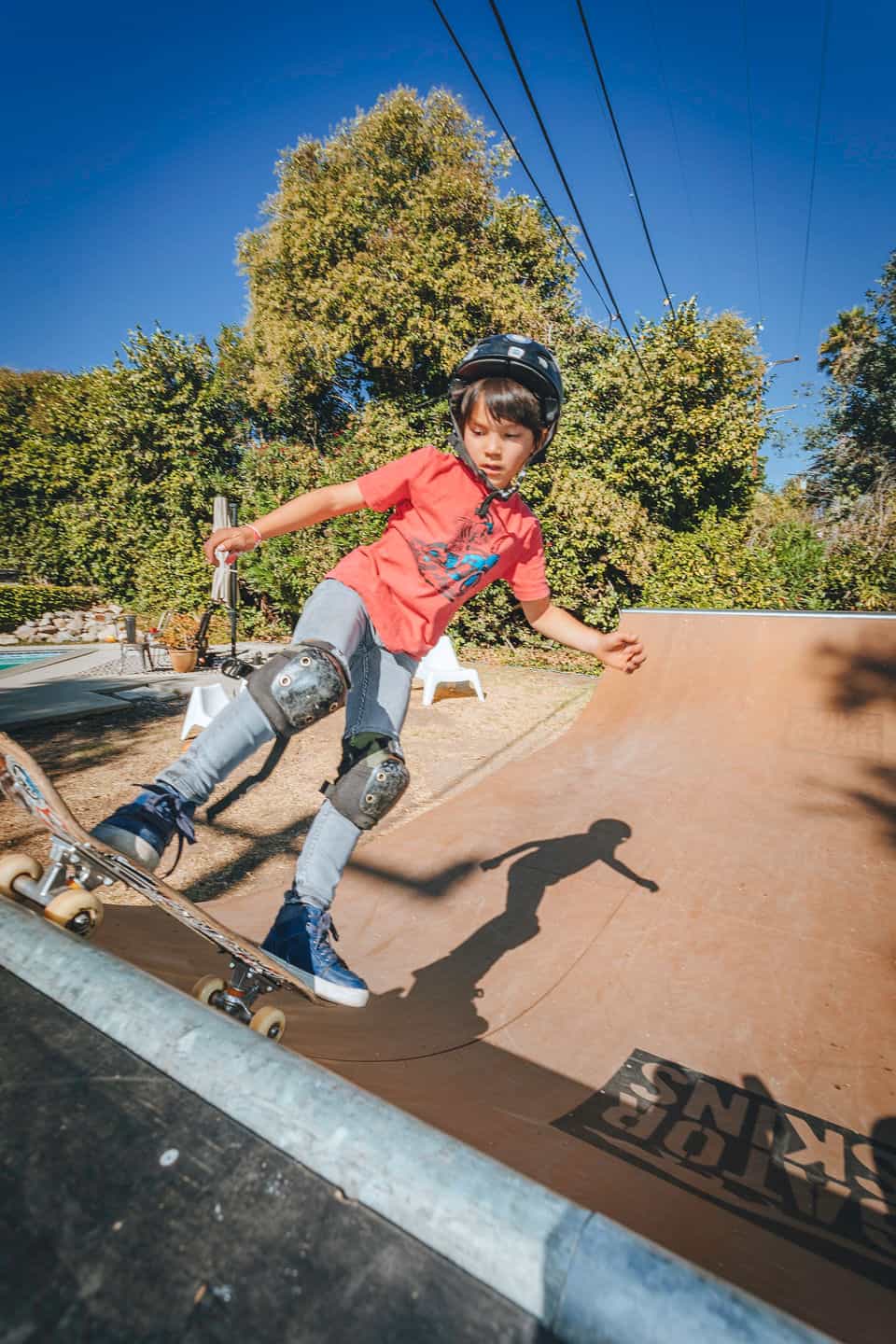 Our mini ramp is 12 feet wide x 24 feet long x 3 1/2 feet tall with a 7 foot transition. This is an average sized mini ramp that takes up a good portion of our yard space.
We built the ramp over a dilapidated lawn area that was filled with weeds and a few rocks. We made sure to clear the area of as much debris and rocks as we could before we laid out our pavers that would serves as the foundation for our ramp.
With the pavers placed on each corner, down the middle, and along the sides, we had plenty of support for our ramp. We made sure tamp down the ground where each paver would sit as we didn't want any shifting of the foundation.
To build the foundation we started in a high corner and started laying out the 2x4s. We checked the level of each additional foundation 2×4 as we built away from the corner. If an area was too low, we would add another paver to even out the height.
When we were finished the high point had two pavers and the low point was brought up by 4 pavers to match it.
Tools you need to build a mini ramp
If you don't buy a kit, you'll need to cut every piece of lumber yourself. The proper tools which make this much easier. We recommend the following tools for building a mini ramp.
Miter saw
Circular saw
Cordless drill/driver
Countersink bit
Tape measure
Level
Carpenters pencil
Star or Philips bit
Safety glasses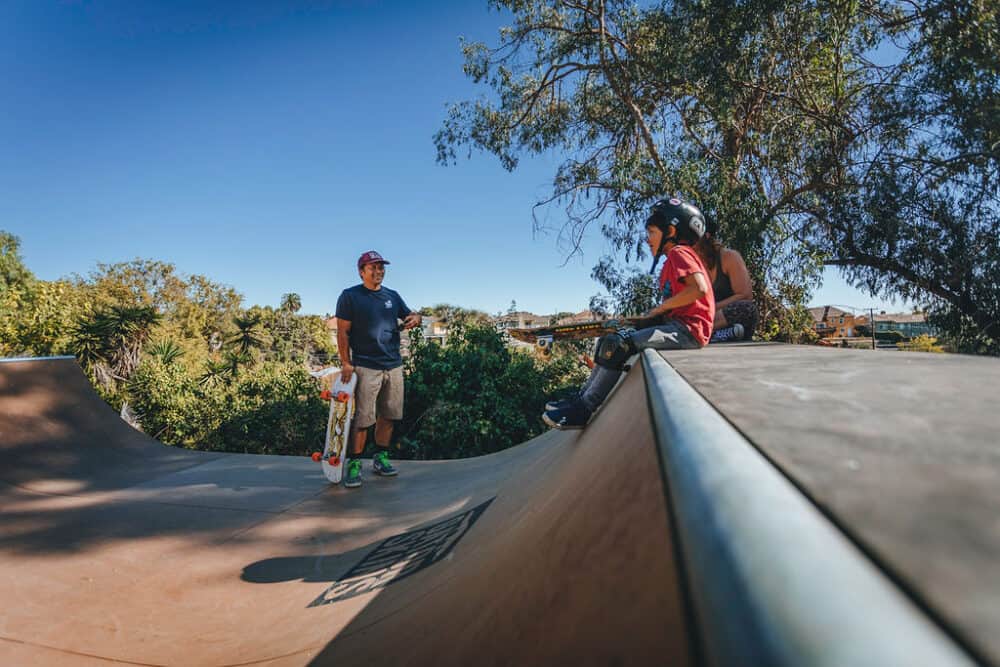 Buying wood for your ramp
Your best bet for finding the wood you need to assemble your ramp is by visiting Home Depot or Lowe's. Each of these stores can cut the lumber to the desired size you need which will save you time at home, and also make the wood easier to transport.
You may also save a bit more money by visiting a local lumber yard. Check-in with a salesperson there, as lumber is sold by yard foot, which is a different measurement compared to what you'll find at a home center.
Protect your ramp from rain and moisture
The best way to ensure your ramp lasts for years is to paint it. It will take a bit longer to paint and wait for it to dry before you can start skating, but it's well worth it. We ordered our Keen Ramp with the painted option which means they painted the transition sides, back, and deck.
We took the time to paint the bottom layer of plywood which adds an extra layer of protection. We don't get much rain here in LA, but we get plenty of moisture in the evenings that often times the skate surface is completely wet in the morning.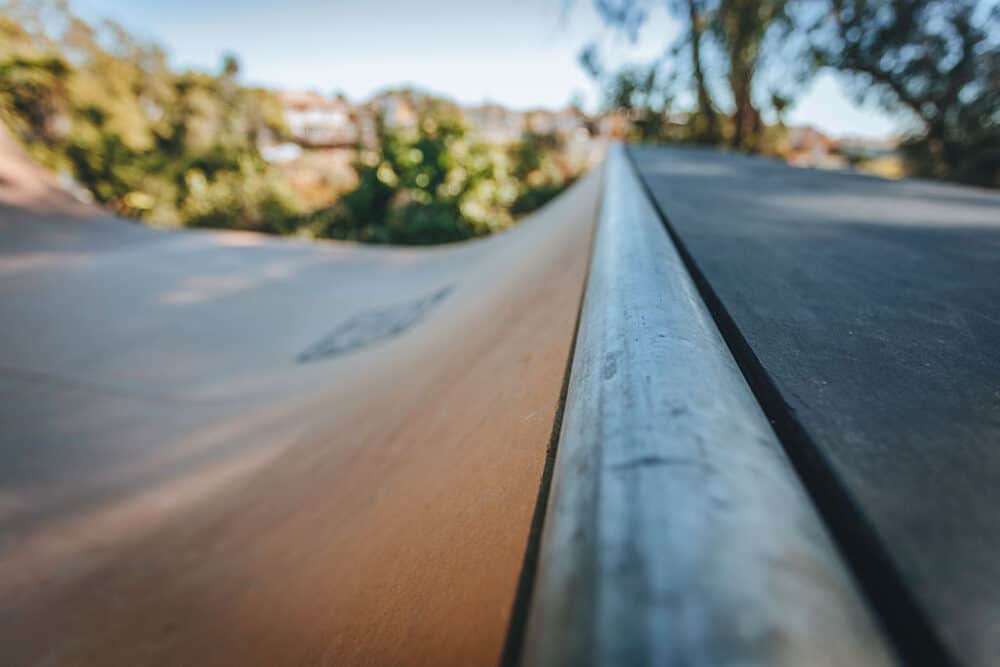 The next important step to protect your ramp from moisture is to invest in a premium skate surface. A premium skate surface will be water and weather resistant, and also provide a more consistent and smooth skating surface for the life of the product.
1/4″ painted plywood will work, but it won't last long, and forget about using masonite as it will start falling apart as soon as it gets wet.
Keen Ramps offers Skatelite as option, but it's very expensive. From $150-$200 per 4×8 sheet. Our ramp needed 8 sheets, so do the math. We still wanted a premium skate surface without the high cost, and came across Gatorskins after skating a friends ramp in Encinitas.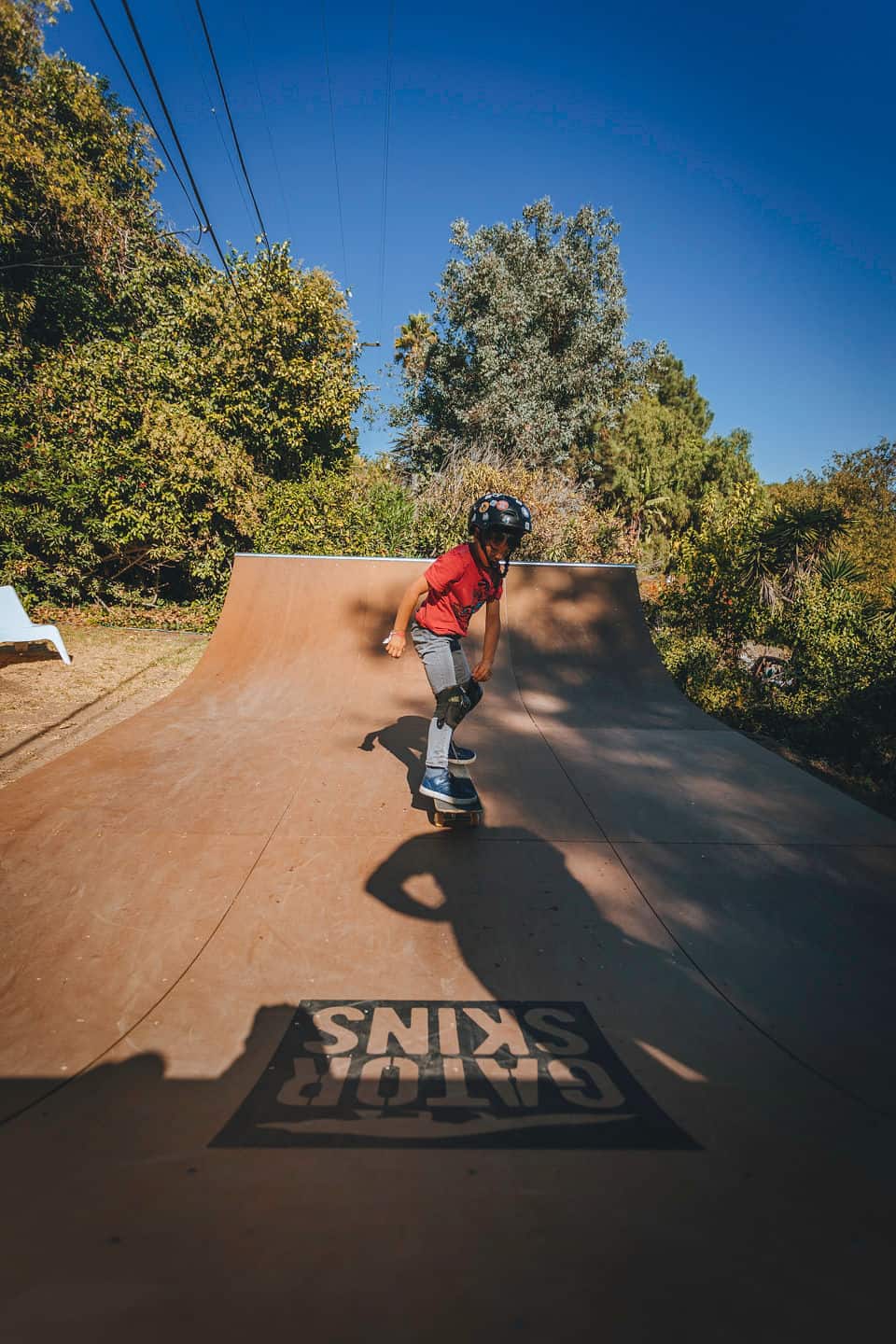 Gatorskins offer a similar look and feel as Skatelite, but at more reasonable cost at $129 per 4×8 sheet, which offers quite a significant savings. We decided to go with Gatorskins and couldn't be more stoked on the performance of this surface. They offer a few different colors, so give them a call to find what you like.
We also used stainless steel hex head screws to install the Gatorskins surface, as stainless steel won't "bleed" and mark up your ramp and hex heads provide great grip, holding, and driving strength into the plywood and lumber material compared to a philips head.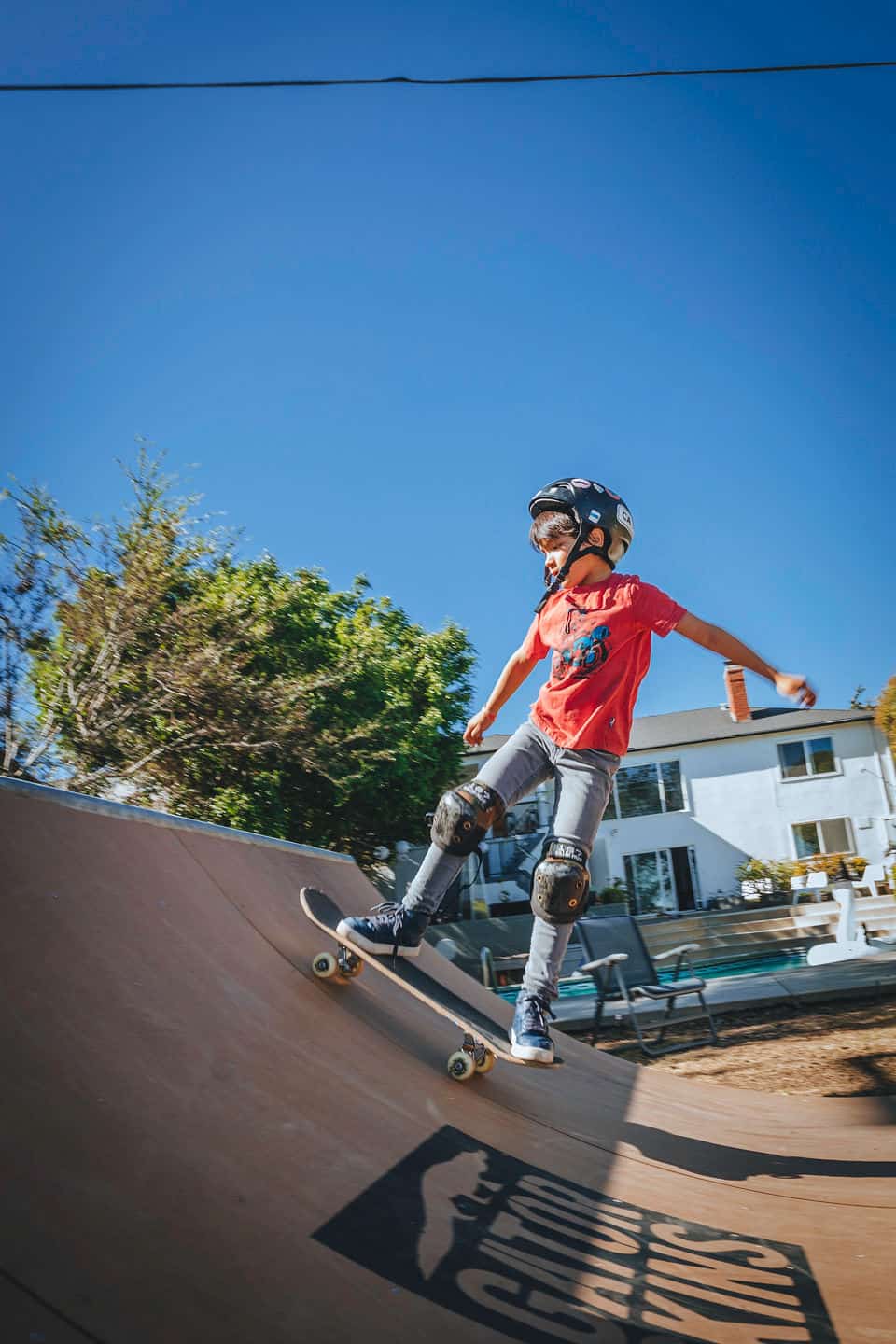 Start Skating
Once you've installed the last sheet of plywood or Gatorskins, it's time to skate.
Make sure you inspect your ramp regularly for screws that might be loose or coming up. It's also helpful to sweep your ramp before each use, as all it takes is one stray piece of gravel to cause you to go flying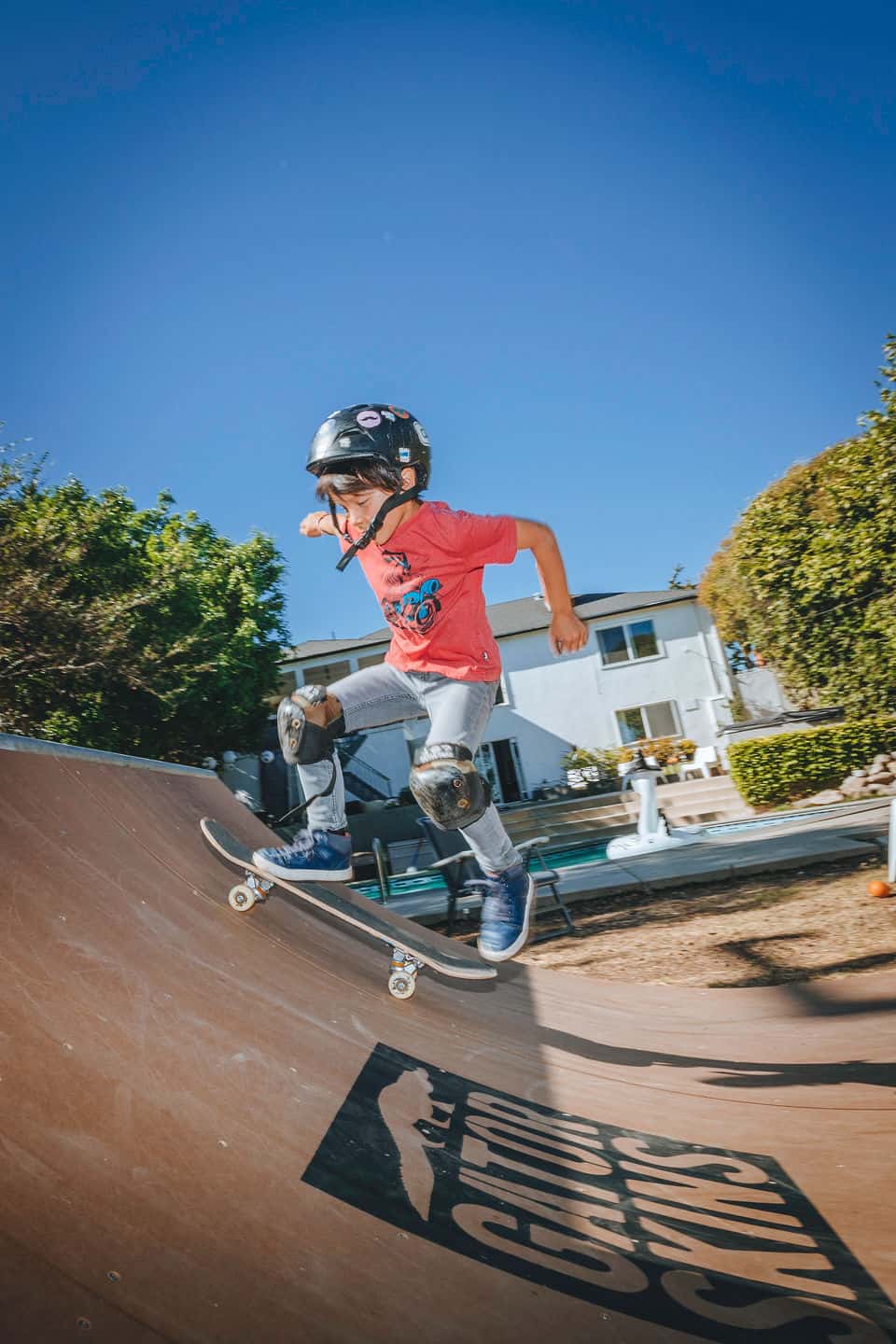 Enjoy your new ramp and take satisfaction in knowing that you built it yourself and will know exactly how to fix it if you encounter any issues.
Thanks for the final photo shoot Steve!