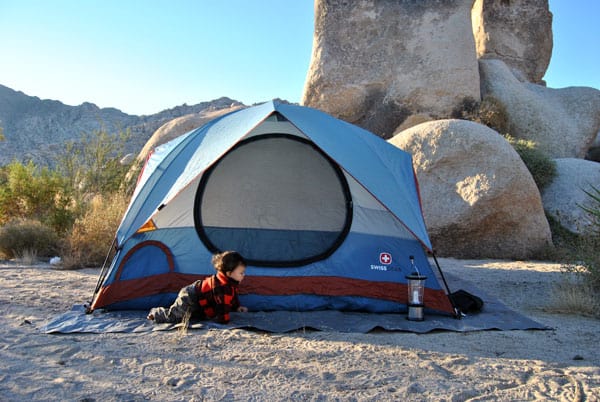 Just because you've got a baby in your life doesn't mean everything else goes on hold, right! Well some things will have to wait but camping doesn't have to be one of them.
I'm not talking about 10 mile hikes deep into the woods with just a pack but rather the sublime activity of car camping. Reserve a campground online and simply pack up your car with everything you need to spend a night or two outdoors and you are ready to go!
Kids love camping and your baby can also enjoy the fun. We camped at Joshua Tree National Park with our 10 month old and here's how we did it.
1. Take it Slow
Camping is a vacation and although we tend to get overly excited and sometimes stressed when preparing and planning a vacation, take a moment to try and relax. When camping you can make your own schedule and stick to it as much or as little as possible. No plane to catch, no shows to watch, just you and nature. But make sure you pitch your tent before it gets dark.
2. Bring What You Need
When car camping it's tempting to just pile in everything but stick to the basics and you'll do fine. Yes, babies need more but not much more. Apply the pack light theory to yourself and your family when camping so you aren't overburdened with too much stuff. The point is to get away from our stuff and leave our stuff behind.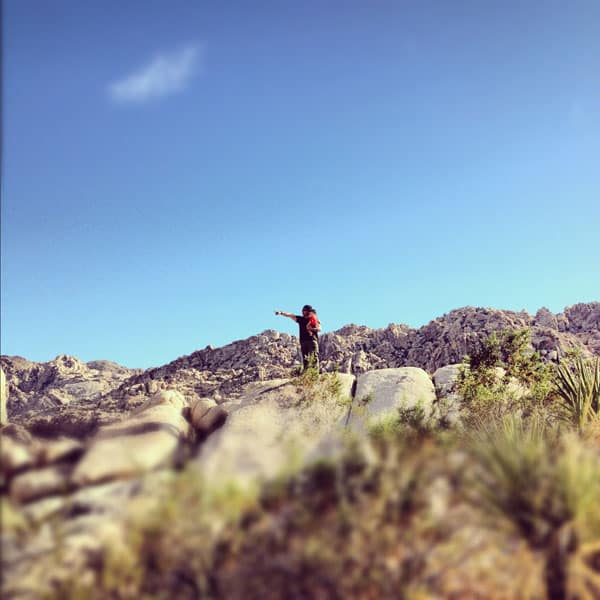 3. Explore
You campground might not be that remote but for your little one it's a whole new world. Exploring the tent, new blankets, sleeping bag and campground will provide plenty of entertainment and also be mentally and physically exhausting for both you and your little one.
4. Get Rest
After exploring, make sure you've setup your sleeping arrangements before it gets dark because as soon as the sun goes down and your belly is full you'll be ready for bed. Camping does that to people and babies and you don't want to be struggling to pitch a tent in the dark and preparing a babies bed with no light. Have blankets down and let your child get comfortable in their new surroundings while awake before putting them to bed in a new place.
5. Hiking
Hiking is always a popular way to get exercise and explore your area but make sure you are prepared. You'll need more than a fancy kid carrier. Make sure you've got proper sun protection and that your baby has the same. A sun-guard is essential and a hat is even better. Dress your baby in long sleeves and pants to protect from sun, bugs and scratches from branches and anything else they might rub into. Sunblock re-applied often and generously is also a necessity. Protect your little one's skin!
6. Meals
Preparing meals is important and since you'll be planning yours you can easily do the same for your baby. Don't forget the cooler and extra water.
7. Have Fun
Take deep breathes and a moment to really enjoy where you are. Look up and listen for the wind whistling through the trees and birds you've never heard. Your baby will be doing the same and enjoying every minute of camping with you.
A side note: We'd recommend waiting until your baby can walk before truly enjoying the camping experience. Crawling babies have a tendency to find stickers and more dirt on any campsite and raise the level of difficulty. Walking babies are tougher to keep track of but they can enjoy the camping experience in a much different way when they are bi-pedal.
Have you ever camped with a baby? Please share any tips for camping with babies and kids in the comments below. Thanks!
As seen in