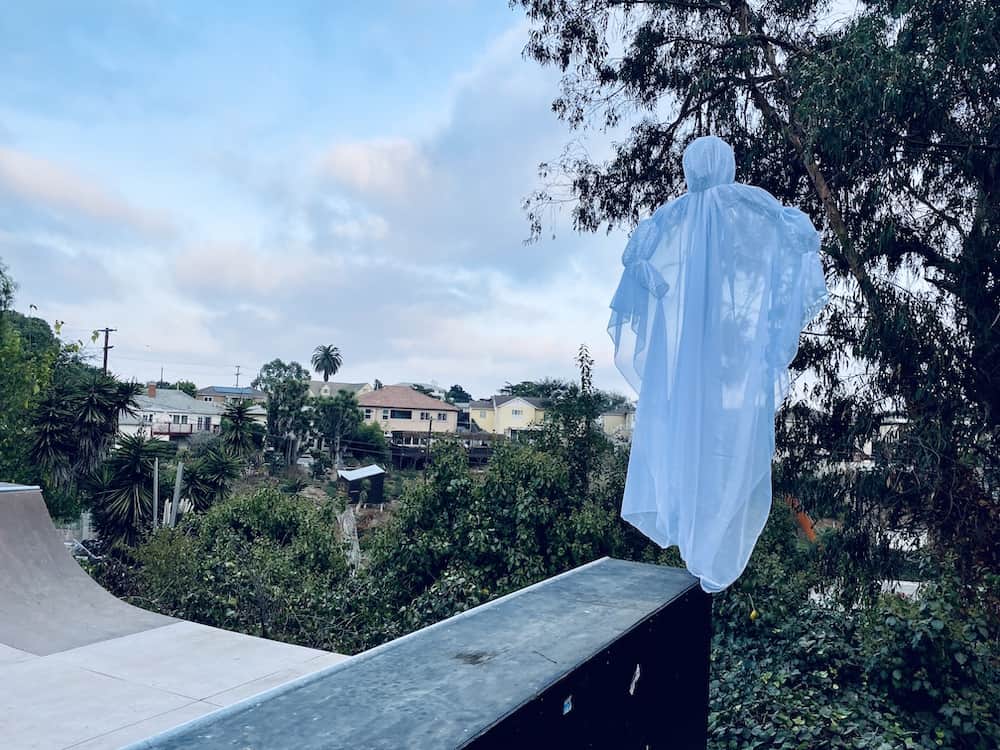 Halloween is one of our favorite times of the year and the gateway holiday into decorating for fall and Christmas. We've accumulated many store-bought decorations, but this DIY ghost project turned out better than anything we could ever buy in the store.
What's great about this project is that you can literally create anything you want. It's very open ended in regards to the type of ghost or apparition you create and how you want it displayed.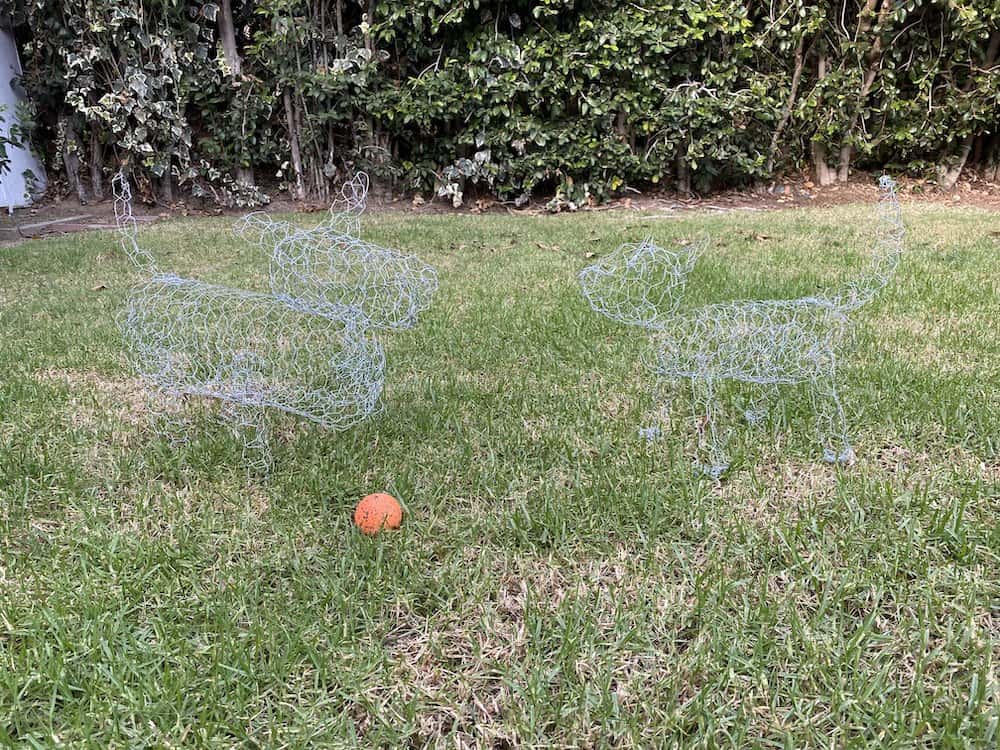 The main material when making these ghosts is chicken wire. After you've made your ghost or figure you decide if you want to cover it in fabric or leave as is. We did both and here's how we did it.
Tools and Materials to Make a Ghost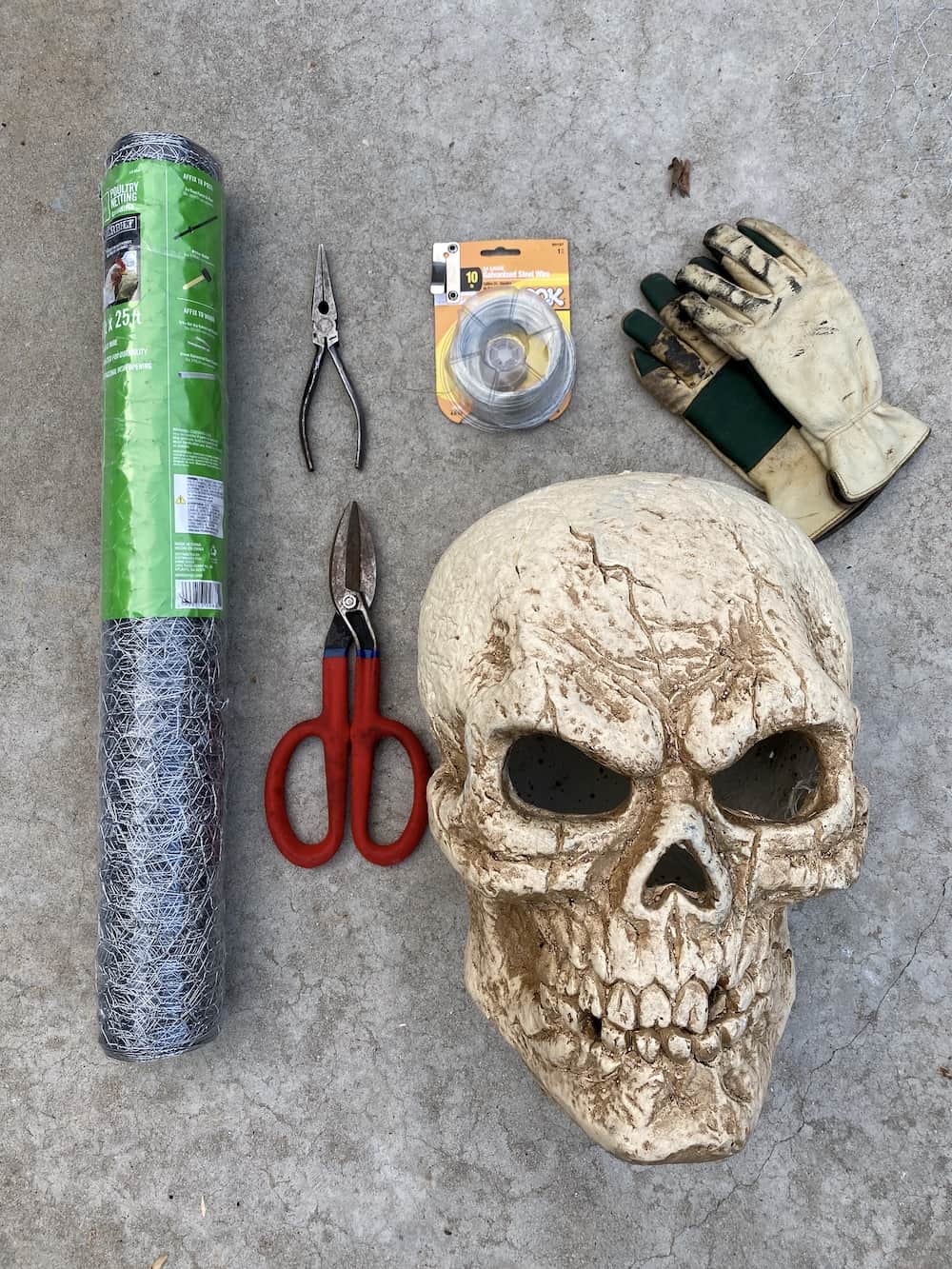 25 foot roll of 1-inch chicken wire. You can also use 1/2-inch chicken wire which is easier to bend and shape.
Bailing wire – clear zip ties also work
Tin snips or wire cutters
Leather work gloves
Long sleeve shirt
Foam face mold – a basketball or helmet can also work
PVC pipe as a stand
How to Make a Chicken Wire Ghost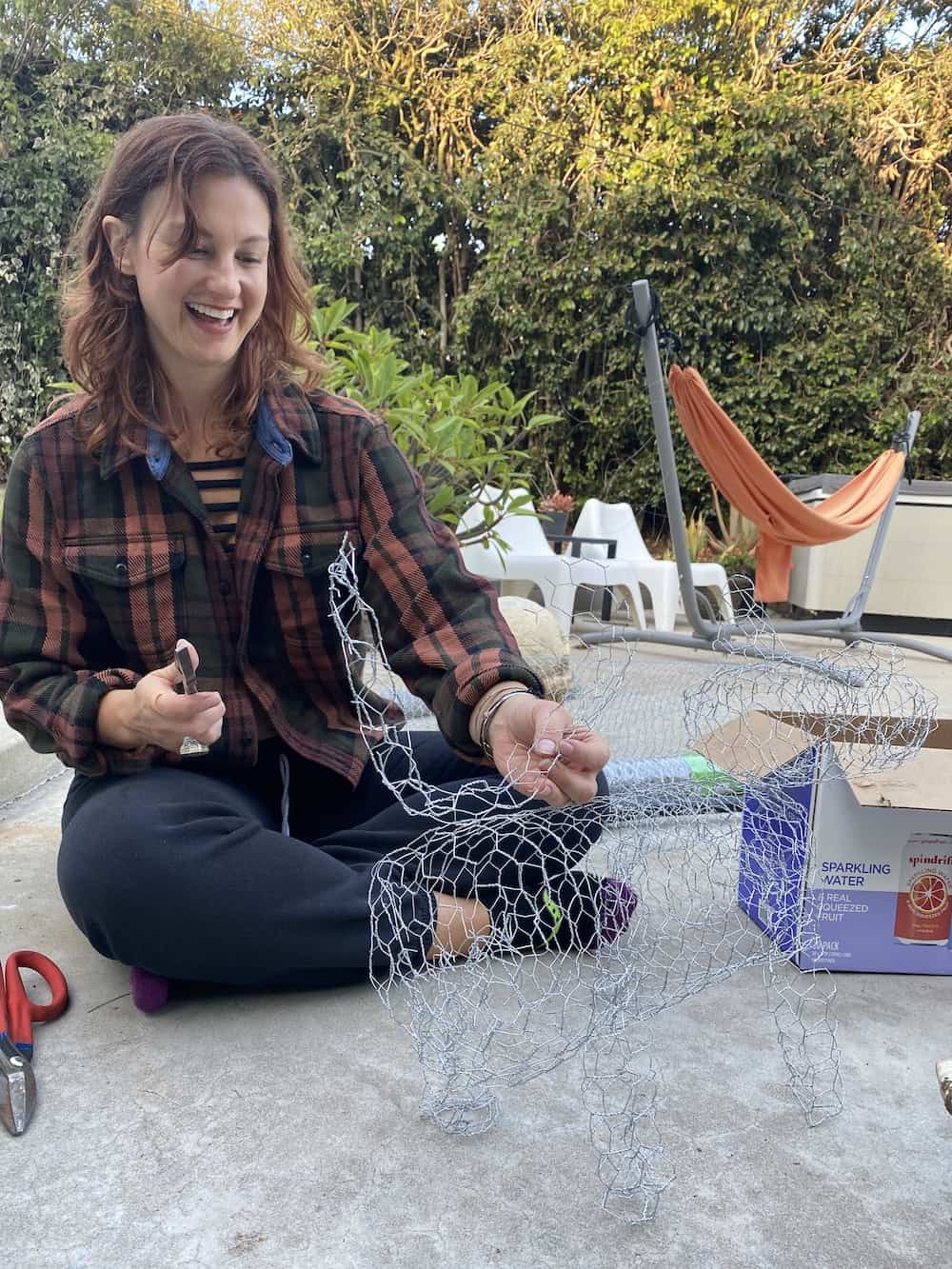 Start with a Design
It's best to have a ghost design worked out before you start cutting your chicken wire. You can make just a head and drape it or add arms and a torso for a more full-figured ghost. We were planning on hanging our ghost so we just did a head and arms.
If you are going to do an apparition, then you'll probably need to design the entire "body" of the ghost.
Cut Your Chicken Wire
Tin snips work best to cut lengths of chicken wire. Wear gloves to protect your hands from the sharp edges of cut wire. Long sleeve shirts also help prevent scratches.
Use a wire cutter for smaller cuts and needle nose pliers can be great for wrapping the ends or fine-tuning the shape of yoru ghost.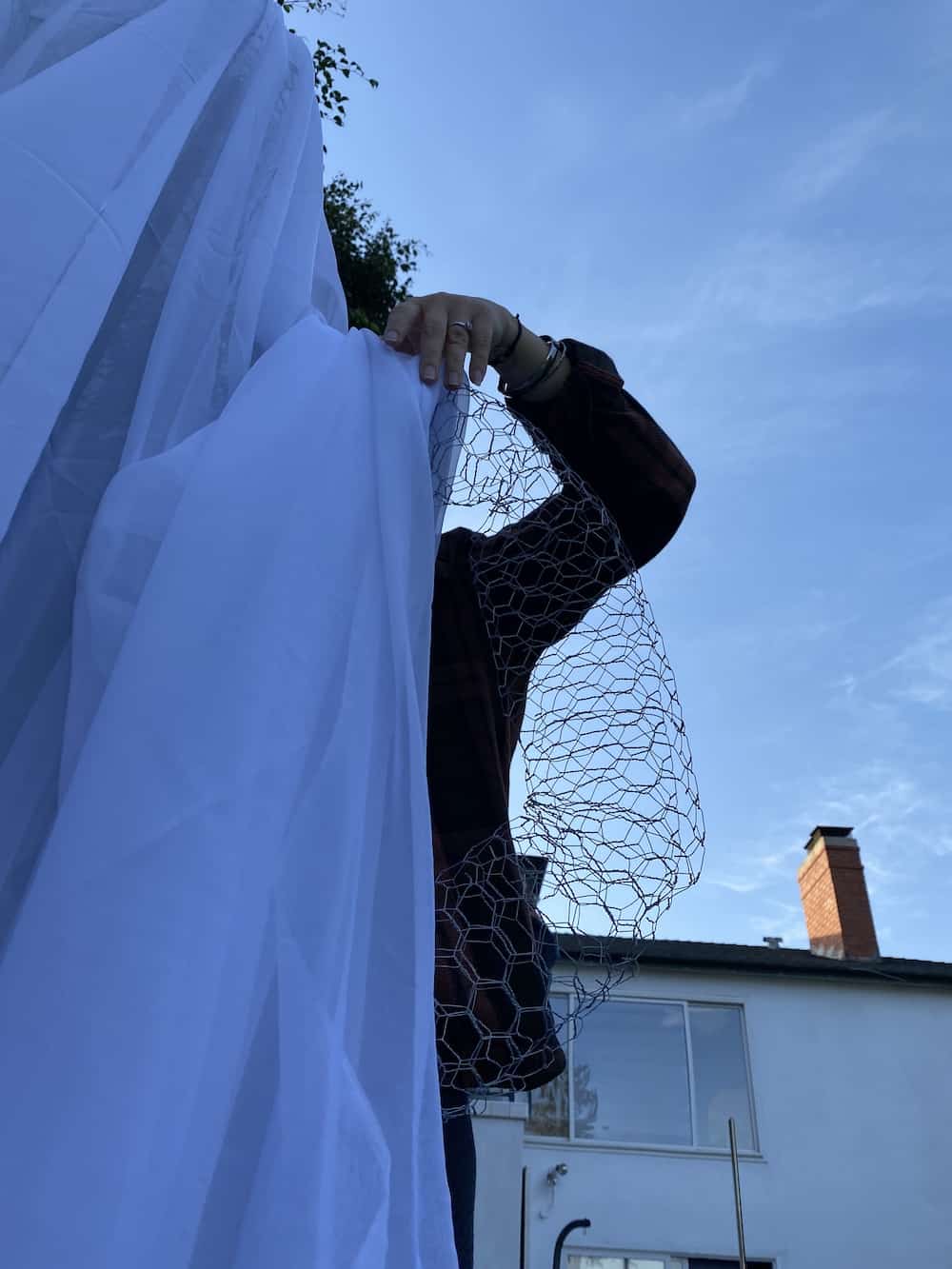 Wrap the Chicken Wire
Cut the chicken wire longer than you think you'll need as it's much easier to just trim the excess instead of having to add more on.
Wrap the chicken wire around your head mold or helmet to help with the shape and then use cut pieces of bailing wire to secure the ends of the chicken wire together.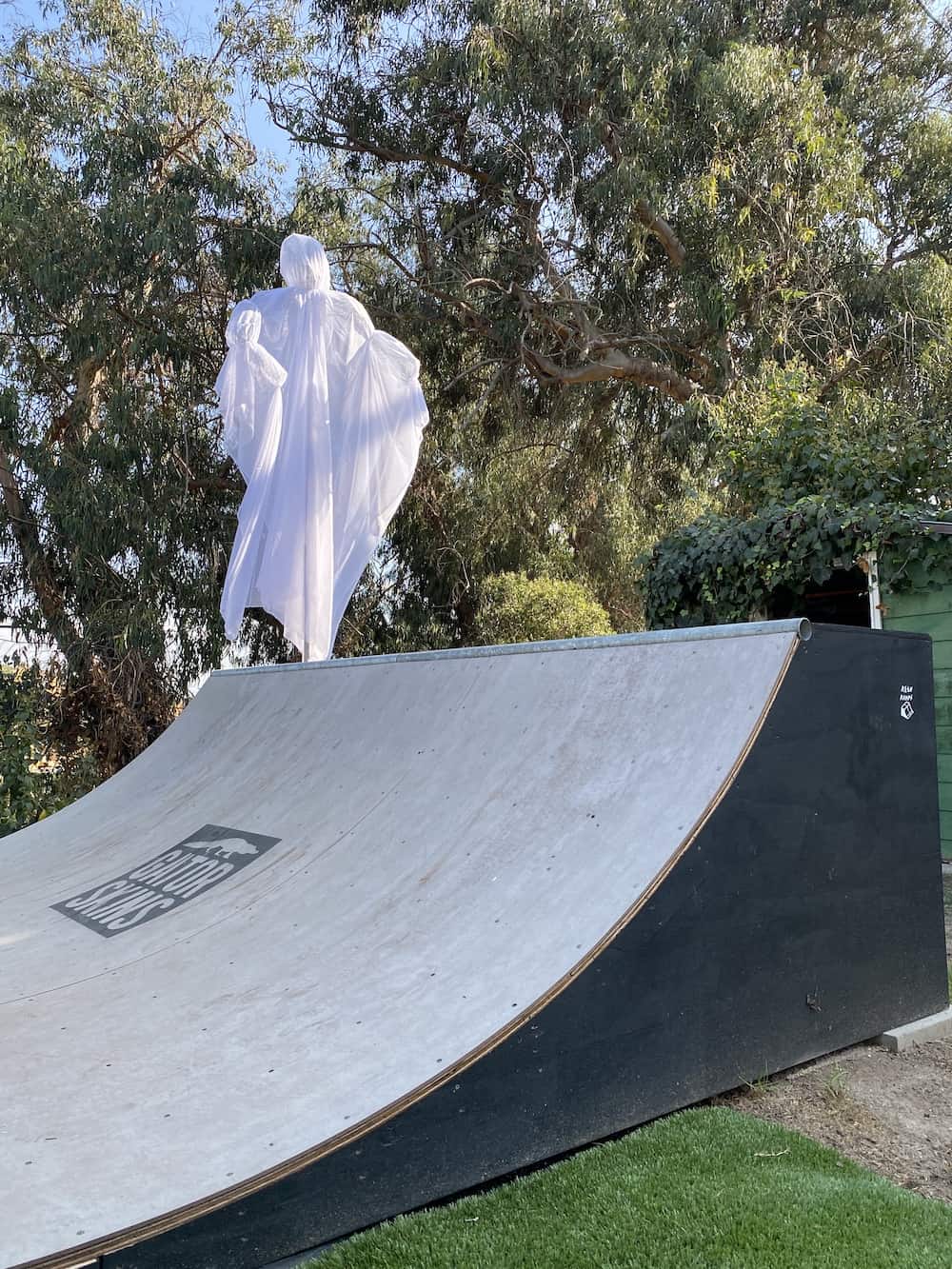 Drape Fabric
Drape your lightweight fabric or tulle over the chicken wire and use bailing wire to secure it. A bedsheet might be too heavy and not flow in the wind as well as tulle would.
Cut the ends of your fabric to lighten up your ghost which will allow it to flow in the breeze much easier.
Display Your Ghost
We used an old piece of PVC pipe with a notch cut on top to hang our chicken wire ghost. The weight of the ghost was strong enough to keep it in place.
We then secured the PVC pipe to the side of our skate ramp using deck screws which did a great job of holding it in place.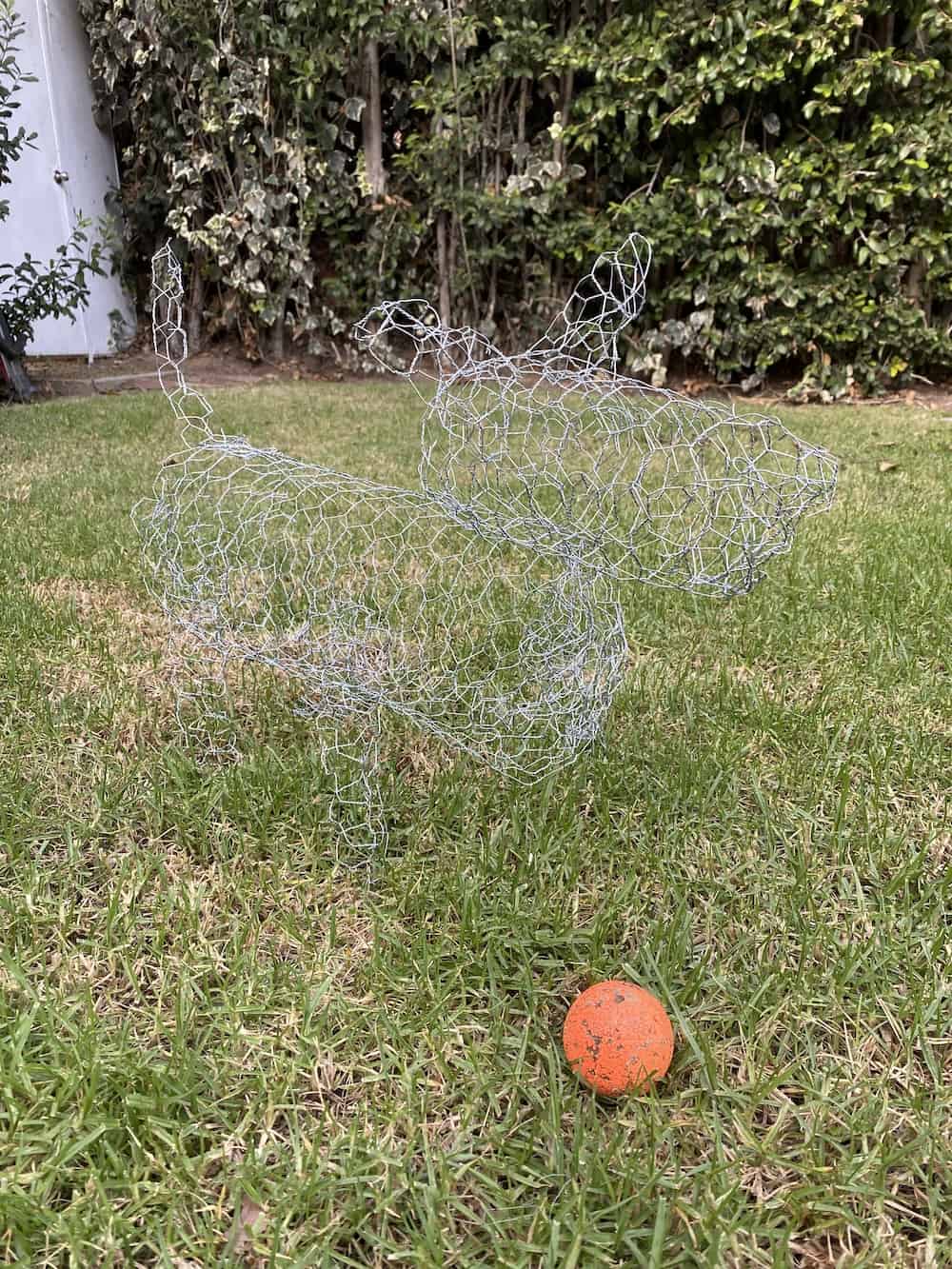 We are planning to make a second ghost for the front yard and hang it from a gutter using hooks.
This year we had two dogs pass away, so our son decided it would be a great idea to make two apparitions in honor of our pups. They are now displayed on our lawn and we can imagine them playing together with their favorite ball. In this case these ghosts are happy memories, not creepy.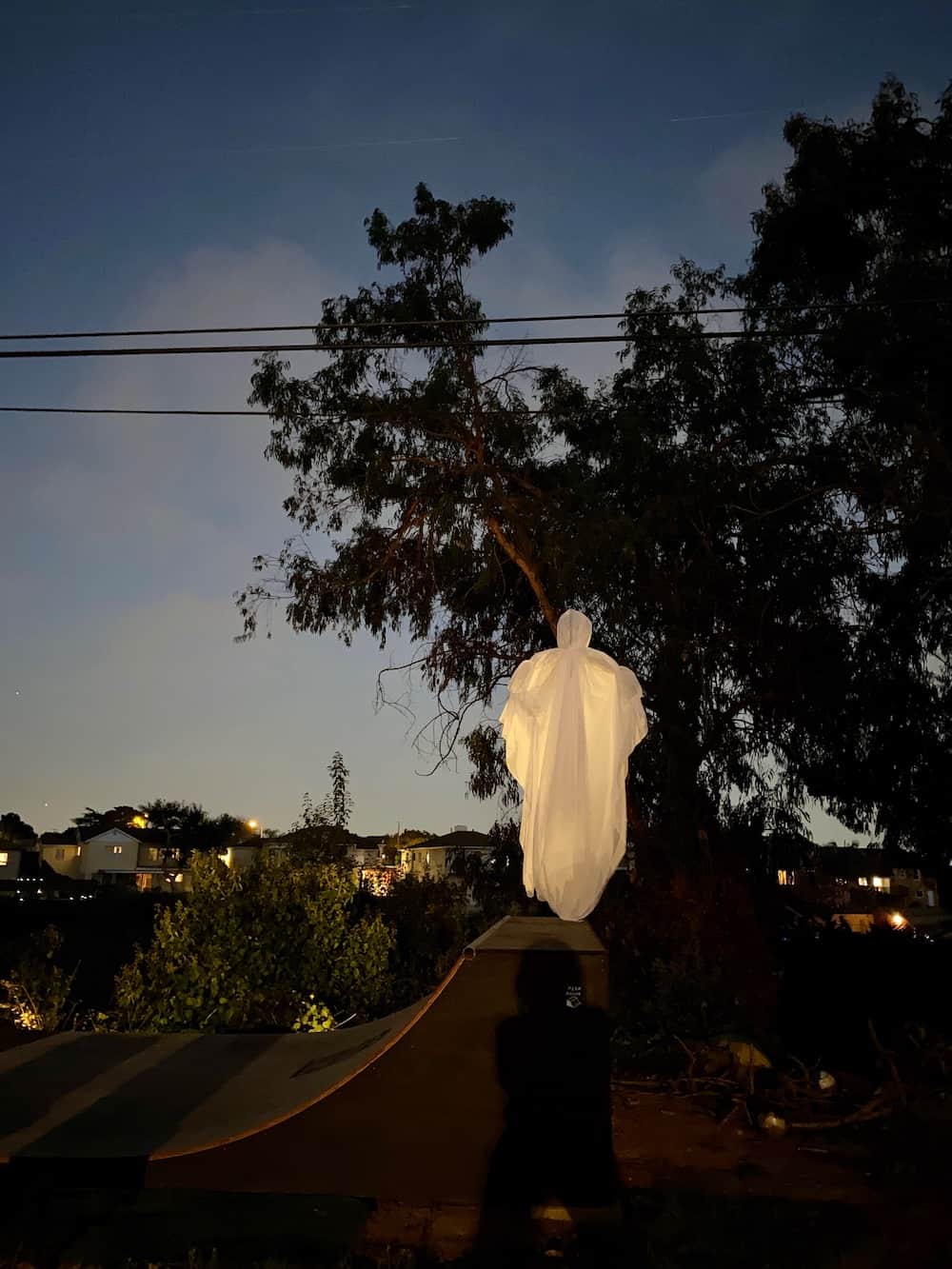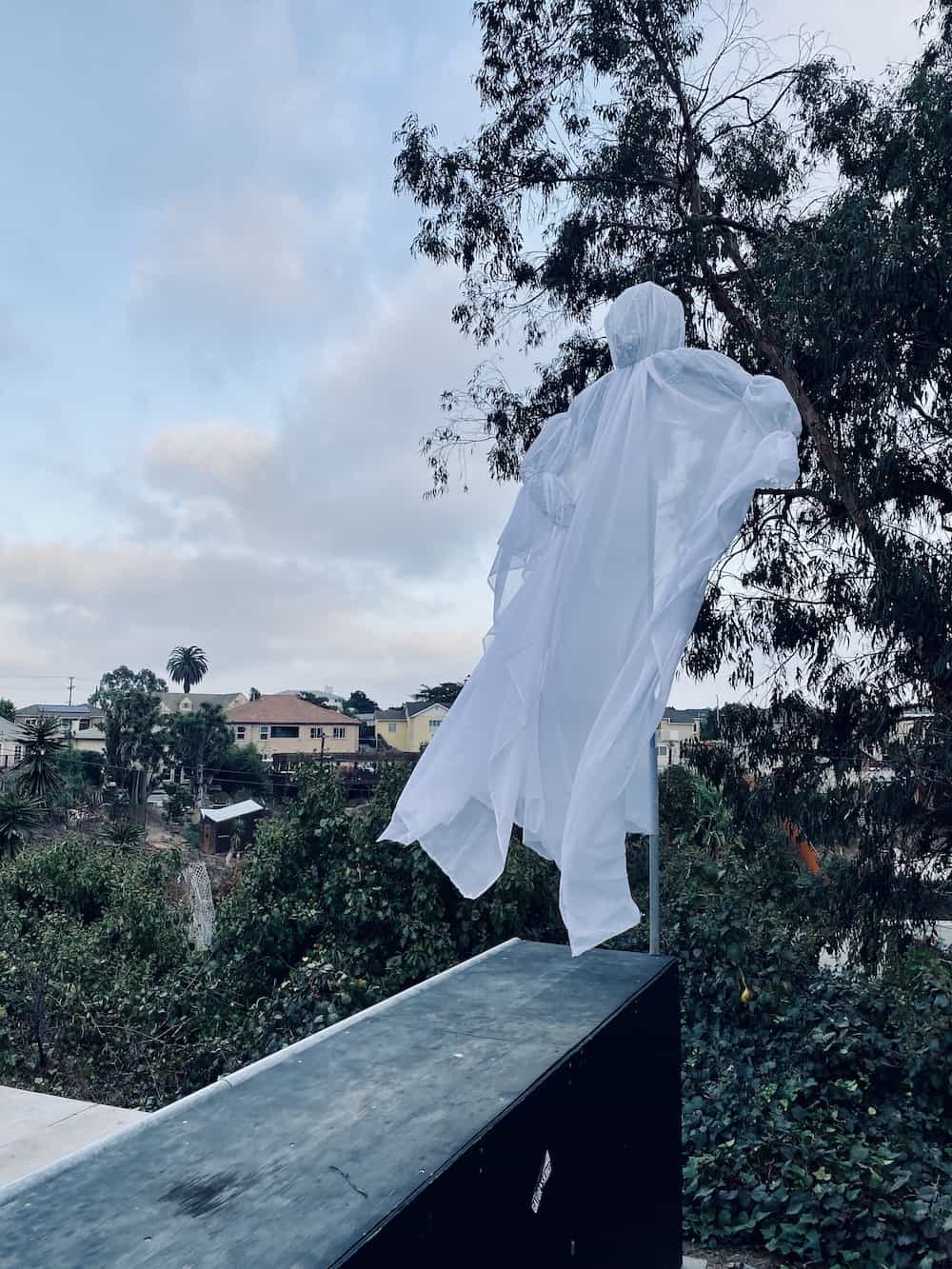 Enjoy!
No matter what type of ghost you create, have fun with the process and remember if you don't like it it's really easy to just unroll it and start again.
Happy Halloween!!!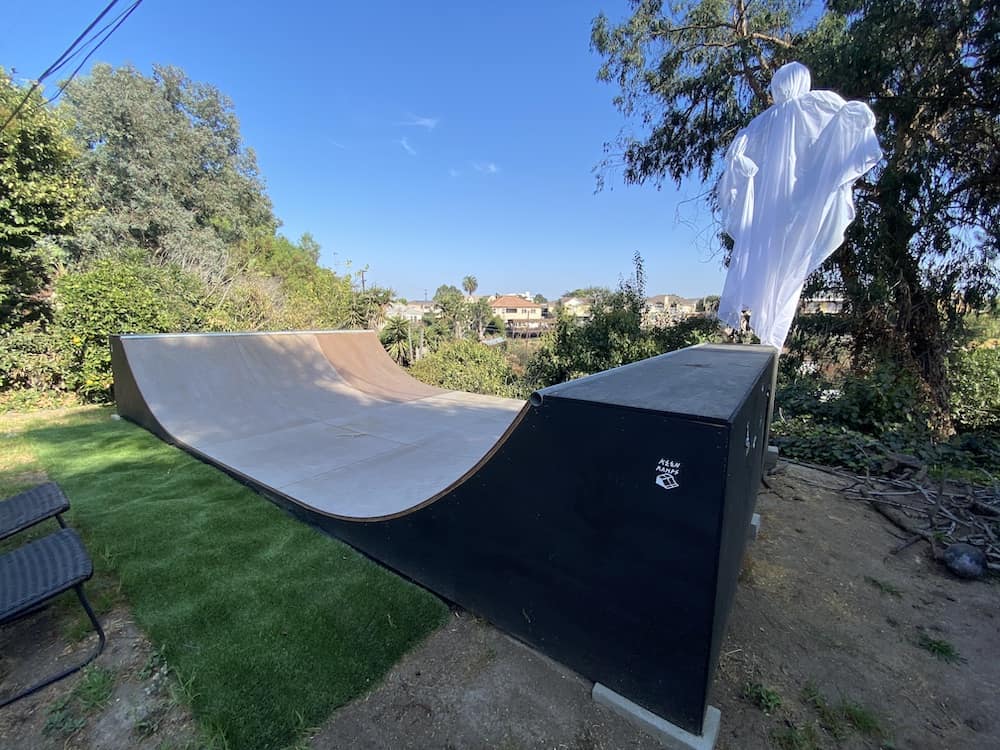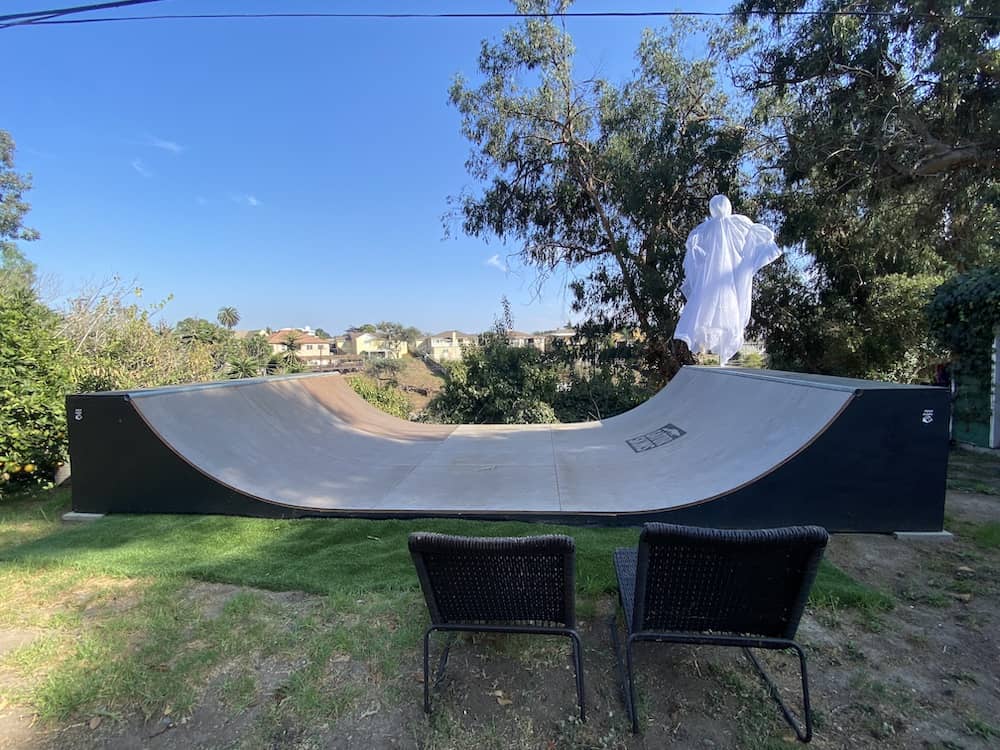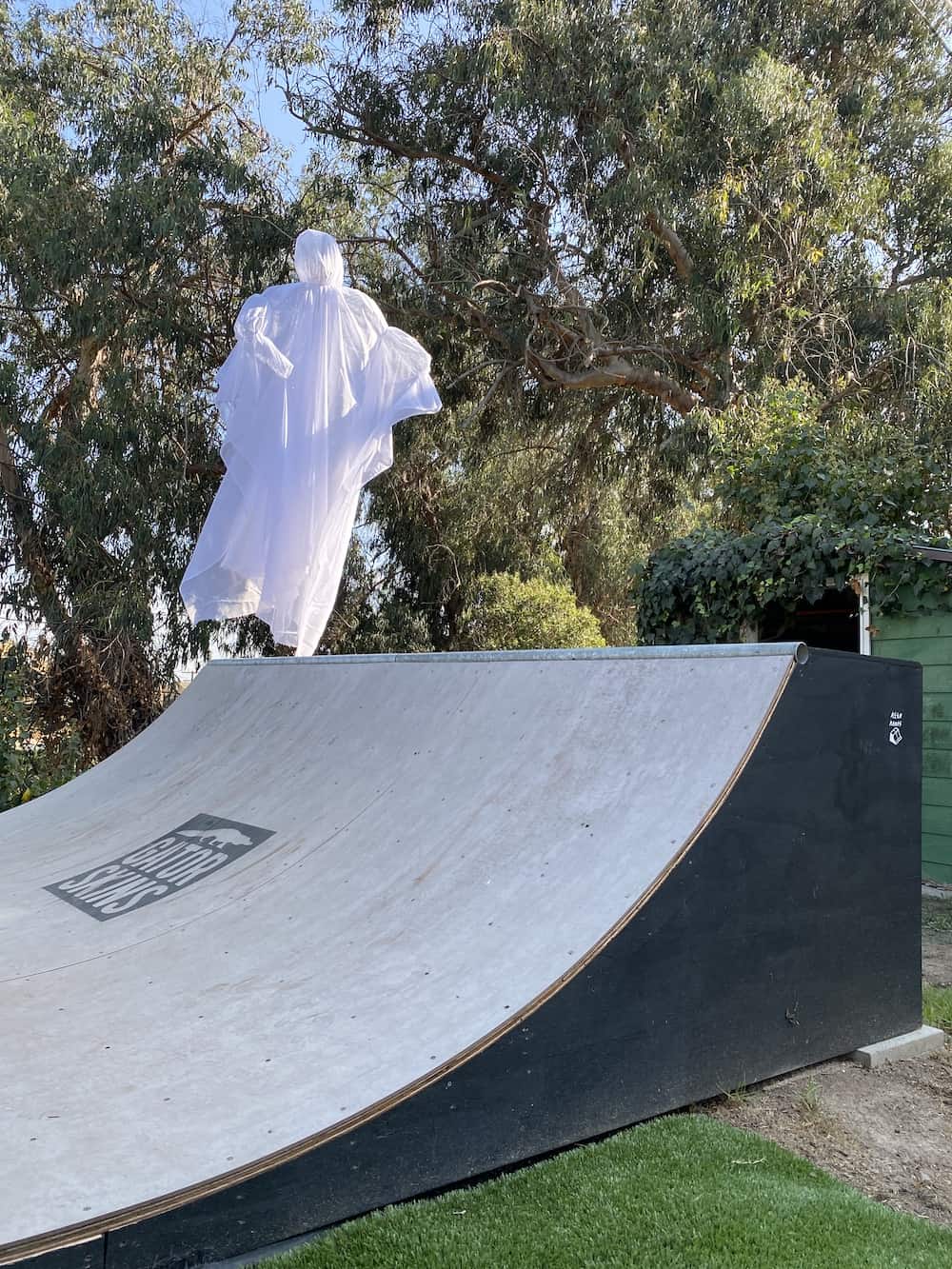 As seen in