Yesterday IKEA announced a voluntary recall of over 29 million MALM dresser units due to the tip-over dangers specifically related to small children. Reports vary, but as many as 14 children have died since 1989 when the un-anchored units toppled forward on a child.
The recall affects children's chests and dressers taller than 23.5 inches and adult chests and dressers taller than 29.5 inches that do not meet the performance requirements of the U.S. voluntary industry standard. The recalled MALM chests and dressers were manufactured and sold through June 2016 and include the 3-drawer, 4-drawer, 5-drawer and 6-drawer models. Other IKEA chests and dressers in this recall were sold at various times through June 2016.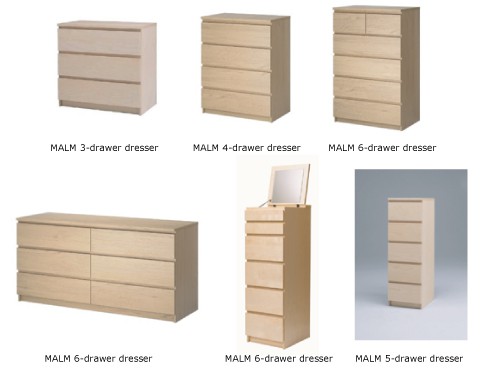 Ikea is offering participating consumers a full or partial refund or a free wall-anchoring repair kit.
We know that many a kid's room has this inexpensive staple in it, but as with any choice you make as a parent, your children's safety comes first. If at all possible, anchor and tether all of your heavy and/or tall furniture to the wall behind it. If not, you can check out Ikea's website for information regarding a refund.