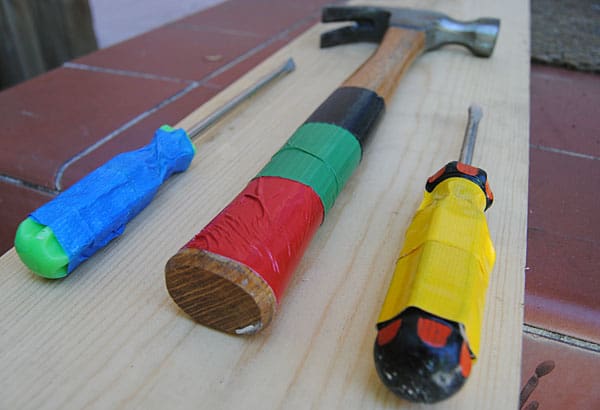 If you didn't already know we are working on building the ultimate kids tool set and launch Tool School which should be available in a couple of months. To get on the waiting list and be the first to know when the tool set is available, please join the Built by Kids Club.
If you and your kids are ready to start building but want to make your current tool set for kid friendly, follow these tips for creating a fun and useful toolset that the kids will love using.
1. Dress Up Your Tools
Use colored tape and let your kids customize the handles on wrenches, pliers and screwdrivers. Canvas tape will also provide a surer grip for smaller hands.
2. Get a Tool Roll
Ditch the clunky tool box and buy or make your own tool roll. It's more fun to unveil a tool roll and it's easier to store tools as it takes up less space in a closet or drawer. If you make your own you simply need a piece of canvas, twine and some sewing skills.
3. Setup a Pegboard
If your kids would rather see all of their tools on display, setup a pegboard and hang your tools. This is the best and easiest way to find exactly what tool you need by just a quick glance. Pegboards are also great teaching tools as you can compare tools side by side by just displaying them that way. You can also let your kids trace the tool along the pegboard so there is a fun outline for them to match their tool against.
4. Start a Collection
Kids (and adult kids) love collecting things and tools can be very collectible. You can start by collecting screwdrivers with different colored handles or of varying length. Collect all different types of pliers and learn how each one is used. There are many ways to collect tools and it's a fun way to learn.
5. Build a Kid Size Work Bench
You can always grab a stool for your kids to stand high enough to see the top of your work bench but that can be treacherous and it's no fun being isolated in one spot. Build your kids a work bench to fit them and they'll learn to take ownership of their own workspace and you can teach them how to keep it clean and put tools back when finished. Have fun building the work bench together and let your kids decide on the color and hardware.
Do you have any ideas on how to make your tools more kid friendly?
As seen in