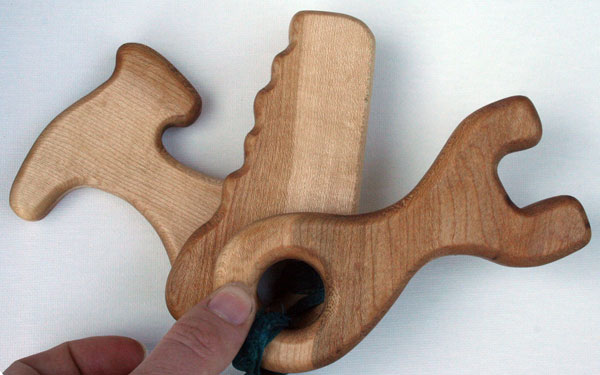 The stages keep intensifying as we are bringing up baby and at 5 1/2 months we have entered the teething phase. Rosy cheeks (which are super cute), drooling and a little irritability lead us to believe that our boy has started teething. We've got the teething beads and a few other plastic/rubber type of teething helpers but honestly the best soothing has come from some little towels dipped in water or tea and frozen. They provide our little guy with cool relief and seem to get him through the toughest times.
I've also been tempted to try out some of the parenting tips that I got from a Brooklyn cabbie a couple years ago and I especially like the frozen bagel as a teething ring but one of the coolest teethers I've seen is this set of wood tools found on Etsy. According to the seller, each teething toy is made in their home workshop using maple or cherry wood and finished with organic flax oil. Each tool measures approximately 5.5″ long by 2-3″ wide.
It's never too early to get them started on tools. What do you recommend for a teething baby?
As seen in