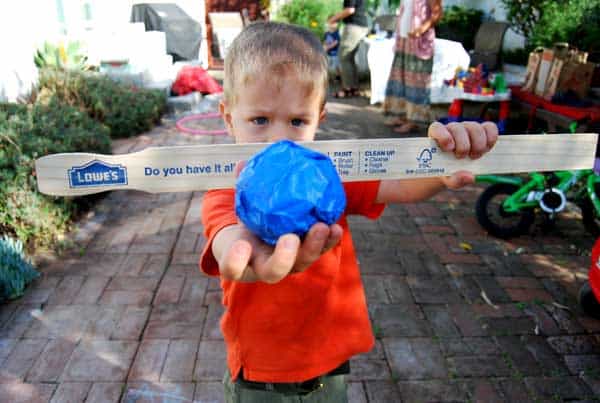 In the process of getting Built by Kids off the ground we've recruited some great friends and their kids and their friends kids to help us work out some projects. Laura and I don't have a close relationship with some of these kids so it took awhile for them to start trusting us but once they realize you are about to bring the fun then they were fully on board.
We threw five projects at them within a couple hours and at the end of the two hours they wanted more. We started out building easy music shakers and ended with some gardening projects but the highlight was probably paint stick hockey. We simply made a ball from painters tape and handed them paint sticks and they were off. The kids used a hula hoop on the ground for a goal and loved celebrating ever minute  of it.
It never ceases to amaze us how the simplest "toys" can have children enthralled for the longest time and we'll continue to search for easy projects like this to share.
By the way – the above photo wasn't staged, the kid just likes Lowes so who were we to stop him.