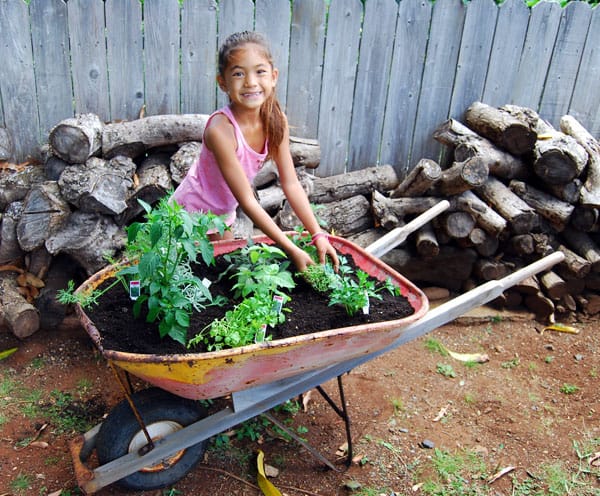 If you took a poll of kids favorite do-it-yourself projects, gardening would definitely be near the top. What child doesn't love getting their hands dirty?! Nothing beats the feel of connecting with the earth and running your hands through moist soil. Gardening has long been known to be therapeutic for adults and the same can be applied to children. It also can be used as a great lesson in creating something that requires responsibility.
For this project we are starting small with an herb garden and instead of planting seeds we selected seedling which are more fun to plant and within a week you can harvest fresh basil or mint.
Materials
1. Old metal wheel barrow (or any reclaimed yard object that will hold soil and drain)
2. 2 cu-ft. Garden soil
3. 4 to 8 herb seedlings
4. Newspaper
5. Crushed stone or fine gravel
Tools
1. Drill with 3/4″ bit
Budget
Since this project recommends using a reclaimed wheelbarrow the only cost to us was a bag of garden soil $6 (on sale) and 8 pre-grown herbs ($25).
Picking the Herbs
Head to Your Garden Center
This project can start with the shopping trip to your local home and garden center. Take your children along to help you select the herbs for the garden.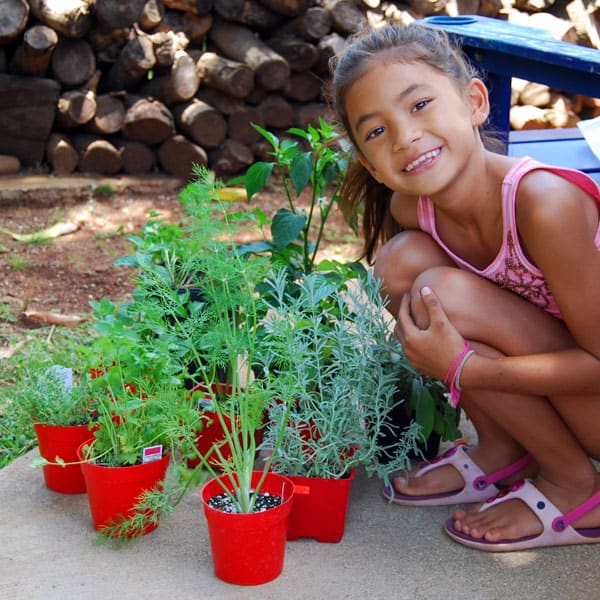 Herb Choices
Select the herbs you use most often while cooking and now is also a great time to consider some herbs you might never normally cook with. Smell and touch the plants and make sure they are green and healthy. Our favorites include rosemary, basil, mint, thyme and parsley. As a general guide, strong herbs include rosemary and sage; herbs for accent flavors include mint, dill, tarragon, thyme and sweet basil; herbs for blending include parsley and chives.
Preparing the Wheelbarrow (your container)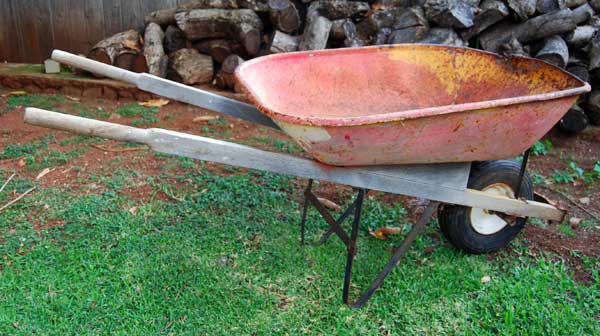 Our friends wanted a simple to maintain herb garden and also needed to clear their backyard of some "junk" that had piled up so this project accomplished two tasks as we found this old wheelbarrow turned upside down in the corner of their yard. Besides some rust it was in decent condition but they no longer wanted it. We thought it would make a great bed for their herb garden and they agreed!
Drainage
We know that herb gardens need plenty of drainage so we needed to drill some holes into the base of the wheelbarrow. We drilled 8 3/4″ holes to allow for proper drainage. We recommend spreading a layer of newspaper or weed control fabric as your base then spreading a thin layer of crushed stone or gravel before placing your soil.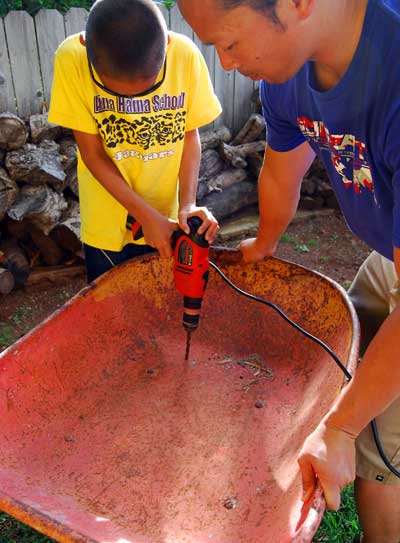 Planting the Garden
Add the Soil
We found a bag of soil from our garden center for $6. It covers 2 cu-ft. which was plenty for our project.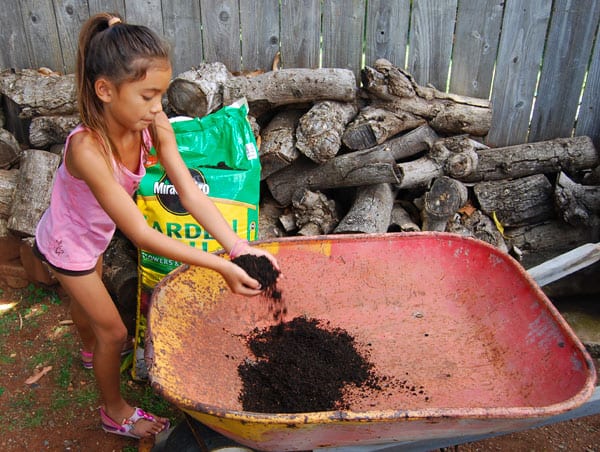 Plant the Herbs
Gently remove the herbs from the plastic containers and place them in the soil. Make sure the roots are fully covered and the plant is firmly in the soil and not leaning.
Tip: To help remove the herbs, squeeze the plastic container from all sides and grab the herbs at their base then gently let it slide into your hand.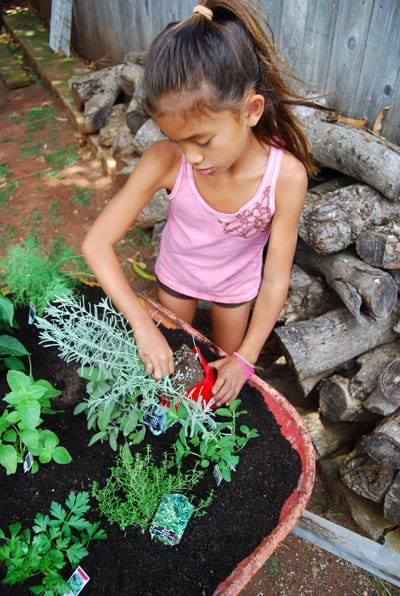 Leave the tag that identifies the herb right next to it so the care instructions are easy to find.
Enjoy Your New Herb Garden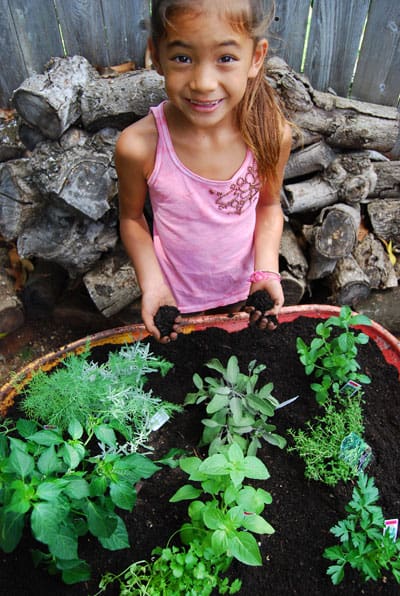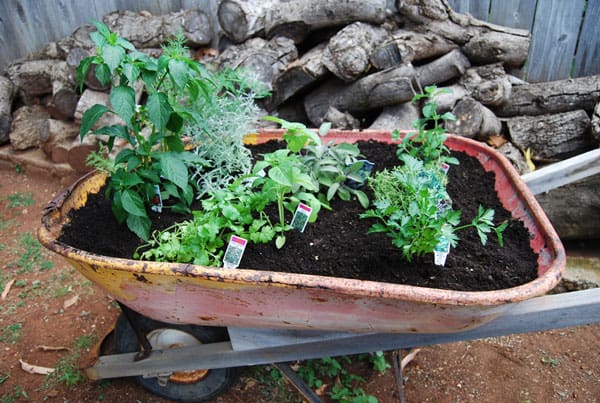 We suggest placing the herb garden as close to your kitchen door as possible and making it very accessible which will make it more likely to use it.
Give your child a watering schedule and have them learn the names of the herbs are and how they are used in the meals you prepare.