This is a sponsored post written by me on behalf of BOSEbuild for IZEA. All opinions are 100% mine.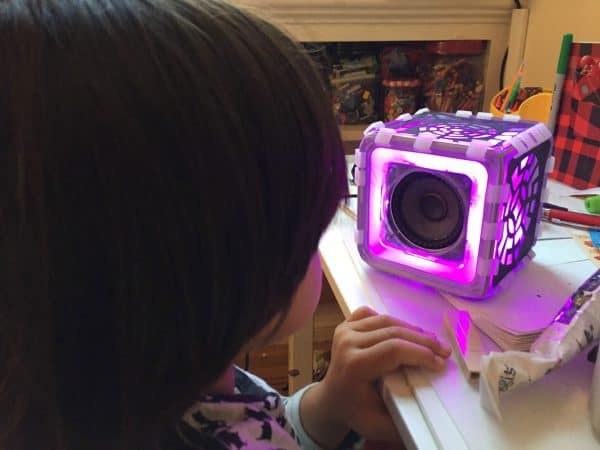 Our son thoroughly enjoyed the process of building his BOSEbuild speaker last month, and almost every morning he requests that use the bluetooth app to turn on some music. We've raised him on an eclectic mix of music, from the Lumineers and Rihanna to Led Zeppelin and Cole Porter. This makes it much more enjoyable for us, instead of listening to "kids" music which can be fun, but isn't enjoyed by all for very long.
One key to his enjoyment of his own speaker is the alternating colors along with the music. As well as knowing how the speaker functions since he is the one who built it. He can sit for minutes at a time and just stare at the speaker and the rotating colors, especially if it's on a song that he likes (he's partial to RiRi). Since the weather has turned a bit cooler, he's playing indoors more often and is enjoying customizing his speaker during almost every session.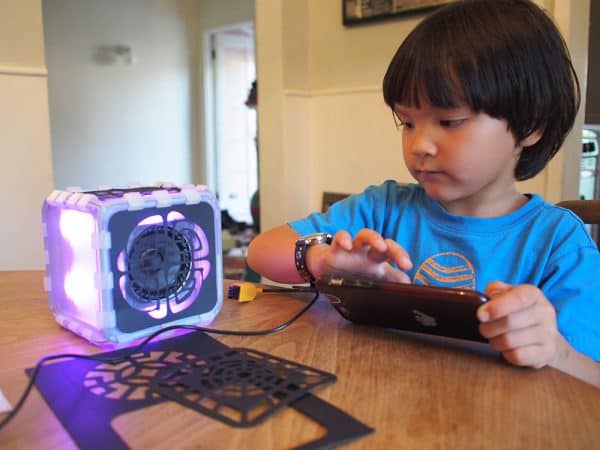 The BOSEbuild used to reside on his desk in our main room, but he decided to move it to his own room so he could enjoy it distraction free. He's recently become a huge fan of Legos which he can play with for hours on end. It seems that when he has music on he ends up playing even longer. As the holiday season approaches, he has put together his own Fall playlist that includes his favorite Halloween music including the theme from Ghostbusters and a Halloween/Christmas crossover the music from the Nightmare Before Christmas. Halloween is actually his favorite holiday (can't you tell by the shirt).
As an only child he has become very independent and has taken full ownership of his first tech gadget. We don't allow him to play with our smartphones or use a tablet or an iPad, so his only tech interaction is with occasional TV watching and taking photos with our point and shoot camera. He's even requested we bring the BOSEbuild with us on our vacation, which we think sounds like a great idea. Before the end of the year we will be joining our family for Thanksgiving, and our son can't wait to show his new speaker to his cousin. We've asked his parents to put together a playlist for him and we'll probably gift him one for Christmas.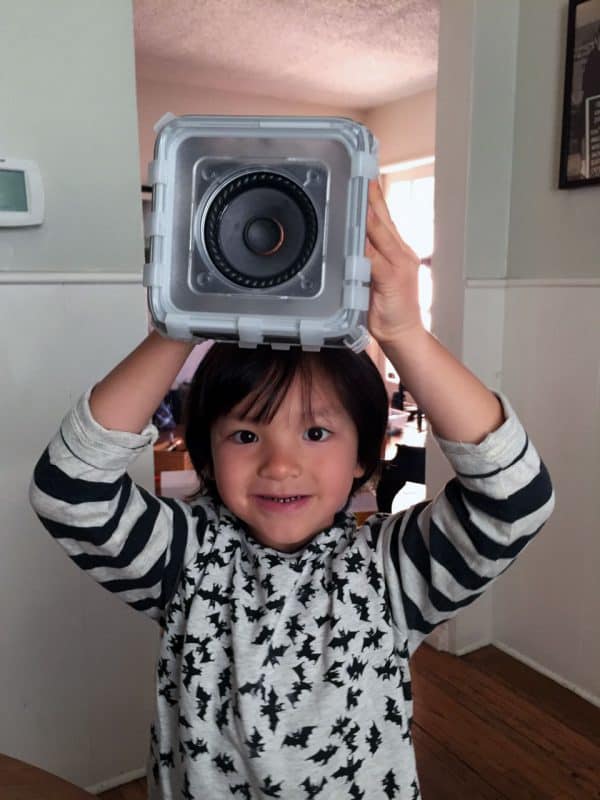 My wife and I fondly recall the days of playing music on our tape recorders and carrying our Walkmen with us everywhere. It seems our son feels the same way about his speaker and we recently caught him taking it with him to school. I'm sure that would be fine at some point, but for now it's best if it stays in a safe place at home. He's learned to respect sensitive electronic gadgets and understands they are fragile and not toys, which is a great lesson as he'll be encountering many more tech products as he grows up.
We'll report back again once we take the BOSEbuild on a trip. It's small size and easy setup, should make it a cinch to pack and take with us.
The BOSEbuild Build-it-yourself Speaker Cube is now available to order at https://build.bose.com/ for $149 (suggested age is 8+).
Now that school has begun and the weather is getting cool, how are you planning on exploring indoors or out?