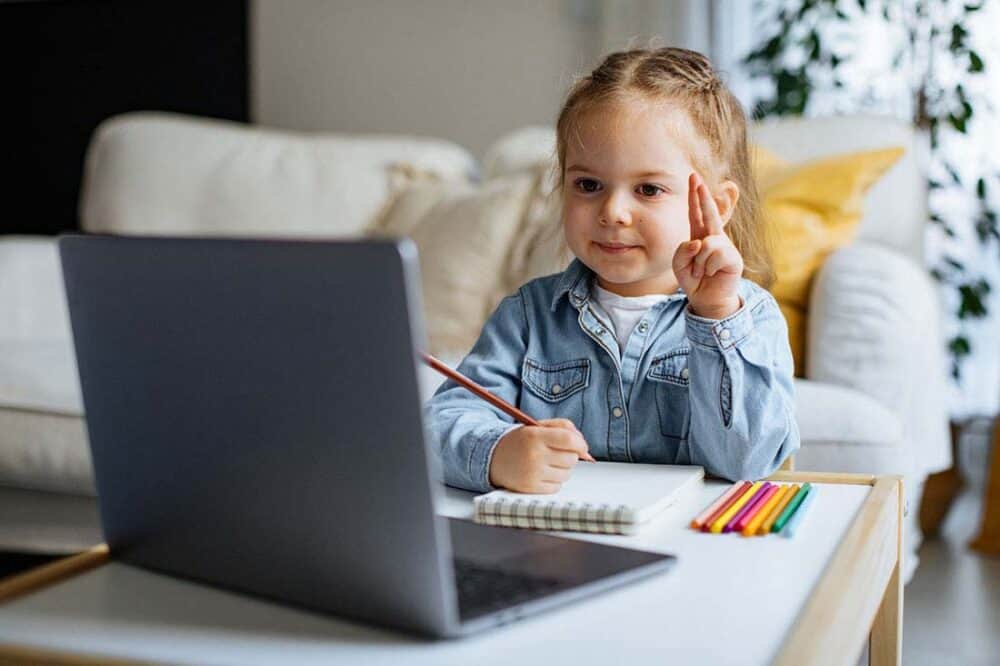 In this podcast episode, we chatted with Sarah Kimmel from Family Tech about how to manage remote learning. Sarah is a Certified IT manager, family tech expert, and digital parenting coach, who spends her days helping families understand and manage the technology in their home. 
Like thousands of other families across the country, we are tackling remote learning to start the 2020 school year. It's been an up and down process as we manage the technology our son is using. 
We asked Sarah a ton of questions ranging from:
What computer should we use? Mac or PC? Is Google Chromebook good enough?
What parental controls can we use on each platform? 
Is software, hardware, or a mix of both, the best way to implement parental controls?
How do mobile phones work into this mix?
What remote learning resources should we check out?
Sarah and her family are avid gamers, so we get real about the safety of Roblox and why the Nintendo Switch is the best platform for kids.
We also touch on TikTok and how much she loves it.

You can also listen to Sarah on her own podcast called, Family Tech Talk.
You can connect with Sarah on her website and social media below.

Family Tech Zone
Facebook
Instagram
Twitter
Here's a full transcript of this episode.
Laura
Welcome to the built by kids podcast. Being that is nearing the end of August 2020 and students and families all over the world are preparing to begin an unprecedented school year punctuated by COVID-19 with the majority of children learning remotely.
We have been busy doing all we can to set our rising third grader up for an A-plus school year. That includes upgrades to his physical workspace, strengthening of his mental and emotional stamina, and of course, enhanced control over his technology.
That's where today's guest Sarah Kimmel comes in. Sarah is a certified IT manager family Tech expert and digital parenting coach she spends her days helping families understand and manage the technology in their home. She's a technology expert featured on CBS, ABC and Fox. And she travels the world on behalf of companies, Lenovo, Verizon, Dell, Microsoft and Samsung.
She consults with parents from coast to coast on how to manage their children in this digital world. And she's here with us today to help us all set our future makers up for the success they deserve. So let's get to it. Yay, Sarah, we're so happy you're here. Thank you for being with us. Of course,
Sarah K.
Happy to be here.
Laura
Thank you. And you know, just to kind of started off, I just want to reiterate that we ourselves are not helicopter parents that even the fact of talking about parental controls sort of evokes a resistance in me, but having said that having been given this taste of what Virtual Learning was like last year and coming up against challenges that unbridled access to this world wide web can bring, we just wanted to kick off this school year with all of the tools in our toolbox that we can to set our students up for success. And we figured you're the right person to tell us how to do that.
Sarah K.
Yeah, absolutely. I mean, that's kind of my approach as well. I'm, I'm not a fear monger. I love technology. I love utilizing technology to the best of its advantages. I know that there's some underbelly and some bad things that come with that technology. But as long as you're proactive and you're learning and you you know, take these steps necessary, then you're going to have a good outcome and have a positive outlook on technology.
Laura
Oh, I love that. shift my view into the positive when it comes to that would be quite an enlightening experience. I mean, truly, I mean, in our perfect world, we would Joe, I mean, we'd love to be able to eliminate or at least significantly curtail some of these incoming distractions that are unwelcomed when we're wanting our student right to stay present and remain focused on the teachers and the one task that's in front of him. So what are your recommendations?
Sarah K.
You know, one of my main recommendations is to have a set place in the house, you know, a lot of kids are, you know, doing their schoolwork from their bed or from the couch or the kitchen table, or anything like that. But if they really have like a desk, where they're totally supposed to be focused on schoolwork, when they're at that desk, it's gonna help them kind of get into that mindset, and, you know, automatically eliminate some of that distraction because they know I'm sitting here, this is what I'm supposed to be doing. You know, and then there's some technology we can implement to kind of help facilitate that. But as long as you know, this is my space for schoolwork really will help that.
Laura
I love that. I mean, that's where we've been in this process are our son starts on the first so in a few days here but September 1, but yeah, I mean so organizing his space and decorating it and we've been busy making our own desk organizers and clocks and all of that for the room so it's really his space and so yeah, we've we're on the same page there and for all the listeners, all of those printables and other tips that we've created built by kids will also be on the link which we'll share here now it's built by kids.com slash remote learning you'll find the podcast and all of the notes and all of that but sorry for the interlude perfect no of course.
Timothy
Absolutely. And Sarah You know, that's a great sorry that that point there because last semester It was tough because we'd find our son, he still want to be in bed with a computer or under his desk or all these different places and he was slouching and just not maybe present and not in the best give himself the best opportunity to learn.
Laura
Balance boards are a big or a big favorite of his which of course, we love that creativity and I'm a firm believer that even a standing desk and a wobble pillow cushion and all of that is so important. So it's hard for us to confine to a desk. Right?
Sarah K.
Yeah. But But like you said, you know, a standing desk or something that can convert, you know, from standing to sitting, you know, is at least they're having a comfortable experience, you don't want them to be uncomfortable, but you know, at least just a specific space where if I am here, I am doing schoolwork and then, you know, if he wants to game on his laptop or anything later, you know, maybe bring that into the kitchen or, you know, take that away from that space. So that, you know, this space is dedicated to schoolwork. And I would also even say, you know, getting a mouse you know, some of those peripherals a second monitor. I know some people are like really does my kid need a second monitor, but it will really help them be able to focus because you know, maybe they can have some schoolwork on one side and then the teacher on the other monitor and it really can help them you know, it helps us be more productive when we have multiple screens, it also will help the kids do that as well.
Laura
That is, I would never even considered that. Thank you.
Timothy
Right. And so if there's like maybe a zoom conversation on one, and then just the teacher is discussing what they're working on, then that can be in another screen. Exactly. Okay. Yeah, that sounds in chat. I've in a previous job. I think I had two screens before I remember working out really well. But we I haven't considered that for for this
Laura
well. And from a hardware perspective out, I mean, our personal experiences that our son is on a laptop, it's technically what is it a Google Chrome pixel book or what have you, which is maybe not the ideal platform. So can we talk about that a bit? Do you have Oh, for sure,
Sarah K.
please? So a Chromebook? Yeah. Especially for elementary kids. a Chromebook is just fine. You know, you can connect an additional monitor to Chromebook and it's going to have basically everything they need. I would say as they get into more junior high in high school is when we should definitely be talking about Getting them an actual laptop. And you know, a lot of the programs that they're going to need for different classes won't be able to be installed on a Chromebook. Because you know, a Chromebook is basically access to the internet, like your phone. So if it doesn't have access to the internet, or you know, doesn't have the apps that you need, then is not going to be super beneficial. It doesn't have a lot of hard drive space to save anything, everything that saved is on the internet or in the cloud. So that's where the limitations of the Chromebook are going to be. But you know, there are great Chromebooks. And like I said, for elementary, I totally recommend having a Chromebook because they're inexpensive and, you know, easy to use. But you know, like I said, as you get older, they're gonna want to have that laptop with them through college and things like that. So it's time to step up the game a little bit and get them a little something more robust.
Timothy
Yeah, do you, we've actually kind of already run into that a bit with different programs that just aren't quite compatible with the What? With what? With the Chromebook that he's on? Do you rack? Do you have a recommendation between PC or Mac? Are you kind of right? You flow between them both. Obviously, with your line of work, you kind of need to know both platforms. But do you have a preference?
Sarah K.
Yeah, so but a line of work. I don't know if your listeners know I am an IT manager by trade. So I've been in it for over 17 years, and I am firmly in the PC camp and I do not like Apple products at all. But it's more of a personal preference, but especially for kids. A PC is going to be a lot easier to monitor and manage and control and a PC will also be a lot more affordable. A lot of people that have problems with PCs are trying to compare, you know, the cheapest, you know, yucky SPC that you can buy with a Mac which doesn't come in a lot of flavors. They're only flavor is expensive. So if you Go up a notch and get a laptop that is the same, you know, specs and quality as like, you know, for the same amount that you would pay for a Mac, you're going to have that same level of quality. And if so it's not necessarily that a Mac is better. It's just that there's not a different flavor of Mac and you're trying to compare, you know, a suite at the Bellagio with the motel six, you know, so it's not really a fair comparison for the PC. So having said all that, I love PCs. I love the customization. I love everything that I can do with a PC. There's Microsoft Family Safety that you can implement that helps curtail a lot of things, but we can get into some of that printer control stuff later. But yeah, firmly in the PC camp.
Timothy
Oh, interesting. I, you know, we also some one thing with the pixel book, he likes that it's a touchscreen. And unlike, you know, we're actually both on air books, so we don't have that but he's now use a touchscreen. He actually has some games on there, he can do that. I know some people have used the surface as well as an iPad for for some of these things, but But yeah, so and so when we're looking at PCs, I'm looking at more of the premium PCs or the ones that would maybe match up similar to Mac, what would we be looking at their or also the ones that would be more along this the similar cost of the pixel book but, but but PC based?
Sarah K.
Yeah, so what's interesting is that most PC manufacturers actually have names for their different kind of line of products. So for Lenovo, Lenovo is my favorite PC manufacturer. My second favorite would be Dell, a very, very distant like fifth or six is HP don't ever go there. And so, but the Lenovo has several different brands. So lenovo yoga would be similar to a Mac Book in you know in specs and price and it Has that touchscreen, able to flip around, you can use it as a tablet, if you flip it all the way around, that's why it's called the yoga just got that flexibility. And so that's kind of the premium brand. And then there's the idea center, or idea pad, those would be the more consumer brand, you know, cheaper area, and then they have a business class which is ThinkPad. So if you are like think center, and all of the think branded products will be super expensive, but really business class devices. So similar with Dell, Dell has XPS, which is the high end brand. It has inspiraton, which is the cheaper consumer level brand. And so as you go through those just know the different brands, and you know, and kind of what you're trying to compare. So you know, you could compare a Dell XPS to a lenovo yoga to a Mac, but you wouldn't want to compare like a Dell drawn to a Mac.
Timothy
Okay, that makes a lot of sense. And like you said, it's sometimes apples to apples oranges, but you don't want right? They're similar similar, you don't wanna compare just the Mac PC conversation has to be at the right level. So that makes sense.
Sarah K.
Yeah, and I will say so cuz I use it a lenovo yoga, that's my personal driver. And of course, the touchscreen because a lot of PCs are touchscreen, like you were mentioning. And whenever I like, try and help somebody that's using a Mac, I'm like always trying to touch the screen and I get so frustrated. I'm like, ah, why can't this touch I
Timothy
know you get so used to it. And I understand now I'm just playing around with Mark since pixel book, it's it's nice to be able to slide things around.
Laura
I can't even turn his book off. But know where the button is. So we have to kind of read they're kind of two worlds in our house for sure. But so Okay, so now so the student has an amazing piece of technology of a pixel book or what have you in front of them. What do we do to eliminate distractions? Why They're in school.
Sarah K.
So um, I was saying there's some software things that you can do. And so with Microsoft, they have Microsoft Family Safety where you can set different time limits on different applications. So you know, from this time to this time, you are not able to use you know, Minecraft, or from this time to this time, you're not able to do this. And then you know, you can set all of those things so that it's not accessible during school time. So you can do that just on the PC itself. You can also do that on the router level. So I'm a big fan of layers have parental controls, so something that's on the device and then something that is on the network. And so when I'm connected to the Wi Fi, anything that's set on my Wi Fi network is going to you know, trickle down to all of the devices connected. So this actually enables it to protect the you know, the Xbox and the PlayStation and the Google the engine. tendo switch and things like that, because it's controlled from the internet itself. So you can set like, so my favorite Wi Fi router is called the Griffin that's dry p h o n. And what I really love about the Griffin is that they understand the networking component, which was a huge thing for me, because all of the Wi Fi routers or the different, you know, tools that I would try to implement on my network would slow my network down considerably. And you know, for someone in it, that's completely unacceptable. I have to have a fast network on my home. So the Griffin was the first one that I really found got the parental control component, right, and they got the networking component, right. And so it's a really happy marriage between the two of them. And so I can assign different devices on my network to different people. So you know, the Nintendo Switch is assigned to my son and this Nintendo is assigned to my daughter You know, and their devices are assigned to themselves so that I can both filter content so that they're not able to browse, you know, something I consider inappropriate. And there's different levels you can set for each person. And then you can also set homework times and bedtimes. So for my house at bedtimes, everything is locked down, you know, the internet is not accessible from any of my children's devices from 10pm till you know about six 7am. But you can also set a homework time, which will let it you know, have certain things unaccessible during time when they're supposed to be doing schoolwork.
Laura
This is an absolute dream. So with that, though, my one fear becomes trying to mitigate his exposure to everything is that creating is that turning me into a slave of even more technology with extra pings and notifications and all of that? Was it set in go?
Sarah K.
Yeah, you know, most of it is set in go. I We'll check in on things from time to time. And it'll really just help facilitate conversations because I'm a huge fan of just not letting the technology do its job. Because technology does fail, and it fails all the time. So and that's why I said literally layers, because if one layer fails, then you know, you've got a couple more layers to back it up, but nothing is going to be infallible. So your children will come across things that you consider inappropriate. And it's important to have those conversations of what are you going to do when this happens, and kind of go from there. So you are getting some notifications, you can definitely set those levels. So you know, if you don't care if they're doing such and such and such, you know, you don't need to be pinged all day for that. But you know, if you want to be notified for something, you know, really, really bad, then you can set that so that you're at least notified for those situations and then you can go deal with them.
Timothy
That's very helpful. With with the network, the network network level with the Griffin, can you block certain applications? Or is it more just an overall cutting, you know, limiting access to the internet?
Sarah K.
Yeah, no, you can block specific applications per person. So, you know, like I said, I assign all of my son's devices to him, and he is not allowed to play this specific game. So I can block that for him on all of his devices, but I can open it up for me. So if I don't want my kids on Twitter, which I don't, and I can still have Twitter for myself on my devices, but they won't be able to access Twitter from any of their devices.
Timothy
Okay, yeah. I missed that before. That makes sense. And, and you also mentioned the Microsoft family should family sharing. It's called a family safety.
Sarah K.
Yeah, yeah. Finally, Microsoft Family Safety. That one's completely free. Well, the Griffin, the monitoring and management is free but the router itself is not
Timothy
on the router. Do you use the tower with that? Or when the other ones?
Sarah K.
Yes, yeah, so the tower is the one that I have. But if you have a larger house, you can get a tower and a couple of the smaller guardians to make sure you cover it, it is a mesh system. So you can, you know, mix and match or get multiple towers for your house. If you have, you know, the square footage. You know, I have a 2000 square foot house and the routers kind of in a central location. So I only need one, but, but as your house gets bigger, you'd want to, you know, add on to that.
Timothy
Okay. And going back to the Microsoft Family Safety side, is that, is that baked into Microsoft or radios? You have to purchase that is it?
Sarah K.
Yeah, no, totally free. It's baked into Microsoft, you just have to do a little configuring. So you have to have your own Microsoft account and your child has to have a Microsoft account. And so then you assign, you know, your child to you, as you know, and then you can manage their account. So when they log into the PC, they'll log in as themselves. Then have all these restrictions, but if you log into their PC, then you don't have those same restrictions.
Timothy
Okay. And I like having that's not a third party that it's, you know, works right with the with the OS right there.
Sarah K.
Yeah, it's baked in. Yep.
Timothy
Okay. And is there something I know, there was another piece of software that you mentioned as well? Yeah. Moving on to moving on to the software. What, um, where do you Where are you with that?
Sarah K.
Yeah. So there's a couple of things that I recommend for on device. And this kind of moving more away from like the Chromebook to like a phone or a tablet. So there's two things that I really love for the phone, and that's Boomerang parental controls. And the boomerang is going to allow you to set you know app time limits, very, very granular and specific. With the Griffin you're going to have kind of more of a broad limit, but with the app itself, you can unlimited from your phone. And so what I like about that is really easy for me to open up additional time. So you know, my daughter runs out of time on her phone, it completely closes down the phone, except for certain apps that I set to be always allowed. So you know, her way to communicate with me, she uses her texting app to communicate with her friends, and then uses Facebook messenger to communicate with me. And so if I always allow Facebook Messenger, I know she's not like texting her friends all night long. And so it kind of is a balance there. But Boomerang parental controls really helps you get that granular, app specific, you know, monitoring and control. And then, you know, and that's, again, like I said, set it and forget it, you know, they'll ask you for more time when they run out of time, you can allow it from your phone really easily and automatically opens up their phone. So um, so that's a really helpful with bark, which I didn't mention when We were having that Twitter conversation. How perfect
Laura
is it that you just had a four legged member barking as you say that?
Unknown Speaker
That is really funny. Yes.
Unknown Speaker
on cue.
Sarah K.
I know way to go Holly. Yellow lab, Holly good baby. Yeah. Somebody came to the door, you know, and she had to
Laura
tell them to do her job. Yeah. She's so mean.
Sarah K.
But yeah, so bark conveniently enough is a really great tool. And because that's gonna be really less of the helicopter. So you can set it to like, I want to be notified of conversations involving violence or conversations involving sexual nature or bullying. And you can set like the sensitivity level for each child as well. And then as they're communicating over different social media apps and things. bark is only going to notify you when it comes across those things that are concerning. So for a long time, I was getting tons of pings about violence on my daughter's phone because she's constantly looking up Pokemon battles. So
Laura
I, I do not need that right.
Sarah K.
I turned off the violence notification because I'm like, it's never anything good. Yeah, like it's fine she's not a violent person. So but like but it will notify me if there's like bullying or you know, self harm or depression or things like that, you know, so I keep some of those up. But you know, as you get the notifications, you're like, Okay, I really don't need any of these. So I'm going to turn that down or, or whatever.
Laura
I mean, I love the technology is finally on track with understanding that understanding that humans are each unique and that we as parents is our jobs to know each of our children and to give them as you said earlier, just this foundation right of understanding how to you use technology mindfully so that it's enhancing their purpose instead of manipulating their direction and self serving ways. So I love that. Yeah.
Timothy
Are these software solutions? Do you have to pay for these?
Sarah K.
Yeah, so they're not very expensive bark. I do have a code that gets you I think 20% off, and I have it linked on my website. I'll maybe I'll try and send that over to you guys. It's kind of a random code. But um, they, yeah, it gives you 25% off gives you like a seven day free trial. But I think with the 25% off, it's about $80 for a year, and it's unlimited devices and unlimited kids. So so you know, you don't have to pay per kid or anything like that. Boomerang is even cheaper. It's a round I think 30 to $40 for the year. And, again, that's, you know, unlimited kids and devices. So
Laura
I'm sorry, Sara, because I this is not my forte. But so do you need do you use both Boomerang and bark together? Are they late? I actually do.
Sarah K.
Okay, I was talking about layers. So with Boomerang, like I said, it gives me that really granular app control, which I love. It also reports on all of the YouTube videos that they've watched. And I know which is amazing. And I will say both of these solutions work better if the kid has an Android device. If the kid has an iPhone, it does not work as well. And that's because of Apple's operating systems restrictions. And you won't find anything that works well with those. You can manage both from an iPhone. So if you have an iPhone, you, you know, have no problems managing the Android device from your iPhone with both of these tools, but they do work better if the child has an Android device.
Timothy
So better if parents have pairs of iPhone, they're okay if the kid as long as the kid is Android. Okay,
Sarah K.
exactly. Yeah, so you can have whatever you want just as long as you get your kid an Android device. And, and so like I said, the YouTube reporting will only work on an Android device, which I love, love love, because I can go at any time. Look at everything my daughter has watched on YouTube, I can click on it, it'll bring up the video so I can see what was, you know, egg. Like I said, I don't check it all the time. And I'm not getting notified. But I can go into those reports and see that data if I wanted to
Laura
write or if something came up in conversation, but yeah, yeah, you too need to go back and do some research. That's great.
Timothy
But does it also do that? Does it also do Google searches?
Sarah K.
Yes, yes. So with Boomerang, it'll also do Google search. Like bark will also notify you on Google searches but bark doesn't have reporting like that. Like Boomerang does bark is only going to notify me if something is concerning. So if you know their version of concerning which I mean is pretty good, but Like I said, I like to be able to look the reports myself and get notified if something is concerning. So if I don't have time to look at the reports, you know, I'm not going to Super concern myself with it. But if I get a notification, then I can go back and see everything.
Laura
Great. Yeah. Sorry. I'm taking that in a bit. And will you just remind us how old are your kids?
Sarah K.
So my, you know, got no problem. My daughter is going to be 15 here in about a week. And my son is 11
Laura
Dang, okay, you are in it. And you've been through this. I mean, again, we have a two and a half year old and an almost nine year old so we don't even have mobile devices in our home yet. So this is great foundation information for us. Yeah, speaking Android there but
Timothy
right I mean, he doesn't have a phone yet. A lot of our listeners here their children probably will have phones and if a phones in our future, this is also really, really great to know.
Sarah K.
Yeah, I like the good like, I recommend if they really want an iPhone, you know, when they're like 16 And you're starting to loosen the reins a little bit, because I'm a big fan of allowing access as they grow. So you know, when they first get their first device, it's super super locked down, it's only got these specific apps and they can only do this and that, but you know, as they grow as they become 13, they can have, you know, some social media and, you know, continue to grow and grow and grow by 16 I'm going to be pretty much hands off for the most part, you know, because at that point, you're hoping that you've taught them well enough that when they're 18, they're going to be able to manage it on their own
Laura
right and you know, your child, I mean, if for some reason your son doesn't, you know, live up to what your daughter did and his development then maybe you hold on to that a bit longer.
Sarah K.
Exactly. So at that point, I would probably get you know, if they wanted an iPhone, I would let them have an iPhone, but until then, you know, until I'm ready to let go of a lot of you know, tools. I'm not going to get them an iPhone.
Timothy
I'm excited since we also discuss with I've been discussing recently gaming, your that's maybe a portion of what you you cover as well. We've kind of identified the Nintendo Switch as something that's, you know might be one of his first opportunities to play games
Laura
with his birthday coming up. We'll be set at nine you can you can get Minecraft. Oh nice. Yeah.
Sarah K.
Minecraft is great. Yeah.
Timothy
Yeah as your recommendation you have along those lines something that works well you've already mentioned the switch in your family is it? Do you like yeah both of my kids
Sarah K.
actually have their own switches. But they love like we're a gaming family obviously we're a tech family they have access to a whole lot of technology and since they you know, they were probably born but they both have a Nintendo Switch. The switch has so many really great games for younger kids. You know, with the PlayStation and the Xbox, there's a lot more opportunity to get into like those mature rated games and things like that. But the switch is really really family friendly. And so it's a great starting, you know, gaming platform for sure. And, and the fact of the switch, you know, there's a difference between the switch light and the actual switch. I would not recommend a switch light, because it's cheaper but you cannot connect it to a TV and I love it. My kids can just like pop the switch in the cradle and then like game on the, you know, nice big TV, like we used to do as kids instead of just always having it in their hand in front of their face
Laura
and together. Exactly. Okay, good. Well, then we were on the right on the right track with our flight our thinking there.
Timothy
That's when he switches you probably know this had been sold out everywhere. Yeah. And they've been we had to track them down and on target, just kind of like looking all over their website, seeing where they are, and fortunately found one in Las Vegas, and we had a family member have to pick it up for us because they're just they've been out here for months everywhere and it's So I went to Best Buy to try and the guy just kind of laughed at me and said, Oh, we haven't done this for months. So
Sarah K.
yeah, especially when COVID hit though those went out really, really fast. I had a co worker who was looking for one for a really long time, he was finally able to get his as well. So good job, I will say with the switch, there is a free app that is from Nintendo Switch parental controls, you can hop on there, you can set time limits, like it's one of those baked in like Microsoft. So there's, there's a few things that you can set, Parental Control wise, like the ability to chat in game and things like that on that app, so definitely download the app and set that up when you give your switch to your child.
Laura
Oh my goodness, this is all I'm just so happy that I'm married to what I call a geek because this is all still so over my head and I like to kind of fly in the face of technology in so many ways. Although I am so grateful for all that it does for us in this modern world. I'm in my wheelhouse. And so there's so much here now that, that I'm fortunate to have somebody like you to talk to Sarah, that, that can kind of guide us through this process. Because otherwise, we're kind of going into the rabbit hole of doing a search for best Parental Control app and things like that. I've already tried, I think two or three different accounts, I'll remember. Yep.
Timothy
Trying just, you know, we just go through this, this, this process to define these and then seeing what works and what doesn't. So this has been very helpful.
Laura
Yes, thank you for doing your research. And yeah, all of your expertise. I mean, so have we missed anything that that is blatant out there that I that we need you to tell us about?
Sarah K.
Yeah, no, I think I covered everything that I really wanted to cover. You know, I would just say any device that you have, there usually is parental controls with it. I mean, like even Tick Tock has parental control settings in the app itself. So um, you know, just do Little digging and see if you can find a parental control settings for whatever you're trying to set up. And you will be on the right track.
Timothy
What is I know that actually, on one of your latest episodes you discuss Tick tock, what's the latest with them? And, and how does that work with kids kind of our age? And I mean, our son already knows like, oh, what's a tick tock dance and things like that? Is that something that you guys are into now? And what's the latest with Tick tock,
Sarah K.
I absolutely love the app. It's super fun. And especially like, during, during the pandemic, it's been really fun, you know, because it's a lot less political than Facebook. So it's kind of been a reprieve from a lot of the like, hard social media that's out there. Because it's just really fun as you kind of scroll through things. And their algorithm is actually really, really smart. So it, it learns very quickly what I like and what I don't like and will start just showing me things that I like so it It's really great to to browse around because mostly stuff that like I agree with and I like and the interesting part of that is Instagram just last week released reals, which I'm not sure if you checked out a little bit, but reals is exactly Tick Tock. It works the same as Tick Tock. It has a lot of the same videos as tic tock, I've uploaded several of my tic tocs to Instagram reels. And so it's it's definitely like if people are saying I would never allow Tick Tock for my children yet they have Instagram, they have Tick Tock.
Timothy
I've seen you know, I have seen those and I thought, I mean, I know it looks like a copycat competitor and it looks like some people have put that originally on Tick Tock VC COMM The Tick Tock video or the the watermark on there, but again, they're trying to Instagram kind of just you know, grabs the best stuff like they do with Snapchat and see if it works for them and you seem like people using it. How's it growing? Have you heard?
Sarah K.
Yeah, it's been like like it as I've been searching through reels is exactly what I'm seeing on tik tok So, so I think it's gonna grow really fast. I actually for a kid, I, I would be more comfortable giving them a tick tock account than I would an Instagram account at this point interesting, just because of the great parental control settings that they created inside Tick Tock. So with Tick tock, I can add my child's account to my account and lock it down, I can give them a time limit inside the app, I can turn off their search functionality, so they can't search for anything. I can turn off the ability to message my child. And I can make it so that they can't get out of that account, you know, and just signed into a different account. That's
Timothy
ironic considering everything you hear about Tick Tock in the news as the security concerns.
Sarah K.
Exactly so so I think it's gotten Just a really bad rap. Because all of the social media platforms do the exact same thing. I mean, what it's gotten a bad rap for is that their servers are in China. And that's just where it came from. So that's where their servers are. So people are like, oh, we're giving our data over to the Chinese government. Like if they want to see me do a stupid dance. Sure. Right. Right. I am happy to send it.
Timothy
Well, this has been so helpful, sir. Thank you so much.
Laura
Yeah, I mean, I for sure feel better equipped in a little less stress for this coming year by I mean, we can just take on technology and set all of our students up for the success they deserve.
Timothy
Where again, Can people connect with you?
Sarah K.
Oh, sure. on all social media platforms, I'm just at family tech. And then on the web, I am family tech. zone.com.
Timothy
Awesome. Sarah, thank you so much.
Laura
Thank you so much.
Sarah K.
Oh, and I'll just do a quick little plug for my my pod Yeah, it's family Tech Talk. So we want to do a little search on your podcast app for family Tech Talk. I'm there as well.
Laura
We will add that to our show notes as well. And again, that's at built by kids.com slash remote learning and like I said earlier, we'll be putting everything having to do with remote learning on that link. So it should be a good one stop shop including our today I made series that is so exciting is how to step by step projects done by our eight year old and we have so many good, good start school starting projects from the desk organizer to a wall clock and awesome leather bound book. So we for sure want everyone to become inspired there and prepare for your own a plus school year.
Timothy
Sarah, thank you again.
Sarah K.
No problem. Thank you guys for having me.