Woodworking is a great hobby for both adults and children. When parents and their kids start woodworking together it becomes a bonding experience that creates memories to last a lifetime.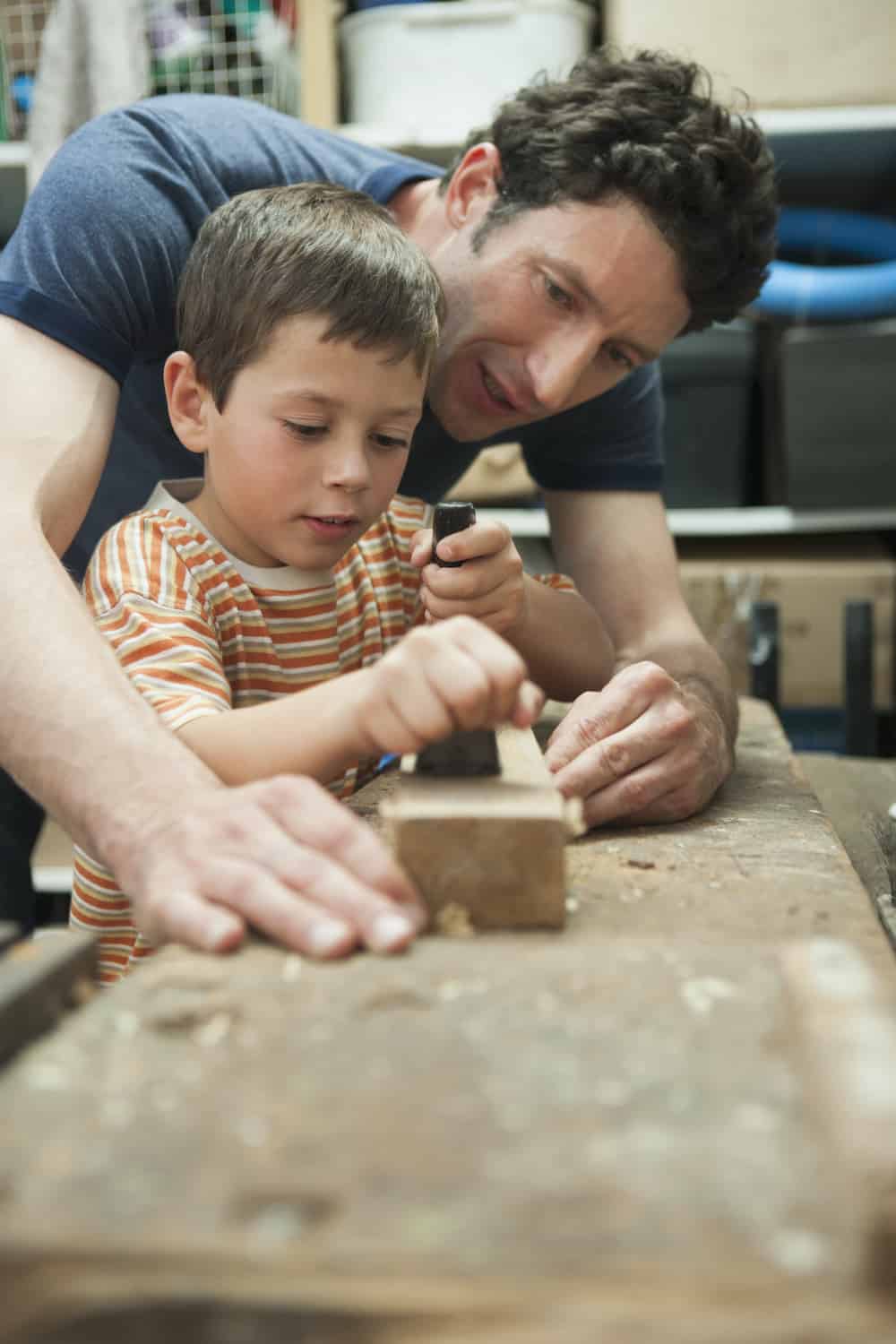 I recently connected with David Craig who shared his experience of making stuff with his kids. His experience supports our Mission and we are happy to share his thoughts.
Why Is Woodworking a Great Hobby?
My sons have always been supportive of my endeavors to work on things. They like seeing the things I made and will often ask me if I can make this or that for them.
When I started this hobby, one of my goals was to reduce dependency on the cheap goods at the stores and reduce the mentality that one needs to buy instead of making what is needed. (I will admit to the irony that this non-materialistic attitude revolves around a shop with a couple grand invested in tools 🙂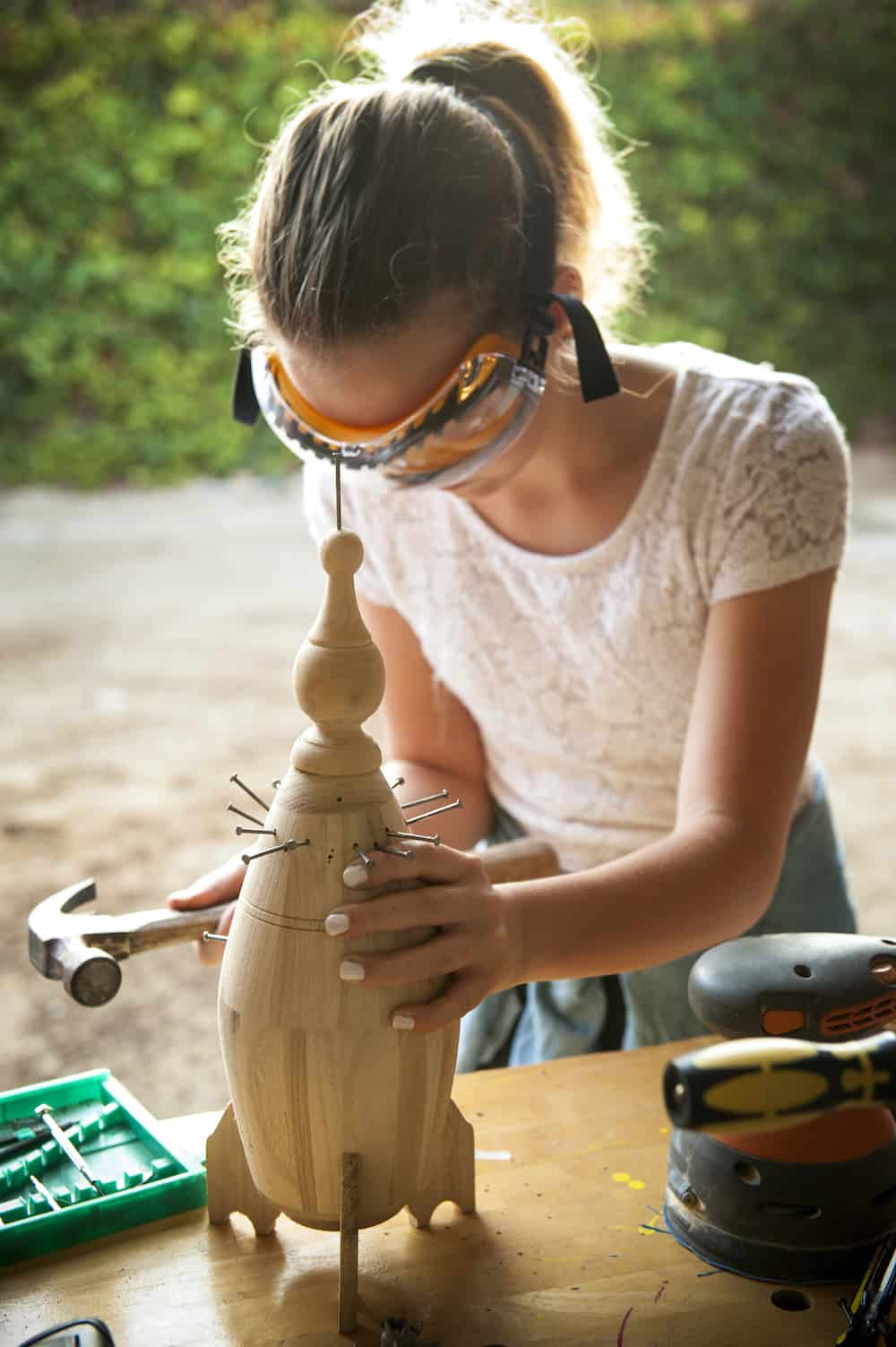 While they were supportive though, their interest in being downstairs just was never there. I would talk to them about woodworking but I never pushed. I just didn't want them to do something because I wanted them to, but wanted the interest to spring from their own desire.
On Saturday they expressed interest, so I went downstairs and set up shop for them. I had a light half pallet that I recently cleared and I straddled it over a fold-out workbench.
Because of the double layers, I could let them drill, hammer, paint, glue, whatever, without being a paranoid shop rat worrying about the condition of my workspace while they were working.
How to Teach Woodworking Lessons for Kids
I have a large box of pine scraps so I pulled out a number of pieces and set it out for them. Tools consisted of a Fiskar hand drill, a Stanley miter box, and hacksaw, and a couple of 10 oz. hammers, glue, and clamps.
My boys are almost polar opposites of one another. My oldest, Sam, has Aspergers Syndrome (similar to high functioning Autism. Smart, sweet, lovable kid but has his quirks from time to time.) He requires a little more hand-holding and encouragement for these types of things.
My youngest, Gabe, is more aggressive, and curious, but likes to act first and think later. So I had to make sure I could pull the reigns on one while attempting to gallop the other.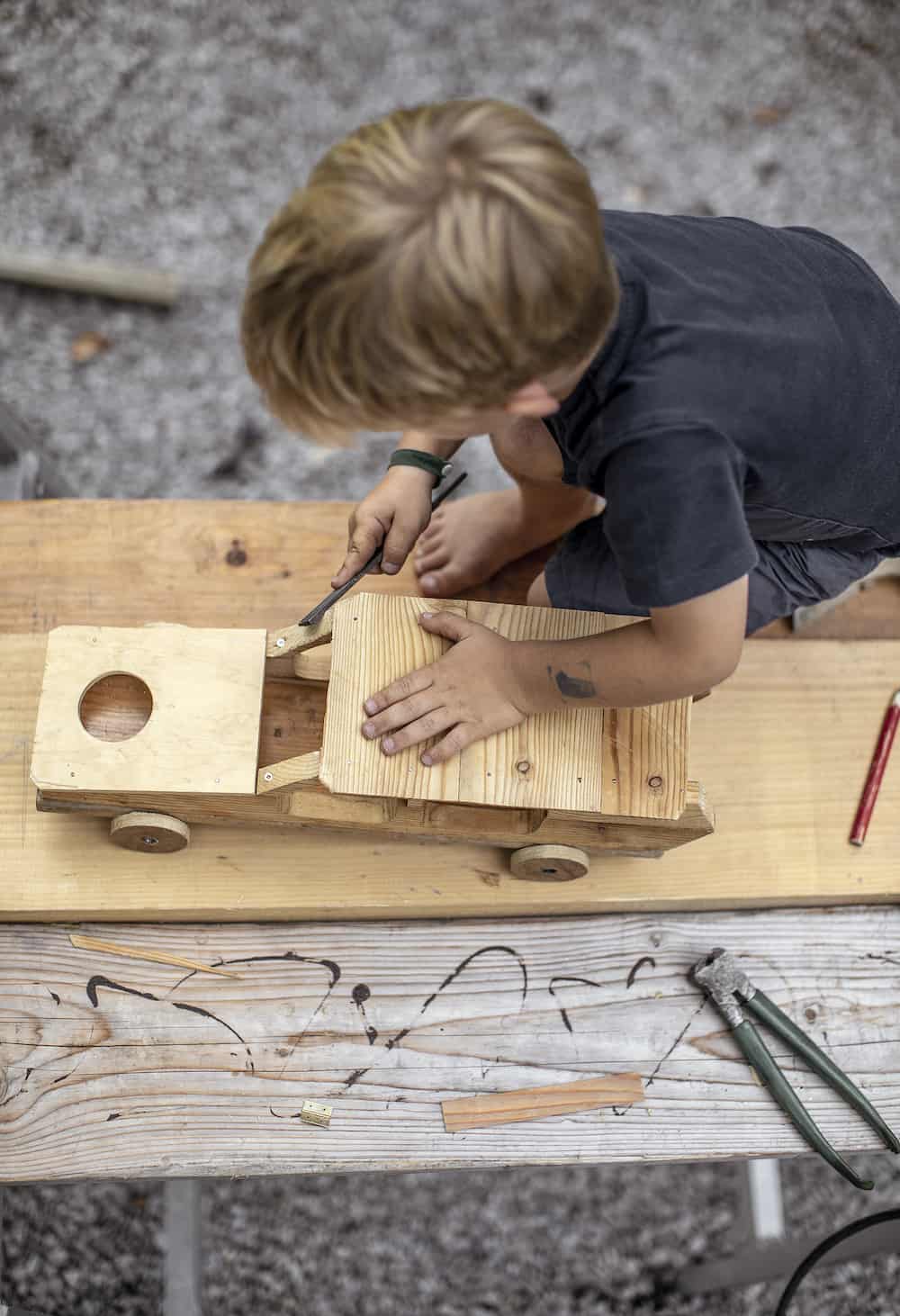 I divided the work period into sessions. The boys drew out what they wanted to make and cut the parts during session one. Session two consisted of assembly, and I put wheels on their parts after they went to bed.
Sam wanted to make a little train he could put on his dresser and Gabe wanted a jeep type thing for his action figures.
I had them draw out what they wanted so that they could get a little used to the idea of working with plans. I helped them with proportion and estimating sizes of the blocks. No real measurements, just using the pieces to size each other.
I set up the miter box and marked the pieces for cutting. Aside from some quickie wheels made from a hole saw, they did all the cutting, drilling, hammering, and assembly. They only did enough sanding to remove splintering that could potentially make the toy harmful to hold.
I am self-taught on a number of items so I really had to think about what I can really teach and what they can use. Kids get bored real quick if they don't get to be the ones handling the tools, so I left power tools out of the equation as much as possible.
Our time is limited so I have to try and not let the time be overly dominant for the weekend. They usually want to do a number of different things. In the future, if there are any larger boards to cut, I will precut them in advance so they don't have to wait for me to get the pieces together.
I don't know how much interest they will keep in doing these things. I believe my youngest will be into it as he loves using tools.
My oldest, not so much, but I am encouraged that he wanted to indulge and he enjoyed himself while doing it.
As far as teaching, what I observed from the other LJs who spend time with kids and based on what I observed with this little activity are the following:
The Workshop Setup
Set up the environment so you don't get paranoid about the workplace. Create a little area where the kids can work safely and use a work surface in which accidental hammer blows, over-enthused drilling, sloppy paint, etc. will not concern you.
You will spend less time critiquing the technique that way. Kids need the freedom to make mistakes, messes, etc. without worrying about creating tension in the adult.
Workshop Rules
Set some rules before starting. I am firm but not ornery or overly aggressive in the shop, but I established certain rules when they were down in the basement since I started working with wood.
There is no running in the shop, no touching the tools if I am not in a position to observe and watch them. Anything with blades is to be handled the proper way, etc.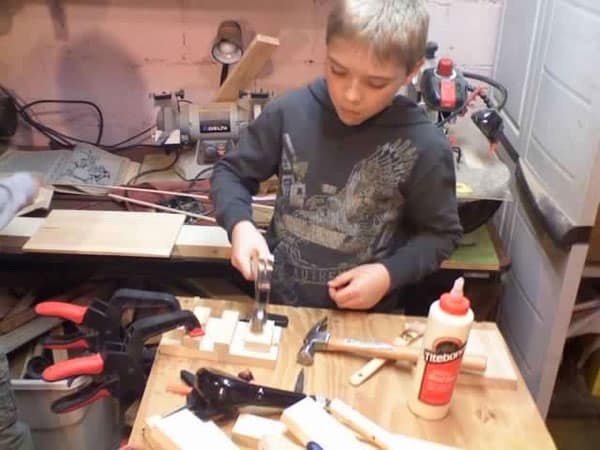 And one of the biggest rules is that the shop is dedicated to shop time. I make it like church. If you are in church, you are there for the purposes of worshiping, praying, etc.
The shop is for working, not playing. The focus is on the project and if the focus isn't on the project, that is ok, we can talk upstairs, or play video games, or go for a walk, whatever.
It is ok to want to do something else, but if we want to make a project, then that is where our concentration lies. This helps set the tone and helps keep the concentration on safety and the project. When that mindset drifts, take a break.
Keep It Simple
Keep the projects simple. Especially in the beginning. If the kid wants a car, think about the simplest way to make a vehicle. If you start wanting to embellish, the project starts becoming yours and not the kids.
Try to incorporate tool use that is repetitious but not monotonous. And try to have tools around that the kids can use. Hand Drills, Miter boxes, 10-12 oz. hammers are all rather inexpensive and fairly kid-friendly. Pine is a great wood to use because it is soft, much easier to cut, drill, and nail without power tools.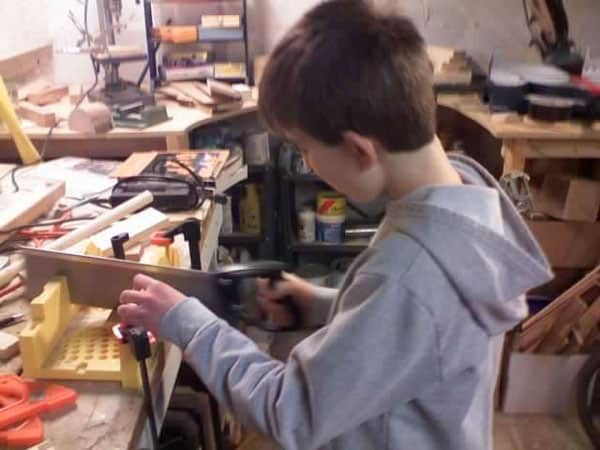 I loved the little hand drill. Good size for smaller hands and the handle could be turned without a huge effort as long as the pressure was not overly aggressive.
Using the drill, the hammer and the saw are kind of fun, sandpapering for an hour is not. I gave them sanding pads and they had to sand the ends of the boards after cutting, but only to the level of better safety, not to create a stainable surface.
The main reason to start woodworking lessons for kids is to have fun!
Woodworking Projects for Kids
Here are some of our favorite woodworking projects that you can do with your kids.
Build a Kids-Sized Picnic Table
How To Build a Modern Birdhouse
How to Make a Raised Planter Box