Woodworking is a great hobby for kids to learn and enjoy. These woodworking tips will help them develop fine motor skills and hand-eye coordination, as well as allow them to express their creativity and build something with their own hands.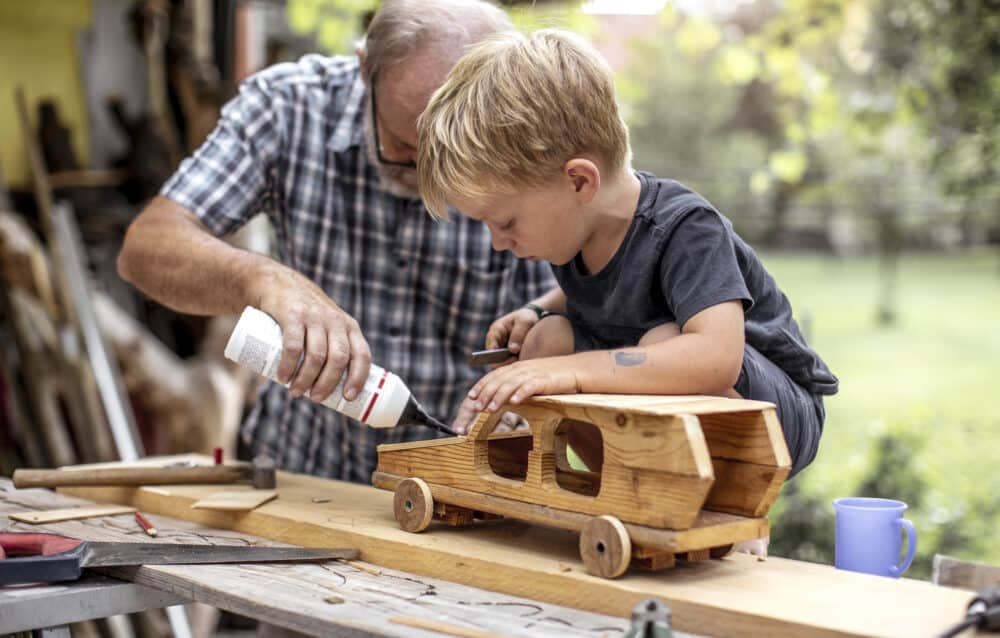 However, it is important to ensure that kids are properly supervised and that they use safe tools and techniques when working with wood.
In this article, we will provide some tips and ideas for getting kids started with woodworking, including appropriate projects and tools for different age groups and safety precautions to keep in mind.
Start with Simple Projects
For younger kids, it is best to start with simple projects that do not require using power tools. These can include making a birdhouse, a wooden puzzle, or a picture frame. These projects can be completed using basic hand tools such as a hammer, screwdriver, and saw.
Check out our kids first tool kit article for age appropriate tools that every kid can use.
Gradually Introduce Power Tools
As kids get older and become more comfortable with basic hand tools, they can gradually be introduced to power tools. This can include a drill, jigsaw, and sander. It is important to ensure that kids are properly supervised when using power tools, and that they understand how to safely operate and maintain the tools.
Once you and your kids gain experience using power tools, you can tackle some larger projects like building a skate ramp, work bench, or planter box.
Safety First
Safety should always be the top priority when working with wood and tools. This includes wearing appropriate safety gear such as goggles and gloves, and keeping the work area clean and organized. It is also important to teach kids about the proper way to handle and store tools.
Have Fun
The most important thing is to have fun with woodworking. Encourage kids to express their creativity and take pride in their work. This will help them develop a passion for woodworking that can last a lifetime.
Learn About Wood
Teach kids about the different types of wood and their properties. This will help them make informed decisions about the materials they use for their projects. Visit your local woodworking store like Woodcraft or Rockler, where you'll find plenty of different species of wood to inspect and friendly folks to talk to about wood.
Get Creative
Encourage kids to think outside the box and develop their own unique projects. This can include creating a wooden sculpture or a piece of furniture like a step stool or desk organizer.
Join a Club
Look for woodworking lessons or clubs in your area that are specifically designed for kids. This will allow them to learn from experienced woodworkers and to work on more advanced projects.
Woodworking is a great hobby for kids to learn and enjoy. By starting with simple projects, gradually introducing power tools, and emphasizing safety, kids can develop a love for woodworking that will last a lifetime.
It is also important to have fun, learn about wood and to get creative with the projects. Encourage kids to join a club to expand their skills and knowledge.